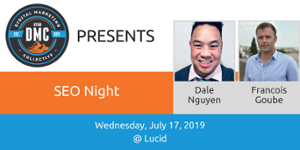 To learn more about this months event, click on the image above, or the button below.

Mark Your Calendar for our Upcoming Monthly Events!*
Our events take place on the third Wednesday of each month. Our attendees have the chance to gain world-class tactics and knowledge from some of the top marketing experts in the nation and have the opportunity to discuss key challenges with colleagues or other professionals in their field. Mark your calendar today so you don't miss out on the upcoming events!
Wednesday, July 17, 2019
"SEO Night"
Details & RSVP

Friday, August 23, 2019
"5th Annual Utah DMC Conference"
Details & RSVP
Wednesday, September 18, 2019 "PPC Night"
Details & RSVP Coming Soon
Wednesday, October 16, 2019 "eCommerce/Shopping"
Details & RSVP Coming Soon
Wednesday, November 20, 2019 "ABM Night"
Details & RSVP Coming Soon
Wednesday, December 18, 2019 "Video Marking"
Details & RSVP Coming Soon
*Event location, speakers, & details are subject to change