We are thrilled to invite you to an upcoming Utah Digital Marketing Collective Online Event, Wednesday, December 2, 2020
To RSVP simply click the "Attend Button" to the right (on desktop) or at the bottom of the page (on mobile), and follow the instructions.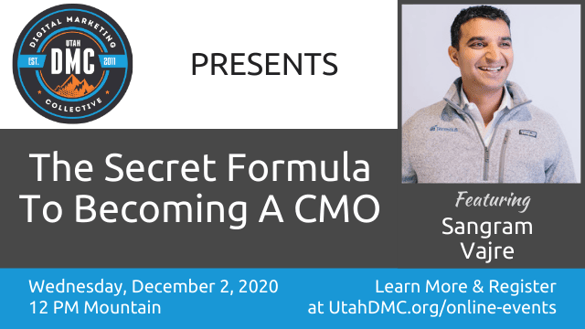 Our Presenter:

Sangram Vajre
Presentation Title: Taking Your Data Back To The Future
Presentation Description:
Did you know that less than 1% of marketers have a shot at becoming a CMO?

Most marketers have no clue what it takes to become a CMO and even worse, they cannot ask or get a straight answer from their CEO. The reality is that if you want this highly coveted spot in the executive suite, you need to build and manage key relationships, identify your superpower and answer some tough questions about your goals and vision for your life.

After more than 50 CMO interviews on the #FlipMyFunnel podcast and by being a two-time CMO himself, Sangram Vajre is ready to help you determine whether you're suited for a CMO spot. Attend this session to learn:
How to determine whether daily tasks match your expertise and passion points;
The top skills to acquire and master; and
What path you need to take to work towards a CMO role.
Sangram's Bio:
Sangram Vajre is a co-founder of Terminus and the author of the first book on account-based marketing (ABM) and co-author of his newest book ABM is B2B. Sangram is most affectionately known as the "evangelist" of ABM for helping create a brand new category that has now more than 100,000 jobs with "ABM" as a skillset.
He founded the FlipMyFunnel Community in 2014 to provide a place for B2B marketing and sales innovators to foster the account-based mindset and to learn from each other. Prior to Terminus, Sangram ran marketing at Pardot (acquired by ExactTarget and then ExactTarget was acquired by Salesforce for $2.5B).
Sangram is an international keynote speaker, big hugger, author, and host of the top 50 business podcast called FlipMyFunnel with over 100,000 subscribers.

Connect with Sangram: LinkedIn or Twitter
Event Note: Often our event runs closer to 1-hour by the time we get through all Q&A. Please be aware that we will be recording this event and it will be available shortly after we conclude the live event.