We are thrilled to invite you to an upcoming Utah Digital Marketing Collective Online Event, Wednesday, October 20, 2021
To RSVP simply click the "Attend Button" to the right (on desktop) or at the bottom of the page (on mobile), and follow the instructions.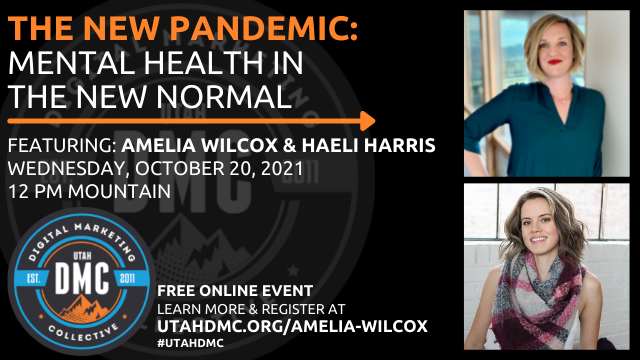 Our Presenters:


Amelia Wilcox & Haeli Harris
Presentation Title:


The New Pandemic: Mental Health is the New Normal
Presentation Description:
Did you know that 48% of people are experiencing increased stress levels since COVID began.

In this presentation with Amelia Wilcox, CEO and Founder of Nivati, and Haeli Harris, Lead Clinician and Licensed Marriage and Family Therapist, you'll gain the knowledge you need to support yourself. You'll learn about the effects of stress, how to recognize them, and how you can support your wellbeing through mindfulness and self-care tools. You will even learn how to discuss mental health with others right from our lead counselor - the most important thing you can do to support yourself and others on their mental health journeys.
Takeaways:
Learn why 48% of people are experiencing increased stress levels since the pandemic began.
Discover what mental health is and the effects of stress on mental health.
Learn how to discuss mental health with others and take care of yourself through mindfulness and self-care.
Discover mindfulness at work and best practices.
Discover corporate and employee self-care strategies
About Amelia Wilcox
Amelia Wilcox is the Founder and CEO of Nivati (formerly Zenovate) a leader in corporate massage since 2010. Her high-growth B2B company who's platform provides employee stress management tools that arm businesses with actionable data and positive employee experiences to improve wellbeing, boost morale, and increase engagement.
Amelia has exponentially grown her company from a solo living-room service business to an international technology brand.
Awards
Recently listed as a Forty Under 40, Fast 50, Inc 5000 Twice awarded National Woman-Owned Small Business of the Year
Licenses, Certifications & Memberships
Licensed Massage Therapist since 2002
Member of American Massage Therapy Association
Served on Utah Worksite Wellness Council from 2012-2015
Education
Attended Utah College of Massage Therapy
Educated in Nutrition and Exercise Physiology at the University of Utah
Publications
Massage Magazine (AMTA's publication)
Connect with Amelia: LinkedIn
About Haeli Harris
Haeli Harris, LMFT is the Lead Counselor at Nivati. She has been practicing as a Marriage and Family Therapist since 2014. Haeli has experience working as a therapist in private practice settings, residential facilities, outpatient treatment care, schools, and telehealth.
Licenses, Certifications & Memberships
Licensed Marriage & Family Therapist, UT
Registered Yoga Teacher 200
Trauma Conscious Yoga (2021)
Clinical Member of the American Association for Marriage and Family Therapy
Education
Bachelor's of Science Degree in Human Development and Family Studies, University of Utah
Master's of Arts Degree in Marriage and Family Therapy, Northcentral University
Connect with Haeli: LinkedIn
---
Event Note:
Often our events run over 1-hour by the time we get through all Q&A. Please be aware that we will be recording this event and it will be available shortly after we conclude.
Who Should Attend?:
Professional Internet / Digital Marketers

Marketing Directors, Managers, CMO's

PR and Communications Professionals

Business Owners/CEOs

Anyone who wants to learn how to take digital marketing to the next level
WHEN:
Wednesday, October 20, 2021 at 12 pm Mountain
COST & RSVP DETAILS
No Charge. It's Free, and unlimited capacity. Recording of the event will be made available shortly after the presentation ends.
Special Thanks to our Event Sponsor