We are thrilled to invite you to an upcoming Utah Digital Marketing Collective Online Event, Wednesday, November 18, 2020
To RSVP simply click the "Attend Button" to the right (on desktop) or at the bottom of the page (on mobile), and follow the instructions.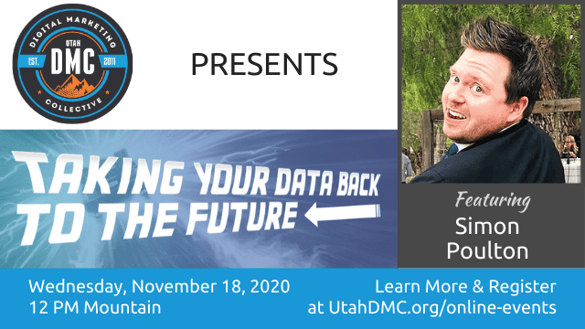 Our Presenter: Simon Poulton
Presentation Title: Taking Your Data Back To The Future
Presentation Description:
The nature of data accessibility is changing. While the machine-learning driven algorithms have never been more powerful, we're losing access to the very data these algorithms need to adapt and optimize media performance. With various legislation being passed both globally, and at the state level, as well as the ongoing browser privacy wars, the future of our data has never been more uncertain.
Join Simon as he walks us through:
Why & how we should embrace a privacy-first future.
How recent changes have impacted attribution & media targeting today.
A vision for the future and understanding where the Browser wars will take us.
Cookies? Where we're going we won't need cookies!
About Simon Poulton:
An interest in analytics forged in the fires of psychology, statistics & digital marketing, Simon has had a passion for finding creative ways to measure real-world scenarios from an early age.

In his current role as the Vice President of Digital Intelligence at Wpromote, Simon oversees the Analytics Development, Data Analysis, Data Science & Solution Architecture team. In this role, he sets the vision for the future of digital measurement and actively engages with business leaders to democratize digital marketing analytics allowing organizations to make confident data-backed decisions. He recently led the team focused on measurement for the launch of NBC's new streaming service, Peacock.

Simon regularly speaks at industry events, including SMX (West, East & Advanced), State of Search, Wpromote's Challenger Summit, and E-commerce Catalyst (Cleveland Research), and is returning for the 2nd year to speak at the Utah DMC!
Connect with Simon: LinkedIn or Twitter
Who Should Attend?:
Professional Internet Marketers

Savvy Sales Professionals

Marketing Directors, Managers, CMO's

PR and Communications Professionals

Business Owners

Anyone who wants to learn how to take digital marketing to the next level, and generate revenue for your business
WHEN:
Wednesday, November 18th, 12 pm Mountain
COST & RSVP DETAILS
No Charge. It's Free, and unlimited capacity. Recording of the event will be made available shortly after the presentation ends.
Special Thanks to our Event Sponsor