We invite you to join the Utah Digital Marketing Collective at 50 West Club Wednesday, February 20th 2019
We have an amazing night planned, with two amazing speakers, that you do not want to miss!

Our First Presenter: Michael Salamon
Presentation Title: Step 3: Trail Assessment and Condition Surveys (TRACS)
Bio:
Michael is a multi-talented Digital Strategist, User Experience Lead (UX), User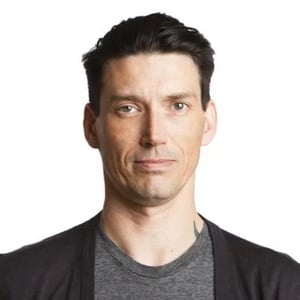 Interface Designer (UI), and Art Director living in Denver, Colorado. With more than 20 years of design experience, his work spans print, web, mobile, desktop, motion, illustration, photography, sculpture, and animation.
Along with authoring articles and giving presentations he also lectures as an Adjunct Professor in the Digital Design Department for the College of Arts and Media at the University of Colorado, and at Front Range Community College's WebLab development bootcamp.
Presentation Description: Step 3: Trail Assessment and Condition Surveys (TRACS)
Presentation Description:
User experience isn't just the designer's responsibility anymore. With the increasing availability of robust digital marketing tools, and the ability to implement and launch campaigns without the need for IT deployment support - the reality is that the marketing department is often responsible for the initial touchpoints of the customer experience. As such, there are a few core 'design thinking' principles that should be a part of every marketer's playbook.
The first step, Identifying your Personas; and the second step, Documenting the User Journey, continue to be discussed and workshopped, but what comes after that?
TRACS is the third step in Lousy's methodology. It focuses on conducting customer journey touchpoint inventory, condition assessment, recommendations for service design modifications, and integrated marketing campaigns. TRACS utilizes existing research, VOC, and customer journeys to identify the various business goals and user needs, then offers a method to test and measure that those needs have been met.
This section of our methodology is inspired by the US Forest Service. After all, they are the experts on looking out for everyone's interests on a journey into the wilderness. It's not revolutionary thinking, but the power seems to lie in its ability to visualize the project from an abstracted view.
Let us walk you through our rationale, the main components and their constituent pieces, how we use it, and a preferred way to share the resulting thinking across the organization.
Connect with Michael: Linkedin Twitter
---
Our Second Presenter: Sarah Weise
Presentation Title: The New Rules of Marketing for Gen Z
Bio:
As Partner, Global Research at Brilliant and former UX Director at Booz Allen
Hamilton, Sarah Weise has been at the forefront of historical website launches, has boosted e-commerce sales no one thought possible, and has been put to the test at a time when tragedy struck and America needed to know. She has leveraged customer research to craft experiences for over 100 brands.

She is an author, top-rated keynote speaker, and expert in psychographic research, Generation Z and Y customer behavior, and the future of experience design. She lectures at Georgetown University, is a co-founder of UX Masters Academy, and speaks at conferences worldwide. Past conferences include MozCon, Sanoma's Get Tomorrow, Digital Summit, Internet Summit, Content Marketing Conference, and UXPA International. She has also been published in Journal of Digital Banking and Journal of Digital & Social Media Marketing.

Sarah is passionate about delivering products that are captivating, magical, and radically intuitive—products that people will use today and in the future. Her rich background includes an MBA, empathy research with a former FBI Hostage Negotiator, and 250+ volunteer hours on the phones at a suicide hotline to study connection in time-sensitive, high-stakes settings.
Presentation Description:
Move over Millennials, there's a new kid in town. Teens today, known as Generation Z, outpace Millennials by 3M and wield $44B in buying power. Yet what makes Gen Z incredible is how different this group is from those born just a few years earlier. This generation of digital natives is an entirely different consumer—one you need a new marketing strategy to reach.
Takeaways:
Packed with stories told directly from these screen-agers, you'll learn how the next generation of customers wants to find info, transact, and connect with businesses like yours:
Where do they go for different types of content?

What motivates them to stay engaged?

What do they consider 'news' and how do they find it?

Why do they have 5+ Instagram accounts?

What draws them in

What keeps them coming back?
We'll talk about content curation, social media preferences, multitasking, scavenger hunts across apps, inspiration from news feeds, authenticity, time obsession, money mindsets, and—of course—goat yoga.
If you don't know this about Generation Z, you'll be out of business before you can say 'IG'.
Connect with Sarah Weise: Linkedin Twitter
---
Who Should Attend?:
Professional Internet Marketers
Savvy Sales Professionals
Marketing Directors, Managers, CMO's
PR and Communications Professionals
Business Owners
Anyone who wants to learn how to take digital marketing to the next level, and generate revenue for your business!
WHAT:
Actionable marketing tips & tactics
Professional networking event
Some tasty food
Valuable Q&A session featuring the presenters

WHEN:
Wednesday, February 20 2019
6pm - 7pm: Check-in, networking, food & refreshments served
7pm-8:30pm: Presentations by guest speaker(s)
8:30-9pm:Q&A and wrap up
WHERE:
50 West Club
50 E Broadway
Salt Lake City, UT 84101
COST & RSVP DETAILS
Free for all Utah DMC members. $20 for general public/non-members.
Note: Must arrive and be checked in prior to 7pm.
Seating is limited, and attendees must RSVP in advance for admission. If you register, please plan on attending. We are ordering food for you.
If you are not a member of Utah DMC, we encourage you to join, and attend the event.
*Ticket availability not guaranteed. Tickets may not be transferred or sold. NO REFUNDS.
The Utah DMC Board Email: Info@utahdmc.org 
Tweet: @TheUtahDMC / #UtahDMC
Special thanks to our Event Space Sponsor