We are thrilled to invite you to an upcoming Utah Digital Marketing Collective Online Event, Wednesday, September 1, 2021
To RSVP simply click the "Attend Button" to the right (on desktop) or at the bottom of the page (on mobile), and follow the instructions.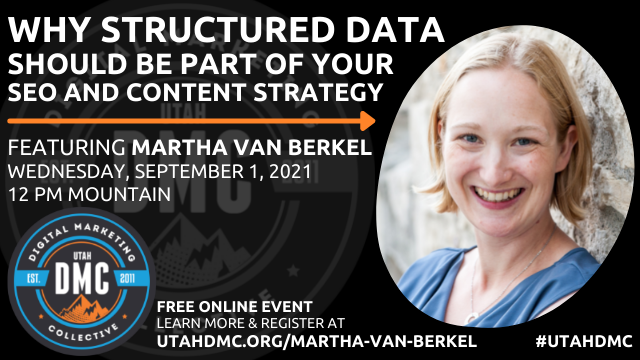 Our Presenter:

Martha van Berkel
Presentation Title:

Why Structured Data Should Be Part of Your SEO and Content Strategy
Presentation Description:
Structured Data expert, Martha van Berkel, helps companies understand this complex area of SEO and create strategies on how to leverage it to stand out in search.
In this session, Martha will share why structured data should be part of your SEO and content strategy, as well as 3 key principles when getting started.
After this session, you'll be able to:
Understand why you should care about structured data and how this area of search is changing
Identify rich result opportunities for your content today and how to plan for it in future
How to create connected markup to improve semantics and understanding of your content.
About Martha van Berkel
Martha van Berkel
is the CoFounder and CEO of
Schema App
. Schema App translates website content into structured data, for any content on any CMS resulting in more impressions and clicks. Martha and her team do structured data 365 days a year and LOVE sharing their knowledge about doing proper, connected structured data.
Prior to Schema App, Martha was a Senior Manager at Cisco Systems for 14 years responsible for the global online support strategy. During her career at Cisco she was an intrapreneur, starting new organizations, or introducing new technology to Cisco's global customers and partners. Martha has a degree in Applied Mathematics and Engineering, and attended MIT for Innovation and Strategy, and is a rower and a Mom of two energetic kids.
---
Event Note:
Often our events run over 1-hour by the time we get through all Q&A. Please be aware that we will be recording this event and it will be available shortly after we conclude.
Who Should Attend?:
Professional Internet / Digital Marketers

Marketing Directors, Managers, CMO's

PR and Communications Professionals

Business Owners/CEOs

Anyone who wants to learn how to take digital marketing to the next level
WHEN:
Wednesday, September 1, 2021 at 12 pm Mountain
COST & RSVP DETAILS
No Charge. It's Free, and unlimited capacity. Recording of the event will be made available shortly after the presentation ends.
Special Thanks to our Event Sponsor