This is what you need to Know.
SLC | SEM is Utah's largest association of digital marketers.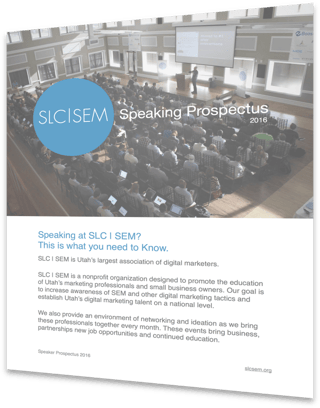 SLC | SEM is a nonprofit organization designed to promote the education of Utah's marketing professionals and small business owners. Our goal is to increase awareness of SEM and other digital marketing tactics and establish Utah's digital marketing talent on a national level.
We also provide an environment of networking and ideation as we bring these professionals together every month. These events bring business, partnerships new job opportunities and continued education.
Inside this prospectus you will learn about:
Topics we cover
Typical event schedule
Example of previous speakers
Attendee demographics
Sponsors we have had
Speaker recommendations
Get your copy by filling out the form on the right.