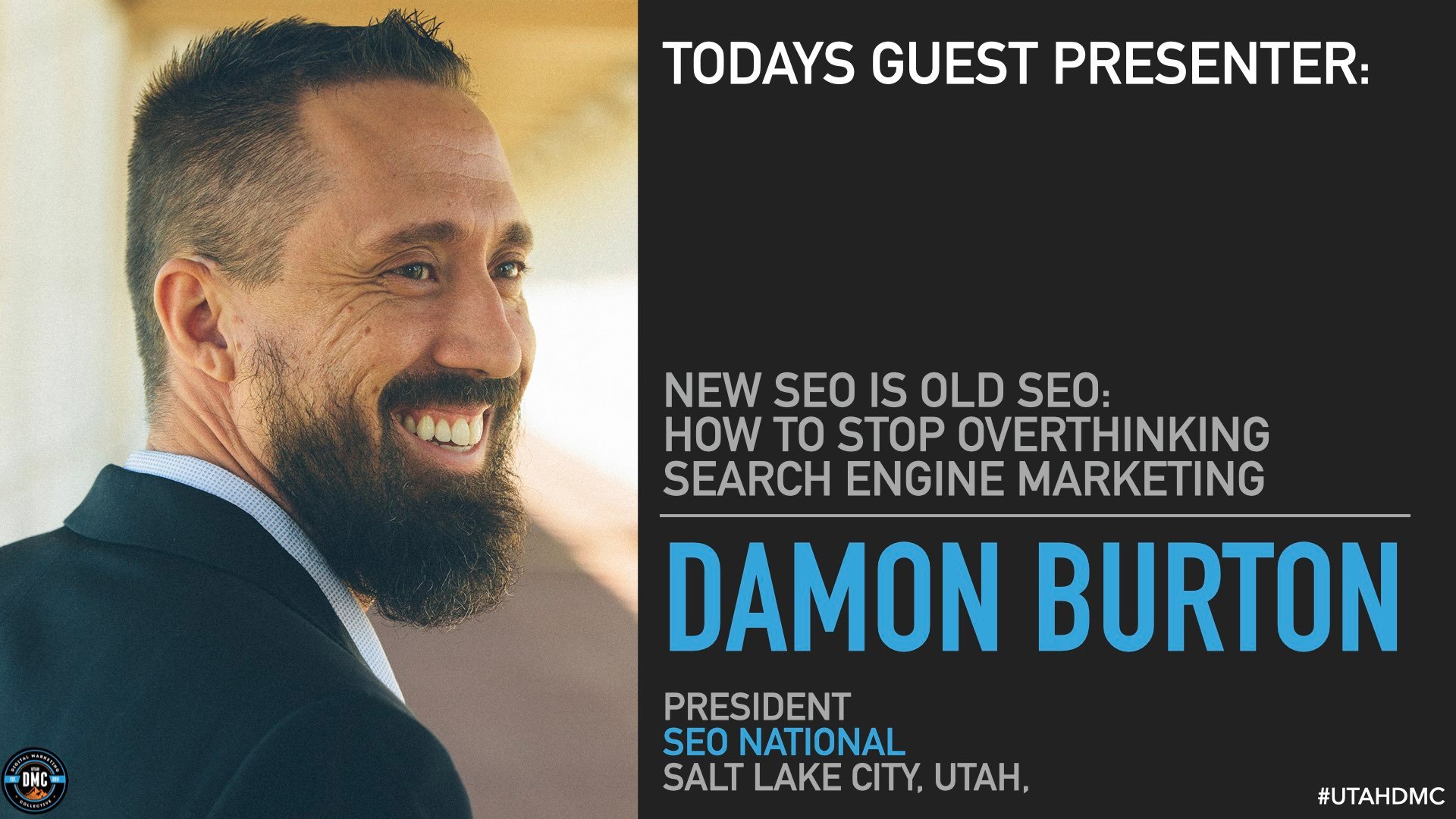 Our Guest Presenter: Damon Burton
Our April 28th, 2021 Utah DMC live online event featured Damon Burton, founder and President of SEO National, an international search engine marketing company based here in Salt Lake City, Utah.
This was Damon's first time taking the DMC stage as a presenter, and we were thrilled to have him present: New SEO is Old SEO: How to Stop Overthinking Search Engine Marketing.

Since founding his company in 2007, Damon has worked with NBA teams, Inc 5000 companies, as well as Shark Tank featured businesses. Damon writes for Forbes and has been featured in publications including Entrepreneur Magazine, BuzzFeed, and USA Weekly.

Not only does Damon bring an easy-to-follow approach to increasing revenue and online visibility, but he's also a trusted educator on the subject… In fact, he has literally written the book on how to "Outrank" your competition. His new book Outrank serves as a guide to those who want to dominate Google's search results without paying for ads. You can even download a free copy here.
Doc and AJ had a blast on this live broadcast with Damon, and now we are thrilled to share the opportunity for you to learn from Damon as well in this recap and event replay. (Note: This post is a high-level recap. At the end of this post you can watch the entire replay of the event with audience Q&A, as well as download his full presentation deck from the BrightTalk interface.)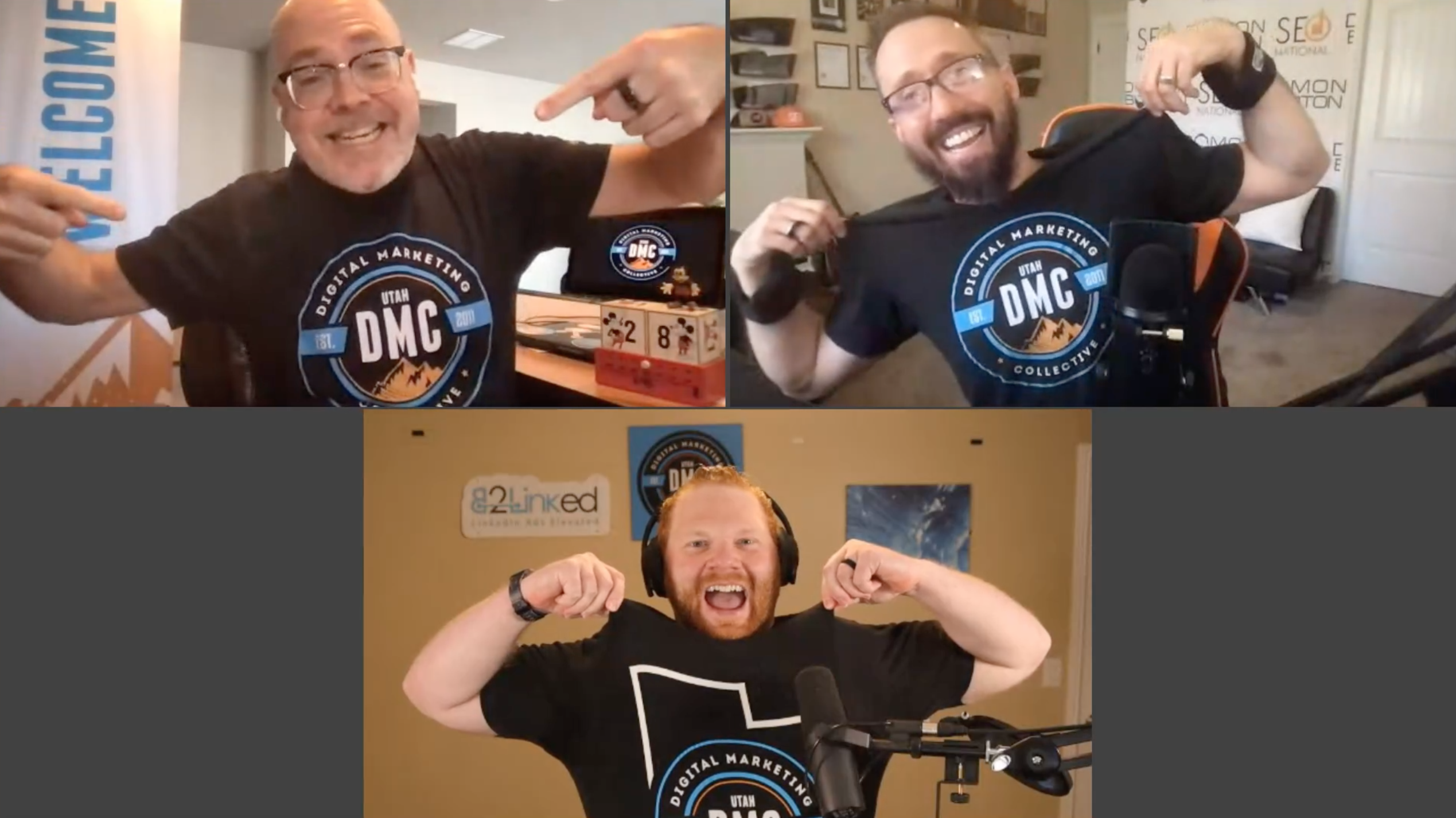 Old SEO is the New SEO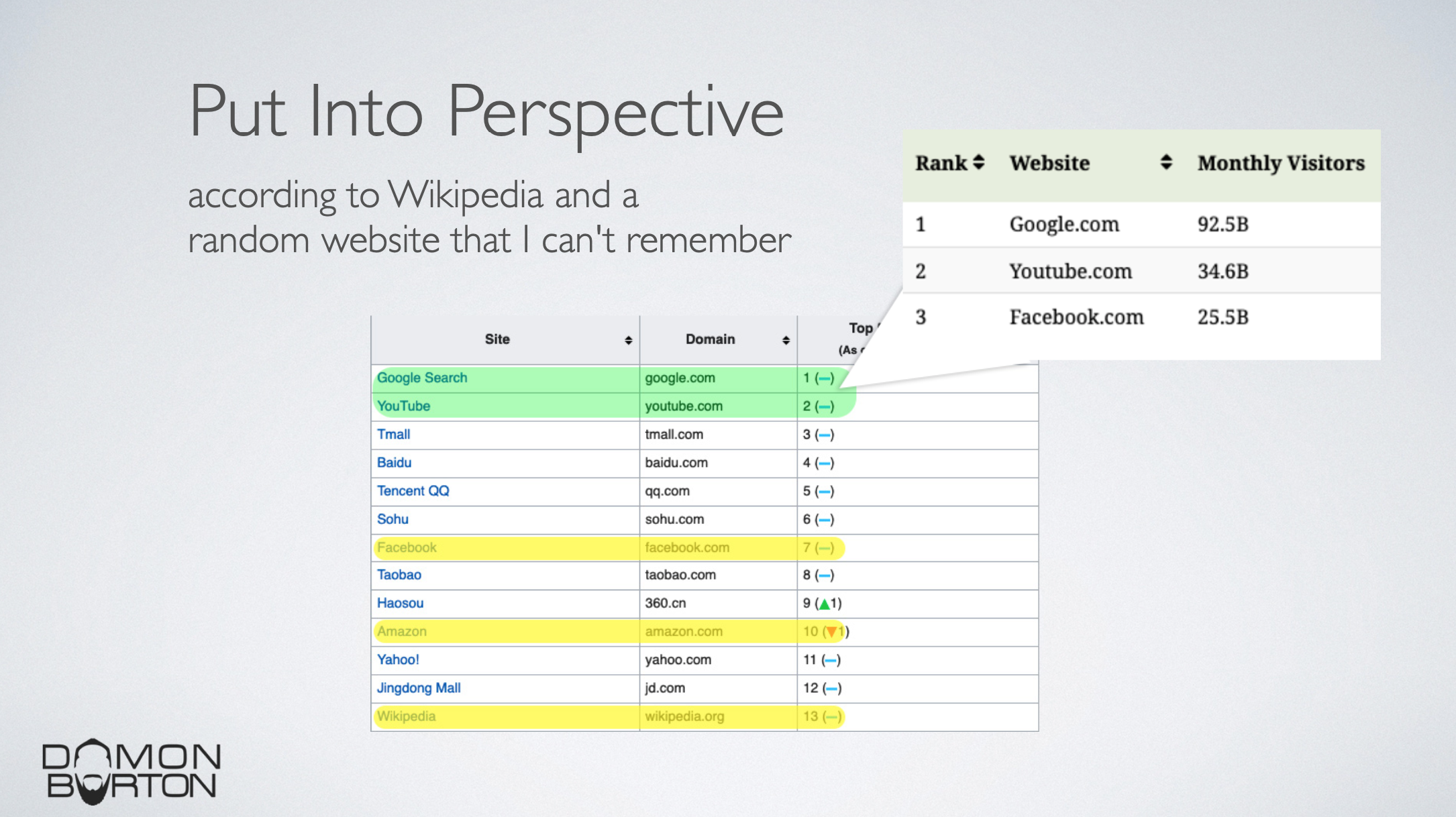 In Burton's presentation, he reminded us all about the importance of Google's role in our efforts to rank naturally in search engines. Google is the number one visited website with a little over 92.5 billion visitors each month. YouTube isn't even close after that sitting at a little over 34.6 billion monthly visitors. This means that it is extremely important to focus on the core SEO processes Burton outlines in his presentation. Let's jump right into what Burton says is essential when providing SEO for clients.
Core SEO Processes Outlined by Burton:
Good External Credibility
Good User Experience
Good Site Structure
Good Page Speed
Good Content
Good Design
Having these six core SEO processes and principles in mind, any client we help rank naturally in search results will naturally rank higher and will withstand future algorithm updates. Burton goes on to explain how these six core SEO principles play into the previous algorithm updates on Google.
How Do Google Algorithmic Updates Impact SEO?
For those of you who do not remember, Penguin was an algorithm update pushed out by Google that devalued spammy backlinks, increased the value of relevant links, and focused on quality of links over quantity. "Penguin had an overnight impact on businesses and clients who focused on quantity over quality. Those who focused on the long game of acquiring quality links remained on the straight and narrow path to success."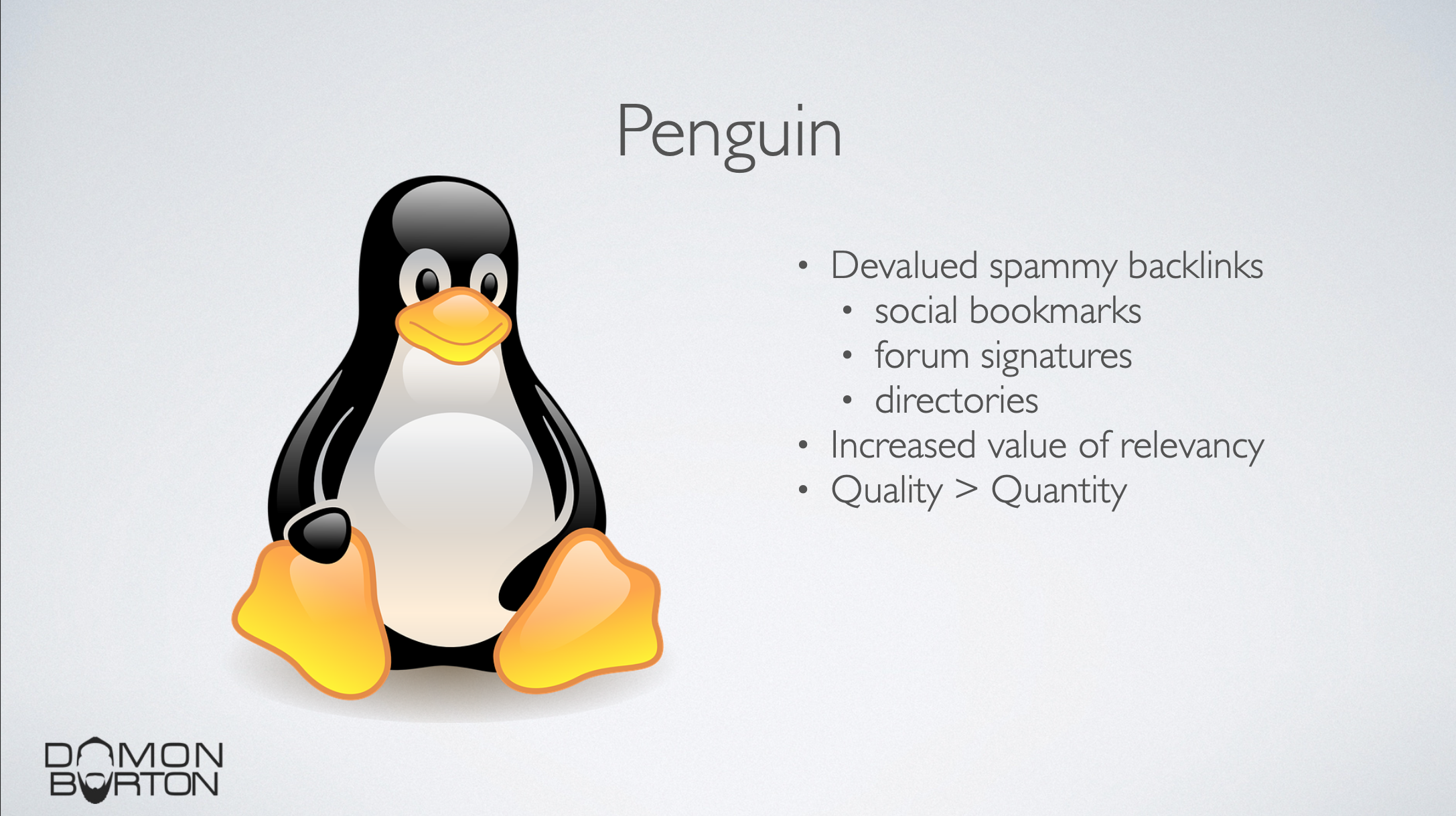 Now, how do these three updates play into the six core SEO principles Burton previously outlined? It produced good external credibility for sites.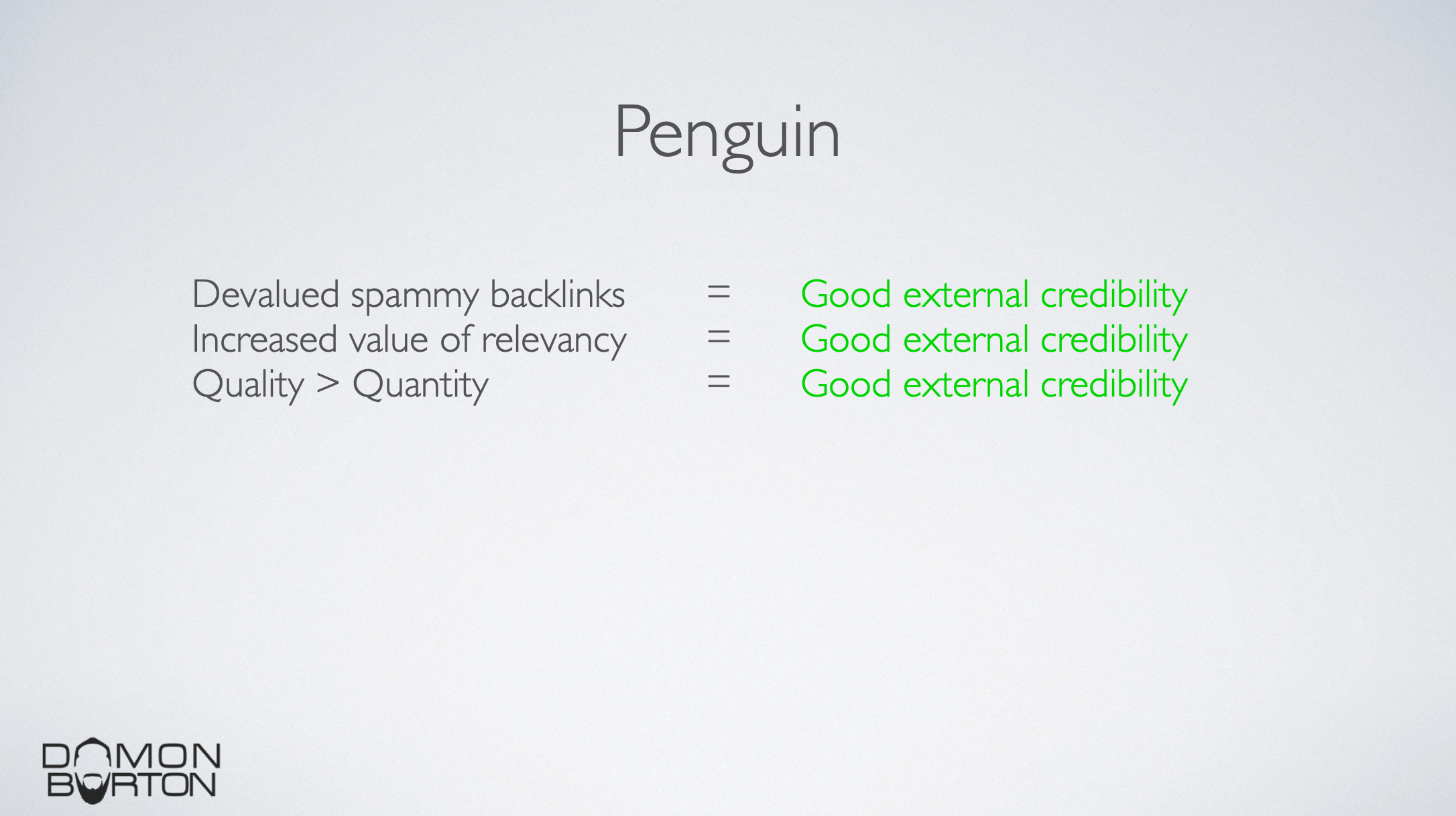 Another example Burton mentions is Panda. Panda was a Google search engine update that focused mainly on value-added content, original content, and quality of content over quantity. Many were found searching a keyword, finding a high-ranking piece of blog content, and copying it just to end up creating duplicate content for their own website to piggyback off of previously ranking content. This was not a strategy that Google valued and it did not follow the six core SEO principles outlined by Burton.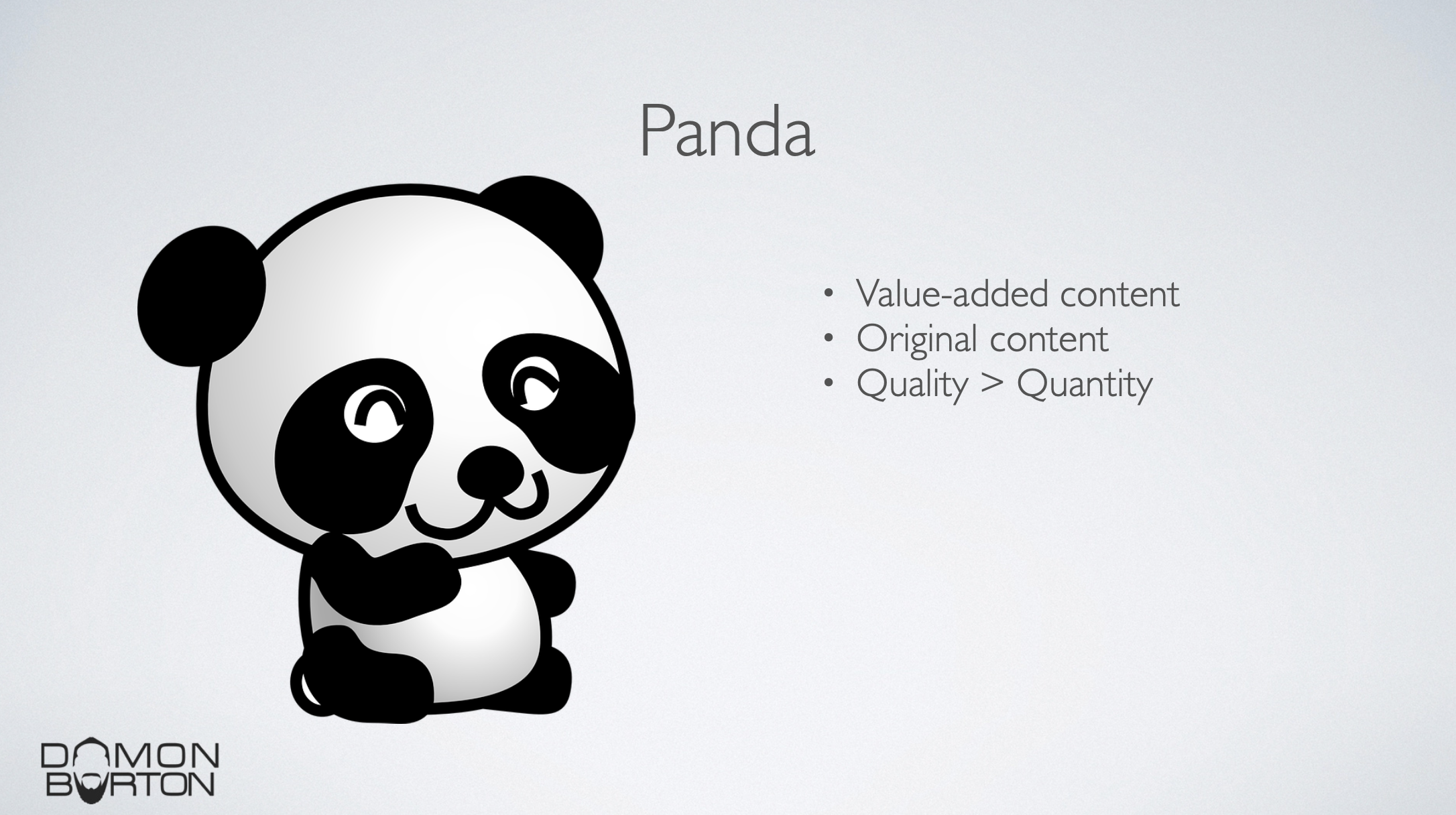 What core SEO principles did these three changes mainly focus on? Panda was designed to weed out bad content and emphasize good content. Burton says, "Out of all the clients we've worked with, not one client has been negatively impacted by algorithm updates due to us focusing on the core SEO processes."
Isn't SEO Dead or on the Verge of Dying?
One question that was posed during the presentation was, "But isn't SEO dead or on the verge of dying?" Burton responded with, "no, and it never will unless Google goes 100% paid, which will tank their credibility." Paid ads may have their place, and move the needle when it comes to generating traffic to a website, but the number of web visitors by channel in a study performed by Conductor was marginal.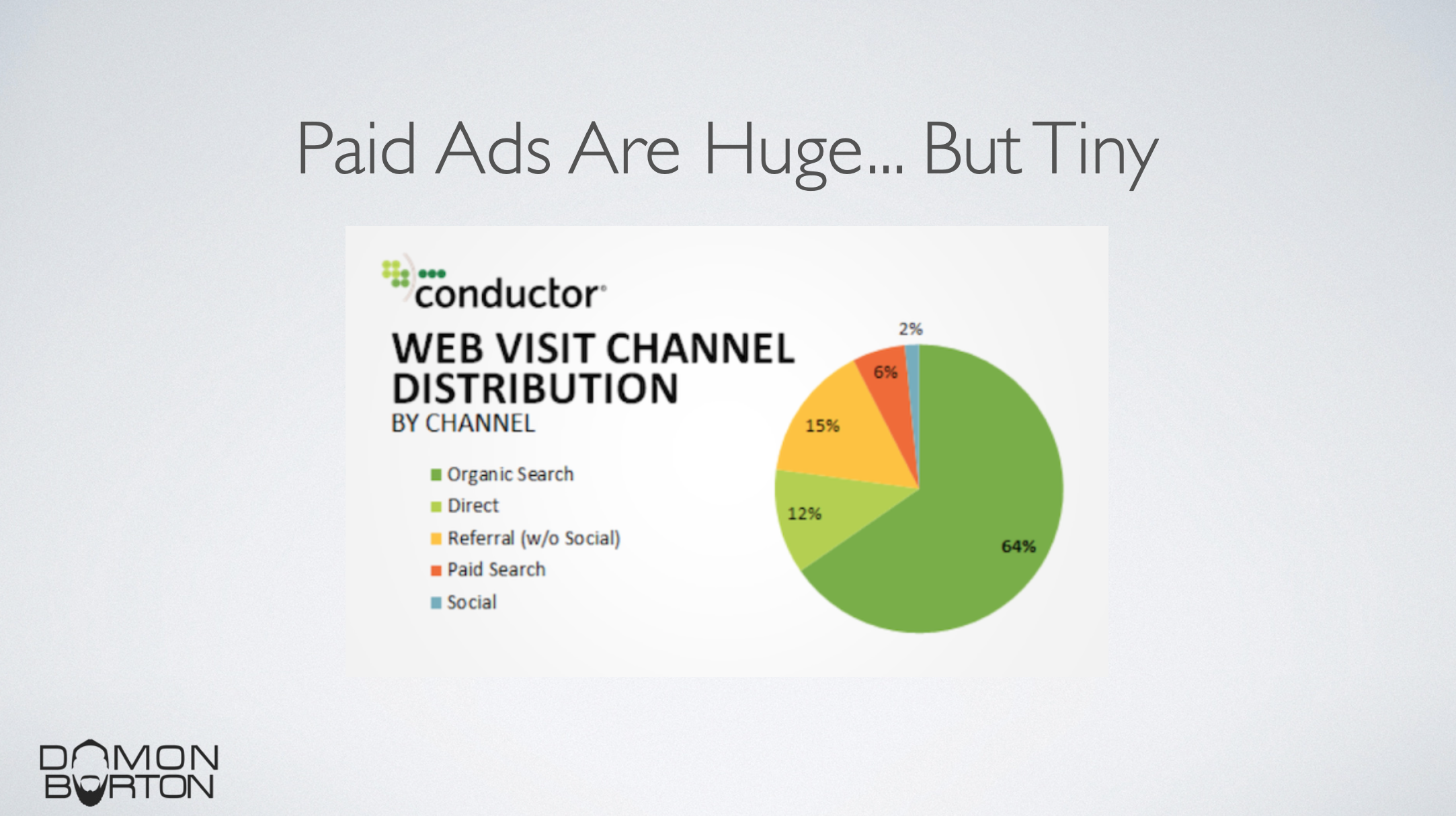 According to Conductor, only 6% of web visitors come from Paid Search. 64% of web visitors come from Organic Search results. Paid ads may be able to provide an initial increase in web visitors, but it isn't made for the long run. Recent shifts in focusing on different digital marketing pillars such as paid ads to search engine optimization have been happening more often in recent years.
Have you ever heard of banner blindness? Banner blindness is caused by Google placing advertisements at the top of a search results page so often that the customer scrolls right past them to get to the trusted natural search results. According to a study performed by Backlinko, "the top 3 Google [organic] search results get 75.1% of all clicks."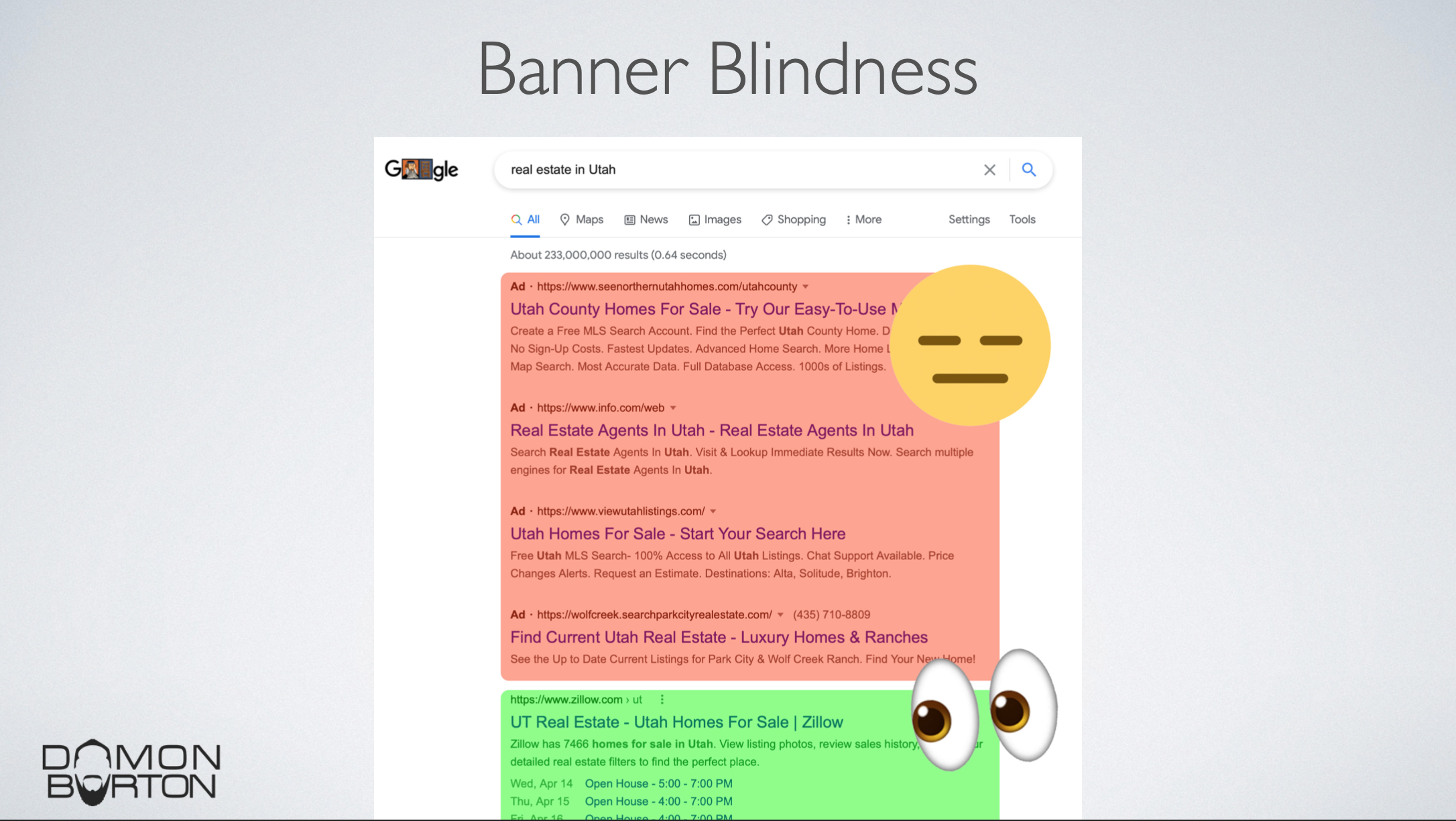 Paid ads can be distracting and disrupt a natural process from both an advertiser's and customer's perspectives. The buyer intent of a paid ad is different from that of a natural search result. The buyer's intent behind a natural search result comes from a real intent of wanting to learn or seek out a product. Customers are getting sick of having ads being in their faces all day long and are moving more towards natural search results. SEO can solve buyer intent issues and ad fatigue from both an advertiser and customer perspective.
Conclusion
As Burton previously has said, "SEO is not dead, [and] not one client [will be] negatively impacted by algorithm updates due to… focusing on the core SEO processes." This will provide the best opportunity for clients to naturally rank higher in search results and become truly successful in the long run.
Also, just to show Damon practices what he preaches, take a look at a recent blog post on his site discussing how he grew his business by 10% in one day (the 24 hours after this Utah DMC event).
He states:
Goodness attracts more goodness. Positivity is infectious. One win welcomes more wins.
Do something meaningful and it will ripple on its own. Don't look for rewards in perfection, but persistence.
Utah DMC is thrilled to see this post from Damon, and we are happy we were able to introduce him to a new audience. To understand the full context of this post, be sure to watch the entire replay below, where Damon goes into much more detail than this recap post provides.
Speaking of that, do you have something you'd like to present to the ever-growing DMC community? If so, we'd love to speak with you. Head on over to this page, and tell us more about you and your expertise.
---
If you couldn't make this event live, you can see the replay below. Towards the end of the presentation, there was a great Q&A session where Damon answered viewer-submitted questions including:
Do you ask your employees to post on LinkedIn or is all of that LinkedIn revenue from you?
Do you have any book or blog recommendations for someone trying to learn SEO basics?
and many more
Additional resources shared by Damon were:
Lastly, be sure to connect with Damon on Twitter, LinkedIn, or his website DamonBurton.com
---
Explore our blog for more event recaps, and be sure to check out our DMC Online Events page to see all of our past and future digital marketing online events.
---
Ready To Watch This Full Event On-Demand?