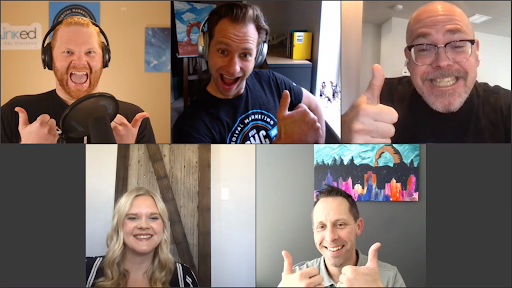 Our Guest Presenter: Josh Aston
Our May 26th, 2021 Utah DMC live online event featured Josh Aston and his business partner Jessica Chase. Josh has nearly 20 years of experience in marketing and has used this experience to launch his own Utah-based programmatic agency, Above The Fold. In addition to Above The Fold, Josh currently serves in an advisory CMO role at Blaast and was previously VP of Marketing for Progrexion/Credit.com, Brixio, and 1-800-CONTACTS.
Over the past couple of decades, Josh has managed teams of up to 50 people and been entrusted with marketing budgets of $60M annually. In Josh's most recent position, he led a digital marketing team that took a company with under $1M in annual revenue to being valued at $1.2B. Josh has a proven skillset that includes creating aggressive digital marketing strategies, content, and channels aimed to increase business development and visibility.
This is his first time presenting for Utah DMC, and we were thrilled to have him here to present: OK. I'm Embarrassed to Ask, but What is Programmatic?
Doc, AJ, and David had a blast on this live broadcast with Josh and Jessica, and now we are thrilled to share the opportunity for you to learn from Josh and Jessica as well, in this recap and event replay. (Note: This post is a high-level recap. At the end of this post you can watch the entire replay of the event with audience Q&A, as well as download her full presentation deck from the BrightTalk interface.)