The Ultimate Guide To Programmatic Display Advertising
Our first speaker of the evening was Bryan Duffin. Bryan Duffin is the Director of Paid Advertising for Avalaunch Media, and is a passionate digital marketer with expertise in AdWords, Bing, Facebook, YouTube, LinkedIn, Amazon, various Programmatic tools, and more.
Bryan begins his presentation covering Programmatic Display Advertising, which is essentially when one computer talks to another, and another, etc. for the placement of ads on websites. RTB (Real Time Bidding) utilizes programmatic processes, however, RTB isn't always synonymous with programmatic. See below for a visualization on how different platforms will connect multiple DSP's and multiple SSP's.

Bryan discusses the potential concerns that advertisers may have with programmatic ads, which may have stemmed from bots, ad fraud or lack of consistency and transparency, as well as how to overcome these potential objections. The Coalition for Better Ads has established better ads standards and has started blocking ads that are intrusive to a user. Also, utilizing additional attribution and analytics tools can help to solve transparency concerns. Leveraging unstructured data can also help to solve the 3rd party problem.
Bryan shares interesting insights pertaining to the programmatic display mindset, explaining that it may be advantageous to follow the rule, "Don't Optimize For Clicks". This is due to less than 16% of users will click on a banner ad, the majority of users will go to the website from another source after the impression.
When setting up and utilizing programmatic display campaigns, it is important to remember that display can fit into any phase in the funnel and that delivering the right messaging is crucial.
Bryan offers the following tips for setting up a successful programmatic display advertising campaign:
A/B Test

- Always make sure to A/B test your creative

Split Creative

- Change and optimize for different audiences

Unstructured Data

- Leverage your own CRM data

API Feeds

- Create dynamic creative with API feeds like weather, flights, etc

Relevancy & Timing of Ads

- Create ads that are relevant and timed according to the user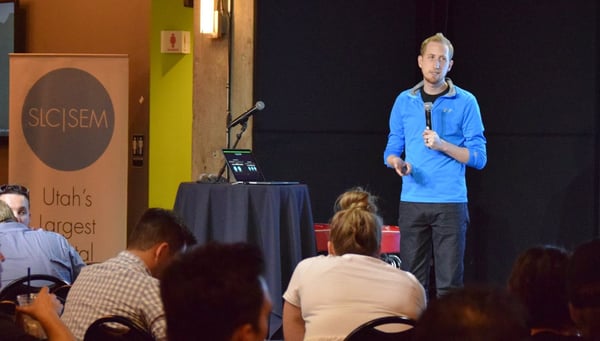 Audience Targeting: Strategy, Optimization & Expansion
The second speaker of the evening was Michelle Morgan, who is the Director of Client Services for Clix Marketing. Michelle has over 7 years experiences in the digital marketing industry and shares regularly as an industry speaker, influencer and author.
Michelle's presentation was all about audiences and how to strategically build, optimize and expand these. She also discussed gaining insights, campaign structure and cross channel. Here are some tips on audience targeting:
Building Audiences
Target - Building Target Audiences
Be creative with user given data

Utilize algorithm based data

Create retargeting lists for non-converters

Make more impactful targeting lists instead of the standard 90 day all users lists, etc

Leverage engagement audiences that are preset

Set up audiences based on the users engagement with your video, such as users who viewed more than 26 seconds once the business was revealed

Create 3 separate audiences, a 30, 60 and 90 day

Match your CTA's (call to action's) with the audience

90 days = Soft CTA

60 days = Medium CTA

30 days = Firm CTA
Exclude - Who To Exclude From Your Audiences
Known Leads - Exclude both cookies and uploads from your audiences

Wrong Personas - If you know your target demographic, you likely know your unwanted persona so make sure to exclude them from your audiences

Job Searchers - Exclude users that hit your careers page

Quick Bounces - Exclude any poor engagement from your audience
Expand - Expand Your Reach
Patterned Lists - Put together meaningful patterned lists with good data for better output

Look-a-like Audiences - Utilize look-a-like audiences to find new people

10-50k audience size
Insights - Audience Analysis
Demographic Tools - Leverage demographics tools on Adwords, Facebook & LinkedIn

Audience Patterns - Research audience patterns and build custom audiences

Audience Analysis - Perform audience analysis with your good and bad lists
Michelle then discusses the importance of campaign structure. Creating a new campaign with a good campaign structure allows for better performance monitoring, success with your targeting options and types, the ability to optimize for individual performance as well as the capability to create smart user flows. A good campaign structure may include one target per ad group, with clearly defined and separated topics, markets, intent + keywords, as well as audiences + keywords.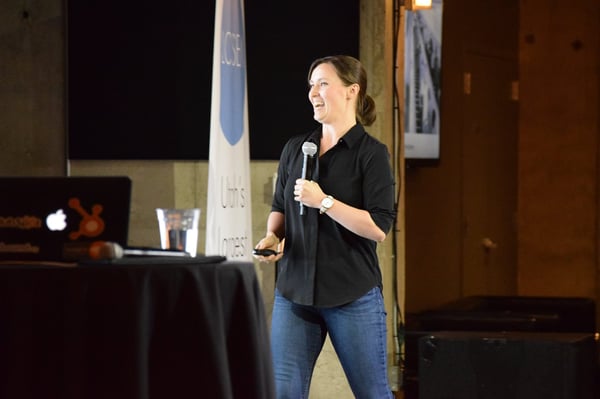 The Deck