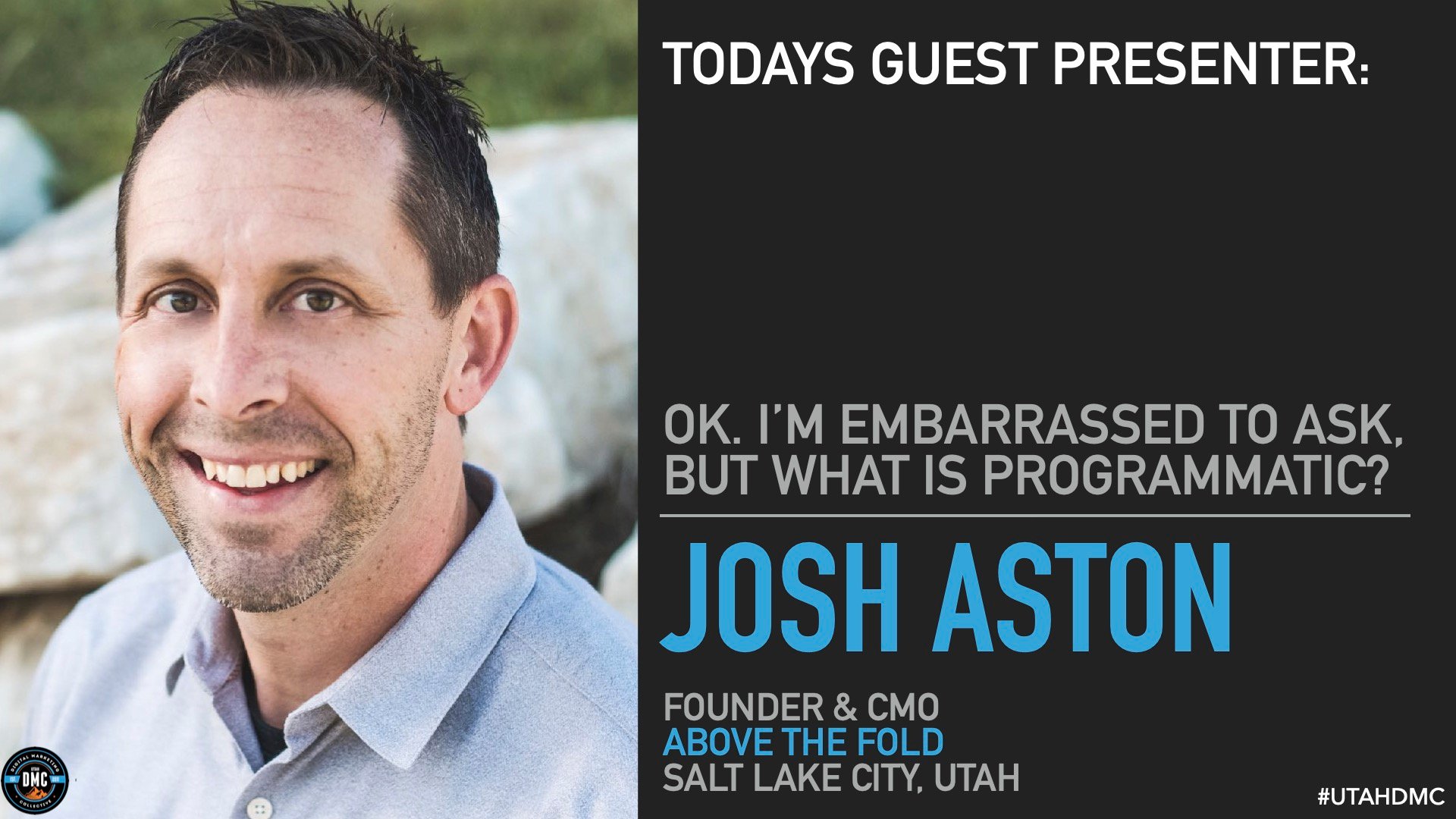 Our Guest Presenter: Josh Aston
Our May 26th, 2021 Utah DMC live online event featured Josh Aston and his business partner Jessica Chase. Josh has nearly 20 years of experience in marketing and has used this experience to launch his own Utah-based programmatic agency, Above The Fold. In addition to Above The Fold, Josh currently serves in an advisory CMO role at Blaast and was previously VP of Marketing for Progrexion/Credit.com, Brixio, and 1-800-CONTACTS.
Over the past couple of decades, Josh has managed teams of up to 50 people and been entrusted with marketing budgets of $60M annually. In Josh's most recent position, he led a digital marketing team that took a company with under $1M in annual revenue to being valued at $1.2B. Josh has a proven skillset that includes creating aggressive digital marketing strategies, content, and channels aimed to increase business development and visibility.
This is his first time presenting for Utah DMC, and we were thrilled to have him here to present: OK. I'm Embarrassed to Ask, but What is Programmatic?
Doc, AJ, and David had a blast on this live broadcast with Josh and Jessica, and now we are thrilled to share the opportunity for you to learn from Josh and Jessica as well, in this recap and event replay. (Note: This post is a high-level recap. At the end of this post you can watch the entire replay of the event with audience Q&A, as well as download her full presentation deck from the BrightTalk interface.)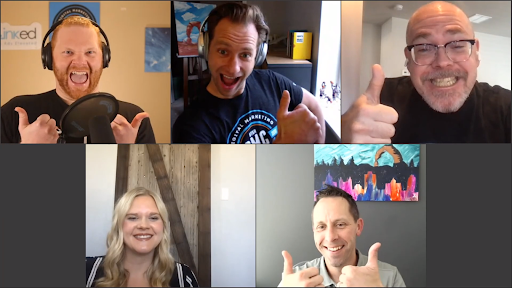 All About Programmatic
In Aston's presentation he covers:
What programmatic is and why it should be incorporated into marketing strategies
The opportunities available in the programmatic landscape
Programmatic strategies that work in 2021
What businesses programmatic is right for
What is Programmatic?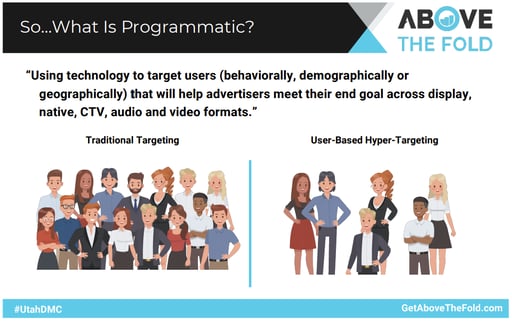 Aston explains that when it comes to programmatic, ad placement is focused on the audience, opposed to the site. For example, if you search around the web for basketball shoes, you may later see an ad for basketball shoes on a site that has nothing to do with the product. The ad is likely to catch your attention because you were previously doing research on basketball shoes.
Another point Aston makes is that because you want to focus on the audience rather than the site, you can minimize the number of individual sites you need to work with. People who use Above The Fold for programmatic are likely only using their agency and can count on Above The Fold to get their advertisements in front of their target audience—which may be accomplished on thousands of different sites.
What Aston loves most about programmatic is that once you have narrowed down your target audience, you can reach them through multiple media, such as:
Video
TV
Audio
Display
Native
With programmatic, you no longer have to weed through 100% of consumers to get to the 20% audience that you want to target. You can focus solely on the 20%, showing up across all forms of media to hopefully guide them down the sales funnel.
Opportunity & Size of Programmatic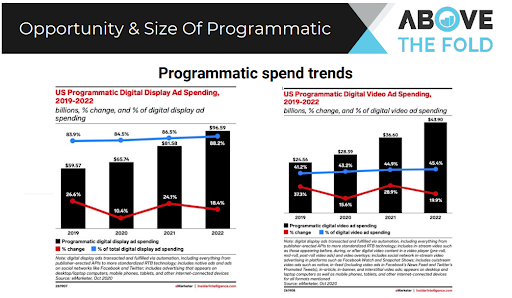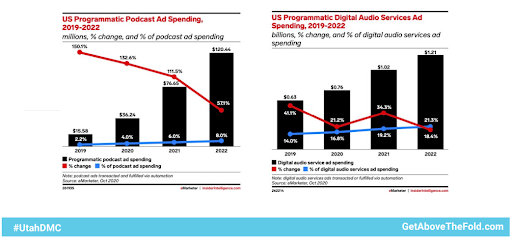 Aston uses this graphic to show how programmatic ad spending has trended upwards the last couple of years. He points out that 2022 digital ad spending is expected to reach $96 billion, with programmatic making up 88% of all digital display advertising.
Each of the four sections highlighted in the graphic (display, video, podcast, and audio) already has a solid foothold in the ad spending space, and Aston uses the significant upward trend we have seen recently to argue that opportunities with programmatic advertising are only going to increase.
Programmatic Strategies in 2021

When determining a programmatic strategy, Aston likes to break down potential areas and tactics into these three categories, as shown above:
Location
Demographic
Behavioral
Focusing on these categories can help the agency move forward with a plan that is best suited to the client and their product.
Location
With location, Aston explains that you can literally focus advertising to users who visit a specific store, park, ski resort, or any labeled location where users have their phone and applications running that track their location.
Demographics
Demographics use basic information to scale and deliver advertisements fit for the user, based on criteria such as gender, age, hobbies, etc. Aston goes on to say that oftentimes location and demographic tactics are combined to make sure the targets are precise and accurate.
Behavioral
Behavioral goes a little deeper by using tactics such as keyword searches and context to target ads. Google works similarly, but we can go even further than search engines do. Programmatic is able to prospect targets based on pure categories rather than specific keywords. Behavioral targeting also utilizes first- and third-party segments, which strengthen prospecting.
Going Beyond Traditional Targeting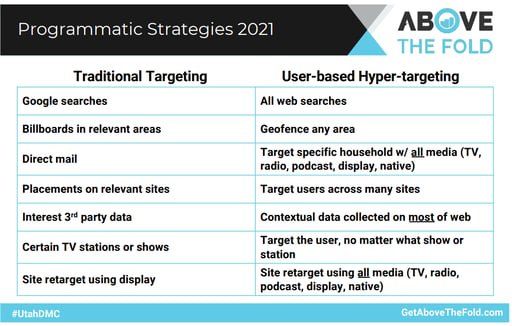 In this graphic, Aston provides us with an easy-to-consume comparison of traditional targeting and a more user-based targeting approach. Although the traditional targeting methods on the left still have a role to play, Aston explains how utilizing the user-based targeting methods in the right column can accelerate prospecting by targeting people who are further along the sales funnel.
As an example, Aston points to billboards. One of marketing's oldest tactics, billboards are great at reaching a high number of people every day. Many of Aston's clients use billboards and want to continue to do so, so his company will geofence the area around that billboard, enabling their clients to target the same people who see the billboard with multiple different advertising media, including:
Digital
Connected TV
Video
Audio
This takes what the client is already doing and amplifies it in a precise and effective way.
Is Programmatic Right For You?
Aston begins this section by outlining a list of specific metrics that his team uses to measure the effectiveness of their campaign. This list includes:
ROAS
Foot Traffic Conversions
Foot Traffic Lift
Spend
Impressions
Clicks
Actions
CTR
CPM
CPC
CPA
Budget
If you are currently reporting on these types of metrics for your current online/offline advertising methods, programmatic is a method that would make sense for you.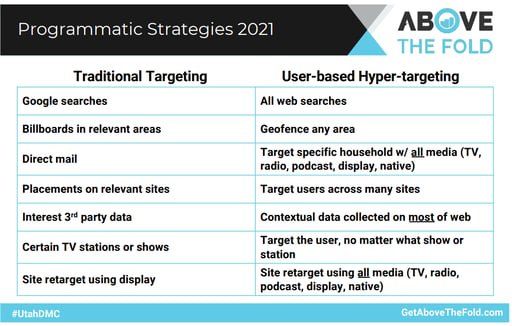 When Aston is speaking with a potential client and they ask if they qualify for programmatic, he likes to run through the criteria from the graphic above. If these factors currently describe their business, or if they're receptive to these three qualifying criteria, programmatic is an additive that Aston would recommend.
Conclusion
If you weren't familiar with programmatic before, this overview might be just what you need to introduce this powerful marketing technique to your business. The trends show programmatic continuing to grow in the near future, so it's a great time to get involved.
Utah DMC is thrilled to share this recap from Josh's event, and we are happy we were able to introduce him to a new audience. To understand the full context of this recap post, be sure to watch the entire replay below, which goes into much more detail than this recap post provides.
If you couldn't make this event live, you can see the replay below. Toward the end of the presentation, there was a great Q&A session where Josh and Jessica answered viewer-submitted questions including:
How do you mitigate fraud on programmatic platforms?
What type of budgets do you and your agency work with?
Would you recommend that companies abandon broad-based media (billboards, TV, etc.), or should they supplement those with programmatic?
Is it worth it to pay additional charges to combat ad fraud?
How has SKAN impacted your ability to target this precisely when a user opts out of tracking?
When comparing DSPs and different technologies, what's the best way to ascertain what's going to work best for your company?
How do you overcome ad blindness and make programmatic more effective?
What do you think about the mainstream suspicions that our phones secretly listen to our conversations to profile us for programmatic ad serving? :)

Have your Performance or Behavioral Programmatic Strategies been impacted in 2021 with the anticipation of cookie depreciation on Google Chrome browsers?

With Geo-Fencing how do you solve the problem of businesses in large skyscrapers and multiple business buildings?

With the onset of ioS14 and the cookiepocolypse, how do you recommend approaching lower-funnel/acquisition campaigns on programmatic for clients who do not have strong first-party databases/lists?

Are ad verification softwares like IAS and DoubleVerify actually necessary? Why can't we just use Google Ads or DV360 for verification?
Here is what one of our attendees had to say about this event!
Great content guys, thank you!
Lastly, be sure to connect with Josh on Twitter, LinkedIn, or his website GetAboveTheFold.com
---
Explore our blog for more event recaps, and be sure to check out our DMC Online Events page to see all of our past and future digital marketing online events.
Do you have something you'd like to present to the ever-growing DMC community? If so, we'd love to speak with you. Head on over to this page, and tell us more about you and your expertise.
---
Ready To Watch This Full Event On-Demand?