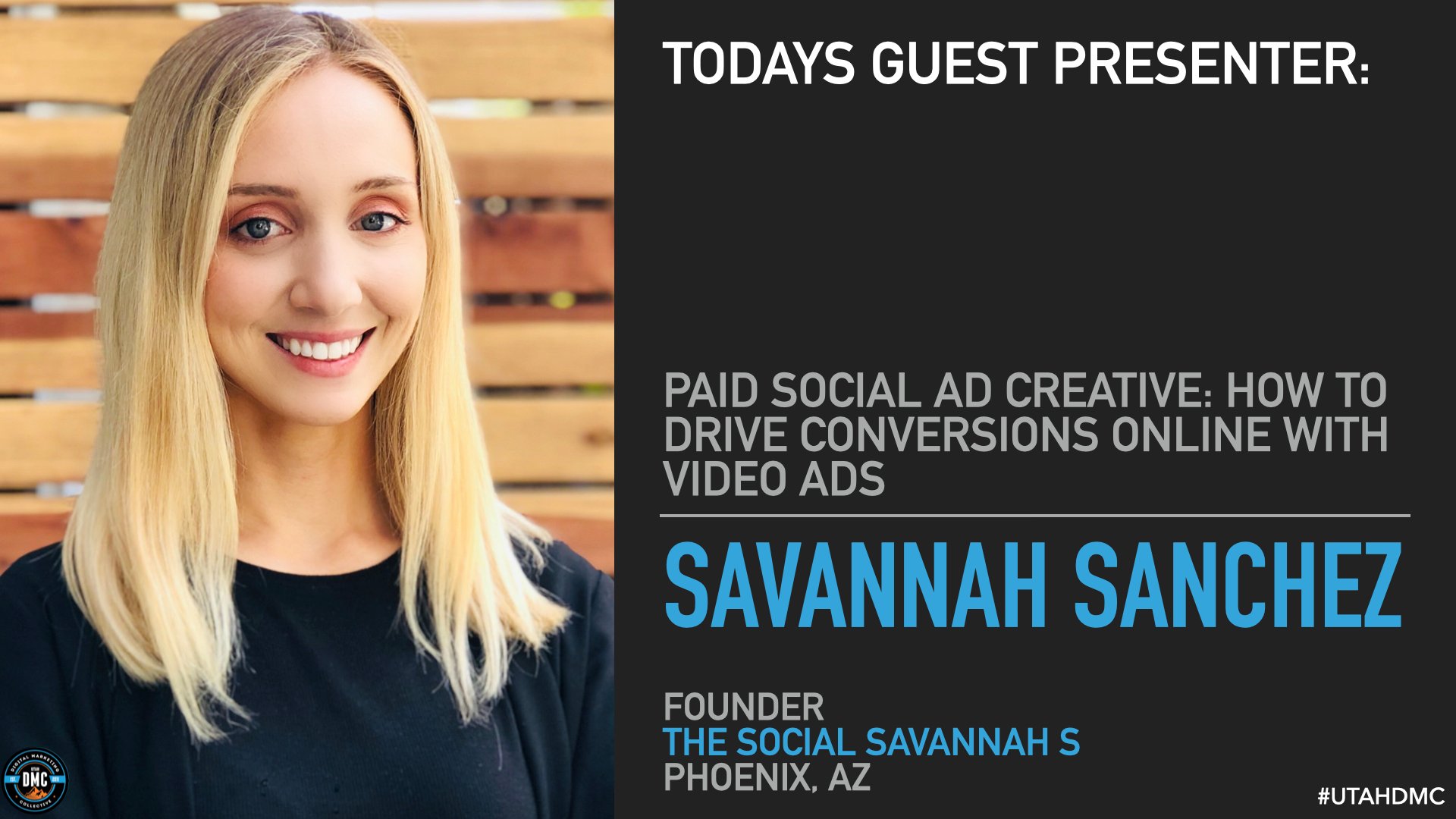 In our ever-evolving digital world, consumers are inundated with tons of advertisements. How do you stand out from the crowd, especially when you have just a mere three seconds or less to attract and engage?
This is the pivotal question paid social expert Savannah Sanchez dissected during this online Digital Marketing Collective presentation. As both a Facebook Marketing and Snapchat Ad Partner, Savannah shared her knowledge on the creative strategies for putting together social video ads.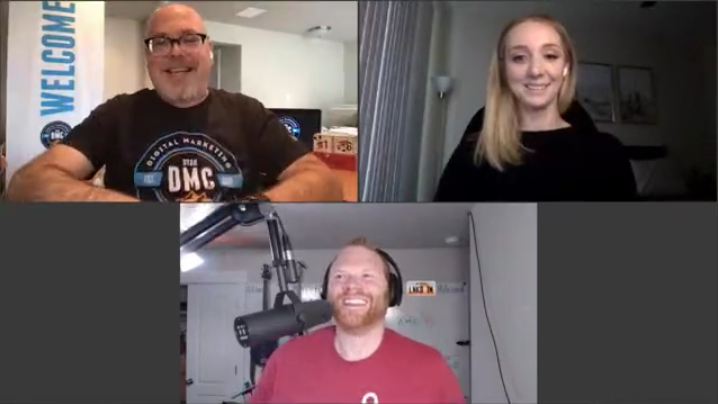 Leveraging Paid Social Ads to Gain Results Online
To truly harness the power of paid social ads on Facebook, Savannah emphasized how crucial it is to create and test different ad variations to see what brings the most engagement. She shared this statistic as a guiding mantra:

While Facebook advertising was all about hacking your way to success through media buying (manual bidding strategies and audience segmentation) prior to 2018, today, it's all about diving into heavy creative rotation and following mobile-first practices.
The Basic Principles for Mobile-First Advertising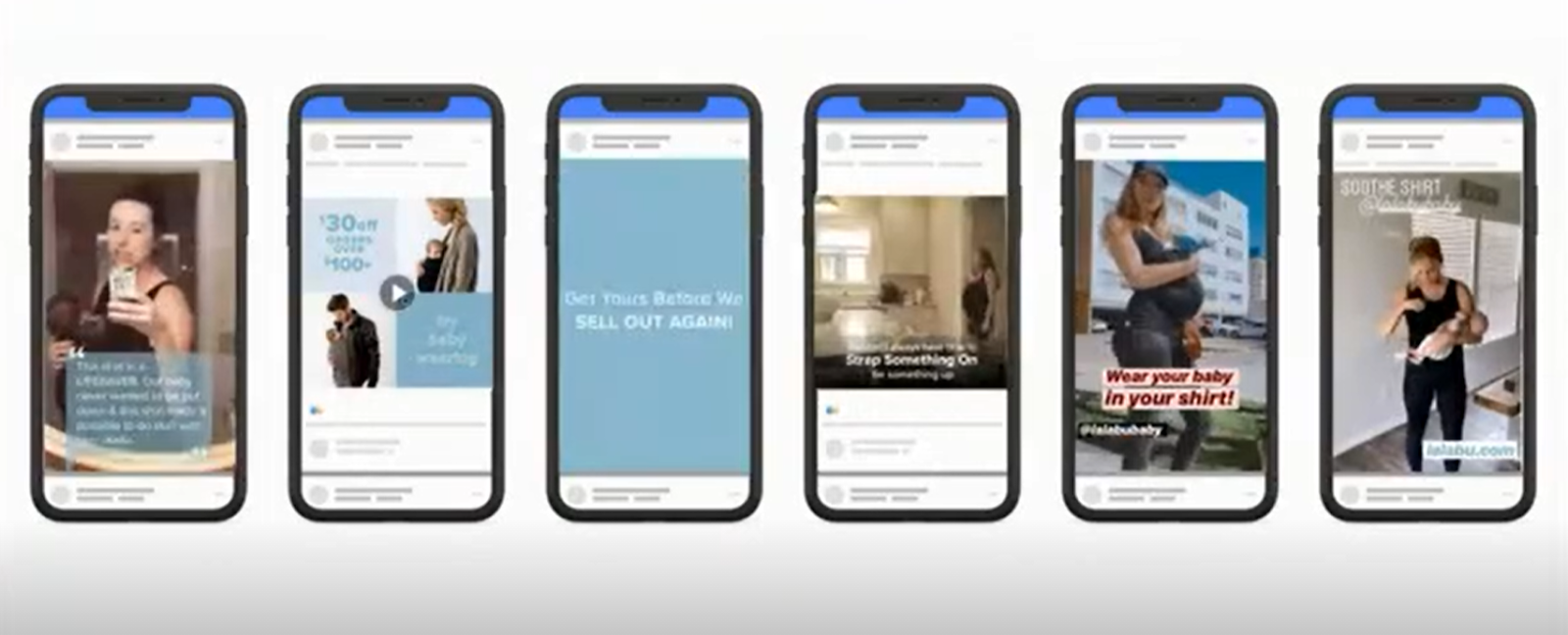 Seventy-eight percent of all mobile data traffic will be video in 2020. Video drives the highest levels of engagement. So how do you create effective video ads that will drive results?
Savannah shared five basic mobile-first principles:
Capture attention quickly: Hook people with the most engaging content. Implement attention-grabbing video thumbnails, and test the performance of different thumbnails to see what works best for your audience.
Length: Create video ads that are no more than 15 seconds, with the main message/CTA within the first three to five seconds of the ad.
Design for sound off: A lot of people might view the ad while they're at work or on the road, so add captions to tell your story. And instead of using sound to inform, use it to delight. That way, those viewing the ad with the sound off will still understand what your message is. For example, you might want to add voice over and background music.
Framing: When it comes to Facebook or Instagram ads, you should use square/1:1 dimension or vertical framing.
Play more: Creating more content and learning quickly are the best ways to ensure your success. So don't be afraid to create and test something new. Remember, if you test 11 more times faster than other advertisers, you can see three times more returns.
Common Ad Mistakes
Savannah further illustrated these key principles by sharing examples of good ads that followed the mobile-first principles and not-so-great ads that missed the mark.
The common ad mistakes she's seen are:
Ads with no captions. This confuses viewers. Without text on-screen, how will your audience know what's going on and what you're trying to sell?
Ads that try to be clever but not clear. While creating cool, quirky, and unique content is exciting, it can cause many creatives to overlook clarity, which then produces a rather confusing ad. No matter what kind of approach you take, it's important to always be clear and direct. Clear always beats clever.
5 Recommended Ad Formats
When creating your ads, it's crucial to match consumers' behavior on mobile. In other words, make ads that are native to the platform on which you're promoting your video.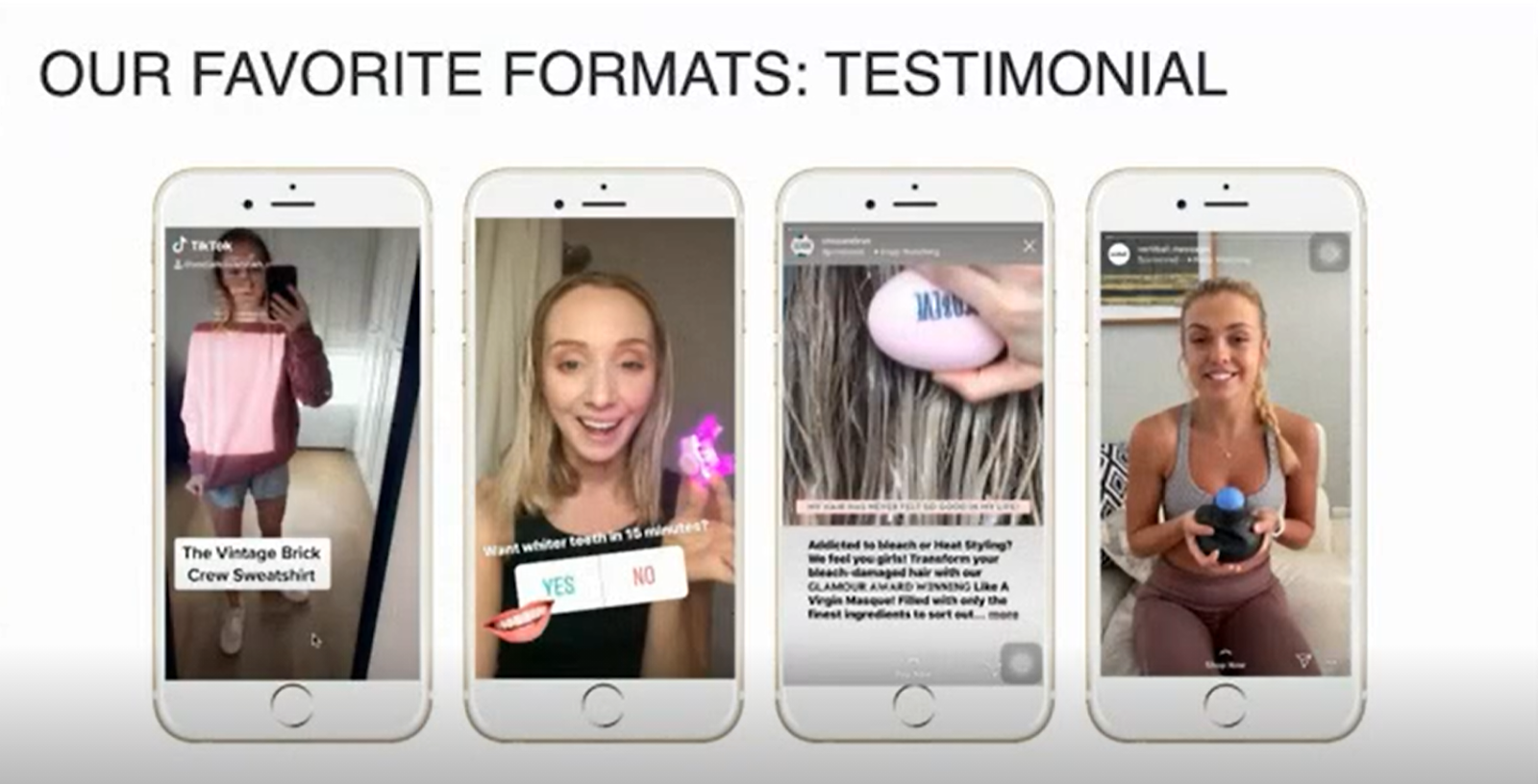 Savannah shared her five favorite ad formats on the Facebook and Instagram platforms:
PR/review style: These are ads that feature customer reviews/ratings. They convey social proof that helps instill trust.
Testimonial style: This involves UGC (user-generated content) testimonial ads. For example, you might want to create a video of yourself or a customer using the product to help give your audience validation of its use and benefits.
Split screen format: This is when there is different content at top and bottom of screen. The different images and movements help capture attention quickly.
Native format: Use features in your ads that are native to the social platform. For example, if you're creating an ad for Instagram, you might use some of its features like their story poll, gifs, and text options. This helps make the ad look authentic on the platform and helps enhance its performance.
Light movement: This format works great if you only have still images to use in your ad. You can bring these assets to life by incorporating animated text and icons that can turn them into engaging ads.
Create, Learn, and Grow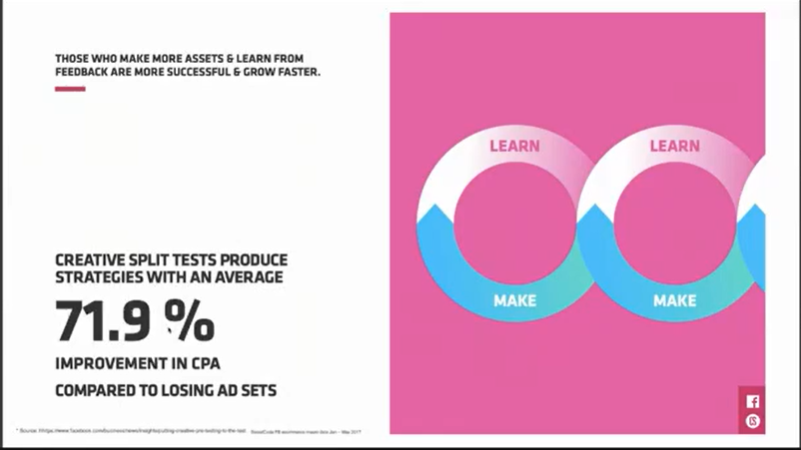 Every week, you should prepare new tests on your ad account. Savannah recommended creatives come up with a new hypothesis each week and test out two or more variations (different value propositions, split screen versus no split screen, different colors, etc.).
To create relevant variations, she encouraged the audience to build motivation-based ads by following this process:
Listing out all possible reasons that would either encourage or discourage people from buying your product. Consider different types of people and time of year, week, and day you're publishing your ad.
Picking the top three barriers or motivators that you feel will help people convert.
Making sure these barriers and motivators are different from each other (for example, price versus product packaging).
Creating your ad around these barriers and motivators. If you're struggling to build a new ad/variation, consider using your existing assets and changing the copy; changing the copy can help address a different barrier or motivator.
Keep in mind, you don't need expensive video equipment to create your social ads. Savannah explained that an ad shot on your iPhone can become your best-performing ad. The more authentic your ads look, the more people will feel compelled to stop scrolling and learn about your brand.
Resources to Keep You Inspired
During the Q&A portion of her presentation, Savannah recommended some helpful tools and resources to keep the creative juices flowing:
Facebook Ad Creatives Only: This is a Facebook group of 5,000 marketers where people share great ads for inspiration. Savannah started this group and recommends everyone join!
Canva: This is an easy-to-use image editing app where you can create attractive designs for social platforms.
Capcut: Capcut is a video editing app where you can easily cut, reverse, and change the speed of your video and add fun stickers and text to it.
Savannah's presentation was insightful and timely, with good examples and actionable takeaways. No matter what your level of experience you have with paid social video ad creatives, we hope that this presentation gave you many great ideas on how you can start or improve your video ads.
Be sure to connect with Savannah on Twitter, Instagram, LinkedIn or her website.
---
If you couldn't make this event live, you can see the replay below. Towards the end of the video, there was a great Q&A session where Savannah answered viewer submitted questions as well.
Be sure to check out and register for all of our upcoming DMC online events (and watch all the past ones too). We have events planned twice a month through the end of 2020. We hope to see you there!
---
Want More Detail? Enjoy The Replay Below!