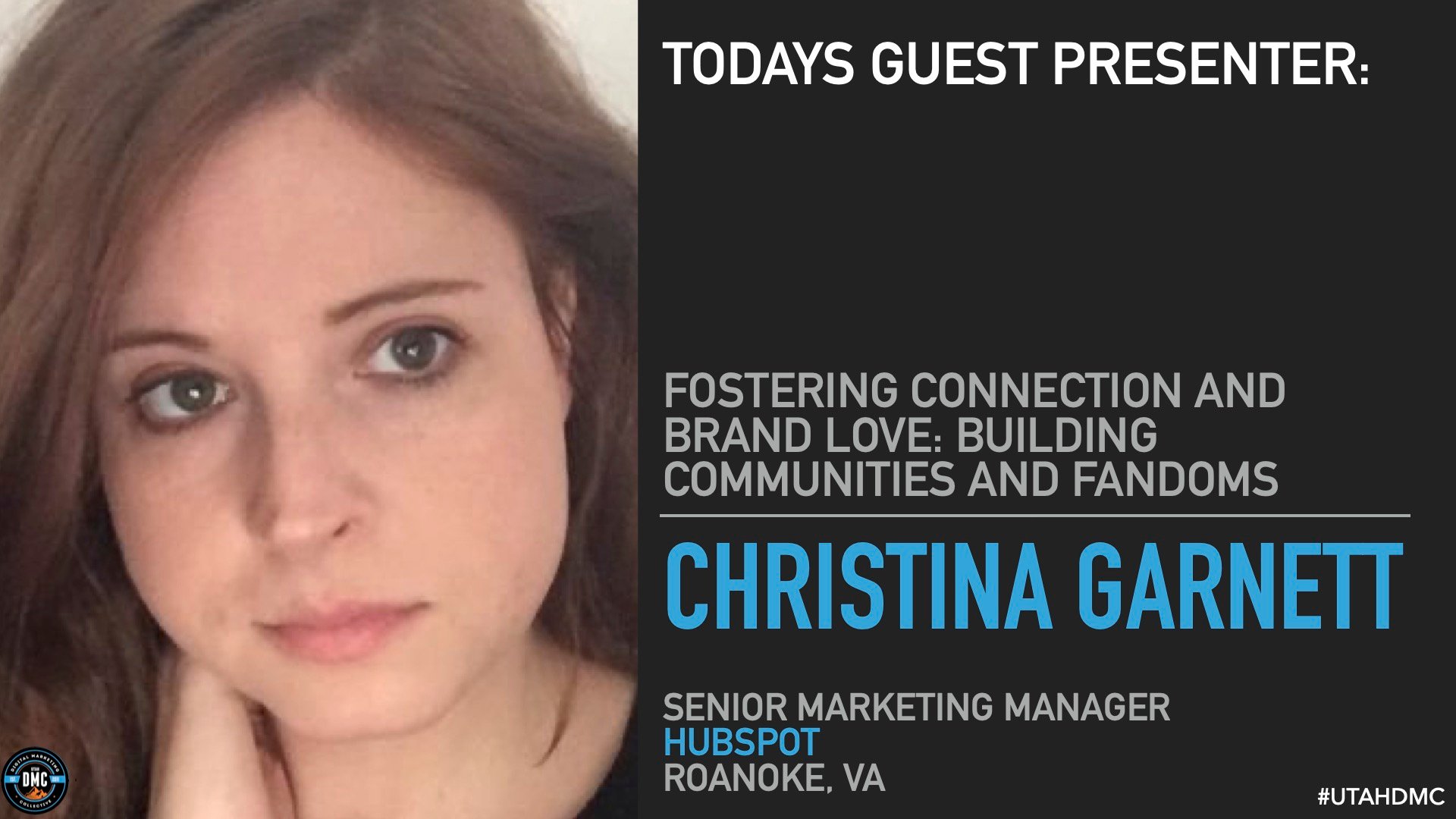 Our Guest Presenter:
Christina Garnett
On August 4, 2021, Utah DMC had the pleasure of welcoming Christina Garnett to our online live event. Christina is in charge of Offline Community & Advocacy as senior marketing manager at HubSpot. She joins us with a lot of experience, from being featured in HubSpot courses and ebooks to speaking at national events like Adapted Digital Media Summit and INBOUND19.
This was Christina's first time presenting for the Utah Digital Marketing Collective, and we were thrilled to have her here to present: Fostering Connection and Brand Love: Building Communities and Fandoms!
Doc and AJ had a blast on this live broadcast with Christina, and now we are thrilled to share the opportunity for you to learn from her insights via this recap and event replay. (Note: This post is a high-level recap. At the end of this post you can watch the entire replay of the event with audience Q&A, as well as download her full presentation deck from the BrightTalk interface.)
Let's Get Started...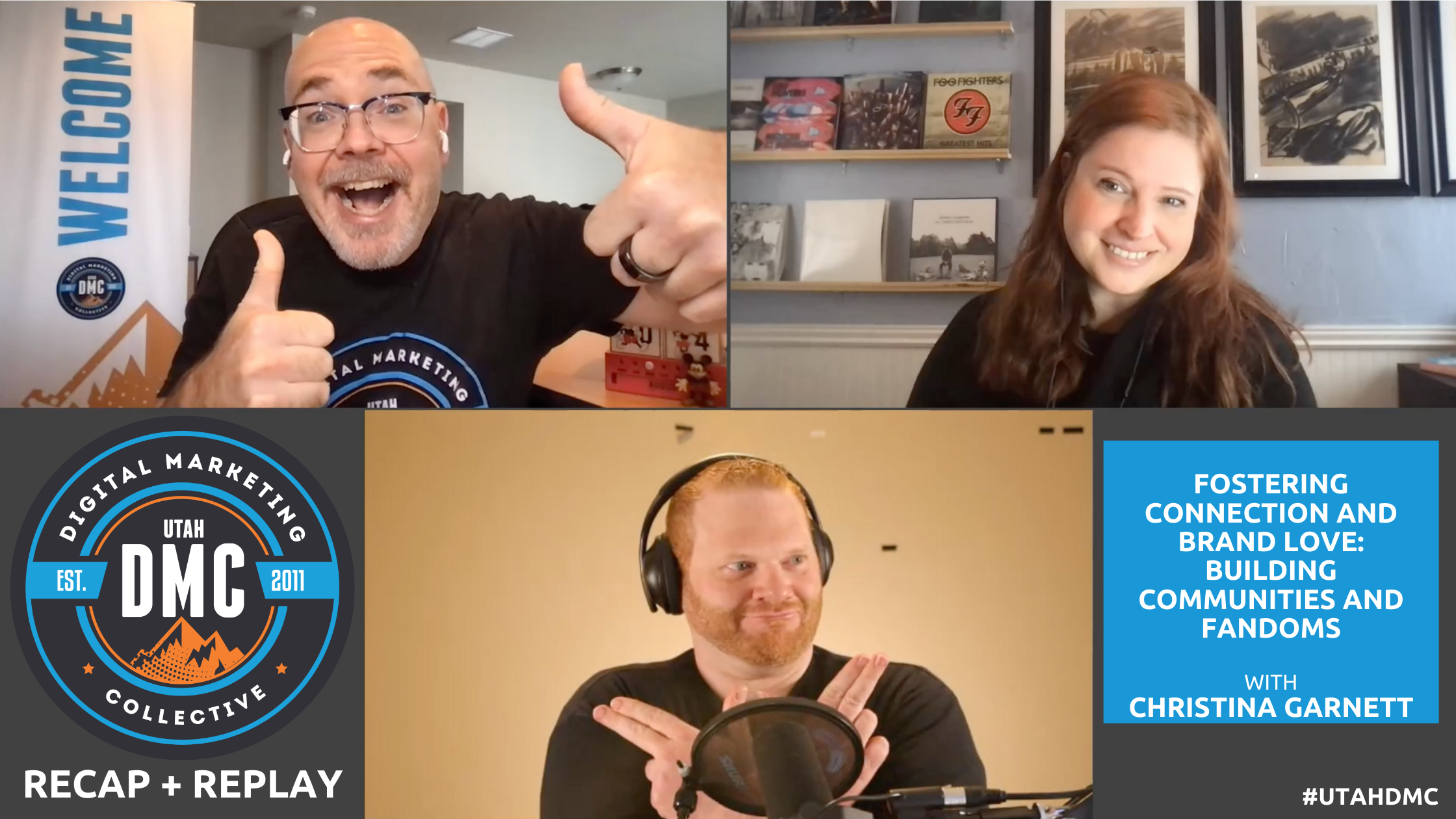 About Christina Garnett
As a community builder and strategist, Christina uses audience intelligence and social listening to learn more about audiences to determine needs, behaviors, and more. Her work serves to help brands better connect with their current and future customers as well as fans.
Presentation Introduction
Christina divided her talk into four discussion areas:
The Current State for Many
The Heart of a Fandom
Fandom Building Tactics
Ownership
Where We Are & Where We're Going
Christina begins the webinar with a crucial question: Where are we? She is speaking to many brands that have a large audience but are not connecting with them on any level. We're seeing brands post content on social media and just leave it there. Then we see their audience like/comment/share on those posts—but the brand never responds to their audience, almost as if the brand has ghosted them.
Think of someone you love being around. You love joking with them, encouraging them, and giving them feedback, but whenever you reach out to them, it just stops there. They never respond or give anything back to you. This describes the relationship most consumers have with most brands.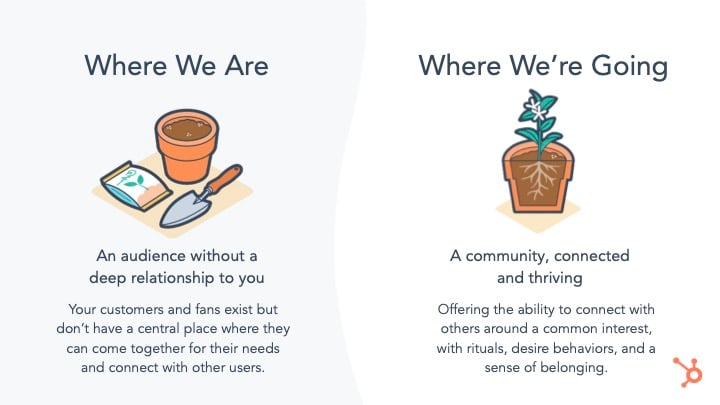 But Christina isn't content to leave brands where they are, which leads us to the follow-up question: Where are we going? What are we aiming for? She mentions that brands need to not only aim to build an audience but to build a community that is connected and thriving. This is accomplished by "offering the ability to connect with others around a common interest, with rituals, desires, behaviors, and a sense of belonging."
Acknowledging and Appreciating Your Fans
According to Christina, acknowledging and appreciating your fans empowers them to be your biggest competitive advantage. The people that love your brand are the ones willing to talk, share, and advertise your praises. They hope to see the brand grow and succeed. We want to acknowledge and appreciate these fans.
Christina mentions that doing the little things like favoriting their tweet or responding to their comments will hugely impact how that fan feels. These are the three outcomes from acknowledging and appreciating your fans:
They will develop an emotional connection to the brand.
They will associate themselves with the brand & see themselves as a positive connector for it.
They will look for opportunities to highlight the brand as a solution for others.
Building Your Fan Army
So what can we do to help foster the people that love your brand? Christina gives us some great ideas to help us build your fan army:
Create opportunities that align with your fans' personal goals.
Create more than one way for your fans to advocate.
Give your fans opportunities to represent the brand.
Create ways for your fans to be part of your events and campaigns.
Give your fans a name.
Give your fans more than your take.
Build an emotional connection with your fans.
By building this army, we are creating a community for people to love your brand and want to see it succeed. When people love your brand, they will do whatever they can to show their love and appreciation for it.
The Cosplay Connection
Christina relates building a fan army to Comic-Con. When someone attends Comic-Con, they usually see fans dressed up as their favorite character from a movie, TV show, or comic book. She asks why someone would do that? It's because they have an emotional connection to that movie or character and are willing to dress up like them.
It's the same with our brands. When we see someone wearing our brand's t-shirts, when we see our brand stickers on the back of someone's laptop, or even when someone mentions our brand in their conversations, this all helps build the emotional connection between the consumer and the brand to make them more than just an audience.
Build Your Community
Christina ends by sharing one of her favorite templates that outlines the most crucial nine questions you need to ask to create a community. Anyone who wants to start building a community needs to address these nine questions.
You can access the template here: https://community-canvas.org/.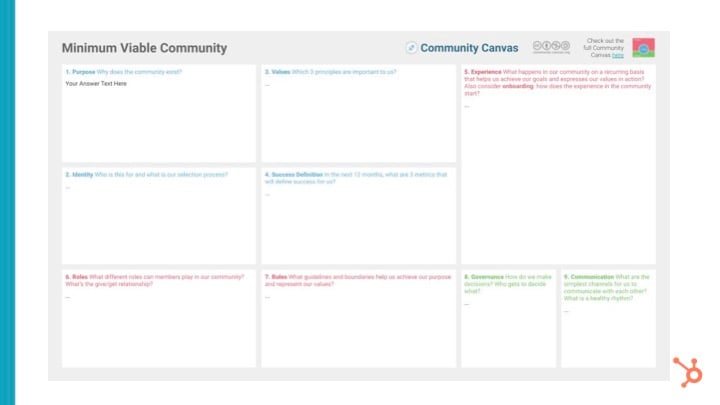 Christina also covered the importance of establishing ownership over the community. You need ground rules and moderators because you want this to be a safe space for everyone involved.
It's important to separate the workload for building a community because of how much time and effort it takes to do it well. We know that organizations come in all sizes, so finding out what works best for your company is critical.
Survey Time
During the live presentation, Christina launched a poll and asked the audience a couple of questions:
1.

What makes you a fan of a brand?

These results were interesting, with "Values are Aligned" coming in at #1, "Feeling Represented" at #2, and "Common Interest" coming in #3 with a single digit response percentage.
2. What makes you want to join a community

?

These results were interesting as well, with "Sense of Belonging" coming in at #1 with 86% of the vote. "Feel Represented" and "The People Already in the Community" tied for #2 with 7% each.
Obviously, a sense of belonging is possibly the most important part of any community!
Was the audience right? What do you think after reading this recap, do you agree with the results from both of these poll questions?
After the poll, Christina wrapped up the presentation around the topic of...
Five Responsibilities for Ownership of Community Building
Christina went over these five responsibilities to help guide you toward establishing a thriving community.
Leadership. Who will oversee the project and make sure it aligns with your goals?
Strategy. Who will determine the framework, KPIs, tactics, and implementation structure?
Content. Who will craft the calendar and assets for the community/advocates?
Community. Who will do the day-to-day work?
Measurement. Who is going to track engagement, visits, and top members?
If you can't answer those questions, you're probably not quite ready to launch your community.
Conclusion
It has never been easier for brands to connect with their customers and clientele—if they're willing to reach out and do the work. It falls to each company to decide whether they want to present their brand as an unapproachable monolith or to cultivate a community and truly create fans.
All it takes is acknowledgment, appreciation, and the framework to bring people together. By following Christina's advice, a fan army is in reach!
It was a lot of fun and very valuable having Christina on the show. Her expertise points to a degree of loyalty few brands even dream of. We've done our best with this recap post, but the full replay is available below, so you can appreciate all of Christina's insights in context—as well as about a million Marvel references.
---
Q&A + Replay
If you couldn't make this event live, you can see the replay below.
Toward the end of the presentation, there was a great Q&A session where Christina answered viewer-submitted questions including:


What platforms work well for building a community?
Driving the content strategy for talent recruitment, how would you activate employees as brand advocates to help tell the brand's story to potential candidates?

Are there any red flags you might consider when activating an internal advocate community?

How do you create a fandom around a "boring" industry?

Think insurance. No one wants to talk or think about their insurance until they need it.
Also, what if your service solves a sensitive issue?

What's is the best way to get people to engage with a less than exciting topic.
What does it take to turn a community member into a fan?
How do you know what you need to build a brand and community?
What advice do you have for someone who wants to foster a community?
How do you create a fandom around a boring topic?
---
What Attendees Had To Say About Christina's Presentation
⭐ ⭐ ⭐ ⭐ ⭐
Great presentation. Loved everything shared here!

⭐ ⭐ ⭐ ⭐ ⭐
Great presentation Christina gave! She explained important concepts essential to building and growing successful communities! Her references were very relatable and enjoyed how she connected the dots! The attendees asked very good and relevant questions. Doc and AJ were fun hosts! Looking forward to more important conversations like this. Thank you!
---
Explore our blog for more event recaps, and be sure to check out our DMC Online Events page to see all of our past and future digital marketing online events.
Do you have something you'd like to present to the ever-growing DMC community? If so, we'd love to speak with you. Head on over to this page, and tell us more about you and your expertise.
---
Ready To Watch This Full Event On-Demand?