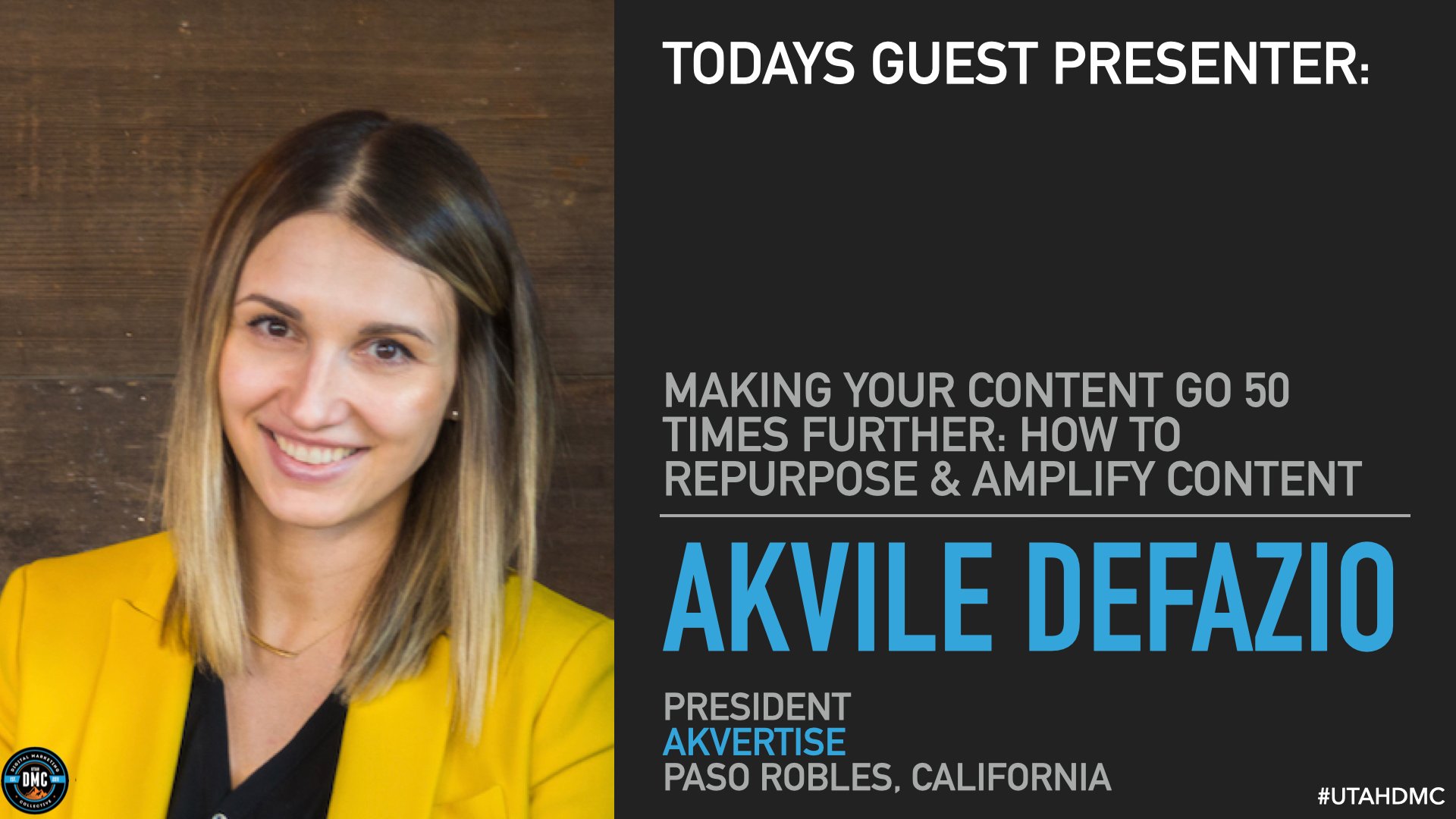 Are you searching for ways to bring your marketing efforts to the next level? With Akvile DeFazio's Funnel-Based Approach with Instagram Stories, your brand can build a relationship with your audience while driving conversions.
Akvile DeFazio, President of AKvertise, makes connections for a living. Akvile is a conversion-driven marketer who specializes in making connections between consumers and brands on Facebook, Instagram, Twitter, LinkedIn, and Pinterest Ads. Akvile had the opportunity to share her expertise with Instagram Story Ads on November 4th, 2020 at an online event for the Utah Digital Marketing Collective.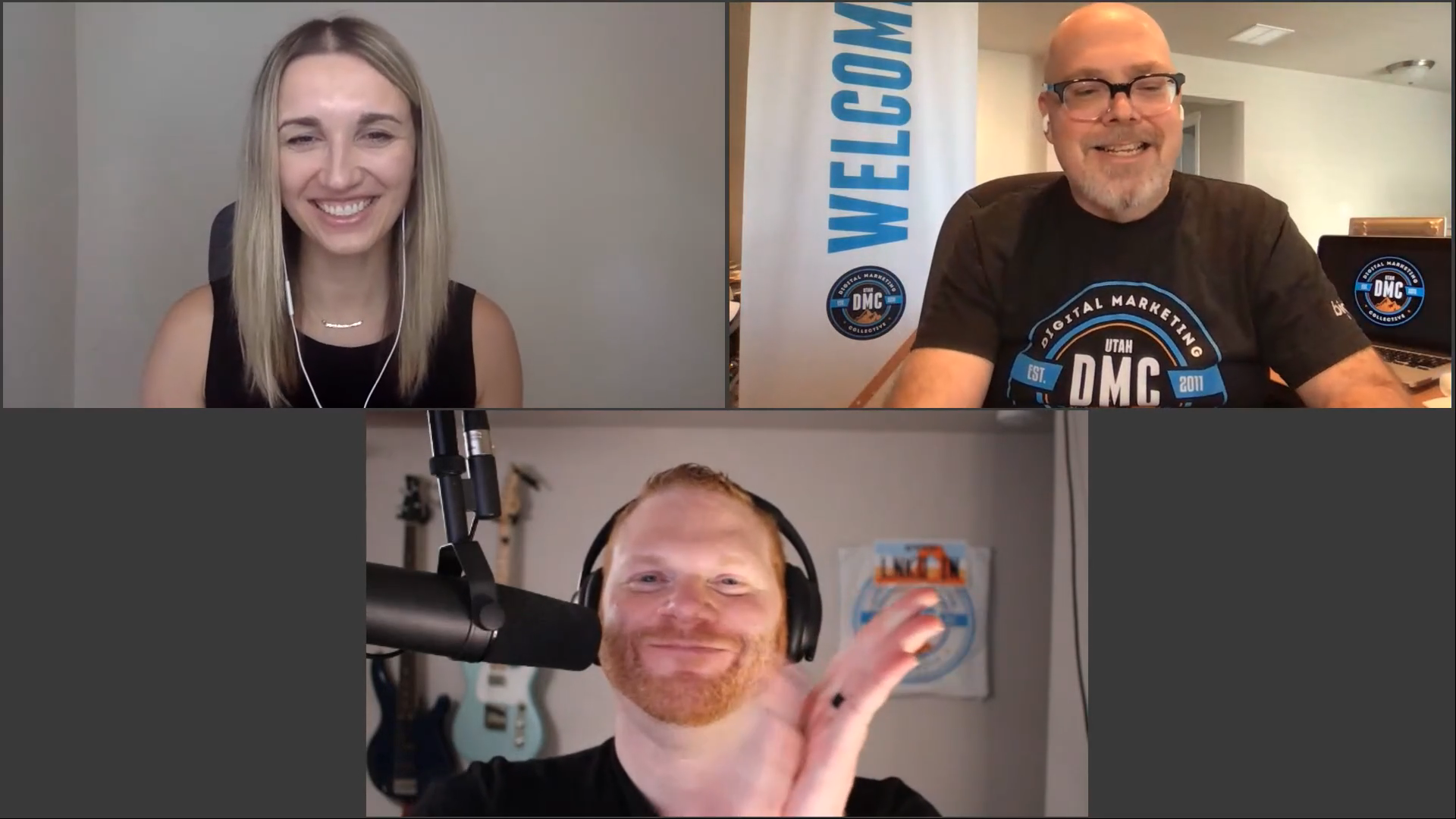 Instagram Stories launched in 2016. This created another segue for brands to reach their target audience through paid advertisements. Instagram has 500 million daily users compared to Snapchat's 150 million users. Regardless of your target audience and your brand, your audience is naturally on Instagram.
Instagram Stories Ads provide plenty of creative options to help captivate your desired audience's attention.
Some of these creative options include static images up to 15 seconds, videos with a duration of 20 seconds, along with 1 to 3 carousel images. With creative content, test out all of your options. See what types of content your audience interacts with the most, as this will help determine your success. Story ads allow a call to action button at the bottom of the story that will lead your user to "learn more", "shop now" or, "visit site".
Here are some examples of different creative ads with calls-to-action: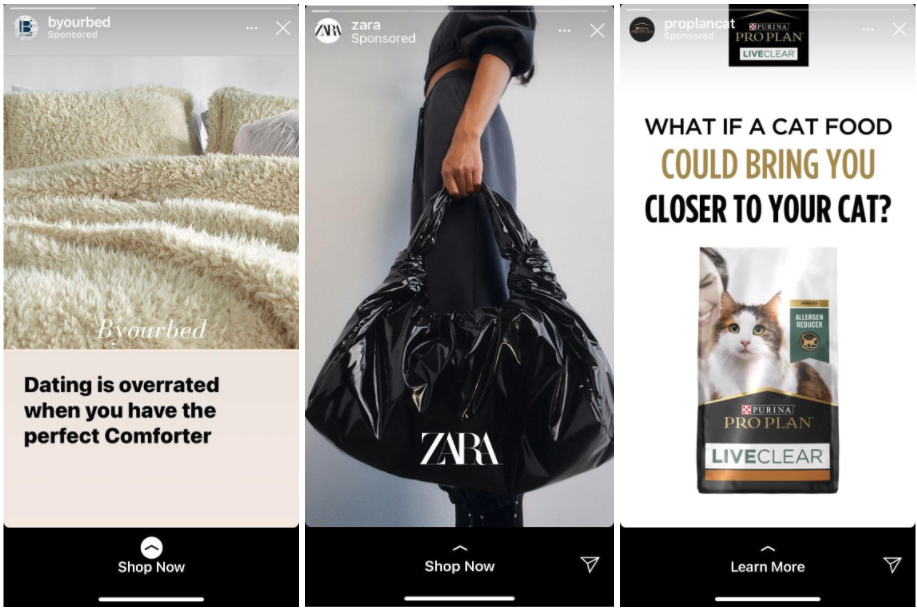 Before using the Funnel-Based Approach, you must determine who your target audience is. Some questions to help determine your target audience include:
What stage of life is my target audience in?
What are my target audience's interests?
How much money does my target audience make on average?
What is day-to-day life like for my audience?
Where in the world is my target audience located?
Based on your desired audience, choose a creative design that will catch their attention. Also, play with your strategy in ways that can also bring value to your audience during this COVID era. For example, if you have curbside pickup, that would be a great way to catch THEIR attention while still giving YOU business.
Let's talk about Facebook briefly. Currently, Facebook ads offer 13 campaign objectives.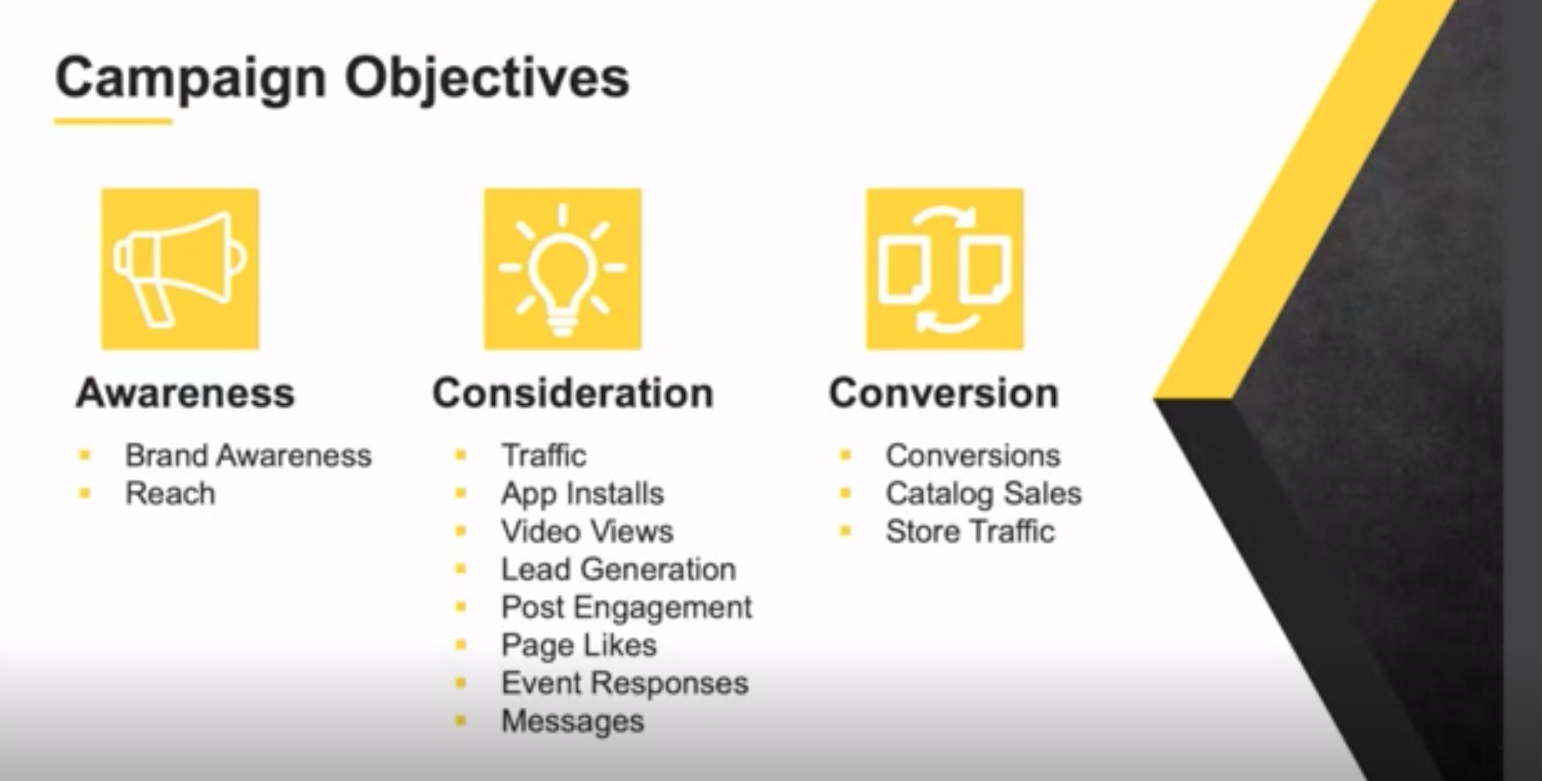 However, only 9 of these options are available while targeting your audience through Instagram Stories.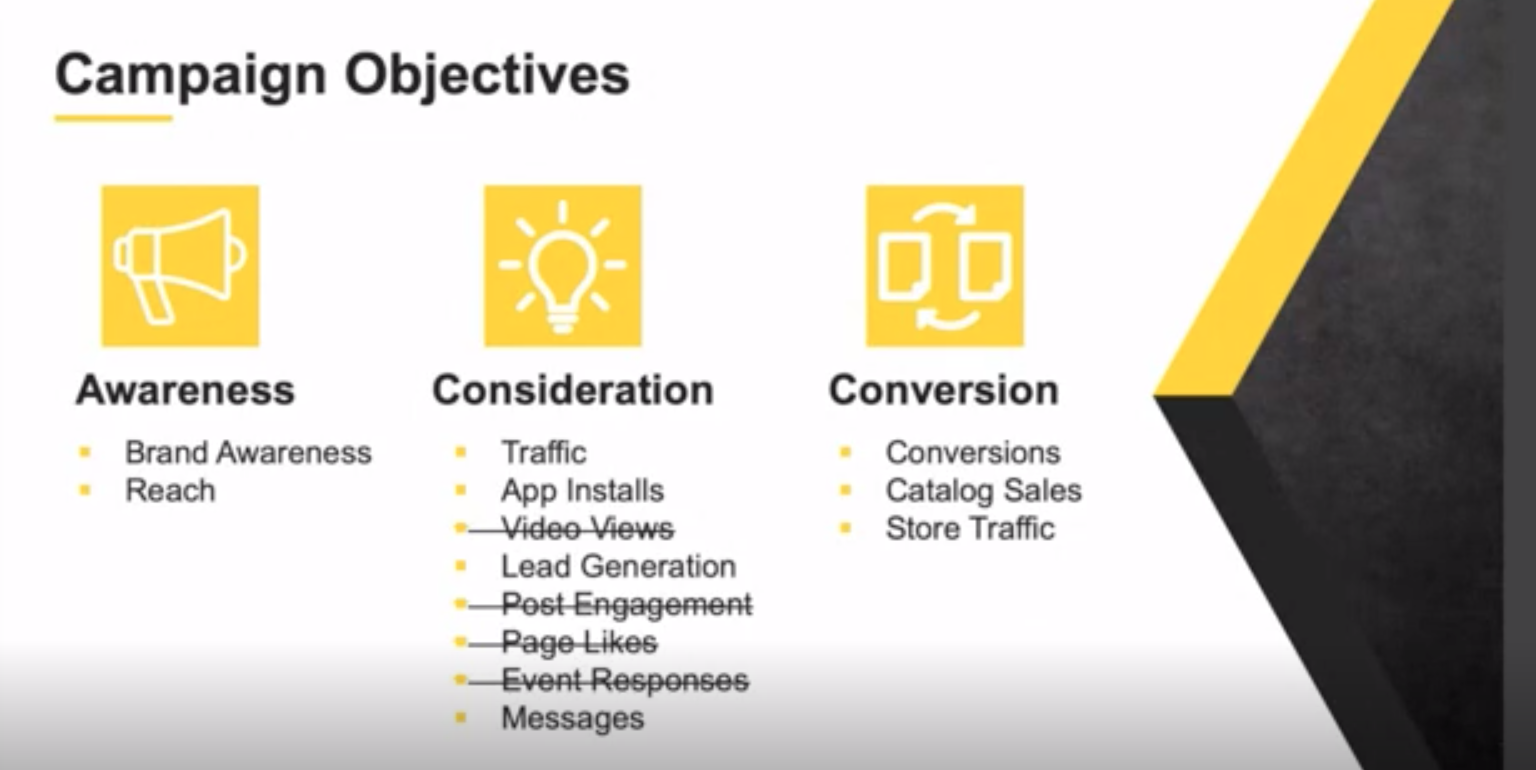 While moving users down the funnel to the consideration stage, there is flexibility in your campaign goals.
Most of your testing and experimenting should be done in the Awareness and Consideration stage because you will have more users in these stages. These are cheaper options to test out creatives to drive conversions. In the Consideration stage, using creative tactics will hopefully lead your audience out of Instagram and onto your website through the call to action button.
Next, when you enter the Conversion stage, there are more users at this stage in the funnel than when you first started. These campaigns are typically more expensive. Calls-to-action in the Conversion stage will look more like "add to cart" or "purchase". Feel free to test what is more appropriate for your goals and retention!
As you get started with any new Instagram Story ad campaign, ask yourself:
Where in the funnel is my audience?
What is my goal?
What role do Stories play?
Break out your campaign goals accordingly from prospecting, retargeting and re-engagement. Use this information to help leverage your audience with effective visual content to grab their attention. Some ideas include showcasing your brand, introducing who you are as a company, and inviting them to learn more with a call-to-action button.
When retargeting, test new creative content that will convert a user that has not already been converted. This could be as simple as switching a static image to a customer review or even showcasing new products and services.
When it comes to re-engagement, entice your audience with a stronger call-to-action. You could provide a discount--this is the place to leave less room for the imagination and to manage your user expectations around your brand.
Are you wondering how to drive engagement?
There are multiple tactics through Instagram Stories Ads with one way being Instagram polls.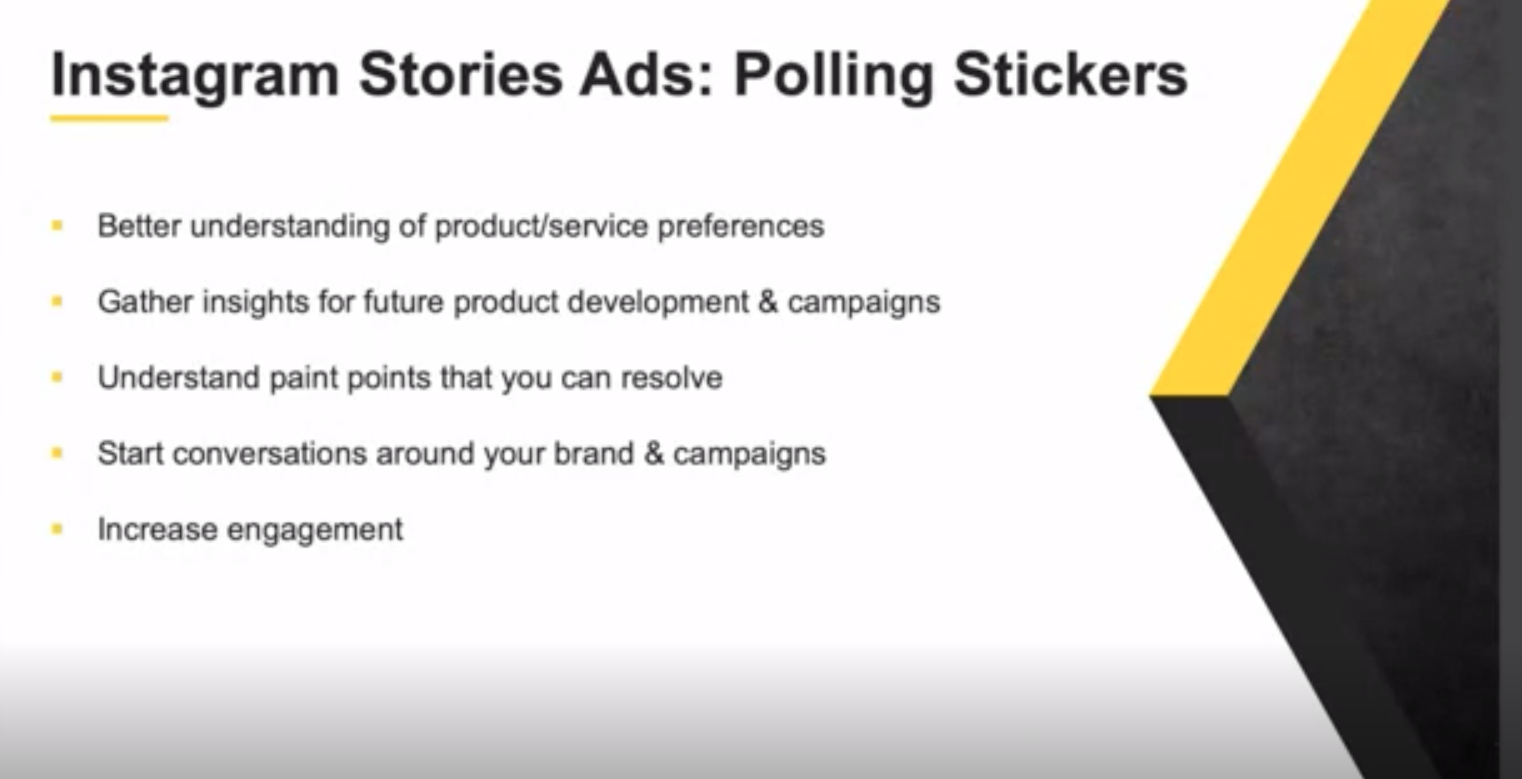 Instagram polls are a great way to get to know your audience. It allows you to identify their needs and desires while increasing your Instagram ad engagement audience size.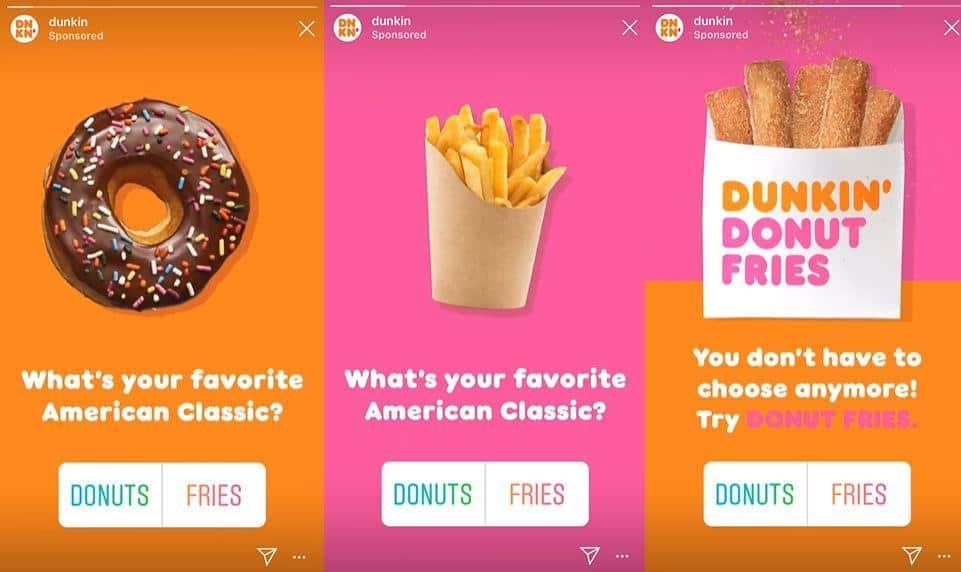 It is important to test different poll options. See which types of polls get more engagement with your desired audience. This is a great place to re-target and try new creative ideas.
Design your story:
When it comes to creating visually pleasing advertisements on Instagram stories, it is best to consider your audience. Along with your audience, consider your approach, brand, and design carefully. These all work together to share your story.
One way to bring your creative ad to life is to use sound to enhance your advertisement! Other design elements can help enhance your advertisement and help gain conversion rates.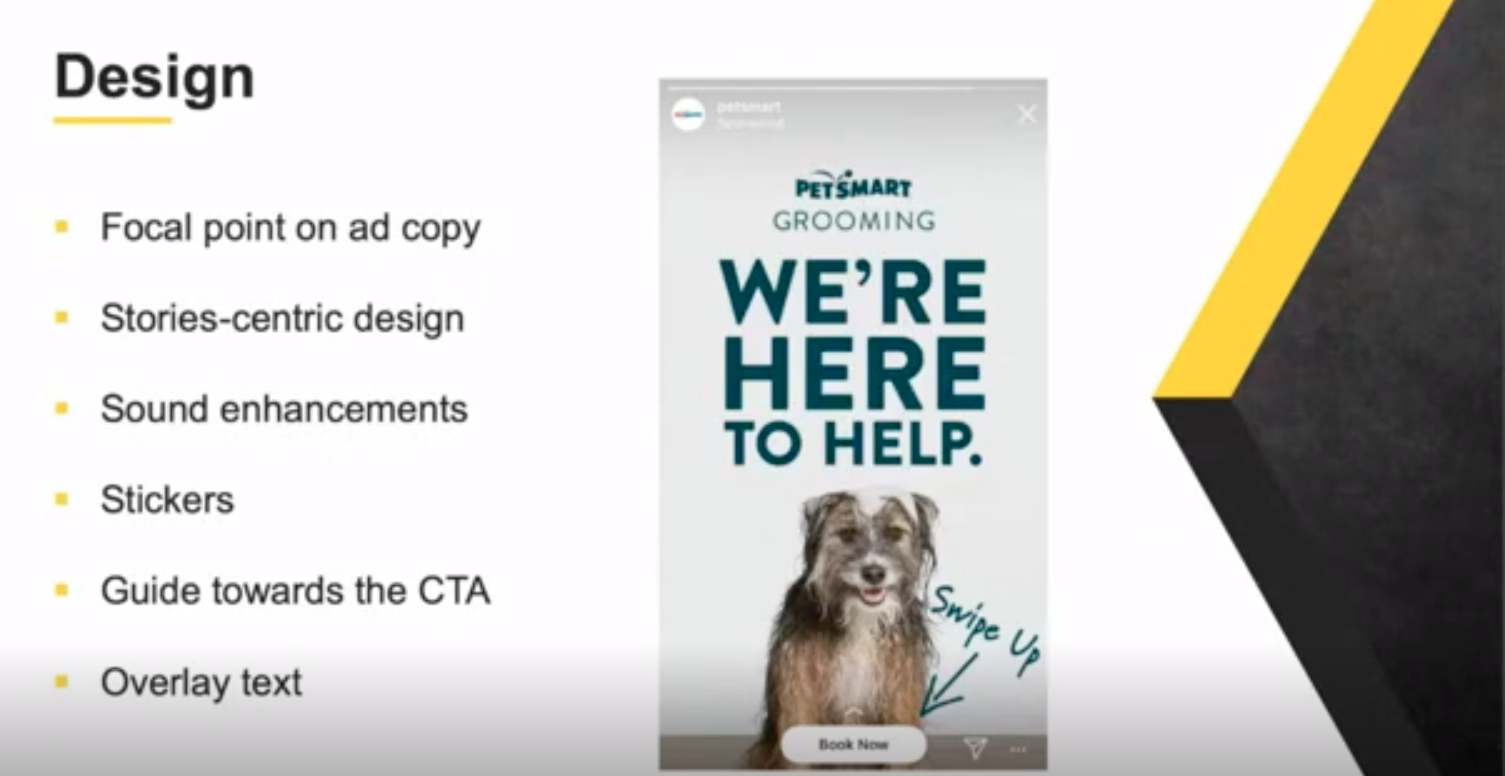 Overall, we loved having Akvile back, this time presenting on the Utah DMC digital stage. If you are new, or an expert in the digital marketing field, specifically wanting to up your Instagram Story game, you should check out the full webinar recording below.
---
Be sure to connect with Akvile on Twitter, LinkedIn or her company website, Akvertise.
If you couldn't make this event live, you can see the replay below. Towards the end of the video, there was a great Q&A session where Akvile answered viewer submitted questions as well.
Be sure to check out and register for all of our upcoming DMC online events (and watch all the past ones too). We have events planned twice a month through the end of 2020. We hope to see you there!
---
Want More Detail? Enjoy The Replay Below!