Creating a Culture of Video in Your Organization with Marcus Sheridan [DMC Recap]
If you didn't get a chance to attend Marcus Sheridan's lecture at the Utah DMC last Friday, we've got you covered! This article will recap everything Marcus went over in his presentation, "How to Embrace the Visual Revolution and Create a Culture of Video in Your Organization."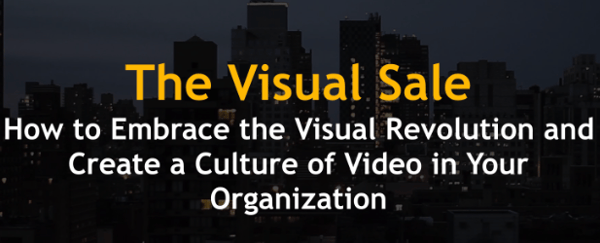 Marcus Sheridan is known for saving his sinking residential swimming pool business,
River Pools and Spas
, through inbound content marketing after the 2008 Recession hit the market and customers cancelled orders at rapid rates. On the brink of bankruptcy, he revamped the business by producing content that answered people's questions and talked about topics they were genuinely interested in. Their organic presence quickly improved and they quickly grew in recognition as the go-to in the fiberglass pool industry.
Why are companies struggling with video marketing?
It's been proven that video marketing is one of the most effective channels in marketing, but it's still something companies struggle with. Often times you hear that people don't like being on camera, it's too expensive, or it has to be perfectly polished. Those are valid reasons. However, the number one reason why companies struggle with video marketing is the disconnect between sales and marketing initiatives. Sales and marketing are seen as separate initiatives instead of an aligned effort. The moment you start looking at speaking to a camera like speaking to a customer, you will benefit both departments by achieving the same goal—getting a sale.
What kinds of videos should you make to drive sales?
To preface this section, it's important to highlight the type of video that is NOT successful—the "About Us" video. The most money is spent on this type of video production, but it never drives results. Let's go over the 7 types of videos that take less time to produce, but actually drive results:
The Selling Seven:
The Customer (Hero's) Journey
The 80% Video
The first thing you want to do is identify all the major products/services your business has that drive 80% of revenue. Then you'll want to brainstorm the major questions you get every single time on a sales call for that particular product/service and narrow it down to the top 10 questions asked during each sales call.
Create a video that answers those 7-10 questions right off the bat and teach your sales team how to integrate this video content into the sales process, making the experience easier for them and the customer.
Landing Page Videos
Landing page videos are meant for any page on your site that contains a lead gen form. You obviously want customers to fill this out so you can connect with them, but there are four major fears people have about filling out forms:
Are you going to spam them?
Are you going to sell their information?
Are you going to call them excessively?
What is actually going to happen once they fill out this form?
A landing page video is supposed to address all four fears and push them aside. Place a video next to the form that has a vibrant title, like "See Exactly What Will Happen If You Fill Out This Form" and watch the engagement and conversions increase!
Bio Videos
This type of video is for anyone that is customer-facing, but especially for sales teams. The video doesn't have to be long, it should cover personal and professional interests. Place this bio video in your email signature (see example below):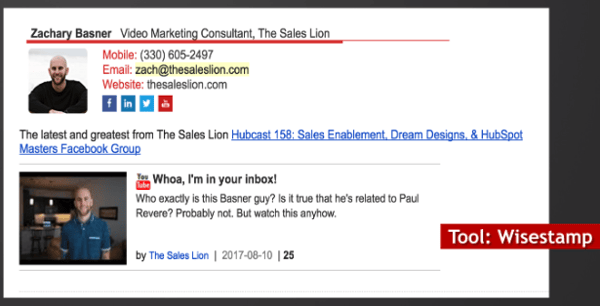 You can use tools like WiseStamp or Sigstr to help you accomplish this!
Product / Service Page Videos
You have to have one specific video for every major product or service you sell. There are two things you should address in this type of video:
State product/service details (who it's for, who it involves, who it benefits, and why it's good).

State who the product/service is

NOT

for.
The second part seems like an odd thing to put in a product/service video, so why would you say who it's not meant for? It establishes trust, credibility, and authority, as well as setting better expectations to attract your target customers.
Cost / Price Videos
This type of video often gets pushback for three reasons:
Pricing can depend on multiple variables and can be difficult to explain upfront.
Competitors will find out.
Your price points may be higher than the competition and you're afraid of losing the sale.
In the words of Marcus Sheridan, "You can't lose what you don't have!"
There are 5 things people look for immediately after finding a product/service they want to purchase:
Cost / Price
Problems
Comparisons
Reviews
Best Version
One important takeaway is that people will leave your website in 10 seconds or less if they cannot find the cost or price of your product/service. Since cost/price is the first thing on the list, you need to make this information readily accessible for them on your website otherwise they will leave and purchase it from your competitors.
See an example of cost/price content that you can reference back on for inspiration as you write your own!
The Claims We Make Videos
Brainstorm with your team to identify all of the claims you make as a business. "We're the best at x, y, and z," or "we've been in this business for x-amount of time." Once you've done that, ask yourself two questions:
How many of our competitors make these same claims?
Of these claims, how many have we visually proven and not just stated?
You've got to show that the claim you're making exists. If you're the best in customer service, demonstrate to your customers and prospects what your process is like for client interaction and resolving potential issues. If you claim to be experts in a specific industry and pride yourselves on the extensive training your team undergoes, shed some light on this through video!
The Customer (Hero's) Journey
Testimonials and reviews are not enough. It's better to pair those with a video that shows a story of your customer(s) and their interaction with your business. There are three parts to this type of video:
The problem the customer had before they found your product/service.
The journey the customer shared with your business.
Where is your customer today?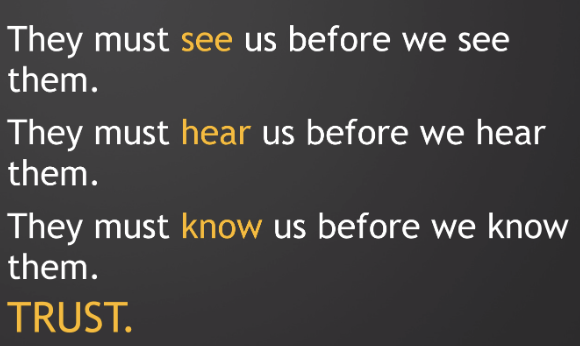 For a deeper dive on inbound content marketing and how to deliver content your customers really want and trust, read Marcus Sheridan's book, They Ask You Answer. Get your copy here!