PPC Lead Generation Strategies for Quantity, Quality, and Revenue - Michelle Morgan [DMC Recap]
At this year's Digital Marketing Collective Conference in Salt Lake City, Utah, digital minds from all over the greater Salt Lake area convened for another year of hearing from the best in the business of digital marketing, lead generation and ecommerce.
In her presentation on lead generation strategies, Michelle Morgan of Clix Management shared her expertise on lead generation and how to better grow your marketing funnel. Michelle has been working in lead management for quite some time and is currently the Director of Client Services at Clix.
To start off her presentation, Michelle compared ecommerce to lead generation. In her mind, lead generation is far superior to ecommerce because of the longevity it offers. You're not just getting a sale with lead generation, you're getting a potentially lifelong customer. The ecommerce model is designed to bring in a potential customer via an ad click, get them to add a product to the cart, pay their money and head on their way. But with lead generation strategies, an ad click leads to much more.
With a focus on lead generation, an ad click leads to actions that not only qualify the product for the customer, but qualify the customer for the product. A customer might be looking for a new project management tool for their business. Sure, they could probably get something simple, but for really looking for something with true depth might be looking for a business that wants to qualify them as well. One product doesn't fit all, so form fills, looking into qualifications, and eventually making an offer—all from lead generation—can provide larger revenue increases.
Morgan says that oftentimes, when a customer lands on our site, we're quick to ask for the money. But in order to provide more value for customers, we should refrain from jumping to the most expensive call to action right off the bat. How about, instead of asking for the sale right away, we provide some value to our customers first?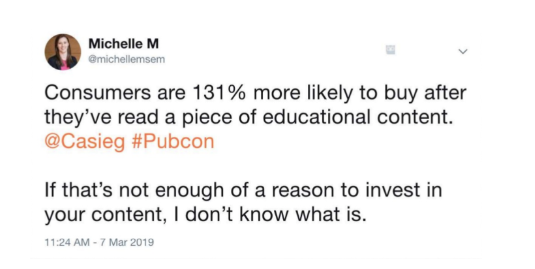 If consumers are 131% more likely to purchase after reading a piece of educational content, isn't it time to start putting some effort into your site's content? Morgan said it has become increasingly important to think of new ways to implement content and create value on your website so users can learn more about your products and services. Create that value with things like whitepapers, webinars, industry calculators, quizzes, contests, interactive videos, and industry reports.
Morgan also talked about the importance of CTAs—not just how effective the calls to action are, but how often those calls are offered. These CTAs should be offered at each stage of the marketing funnel. From awareness, to interest, to consideration, and then the buying action, each of these stages should have calls to action unique to the funnel stage.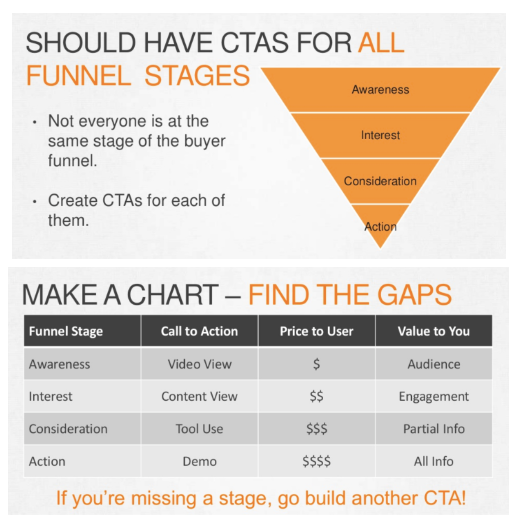 After talking about the importance of properly offering effective CTAs on your website, Morgan discussed the importance of tracking. Not just tracking CTAs, not just tracking content visits, but tracking EVERYTHING.
Why do we track everything? For two reasons: one is to prevent duplication of leads, and the second is to improve the quality of leads. Properly tracking all the elements on your website that potential customers are interacting with will help you to understand your customers better, and to know how to best improve your existing elements to provide them with the best information and resources to convert further down the funnel.
Do whatever you need to do to make your site elements the best they can be. Revise form fills to be more concise so they will actually be filled out, create stronger and more direct CTAs, and improve the content and information you offer on your site to better inform customers and lead them to conversion faster.
Morgan also recommended creating positive and negative audience analysis to see what a potential good customer looks like compared to a negative customer. If you know that your business tends to do better with customers at a certain monthly rate versus a lower rate, it can be easy to see down the road how satisfied certain customers might be at their starting rate. Know the patterns and see the difference in those customers.
With all the data that you track on your site through your lead generation funnels, you'll be able to use that data to focus on higher quality leads, shift budget to appropriate opportunities, pause underperforming keywords, create better ad copy, better optimize your funnel flow and know better where to put increased budget.
With these tips and strategies in mind, Michelle Morgan is confident that you should be able to start seeing new lead opportunities come through that will generate a higher ROI and increase your business's revenue.