For the February gathering of SLC|SEM we were pleased to have Danny Sullivan, Editor in Chief of
Search Engine Land present on the state of search marketing. This was the second SLCSEM.org event held at The Leonardo and the venue held up its standard as an excellent place to host a large group of online marketing professionals. The reception area provided a light and fun atmosphere for food, drinks, catching up with friends, and networking with new connections in search. (See over 100 photos from the networking & content session on the
SLCSEM Facebook page.) The presentation began with a brief breakdown of the history of search. Danny Sullivan quickly went over how search has evolved from the days of keyword stuffing, to the search plus your world update earlier this year.
Using Search Engine Land's
Periodic Table of SEO Ranking Factors, Sullivan showed the elements of search and how they have been added over time.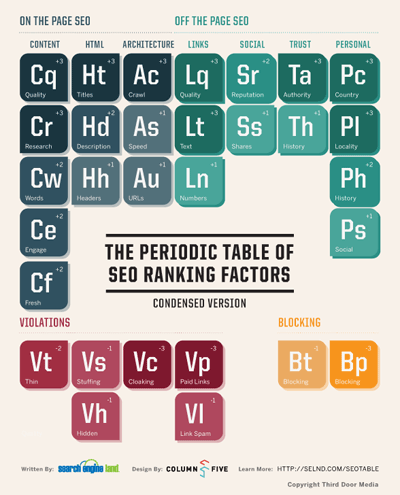 When the presentation turned to inclusion of social media into search ranking factors Sullivan compared it to the way that voting has evolved in the US. Just like a person was only qualified to vote if they owned property, it was only those that had a website (owned online property) that had a vote. That is until social media started to factor into search rankings, now anyone can vote on search rankings. After affirming that SEO is definitely not dead, the conversation turned to mobile search optimization. Sullivan presented data on how mobile searches have different behavior from desktop and tablet searches. Mobile users are more likely to search at night, but as activity increases after hours, bounce more, and even convert at a much lower rate than other searchers. Sullivan then discussed how mobile users are enlarging the spectrum of what we refer to as "search". The advent of specialty apps that enable users to easily find what they search for most requires SEM professionals to look at search beyond the standard search engines. As a search marketer, it is your responsibility to optimize not only for Google and Bing, but also for other platforms where "search" is an activity of Yelp, Urban Spoon, Maps, etc.
Key Takeaways: State of Search with Danny Sullivan
The Hunt for Quality: Search engines are searching for the best key indicators of quality content. The indicators have moved from keywords, to links, to social. Focus on quality content and as the key indicators move you can move with them.
There's an App for That: Apps are changing the way we need to think of search.
Search is Answers: An app is just a gateway to answer a question. Gateways are changing, but SEO is more important than ever.
Change is Good: Changes in the way people find answers online create new opportunities for the SEM industry. There are now even more diverse ways to take advantage of search and help consumers find their answers through your organization/client.
Alma Smith is a marketing professional with several years of experience in online marketing. Armed with an MBA, with an emphasis in Marketing, Alma is always ready for the next challenge. Alma is currently working with Tech Media Network (http://techmedianetwork.com/) managing their paid search. His rants can be found on twitter @Alma_Smith.