Google Places is going away & becoming a part of Google+, forcing businesses with a physical location to join the social network.
Is this a good thing for local & small businesses? What are the implications for organic search results in a broader sense? What do you need know about managing Google+ business profile?

Special guest speaker & national expert on local search marketing, @David Mihm who has covered this change extensively on his blog, will discuss the impact of this change.
Local @SLCSEM member Bryan Phelps of SEO.com will also share his insight on what this means for your online marketing program.
What Will Local Businesses Learn?
Google says 20% of all US desktop searches have local intent. Approximately 50% of all mobile searches have local intent (Google + Bing say between 47% and 53%) and that is rapidly approaching 20% of all searches. Combined, this means that nearly 30% of all searches, mobile and desktop, are local in nature.
Speakers will demystify SEO (search engine optimization) for local businesses and provide actionable tips and advice that businesses can leverage for immediate results, either by doing it themselves or understanding what questions to ask of an SEO service provider.
This event is ideal for local and small to medium sized business owners / marketing managers who need to learn the fundamentals of local SEO (search engine optimization) to get more website visitors, local customer leads for professional services or foot traffic to their locations.
About David Mihm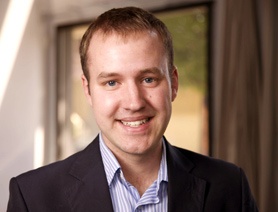 David Mihm is one of the world's leading practitioners of Local search engine marketing. He has created and promoted search-friendly websites for clients of all sizes since the early 2000's.
David writes frequently about Local Search at his own blog, Mihmorandum, and formerly wrote a column on Local Search at Search Engine Land.
His annual Local Search Ranking Factors project is among the most important studies of Local SEO and is also the co-founder of GetListed.org.
About Bryan Phelps
Bryan is Director of SEO at SEO.com, specializing in local search and small business SEO.
Bryan got started with SEO in 2005 while trying to drive more traffic to his affiliate websites, many of which he still owns and operates today. During his career, he's managed large SEO teams at two agencies and ran all online marketing efforts at an international Inc. 500 company.


Read more: INTRODUCING GOOGLE+ LOCAL: GOOGLE PLACES MEETS GOOGLE+
When: Tuesday, June 12th, 5 - 8pm
5 - 6pm: Food, Drinks & Networking
6 - 7:30pm : Speaker Presentations, Keynote by David Mihm
7:30 - 8pm: Audience Q&A
NOTE: Free Tickets are only available to current SLC|SEM members on a first-come, first-serve basis.
We do ask that members pre-register for each event as early as possible so that we may plan space accordingly and open up additional tickets to non-members a week before the event.
Please DO NOT register unless you or your company has already purchased a membership. You can become a member of SLC|SEM online now and be guaranteed a seat to attend networking events with an annual membership.
Limited tickets may be available to non-members for a fee, if space allows. You must pre-register in advance and pay online or at the door.
VENUE:
Held at partner venue, The Leonardo - the newly renovated Arts, Science & Technology Museum in Downtown Salt Lake City.

Registered attendees may tour the museum (on the same day of) our evening event at a reduced entry fee of just $5 (regularly $14!).
Join us for an evening of exceptional company, conversation and content. Drinks & food will be available.