If the saying "adapt or die"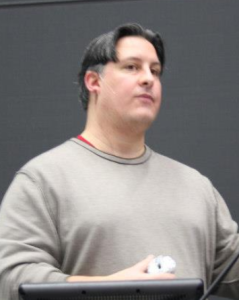 with SEO wasn't already ingrained in my skull, it surely was after hearing
Duane Forrester, the Sr. Product Manager of Bing's Webmaster Tools, talk about the complexities that derive from Bing's algorithm and how they determine relevance. While SEO's typically have their trophy keywords, it doesn't necessarily mean that the searcher intent of those keywords has anything to do with what your business is about, and this is one of the many things that search engines are trying to figure out. After hearing Duane speak, it's very clear that SEO goes well beyond keyword research, surface level relevancy and links. But while those aspects of SEO are still a major factor for many searches, it's smart to start broadening your SEO strategy if you want to be successful in your competitive space.
A Search Engine's Billion Dollar Question
How do you give users what they are searching for, when their query can be drastically different from what they're thinking? In Duane's example, he shows a query of "Best New York Hotels". To the common searcher, this might be what they're looking for, but for most, it goes well beyond this query because what they are looking for relates to price, room sizes, proximity to your destination and amenities. To a search engine that doesn't actually know what you're thinking, they are going to serve up results based on what listing is most relevant for the query, which can unfortunately sometimes also coincide with which listing has the best SEO strategy. Therein lies the problem: too often can a listing rank for a keyword that a searcher isn't actually looking for, which prompts the search engines to figure out the question I previously asked, "How do you give users what they are searching for, when their query can be drastically different from what they're thinking?"
This is How Bing is Improving Searcher Experience
Good thing for Bing they have access to mountains of historical data to analyze, aside from the most common ranking metrics like keyword density and links. While those both (and others) are still critical to the success of an SEO strategy, Bing (and Google) is looking closer at:
If the search engines truly knew you, their search results would be impeccable. With all the above methods of finding information, the search engines are able to get a better understanding of who you are and what results would suit you best for a given search. At the same time, webmasters are giving the search engines what they want in a much more legitimate way. Using structured data or Schema.org allows you to mark up your pages to allow the search engines to understand your pages better. This includes markup to show them price, reviews and much, much more. Now that the search engines have a rough idea of who you are, they can give you results that best match your searcher type for the keyword you've given. There is a reason Bing is in bed with Facebook and why Google is pushing Google+ so hard, its race to gather the best data to give the most personalized experience possible. Brilliant, right? I thought so too.
2004 Called, They Want Their Strategy Back
Duane confirmed the obvious that search engines have a massive amount of data at their disposal and can usually differentiate between somebody trying to outright manipulate the search results, and those who are providing real value to the internet. Odds are, if the bulk of your strategy is the following, it might be time for a refresh:
Bookmark links – sites like Digg, StumbleUpon and the millions of others.
Directory submissions – general directories that accept links on any topic are bad, but don't ignore niche industry directories or locally-focused directories.
Article networks and directories – privately owned networks of sites that receive little to no natural traffic are a bad idea, same with article directories that will post your article on any given subject.
Forum links – again, relevance and legitimacy is very important and if you're posting on irrelevant blogs in bulk, it's going to become a problem
Keyword-rich anchor text – the name of the game is diversity, but luckily you don't have to sacrifice your relevancy in the process.
Six Actionable Tips for a Solid 2013 Strategy
Focus on Legitimacy
Since any great strategy can be ruined at the hand of spammers, I think that taking a step back to focus on being legitimate with your strategy should be on the front of your mind with whatever you're doing.
Focus on Social
Since it appears that this is becoming a notable ranking factor, it's wise to invest your time and money in creating a solid strategy to gather a better social following. This doesn't mean going out and buying 1000 twitter followers, it means create something worth sharing and provide information that people actually care about. If you're an expert in your field, share via Twitter, Facebook, Google+ and the rest.
Focus on Conversion
Conversion optimization might be one of the biggest contributors to whether your strategy succeeds or not. If your checkout process is buggy or if your site in general is difficult to navigate, you could be losing sales left and right, deeming all the work you've put into your online strategy, useless.
Focus on Content
This year more than ever is the year to get serious about giving your expertise away through video, articles, images, ebooks and infographics. Life is all about helping people and the more you do so, the more memorable and valuable you become.
Focus on Quality Link Building
It would be ignorant to forget about one of the biggest ranking factors of all. It would be even more ignorant to execute it in a way that doesn't have quality as the number one focus. Make sure what you are doing isn't just to build the link, but to provide valuable content to the internet community. Link building and content go hand in hand which is why infographics, guest blogging, building widgets and other methods are so popular.
Focus on Site Structure
As Duane discussed, implementing canonical tags, structured data and other helpful tags for the search engines can give you an advantage over another listing that doesn't. While some of this is complicated for those just starting online, it doesn't have to be. Bing recently rolled out their new version of Webmaster Tools with a clear intention on helping SEO's with their jobs. With this, they give you keyword data, link data and hundreds of other things to give you insight as to how Bing may look at your website.
Wrapping Up and Key Takeaways
If Duane's talk did anything, it's to confirm what many have speculated about, which is how closely do the search engines look at social metrics in determining a site's rank? In a general sense, the answer would be – considerable. Depending on your search term, I'm sure there are no social metrics that go into the SERPs, but I'm sure other major queries are heavily gauged by social signals. Even though social may become a huge player in the SERPs, it's important to not lose focus of the other major metrics that we know currently work. I think the best takeaway is to quote Duane himself:
Content is the reason
Keyword research is a beacon
Quality is your watch word
Authority is your goal
Niche is your starting point
User experience is your religion
Were you at the January event to hear Duane speak? If you were, leave a comment to let us know what you thought about it. If you were unable to attend, or
view event photos on Facebook and
check out his slideshow below:

Write up provided by
Kevin Phelps from
GuestBlogPoster - a guest posting services provider for agencies and inhouse marketing teams.