We invite you to our next SLCSEM.org event, Wednesday, November 19, 2014
If You Are a Sales or Marketing Professional In Utah, This is a MUST ATTEND EVENT!
RSVP Quickly as we Expect to Sell-Out!
SLC|SEM is proud to announce Marcus Sheridan, aka The Sales Lion, as our featured presenter.

5 Essential Qualities of the Best Content Marketing Companies in the World
The rage is "content marketing," but the reality is that many businesses are struggling to find success. After using content marketing to take his swimming pool company from near bankruptcy to ultra successful and the most trafficked swimming pool website in the world, Marcus Sheridan has spent the last 4 years studying what makes some companies "amazing" at content marketing (and getting results) while others just can't seem to find the magic.
In this powerful and information-packed presentation, you'll discover the 5 traits that make companies ultra successful at generating revenue through content marketing and see actual examples of how you can apply these fundamentals immediately to your business.
Get to know Marcus: In 2001 and fresh out of college, Marcus Sheridan stumbled across his first business with two friends and began installing swimming pools out of the back of a beat-up pickup truck. 9 years later, and with the help of incredible innovations through inbound and content marketing, Sheridan's company overcame the collapse of the housing market and became one of the largest pool installers in the US and currently has the most visited swimming pool web site in the world—www.RiverPoolsandSpas.com.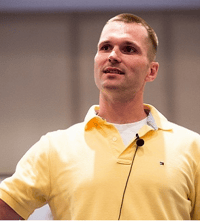 With such success, in late 2009, Sheridan started his sales, marketing, and personal development blog— The Sales Lion, and has since grown The Sales Lion brand to be synonymous with inbound and content marketing excellence while being featured in multiple industry publications, including the New York Timeswhere he was referred to as a "web marketing guru."
Today, when Sheridan is not giving riveting and passion-filled keynotes around the globe or consulting with businesses and brands, he generally finds himself on an adventure with his wife and 4 children.
Whether it's a TED talk, an industry conference keynote, or a company event—Marcus Sheridan has become internationally known for his incredibly unique speaking and communication style.
The following are Sheridan's trademarks:
Highly Interactive Style
Extremely Passionate
Incredible Story-Telling and Thought Provocation
Applicable Teachings that can be Immediately Applied by Listeners
Energizing, Engaging, and Loaded with Spontaneous Humor
What people say about Marcus Sheridan:
"Marcus rocked Content Marketing World. By far, he was the most talked about speaker at the event, leaving a lasting impression of great content + amazing style. Looking forward to making Marcus even a bigger part of our event next year."
- Joe Pulizzi of Junta42 and Content Marketing Institute
"Marcus Sheridan recently spoke at our Optimization Summit in Atlanta and he absolutely knocked it out of the park. His down-to-earth style resulted in a presentation that was both educational and entertaining. His passion for content marketing is infectious our attendees raved about his session, rating him as one of the highest presenters at our event. If you haven't had an opportunity to see Marcus in person, do it – he's outstanding."
- Paul Clowe, Senior Director of Finance & Operations, Primary Research MECLABS / MarketingSherpa
So, be sure to join us on Wednesday November 19th.
Learn what data is important, and how you can use it to create marketing strategies that work!
Q&A to follow featuring presenters
Who Should Attend?:
Professional Internet Marketers
Savvy Sales Professionals
Marketing Directors, Managers, CMO's
PR and Communications Professionals
Business Owners
Anyone who wants to learn how to take content marketing to the next level, and generate revenue for your business!
WHAT:
Actionable tips & tactics
Professional networking event
Some tasty food
WHEN:
Wednesday, November 19th, 6pm
6pm - 7pm: Check-in, networking, food & refreshments served.
7pm-8:30pm: Presentations by guest speaker(s)
8:30-9pm: Q&A and wrap up.
WHERE:

Adobe Technology Campus
3900 Adobe Way
Lehi, Utah 84043
COST & RSVP DETAILS
Free for all SLC|SEM members. $20 for general public.
Note: Must arrive and be checked in prior to 7pm as doors to Adobe Campus locks.
*ticket availability not guaranteed. Tickets may not be transferred or sold. NO REFUNDS.