On November 16, 2011, SLC|SEM members from all around Utah converged on
Hotel Monaco for the inaugural members-only event. The excitement from the 60+ members in attendance was contagious as they greeted old friends and made some new ones.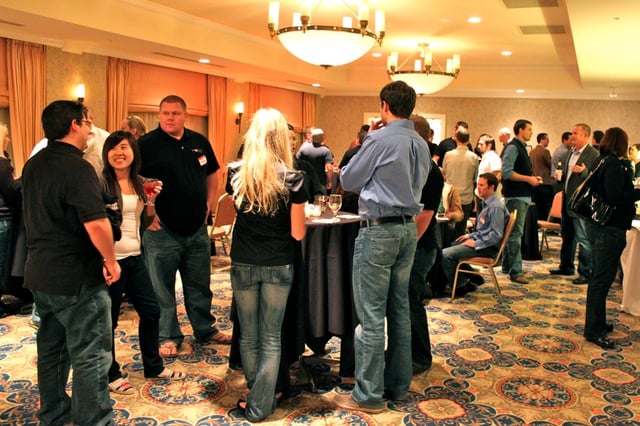 With Marshall Simmonds (
@mdsimmonds) of
Define Media Group as the keynote speaker and presentations by local members & experts Rob Johnson (
@robkellas) and Aaron Wester (
@aaronix), of
Deseret Digital Media, we all knew to get our note pads ready. In case you missed the event, I wanted to give you five takeaways I gained from these awesome speakers.
1. Embrace Google Updates, They are Job Security
Keynote from Marshall Simmonds
Marshall talked about how many SEO experts have a knee jerk reaction every time they hear "Google Update." Instead of almost wanting to cry each time Google makes an update, embrace it. Google will not stop making algorithmic updates; they are a necessary evil, and that will never change. Marshall said, "When Google moves the goal posts, it gives us job security. The Brass, or Executives, will always need people to translate it." And I couldn't agree more. He went on to talk about the fact that Panda had been a great motivator to help move SEO initiatives forward that had been on the back burner before. Instead of running for the hills because another update rolls into town, think of it as an opportunity.
2. Work With Search Engines To Maintain The Health of Your Site
I don't have a direct number to Google (shocking, I know), so when something happens to my websites, I can't just call and get it fixed. From what I have heard, this is a very common occurrence in the SEO industry. What Marshall proposed that we use the data that we are receiving from Google Analytics and (Google, Bing) Webmaster Tools to develop and maintain the health of our websites. Update your sitemaps, and implement structured data (
Schema.org) so the search engines know how to index your content. If you have broken links, get them fixed so the search engines can properly index your site. Even look into your server reports and see where the search engines have been on your site. There could be neglected areas you have missed that search spiders are viewing. Work with them on the areas that they report as needing attention.
3. Stand Out in News Search With the Rel=Standout Tag
This caught my attention because most of the sites I currently work on are news focused. Marshall noted that those lucky enough to be accepted into Google News should be excited about and using
the new Standout Tag Google released back in September. I have to admit, I am not the best when it comes to reading Google announcements. However, when an expert like Marshall Simmonds mentions something that helps news sites, he has my 100% focus. Many times in our SEO pursuits, I think we all get caught up in things that take our attention away from the "small" things that come out on the Internet. At times, those might be the most important things that could help our sites succeed.
4. Don't Just Do, Teach!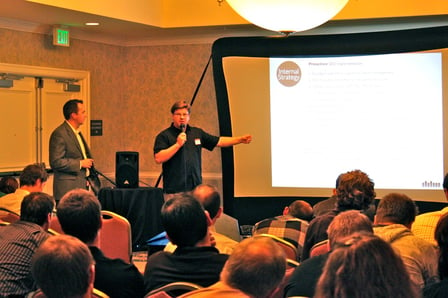 The local DDM team of Rob Johnson & Aaron Wester went into depth about their work with KSL and some of their struggles helping journalists see the importance of SEO. As the news agency became more focused on digital media,, there were some feelings among the journalists of "digital being the devil." The DDM team was looking for an opportunity to help the journalists understand their new audience in the digital world. Working with trending topics gave them the perfect opportunity to teach SEO to the journalists. They developed training that pointed out why the journalists were not reaching their audience effectively. They worked with journalists to show them the reasons articles need an SEO focus to help capture their audience. By taking the time to teach instead of doing it themselves, they helped improve the overall site performance.
5. Walk the Line With Online Journalism
Again, the DDM team caught my attention with this question:
Where do you draw the line between optimized content and quality? Since I work for a digital publisher, this really hit home because this seems like a daily battle with our writers. What the DDM team suggested was to find ways to teach the importance of SEO without requiring writers to overly focus on SEO. If you only pound
SEO, SEO, SEO into the poor writers heads, they will start losing the creative latitude to be able to capture their readers. Let them do their jobs and sprinkle their content with best practices, don't handcuff them so they don't even know where to start.
The Bottom Line
In my opinion, the SLC|SEM event was a huge success: great people, amazing food, and information you can't get that anywhere else in Utah. Post your top takeaways from the event in the comments below! It is also great to see the SEO community starting to connect and to be able to put some names to faces. (You can see the all the photos from the event on the
SLC|SEM Facebook Page.) Thanks goes out to the SLC|SEM team for making it happen. If you haven't yet
joined SLC|SEM as a member, you should! It's the best way to make sure you'll get a seat at upcoming events - as members get priority seating, there may not always be space available for non-members. (December will be a casual, holiday party style meetup for search marketers - date, venue TBA soon. In January, Bing.com comes to talk about
video search & user consumption of online video, and in February,
Danny Sullivan of Search Engine Land will be speaking to the crowd of Utah search marketers.) I will see you at upcoming events!
About the Author: Devin Doxey is an entrepreneur at heart with wicked programming and SEO skills that have lead him to
TechMedia Network where he is currently an SEO Marketer. At TMN, Devin monitors over 20 sites, selectively choosing keywords and strategies that bring in over 20 million unique viewers each month. He can be found on Twitter at
@dhdoxey and/or on
Google Plus.