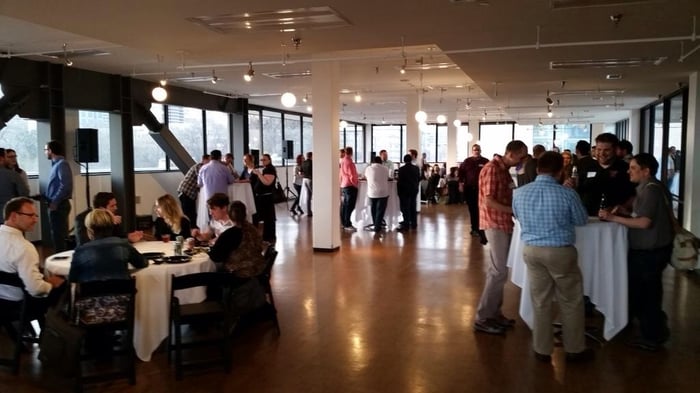 A CEO does not become a CEO simply because of their years of experience or career accomplishments. The best executives have developed a mindset that allows them to identify and act upon growth opportunities, all while focusing on people and relationships. This month, SLC|SEM members had an awesome opportunity to hear from top industry leaders. The event started with a presentation by Daniel Wahlen, an account executive for Google's Performance Marketing division. Following his presentation, five top Utah executives shared their insights in a round table panel.
Daniel Wahlen: "The web is what you make of it"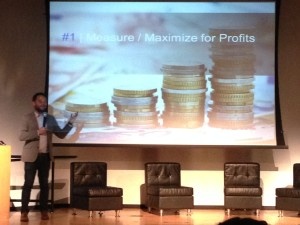 Daniel Wahlen has worked with over 1000 advertisers during his time at Google. His team found that in working with all of these advertisers, there was one factor that really differentiated business success. It has nothing to do with tactics, but rather with mindset. He explained that the customers who made decisions based on "How do I grow my business?" and "How do I grow my profit?" are far more successful than those who are exclusively focused on trimming their CPA. Daniel offered three tips for companies to adopt a successful mindset.
Choose the right KPI: measure and optimize for profits. Increasing your volume can dramatically increase your profits. CPA and ROI are not effective measures when they aren't connected to volume.
Know the full value of your advertising efforts. Understand the lifetime value of one single customer—this might allow you to be more flexible with your CPA.
Adopt growth principles: growth first, efficiency second. Don't try to grow and trim at the same time. Move from daily to quarterly CPA goals to allow for more flexibility and optimize for long-term growth.
Executive Roundtable
The executive roundtable featured some of the top leaders at Utah's fastest growing companies.







Mike DeVico, President/COO of Progrexion
Sara Jones, CEO of ApplicantPro
Kelly Shelton, CMO of Boostability
Nicholas Hales, CEO of Digicert
Ted Roxbury, CMO of Clearlink Here are some of the best takeaways from the panel.
Executives Value Employees
Several members of the panel expressed that they wished their employees understood just how much executives value their insight, contributions, and well-being.
Mike DeVico: The biggest misconception I see is that senior leaders are purely focused on the financial outcomes. The financials are an outcome of all the great work that people do. We start with a product with talent with people—we focus on that more than on the final outcome.
Sarah Jones: I once had an employee that had the attitude that they couldn't approach me. But I told them that I need them to invest the time in talking to me, and to realize they have value that they can provide the execs. Our time together is worthwhile and of value of me. I didn't know everything coming in and rely on my employees' insights.
Focus on Solutions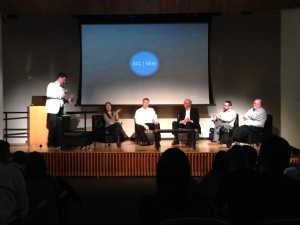 Success comes when you focus on solutions, rather than excuses—even if these solutions fail.
Sara Jones: Instead of coming to me with an excuse for a problem, I would much rather people come to me with four possible solutions. It's a better mindset. I would much rather that people learn—I don't want to have to tell people what to do. Part of someone's growth is to figure out the solution. They buy in better to their own solutions
Nicholas Hales: It's important to create an atmosphere where failure is acceptable. Millennials are afraid to fail. By taking chances, you'll have failures. But as you learn and grow, you'll find success.
Retaining Top Talent
Keeping top talent on your team usually comes down to relationships, opportunities, and relationships.
Ted Roxbury: One of the main reasons someone leaves a business is because they don't have a relationship with their manager. Provide a space that allows people to grow into. Provide financial and social acknowledgment, especially outward facing acknowledgment and rewards

Mike DeVico: Recognition is a very personal thing. What makes me feel good about being in an organization could be very different for different people.
Becoming a Leader
The panel members offered a variety of advice on what it takes to become a leader in their organizations.
Kelly Shelton: You have to have a can do attitude, be able to make tough decisions, have good people skills, be able to share the executive message with a team, and be results oriented.
Ted Roxbury: One, integrity—honor your word, do what you say you will, and get it done on time. Two, passion. Three, creativity.
Mike DeVico: A prerequisite is performance proof that you're good. After that, first would be passion. Do you genuinely care about team members and clients? Second, creativity. Think on your feet and contribute to dynamic conversation. Third, loyalty. It's comfortable to be part of a team when it's going well, but you know who you can trust when things are tough.
Sara Jones: I'm a big fan of the book
Multipliers by Liz Wiseman. It's my philosophy of leadership, and I really believe firmly in it. A good multiplier is able to shine the spotlight. They look for opportunities to shine spotlight on their teams and highlight good performers.
How Entrepreneurs Can Become Great CEOs
T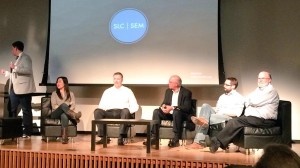 he panel shared their insights into how entrepreneurs can grow into great CEOs.
Ted Roxbury: The early phases are a lot about the product or the feature. As your business grows, it has to become more about the people, allowing team members to help you grow and providing those opportunities.
Kelly Shelton
: Have a can-do attitude. You'll be faced with a lot of obstacles, you'll fail a lot. You need to have passion, persistence, and love what you do.
Sara Jones: I joined ApplicantPro with the founder still part of the company. I wanted to watch an entrepreneur in action. We take some of those elements that made him successful and infuse that into the rest of the company—we nail it and scale it. We seek to understand the why, and have those roots continue to grow with what we do.
Pick the Right Opportunities
Great CEOs know how to pick opportunities and move forward.
Nicholas Hales: Resist the temptation to chase after shiny balls. The real art in managing a company is picking the right opportunities. The real skill set is picking the right ones for your expertise and moving forward.
Gender Equality in the Workplace
During the open Q&A, an audience member asked the executives to address what they're doing to create greater gender equality in Utah's tech culture and in digital marketing.
Sara Jones: Be mindful in leadership of your ability to create these policies [such as maternity leave]. We started with our founder, Ryan Kohler, who hired women programmers, women sales reps. He created a SaaS company—in Utah County!—with 70% women. I think it requires being open and not being stuck in your idea of an ideal candidate, being flexible in your opportunities, being willing to make that extra effort. Josh James likes to say, "Find me the women because the men will find their way in." This changes the way they approach and find people. Be willing to think outside the box in how you hire. The event provided excellent perspective for anyone running a business, wanting to run a business, or wanting to learn how to better communicate with CEOs. A special thanks to Fanzz Sports for providing some swag for the event!
Fanzz Sports is one of the largest licensed sports specialty retailers with over 120+ mall-based stores and online at Fanzz.com. Fanzz' brands include Fanzz, Just Sports, and Football by Fanzz.
About the Author Bryan Phelps is SLC|SEM's Membership Director and is the CEO of
Big Leap. Big Leap is one of Utah's fastest-growing internet marketing companies, providing a full range of services to mid-to-large companies.