Thanks to our generous sponsors, this month's SLC|SEM event was free to members and non-members alike. We enjoyed the opportunity to meet new faces in the digital marketing community. This month's event featured speakers from Conductor and Logitech and focused on the importance of product ideation. Here are some of the best takeaways from the event.
Stephan Bajaio, Conductor
Stephan Bajaio is the senior director of professional services and co-founder of Conductor, an all-inclusive software platform for web presence analytics. Stephan's presentation focused on how SEOs can better understand their role in the product development lifecycle.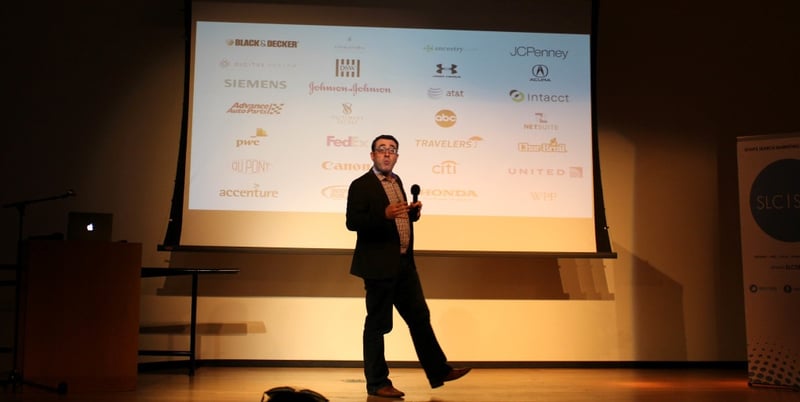 Google Shapes Perception
Stephan started by sharing a story about when he underwent an emergency appendectomy while on a business trip in Los Angeles. When he called his wife to fill her in on the situation, he asked her to look up the surgeon and read any reviews that popped up. In the rush of the emergency, this was still one of his top priorities. Every day, we make decisions both big and small based on what shows up on Google. It's crucial for businesses to not only mold the perception, but to also start understanding it. Viewing Google as a perception engine will empower you and your business. Perception is everything, and Google shapes perception.
Promote Engagement among Stakeholders
A huge component of understanding perception is engaging stakeholders in every stage of product development. This is much easier for in-house SEOs, but the same principals can be applied to agencies. When developing an online marketing strategy, we need to leverage the whole organization—technical stakeholders, product stakeholders, content stakeholders, leadership stakeholders. Each has unique insight into how the brand is perceived.

Top search marketers aren't reactive. They are actively involved in the product lifestyle, from ideation to evaluation. In each stage, these marketers are planning ahead to influence future perception. Successful SEOs are best when they learn to engage non-SEOs. They understand the importance of being both technically proficient and communicating SEO strategies to other departments. As a result, the in-house teams that really make an emphasis on engaging other functions, departments and groups—and possess the desire to improve on this, with data and collaboration—tend to be the most effective in making SEO an integral part of their business. Here are three takeaway lessons for how departments can work together to shape online brand perception:
Lesson #1: Your jargon is just that…your jargon
Your vernacular isn't necessarily that of your audience. Call it what it is! Stephan shared an example of a client who was selling something called a "folding chicken roaster." What were people actually searching for? Beer can chicken. In this case, no one from the product team was thinking about search volume data. Your job as a SEO is to present this data in a digestible way to all key stakeholders—ideally before the product launch.
Lesson #2: Look before you leap
Look before you launch your product to see who ranks for target keywords. Use that existing perception to your tactical advantage. Look at the search data first to see what people are looking for, and bring the data with you when you come to the discussion table. Involve the whole business in this discussion, not just the marketing department.
Lesson #3: Demand drives features
Data proves demand and demand should drive features. If stakeholders don't use your data, it's not the end of the world. If you don't give them the data, you'll end up with "folding chicken roaster." The data you compile can show additional products and features that people are looking for, which helps influence marketable features and functionality. Thanks again to Stephan for sharing his insights! You can follow Stephan on Twitter at
@stephanbajaio.
Jeremiah Andrick, Logitech
Jeremiah Andrick is the GM of Global eCommerce at Logitech. Jeremiah works with several Logitech properties in the music and gaming industries. Jeremiah's presentation focused on influencing product success before you launch, a perfect complement to Stephan's presentation.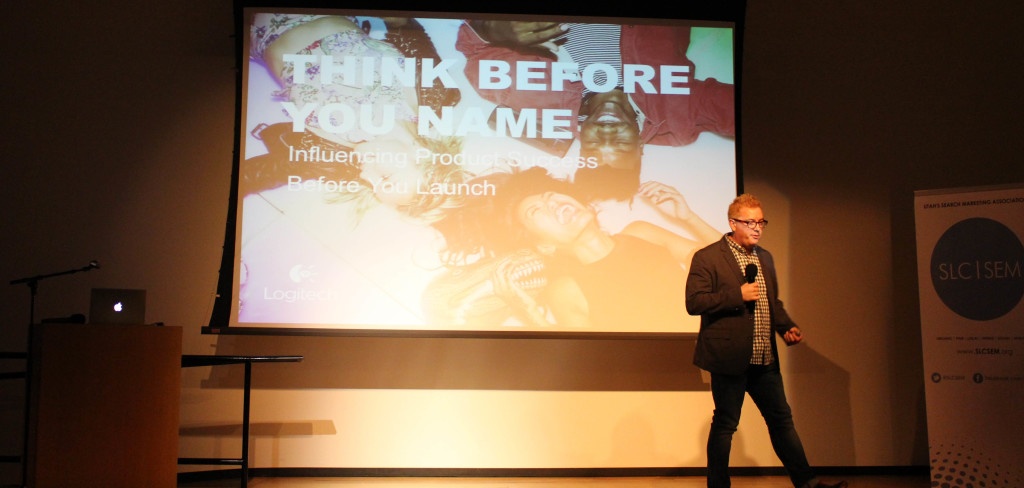 Ideally, SEO involves solving problems that show up long before a website is made, long before a product is even developed. Your job is much easier if you start before a product launches. In this sense, SEO can be really difficult as it requires the buy-in of several reluctant stakeholders. Most people think that SEO is black magic and that you shouldn't have to do anything to make your product marketable online, when in reality, we all know that isn't the least bit true.
Understanding the role of an SEO
If you really want to be successful, you have to think of yourself slightly differently than as just an SEO. Look at your assets and determine how you can create a better product and a better brand, not just how you can improve search rankings. When involved early on in the product development lifecycle, an SEO can be a canary in the coal mine, preventing larger problems and improving outcomes before product launch. Success truly begins when you move away from the tactical and move towards the strategic. When looking for agencies, hire people who think of themselves as a partner to your business, not just as technical specialists.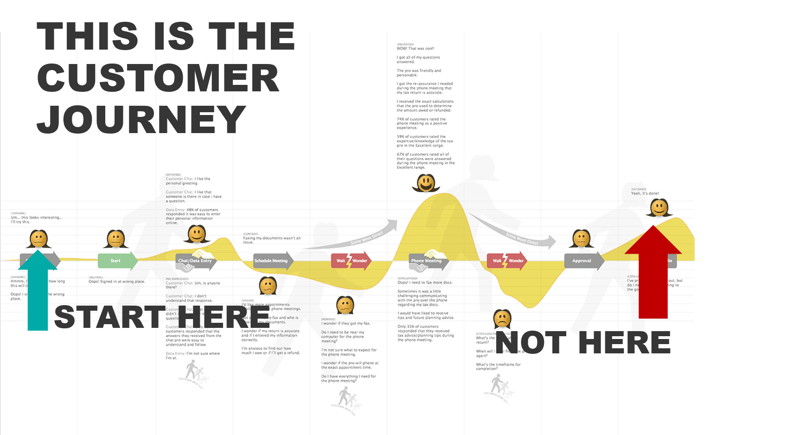 Consider the customer journey of the product and encourage people to think about the go-to-market strategy early on. When you do so, you can establish a place for SEO when considering the customer journey and lifecycle.
The Importance of Ethnographic Research
As an SEO, winning respect from the product development team begins when you understand their customer better than they do. As a result, Jeremiah spends a lot of his time meeting with and interviewing the individuals who use Logitech's products. Talk to them to find out what they're interested in, record how they talk about your product and describe its features. Take these notes back to the copywriting team. When you find people who are passionate about your product, they'll tell you everything you need to know about how they use it, what they like about it, and what features they hope to see in the future. For Jeremiah, customers who use Logitech's products for gaming tend to be very passionate about technical details and are excited to discuss their experience.
Presenting Data to Stakeholders
People can love data, or they can hate data. It's all about how you present it. Jeremiah likes to use Google when gathering and presenting data because product people will respect the findings and learn how to use the tools themselves. In Jeremiah's words, "It's as if God came down and handed them the data himself." Gather data from language and leverage testing, design and content conversion, and from your own internal search log to understand how people are finding and interacting with your product online. Finding the data is only half the battle. Once you've gathered your relevant metrics, you can't just tell people, "Do this because this is what the data says!" If you do, you'll understandably see a lot of push back. If you have the best idea, you have to coach decision makers into thinking it's their idea. Here are Jeremiah's three parting thoughts:
You may not always win the way you want. Be willing to look at other paths.
Buy beer. Figure out what the "beer" is at your company. Find what motivates the team and use that to sell them on your ideas.
Learn to be an evangelist of your special knowledge. Practice your soft skills as part of this thinking.
Thanks to Jeremiah for his presentation! You can follow him on Twitter at
@jeremiah.
Sponsors
A special thanks to our sponsors for this event,
Conductor and
Big Leap.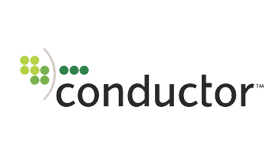 About the Author Bryan Phelps is SLC|SEM's Membership Director and is the CEO of
Big Leap. Big Leap is one of Utah's fastest-growing internet marketing companies, providing a full range of services to mid-to-large companies.