We had a great turnout at this month's SLC|SEM event. It was great to see so many new faces and we're excited to see the community growing. This month's event was all about data. We heard from Luciano Pesci of the Utah Community Research Group and Emperitas, as well as Aaron Bird from Bizible. Both Luciano and Aaron gave everyone some great actionable insights into incorporating data into your business model. Here are some of the best highlights from the event.
Luciano Pesci: The Datapocalypse & How to Survive it Profitably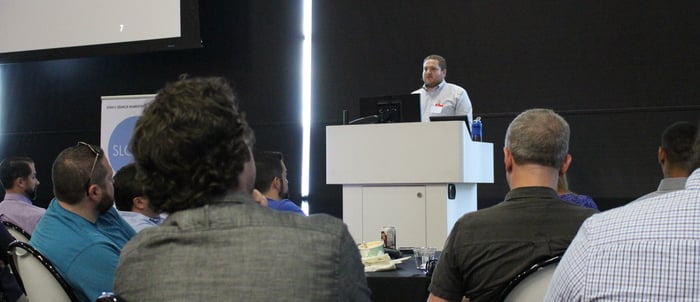 Luciano Pesci is the founder and director of the Utah Community Research Group (UtahCRG) at the University of Utah. He also serves as the CEO and co-founder of Emperitas, a market research and data analysis provider. The presentation focused on preparing for the massive changes to come in data collection and analysis. Luciano started his discussion of the "datapocalypse" with an alarming quote from John Chambers, the outgoing CEO of Cisco. Chambers said, "Forty percent of business in this room, unfortunately, will not exist in a meaningful way in 10 years [because of failure to act on data]." The reason, he says, is because organizations are not set up to automate and digitize, they won't have access to the same kind of insight to make smart decisions as companies who integrate data analysis from the ground up. Thankfully, it's not all doom and gloom. By structuring your business to be profitable and understanding your customers, you can be prepared to survive the Datapocalypse.
Creating a Profitable Business Structure
In the Datapolcalypse, only the profitable to survive. The only way to be profitable in a market economy is to have no competitors. Otherwise, you're just offering a commodity. In a competitive market system, free entry and exit of businesses means you can't charge profit. Someone else will always come along and be willing to charge less than you—think of Walmart, for example. In order to truly be able to set your prices above costs, you must differentiate yourself. When you differentiate yourself, you become a monopoly and have price-setting abilities. Currently, there are three main price setting structures that have seen variable success. First, is the personalized pricing model where the price of a commodity is always fluid. This tends to be pretty unpopular among consumers. Think of airlines and their constantly changing ticket prices that seem completely arbitrary to most customers. Second is the personalized product model, such as the customizable #MakeItHappy Coke bottle promotion. This can be very popular among consumers, but is very risky as you have little to no control over those who decide to troll your product. Finally, prices can be generated by segment submarkets, a tactic that has been moderately successful and profitable. These methods all drive revenue by capturing more of the customer's willingness to pay, but they each have their challenges. Technology is coming that will allow you to do all three. You will be able to know exactly which product customers want to buy and how much they're willing to pay.
Understanding Your Customer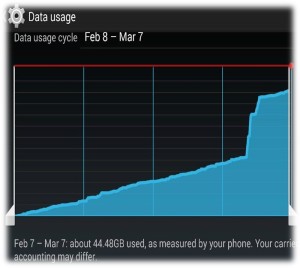 Unfortunately, it's not just enough to have data that will tell you what someone wants to buy and how much they'll pay for it at this moment in tie. As a business, you need to be forward thinking enough to predict where your industry is going, what types of products you'll need to make available to stay competitive, and how your pricing structures can meet those need. Luciano had a great personal example of a company that failed to look ahead. He is grandfathered into unlimited data account with Verizon that Verizon is desperately trying to cancel. He currently uses an average of a whopping 44 GB of data per month. Verizon didn't expect the market to change and thought they could lock him into an outrageous rate, but then the market changed. It now costs Verizon real money to have him as a customer, which they could have avoided if they got to know him as an individual. On the consumer side, we have countless new inventions that are creating massive amounts of data. It's not just the volume of data that is going to take off. There will be an enormous second wave of data of things we never thought possible to measure. People can't be understood through impressions, clicks, or sales data alone, even if it's all connected. You need theory to guide this. Conversations with your customers give you the theoretical framework necessary to interpret the data you're collecting. It doesn't have to be big data to be useful. You just have to start talking to customers. A special thanks to Luciano for sharing his excellent insights. You can find his full presentation
here.
Aaron Bird: Navigating the Complex Landscape of B2B Attribution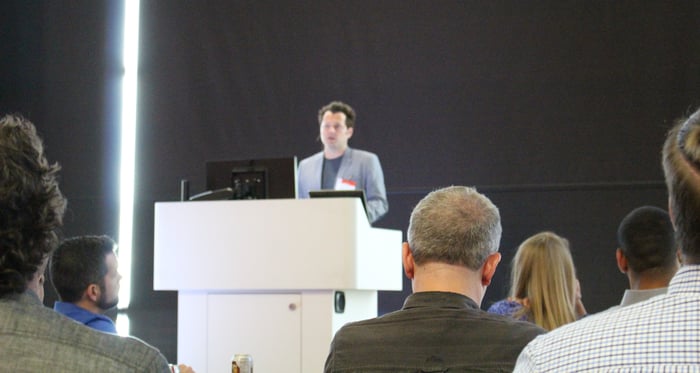 Aaron Bird is the CEO of Bizible, a B2B marketing attribution and analytics software. While Luciano gave us a broad overview of preparing for the Datapocalypse, Aaron gave us great insights into a more specific marketing problem—attributing B2B leads. Here are some of the highlights from his presentation.
The Importance and Challenge of Attribution
What do we do as marketers? What's our job? In the end, the only reason you build a brand is to drive business. Our one job is to drive business. We really shouldn't promise anything that we can't measure. This is why attribution is so important. If our goal is to drive business, we need to be able to accurately measure our success. If we go back to the 1950s and 60s, marketing attribution was essentially impossible as all marketing campaigns were focused on physical media. Now that everything is digital, it should be really easy to track attribution. Unfortunately, we all know attribution is anything but easy. The difficulty of attribution in the digital age is that
everything is trackable. We have so many different tools that it can be difficult to piece everything together and see the big picture of your customer's journey. As Douglas Horton said, "The art of simplicity is a puzzle of complexity." The problem now isn't that we can't track everything, it's that we have so many tools that we create data silos. We need to see the whole customer story.
Eliminating Channel Bias
Think about attribution models. If we were a marketing organization and we were doing first touch attribution, we would attribute all of our revenue to social media. This would cause us to invest all of our resources and strategy into social media, but in the end we would have everything come in the top of the funnel and nothing coming out the bottom (i.e., a successful sale). Last touch is another popular attribution model. If this were our focus, we would stop putting our efforts into social media and content marketing. Eventually, we would be getting the existing people in the funnel through the sales process, but we would essentially stop all lead generation. Either of these models might work for a B2C company, where there is very little time between lead generation and closing a sale. Often, a B2C customer will only have one or two touch points that lead to conversion. But for B2B businesses, it's important to focus on the full funnel—both what generates leads and what closes deals.
W-Shaped Attribution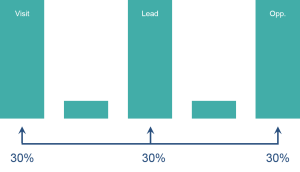 As part of the process of looking at the full sales funnel, Aaron recommends using what's called a W-shaped attribution model. This model allows you to measure what marketing strategy led to the first anonymous touch, what led to a lead generation, and what led to contact with a sales representative. The first anonymous touch is an important part of this model. First click or first touch is anonymous data that tracks the point of brand discovery and awareness, which is typically driven by paid social advertising and content marketing. This is important for the B2B brands who do not have major brand awareness and invest in content marketing. This W-shaped model also allows businesses to take into account contact with different individuals. In B2C businesses, you're generally only marketing to one person, the consumer. But in B2B businesses, there are generally several key stakeholders who need to give their approval. Everyone from the person researching B2B solutions, to the person who will be using the product, to the final decision makers need to be included when determining attribution. With the right tools, software, and attribution models, B2C and B2B companies alike can accurately track their marketing efforts. A big thank you to Aaron for visiting us from Seattle to share his B2B insights. View Aaron's full presentation
here.
About the Author Bryan Phelps is SLC|SEM's Membership Director and is the CEO of
Big Leap. Big Leap is one of Utah's fastest-growing internet marketing companies, providing a full range of services to mid-to-large companies.