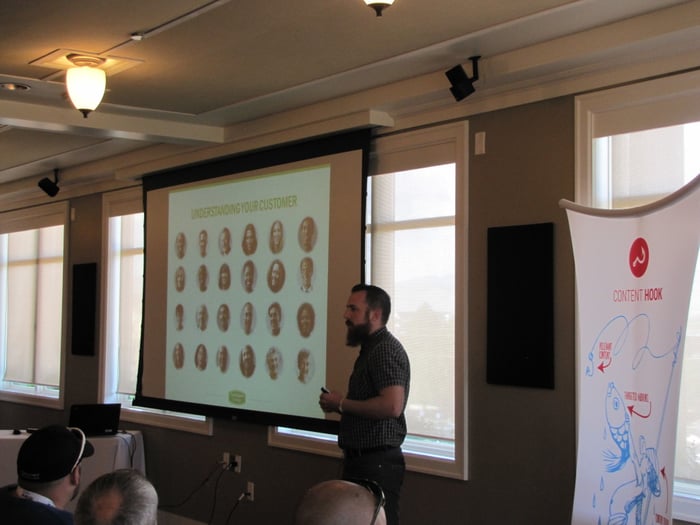 Garret Stembridge
How a Boring Storage Company Made a Viral Video and How You Can Too
Garret Stembridge is the
Social Media and Content Marketing Manager at Extra Space Storage. In his presentation,
Garret
talked about how to make a campaign go viral, as well as the importance of understanding your customer on an emotional level. https://twitter.com/eric_hoffman/status/639117249983348736
Garret spoke about the challenges they faced in connecting with people emotionally about storage. To help them better understand their customer base, Garret and his team held customer focus groups across the country to better identify with their customers and to learn why they used storage. What they found was that people used storage in hopes of a better future. They also used storage because of their emotional attachment to items. One story he shared was of a young woman who had inherited her grandmother's piano. She had it in storage for safekeeping until she could afford a bigger home of her own with room for the piano.
After holding these focus groups and getting a better feel for their customers, they decided to create a video to connect with first time parents,
10 Things I Wish I Knew Before I Had A Baby
. [youtube http://www.youtube.com/watch?v=p27Hi8QoHoo]
Before they launched the video, Garret and his team worked to build hype around the project by sharing a series of helpful blog posts, infographics, and creating social content about favorite baby items which gave them a lot of great engagement prior to the launch. They also ran Facebook and YouTube ads, focused on people in the market for baby items. Their YouTube ads were a great success, as over 55% watched the video.
Part of their promotion also included influencer marketing, email marketing, and outreach (outreach was their most successful promotion tactic). Through these efforts, the video was shared on high-ranking sites such as KSL, Huffington Post, Mashable, Buzzfeed. It was also shared by celebrities Ashton Kutcher and George Takei.
From this experience, Extra Space Storage learned that an integrated promotion plan is critical to success. Another takeaway was the importance of partnerships. As you build your promotion plan, align yourself with major, relevant partners to maximize the exposure of the video (or other great content) you are plan to share. https://twitter.com/scotthauck/status/639121594183348224
In the end, take time to better connect with customers, find the right concept, build the hype, and distribute, distribute, distribute.
You can follow Garret on Twitter at
@GStembridge
.