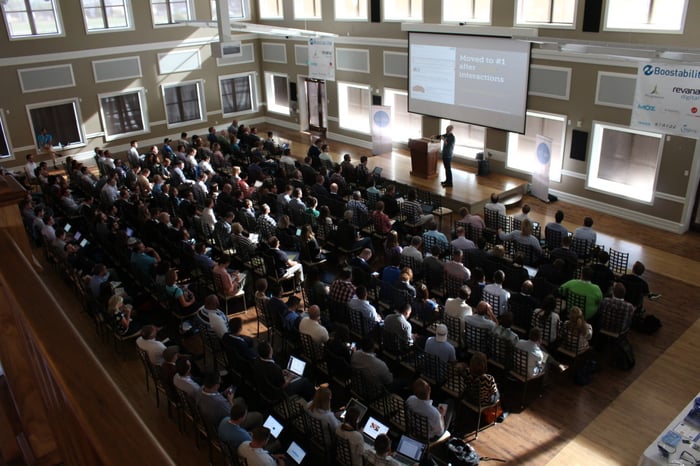 We did it! SLC|SEM pulled off our first all-day digital marketing conference. We had an awesome time connecting with Utah's digital marketing community and we hope to make this an annual event. A huge thanks to everyone who made this possible—attendees, sponsors, SLC|SEM board members, and of course our outstanding speakers. One of our favorite parts of the day was seeing the variety of attendees. Some were SEOs, some were business owners, some were social media gurus, some were UX developers, but everyone was invested in digital marketing in one way or another. It was an important reminder that our industry thrives on these diversified skill sets. We all have something to bring to the table.
Cyrus Shepard, Moz

We kicked off the day with Cyrus Shepard, Director of Audience Development at Moz. His presentation reminded us all that SEO should always be focused on the end result for our users, not the end result for search engines. https://twitter.com/slcsem/status/639098175974846464 For years, Google has been telling us to optimize for users, not search engines. And yet we keep ignoring this, writing it off as the "fluffy stuff" of SEO. Now that user inputs are finally clear ranking factor, the industry is finally starting to pay attention. https://twitter.com/seocom/status/639106116442439680 https://twitter.com/ericnjackson/status/639102533412106240 https://twitter.com/IamCoy/status/639105493982539776 How do you focus on the user? There are user opportunities all around us. Optimize your page to help people complete what they want to do. Create supplemental content that not only answers the questions the robots told us about, but also the questions humans probably want answers to. https://twitter.com/slcsem/status/639104412183433216 Cyrus summed it up well: "I'm doing some of the best SEO I've done in my life and it feels good because I'm helping the user find what they want, when they want it." Many thanks to Cyrus for reminding us to always prioritize the user. Read the full recap of his presentation
here.
Morning Breakout Sessions
The morning breakout sessions were split into three rooms. In the main hall, Scott Baird spoke about setting and achieving smarter business goals, while Matt Siltala discussed the exciting future of interactive video marketing. https://twitter.com/slcsem/status/639128510385098753 In the Big Leap room, we had presentations from
Luciano Pesci, who presented on guerilla-style research and data collection, and
Jana Francis, who spoke about entrepreneurship and following your passion. https://twitter.com/adbrum/status/639122019993292800 In the Content Hook room,
Garret Stembridge talked about distribution and the importance of understanding your customer. In the same room,
Jordan Kasteler talked about pushing your content to the next level and
Rick Galan offered some actionable insights into building fantastic reports. https://twitter.com/robert_brady/status/639132645125918720
David Locke, Utah Jazz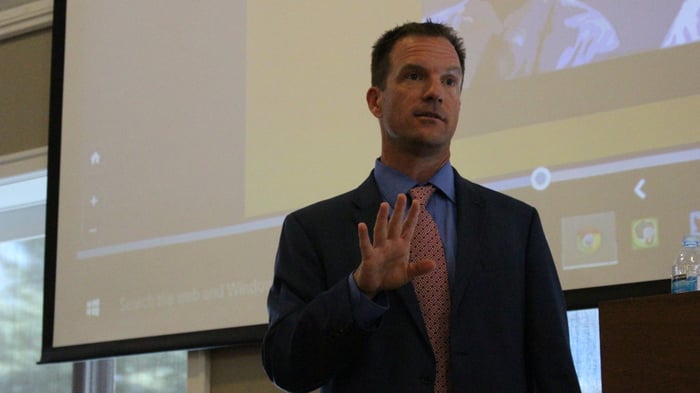 After a wonderful lunch provided by Moz, we started the afternoon off with a lively presentation from David Locke. David is the play-by-play radio reporter for the Utah Jazz, as well as the founder of his own daily podcast, Locked On Jazz. https://twitter.com/brandonswenson/status/639155215313141760 https://twitter.com/BigLeapLLC/status/639157785154838529 While David is not your traditional digital marketer, he offered a fresh perspective on digital content creation. https://twitter.com/DanBischoff/status/639163266976120832?ref_src=twsrc%5Etfw The great radio rule is the great everything rule. Tell people what you plan to do, do it, tell them about it, tell them you're going to do it again, and do it again. People expect consistent, unique content. They want to know what to expect when they visit your site. Throughout his presentation, David explained that his willingness to fail and his willingness to make mistakes has led to his success. https://twitter.com/slcsem/status/639156045445619712?ref_src=twsrc%5Etfw Instead of worrying about creating perfect content, David is willing to take risks and learn along the way. More than anything, David strives to use social media and digital content to connect with people on a personal level. In his own words, "Make people smile, share that passion, win them at that moment and they're yours." A huge thanks to David Locke for reminding us to take creative risks with our content. Read the full recap of his presentation
here.
Afternoon Breakout Sessions
Our afternoon breakout sessions were packed with actionable insights. In the main hall, we heard from
Mike Templeman on collaboration and demand strategies.
Chris Dayley and
Bryant Garvin both discussed conversion optimization, with Chris focusing on mobile strategies and Bryant focusing on optimizing for revenue. https://twitter.com/Matt_Siltala/status/639251961682923520 In the Big Leap room,
Rob Johnson presented on lessons learned from replatforming a multimillion dollar eCommerce site. Dallin Price gave his pro tips for successful paid search campaigns, and
Dustin Nay covered how to improve your site speed. https://twitter.com/celesteedmunds/status/639176122664529920 In the Content Hook room,
Jessie Mamey taught us how to harness the power of omni-channel data for acquisition in SEM and Sam Fonoimoana discussed B2B optimization for maximizing ROI. https://twitter.com/RevanaDigital/status/639214851542417409
Duane Forrester, Bing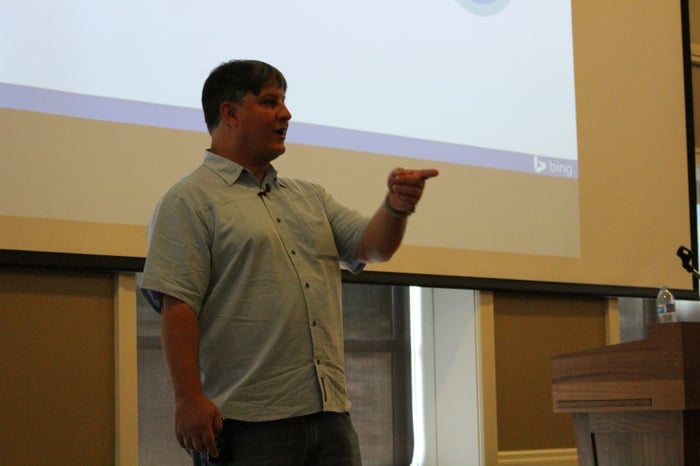 Next, we heard from Duane Forrester, who has over 15 years of experience in search and digital marketing and helps run Bing's Webmaster program. Duane spoke to us about the quickly changing ways that we interact with data and machines, and how we as marketers should pay attention. https://twitter.com/slcsem/status/639204532875042816 We are approaching one of the largest wealth transfers in history—seven trillion dollars will soon be transferred into millenials' control. Not only will this impact how businesses target this demographic, but this demographic will also experience rapid changes in how they make purchasing decisions and their product expectations. As Duane said, know the buyer—align, or you will fail. https://twitter.com/RickGalan/status/639199841638330368 https://twitter.com/chasemlarson/status/639204652576169984 We are producing data at a rate that is absolutely mind boggling. In 2015, we create the same amount of data from the start of time to 2003 in the time it takes you to order coffee. While we're building up machine intelligence, we're also building up machine ethics. https://twitter.com/scottas/status/639200451167043584 How can you keep up? Be the bridge between a user's intent and the experiences the world has to offer. If your business wants to flourish, you have to understand the systems people use and how they're using them to accomplish a goal. https://twitter.com/CarrieSoren/status/639197932265172993 Thank you to Duane for joining us at SLC|SEM! Lots of insights as we realign our focus on the future of big data and IoT. Read the full recap of his presentation
here.
Lee Odden, TopRank Marketing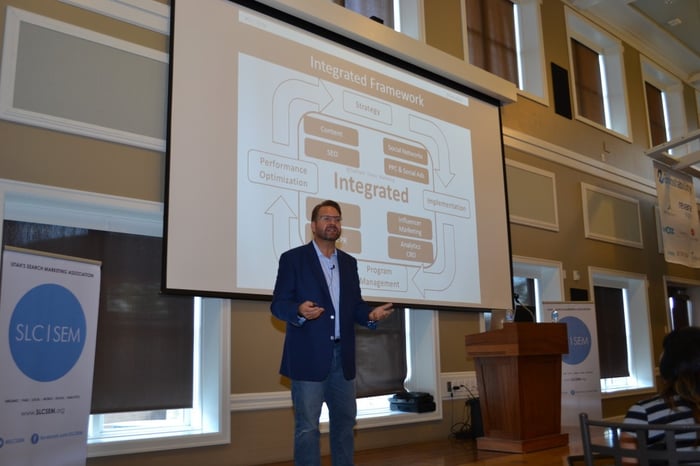 To wrap up our day, we heard from Lee Odden, the CEO of TopRank Online Marketing. In addition to hearing from Lee, all of our attendees were given a copy of his book,
Optimize. Lee spoke to us on being the best answer through integrated marketing campaigns. https://twitter.com/Matt_Siltala/status/639211995145728001 Early on in his career, Lee decided that instead of optimizing to search, he was going to be accountable to experiences. Things are a lot more complex when you look at actual experience. If your marketing plan optimizes for a simple, linear journey, you're marketing for something that only happens 30% of the time. https://twitter.com/IamCoy/status/639214212913438720 Don't just make things search savvy, make them customer savvy. What's the best way to approach digital marketing as a real thing? How do you deal with a customer journey that isn't linear? Address the questions your customers need answered in order to buy, and answer these questions in an informative and entertaining way. To gain the advantage, you have to be the best answer. https://twitter.com/scottas/status/639215003229249536 Organizations should focus on how all of their marketing elements integrate and SEO is a foundational element of digital marketing. While there are a lot of distractions in SEO, you really need to master several skills in order to be effective. https://twitter.com/slcsem/status/639213489224056832 https://twitter.com/brantzwoolsey/status/639214120064040960 How do you want your company to be known? Create signals of credibility to humans
and search engines. Whether customers look at industry news, social networks, referrals, they should hear a consistent message: your brand has expertise. https://twitter.com/iGoByDoc/status/639214875890221056 We loved having you, Lee Odden! Thank you for being a part of our first digital marketing conference. You can download Lee Odden's slides
here and read a full recap of his presentation
here.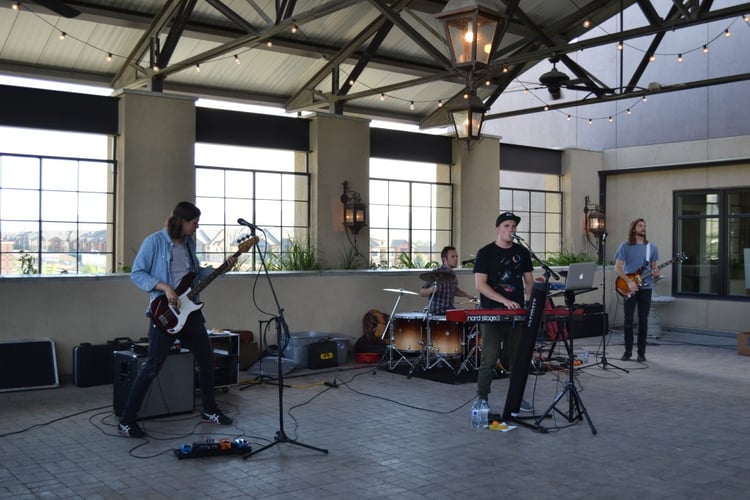 In the evening, we enjoyed a cocktail hour with live music from Foreign Figures. The perfect way to end the day. Thank you to everyone who attended the event. We had an unbelievable turnout and we hope to continue this conference for many years to come. We hope everyone came away from the event with actionable ideas and a renewed sense of community. And of course, this event could not have been possible without the support of our generous sponsors. Thank you for making this event a huge success.