Digital marketers from up and down the Wasatch front dove into the organic side of social media for our latest event, Social Media Selling & ROI featuring Kristy Honsvick of Admin Ease and Gabe Villamizar of HireVue. The event was focused on honing in on the appropriate social platforms for your business or brand as well as leveraging your personal accounts to "sell" on social media.

Kristy Honsvick – Shift Your Marketing into Overdrive: Maximizing Your Social ROI with Minimal Effort
Where to Play & How Often
Kristy Honsvick kicked the evening off by breaking down the audiences and stats for each of the major social media platforms, namely Twitter, Facebook, LinkedIn, Snapchat, Pinterest and Instagram. Her detailed presentation included valuable information about number of active users by platform, which platforms are useful for B2B marketers, how much content is shared on each platform.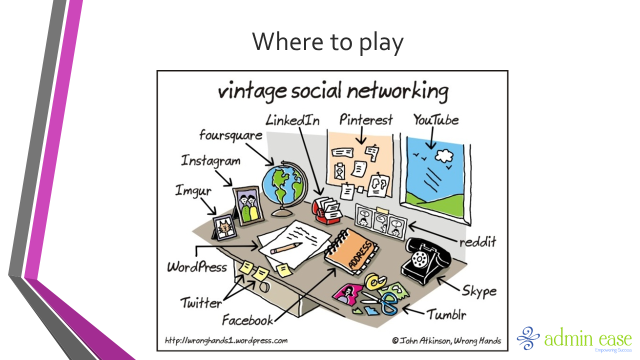 Posting frequency was Kristy's next talking point. While she provided some best-practice points, her biggest point was that a brand should be publishing content as often as it has content to share
Post as often as you have ENGAGING, ENTERTAINING, and USEFUL content to share.
Content, Graphics, & Engagement
From there Kristy offered recommendations on topics such as content breakdown, the value of graphics, and engaging with your audience. Here are her recommendations:
Content:

Share 80% service-oriented content
20% sales-oriented

Graphics:

Images bring out emotion
Creates connect to people
Tell their own story

Engagement:

Respond quickly
Engage daily
Learn what's going on in your industry by following top contributors
Content is King, but ENGAGEMENT is Queen. – Mari Smith
Paid Social & Social Media's Screen
Lastly, Kristy discussed paid social, a popular topic among digital marketers these days, and making mobile a priority since mobile devices serve as the primary screen for social media. Businesses are shifting significant budgets to paid social to capitalize on both the amount of the time people spend on social and also the robust targeting options a platform like Facebook offers.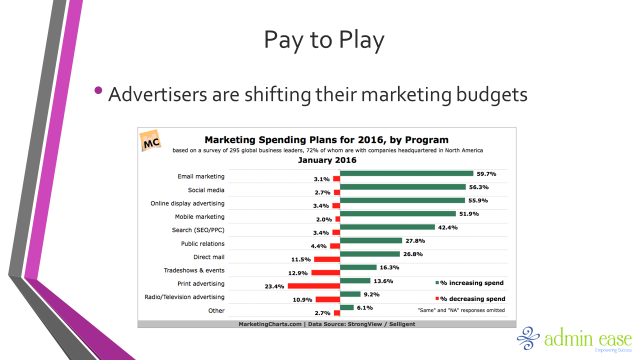 View the rest of Kristy's presentation
here.
Gabe Villamizar – 6 Steps for Achieving Social Selling Success
Gabe is recognized as a social selling thought leader having worked with companies such as InsideSales, Qualtrics, Canvas, and others to strengthen their salesforces using his social selling process. However, Gabe was quick to point out that social selling has a number of uses including getting a job, raising venture capital money, and of course, prospecting. Here's a breakdown of Gabe's six steps.
Step 1 – Social Selling Intro
Sometime in 2008 the phrase "social selling" began to register inside of Google Trends and has experienced steady search volume growth into 2016. Concurrently, the phrase "cold calling" has seen a significant decrease in search volume. When viewed proportionally, cold calling is a much more popular phrase. Gabe was quick to point out that there is still a lot of opportunity with social selling because it hasn't been widely adopted. This means greater dividends for those who invest now and integrate social selling with traditional selling tactics.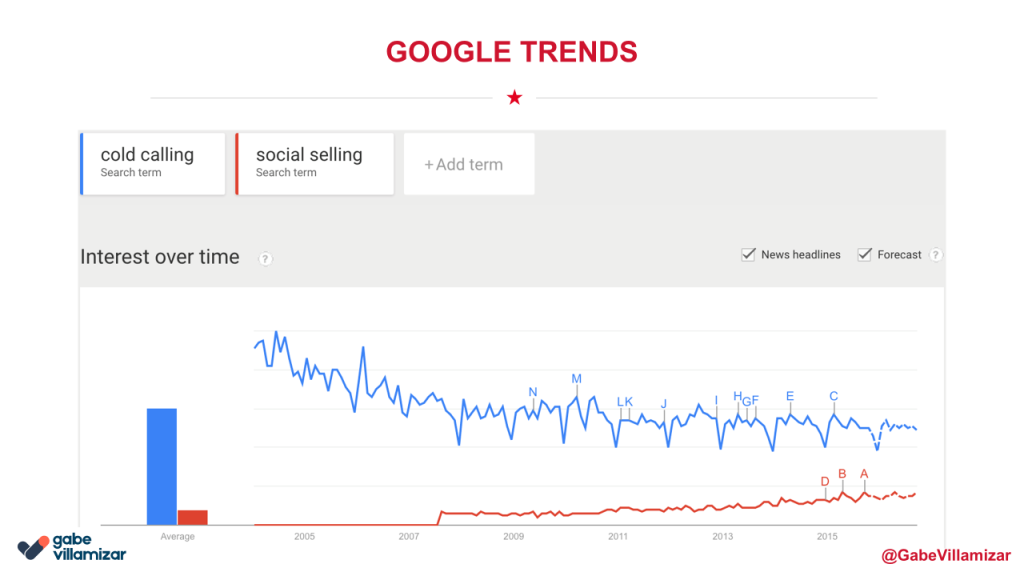 Step 2 – Social Optimization
Any good digital marketer knows the value of optimization and social selling is no different. Gabe urges social sellers to identify the keywords or phrases that move your buyers and optimize your [personal] accounts in such a way that it triggers credibility with your prospects. Anywhere your prospects spend time on social media, you'll need to be there actively contributing and sharing content (even if it means something crazy like using Snapchat).
Step 3 – Social Listening
This is perhaps the most important step of the entire social selling process because it's about gathering information. An effective social seller will learn everything they can about their buyers including the following:
Who are they really?
What is their professional background?
Where did they attended school?
What content are they are sharing?
Which hashtags they use or engage with?
Which sports teams are their favorite?
Who do they engage with?
"Don't pay for attention, pay attention!"
Gabe mentioned a few tools specifically that he trains sales teams to use. First, Tweetdeck. Gabe harnesses the power of social listening on Twitter by adding different search columns to Tweetdeck. These columns include hashtags or Boolean searches that help capture URL shares or filter tweets by keywords.
Second, Riffle by Crowdriff. Riffle is Twitter analytics tool that provides info valuable information about how an account uses twitter. Anything from the top URLs they share to their average number of engagements per tweet to their favorite hashtags. It's a little creepy.
Otherwise Gabe recommends diving in and spending time on the different platforms and gave a powerful example of viewing a post on LinkedIn made by a recruiter (HireVue's target market) that earned over 300 comments from other recruiters that he discovered and brought to the attention of the HireVue sales team.
Step 4 – Social Engagement
For step 4 you'll need to step forward from the safety of the internet's shadows and begin interacting with buyers. Gabe provided a concise list of do's and don'ts.
Don't
Do's

Add value by sharing educational content
3x3 Social

Personal
Business
Industry

Stay visible
Build relationships of trust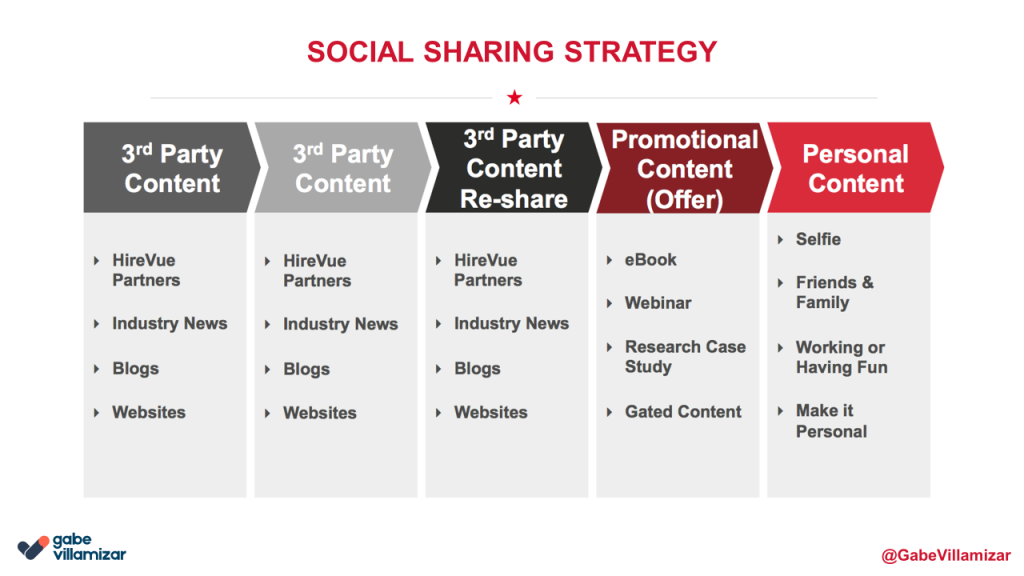 Step 5 – Social Commitment
Because social selling is only a part of the selling process, your end goal is to take the conversation offline and to move your buyer towards a buying decision. To do so, you'll need to do things that other salespeople aren't doing. You'll need to share content that stands out (say 360° Facebook video) and you'll need to move the deal forward or move on.
Step 6 – Social Tracking & KPIs
Digital marketers aren't strangers to measurement. We measure everything. Social selling isn't any different. Because Gabe has identified and measured the appropriate KPIs for HireVue's sales team they've built a predictable model. This model included changes to their CRM so that every sales activity was recorded, but it also yielded the number of interactions a buyer needed to move along. As such, HireVue aims for an astounding 22 buyer interactions (on and offline) inside of 72-hour window. Wow!
"If you Can't measure it, you can't manage it."
View the rest of Gabe's presentation here. Thanks to all who attended and a big thanks to Kristy and Gabe for sharing their social media wisdom. We hope to see you at April's event with Sahil Jain and Luke Alley where we'll learn more about both search and social.