SEM-ers from the Wasatch Front were treated to two fantastic presentations last Wednesday. Keeping with recent trends we were able to snag both a local and a national expert, this time tackling both paid search and social media advertising.
Luke Alley of Avalaunch Media - The Ultimate PPC Tools Showdown
In a wild west-inspired fashion, Luke's presentation focused on examining the different paid PPC tools available to marketers today. To prepare for his presentation, Luke polled the #ppcchat hashtag via Twitter for insights into how the PPC industry uses paid tools. Once he collected his data, Luke grouped different tools together by function, who uses them (agency vs. in-house vs. freelance), and what benefits they offer marketers.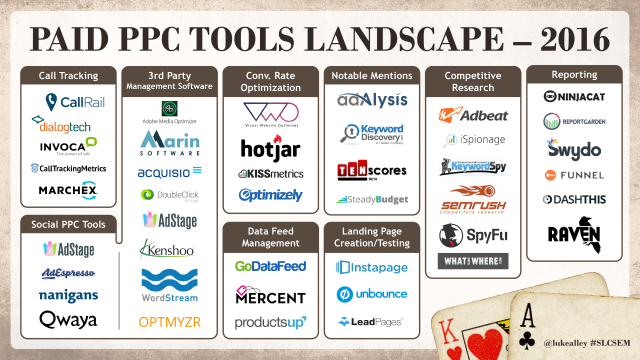 Among all of the tool categories listed in Luke's survey competitive research was the most popular category followed by third-party management software and call tracking. Conversely, tools listed under budgets, ad optimization, and keyword research were the least popular tools.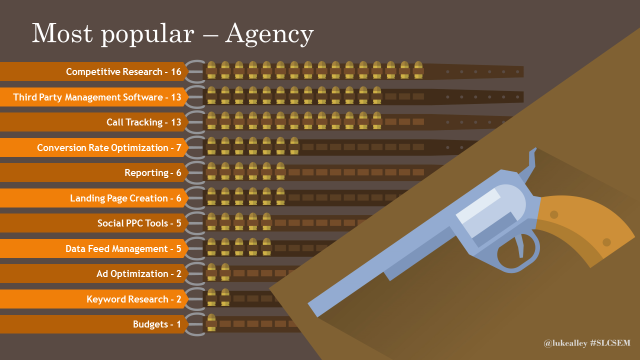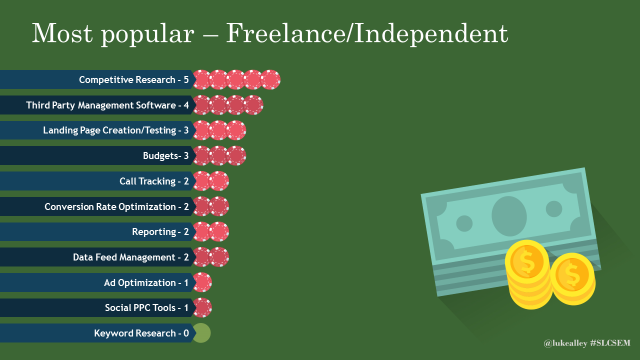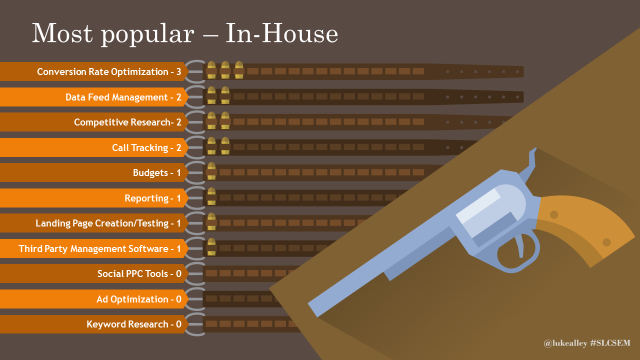 Once the popularity of the tools was discussed, Luke moved on to discussing who uses the tools by breaking down the category popularity among agencies, freelancers, and in-house marketers. Luke noted that when compared, there was very little difference between the tools sets,
It is important to note that when comparing the three marketing roles (agency, freelance, and in-house) that landing page testing was more important for the freelance and in-house poll participants. To further break things down, Luke compared answers from poll participants in small agencies and large agencies. The tool sets used were nearly identical except for the use of 3rd party software which was the most popular tool in large agency settings.
From there Luke dove into the value that each category of tool offers including information about pricing and whether or not contracts are required for the tools. Head over to
SlideShare to view all of Luke's fantastic slides.
Sahil Jain of AdStage – The Journey from Search to Social: Marrying Paid Search with Social Advertising
The final presentation was by Sahil Jain, CEO and founder of AdStage. AdStage is an all-in-one advertising platform that allows marketers to manage both paid search and paid social advertising; namely Bing Ads, Facebook, Google AdWords, Instagram, LinkedIn, and Twitter.
Sahil's presentation focused on the current state of paid search, the future of online advertising, and how search and social ads compare and can complement one another,
The Reality of Paid Search
Sahil kicked off his presentations by sharing some information from a September 2015 ad projection by
www.eMarketer.com. The projection suggested that display advertising (which includes paid social) will surpass search advertising this year by roughly 10% (measured in spend). The same projections show the chasm between the two only growing larger as we look to 2017 and beyond.
Furthermore, paid social is in the driver seat as it now drives more referral traffic than Google. Incredible!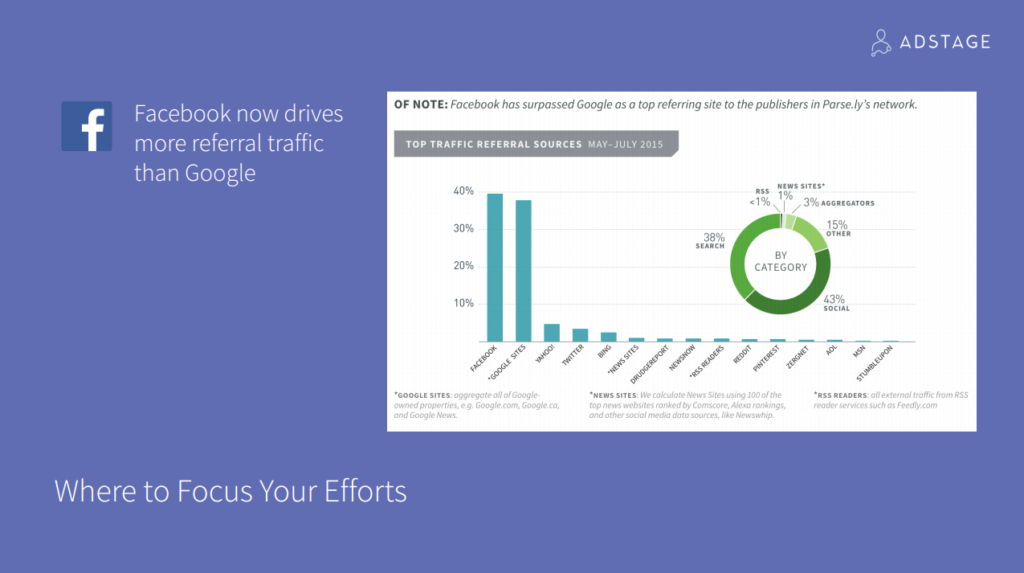 Paid Search Versus Social Ads
Both paid and social ads can play an important role in a multi-touch advertising program or campaign. Sahil elaborated on the many formats a paid search and paid social tandem can play in a conversion and he highlighted the different benefits each source have to offer. Both paid and social ads work well and assist in first-touch, remarketing, and conversion.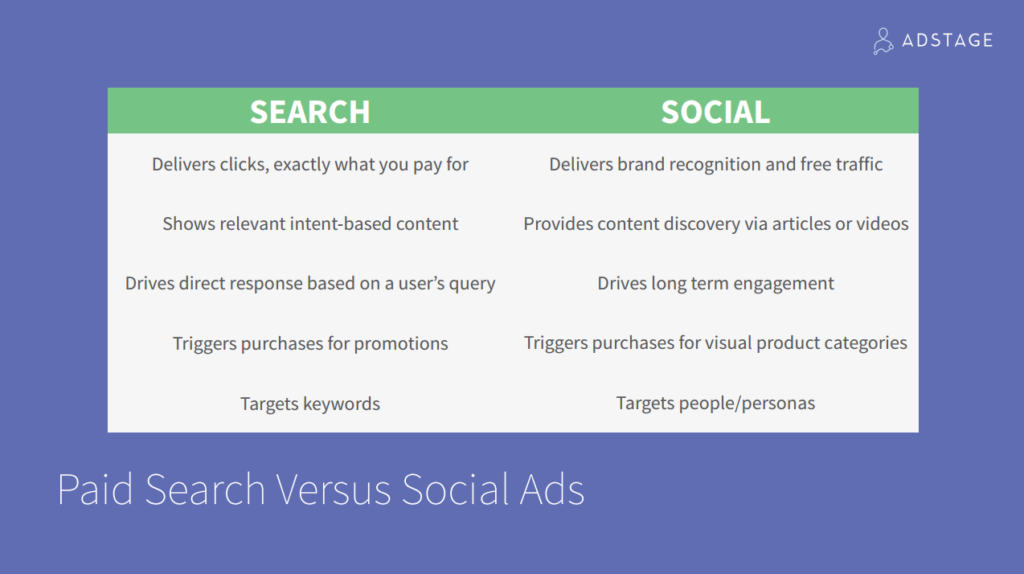 Driving Awareness
Next Sahil got tactical and talked about some of the targeting objects inside of Facebook; specifically Device, Likes & Interests, Demographics, Behaviors, Workplace, Education, and Connections. Sahil then drilled down on some of the remarketing targeting and custom audience tools available through Facebook's ads platform.
Remarketing:

Remarket to visitors who have visited your website within a set number of days (up to 180)

Include visitors who visit your website using URL equals and URL contains operators
Exclude visitors who visit your website using URL equals and URL contains operators

Remarket to visitors in who engage with your Facebook visitors

Custom Audiences:

Create Lookalike audiences using one of these resources:

List of existing customers (email phone numbers)
Website visitors
People who have liked your page
Master Multiple Channels with Automation
After talking about some of the targeting options available on the larger social media platforms, Sahil dove into discussion about the value of using an automated system to simplify your advertising. He specifically highlighted the following features:
Receive performance alerts.
Use optimization rules to save time
Schedule campaigns across multiple platforms
If you're looking to simplify your advertising efforts into a single, automated platform, head to
AdStage's website to learn more about their 14-day trial.