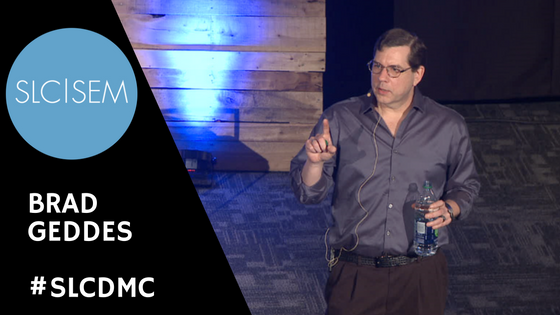 Brad Geddes opened up DMC 2016 with his training on Advanced AdWords. Geddes is the official Google AdWords Seminar Leader and has conducted more than 60 officially Google-supported AdWords Seminars for Success.
The first idea he discussed was how audience targeting had changed throughout the years. Originally audience targeting meant advertising through radio or TV. Through the years, however, audience targeting has entered into the digital marketing world through banner ads, Facebook ads, and now through search. One of the ideas that many companies were missing out on, Geddes said, was that many had stopped at keyword targeting and not getting into the huge "new world" of incorporating audiences into search campaigns.
One of the ways he discussed this idea was going through how many times consumers visited a website before they converted, and how those people were initially marketed to. Geddes drew parallels to the two types of consumer that companies would market to. "Who are you really spending your money on?" Geddes asked. "The 94% that are going to have a typical 2% conversion rate? Or that 5% that has an amazing conversion rate?" He continued stating that oftentimes a company's marketing plan has the same messaging towards these two sets of customers, but in order to be successful, you need to create wildly different marketing messages for the two of them and creating segments for the different audiences in a search campaign could be extremely beneficial.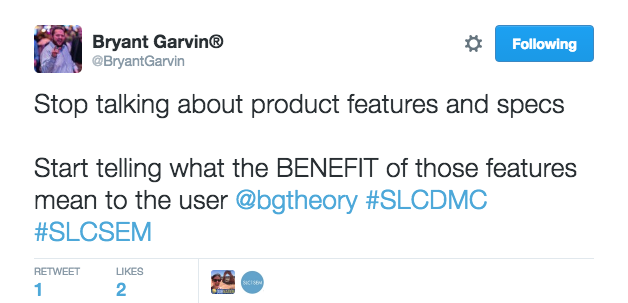 He also emphasized that AdWords' Customer Match was a widely underused/talked about feature as opposed to the Remarketing feature. "Customer Match is good for re-engagement or offline data," Geddes stated.
Brad had a ton of great ideas and a-ha! moments for the most experienced AdWords user to a newbie like myself. He further explained how to use audience segmentation in your marketing strategies to create not only better ads, but how to better understand your collected data.
Regardless of all the marketing techniques and tricks, Geddes said to always remember a few key points:
The first rule of conversion: ask for the conversion.

Audiences are no longer just social; audiences should be part of search marketing now.

The average customer needs 6 touchpoints to convert (average).
In summation, Geddes gave an overlying view of his session:
Audience targeting is no longer just for display and social. The audience target types are RLSA, Customer Match, and Display Remarketing. Some of the things you can do with audiences are change bids, change keywords, change ads, and/or only serve ads to audience members (which is great when you combine that with DSAs). Lastly, Geddes said that while audiences make up a small percentage of your traffic, they can bring a large potential for increased revenue.
Watch the full session, below.