Mark Gustafson, Founder of 900 Kings, Marketing Manager for Strala
Dominate Paid Search Results with Amazon's Help
Mark Gustafson, Founder of 900 Kings and Marketing Manager for Strala, spoke to us on how to deal with Amazon's paid ads in SERP's. Other than being obsessed with digital marketing and sharing his knowledge across r/PPC, OnlineGeniuses or #PPCchat, he loves hiking, pickleball, and eating exquisite food.
Mark started off by asking the audience who they see in their Auction Insights reports. Chances are, Amazon is in there somewhere, and sometimes taking a large amount of Impression Share. The fact is, Amazon is bidding on the exact match Brand-terms of others, not just product terms. In some industries, the amount of exact match bidding they are doing is substantial, as much as 47% for home goods brands.
So, how do we deal with this beast in the auction space?
1. Find Amazon's Ads
What messaging are they using? Often, Amazon will use your trademarks. Submit these to Google to get them removed from their ads. This will decrease their quality scores, making the pain less.
2. Click on the Ad
Notice that it takes you to an Amazon SERP. Amazon shows ads in their own SERP. Make sure that you have both of Amazon's ad formats running, Sponsored Brand Ads and Sponsored Product Ads.
3. Run Ads to your product listings on Amazon
This is a much better user experience instead of going to another SERP. You also are now able to use some of the same selling points that Amazon uses in their ads (free 2-day shipping with Prime, for example). This also works great for competitor-targeted campaigns. The downside with this strategy is the limited attribution.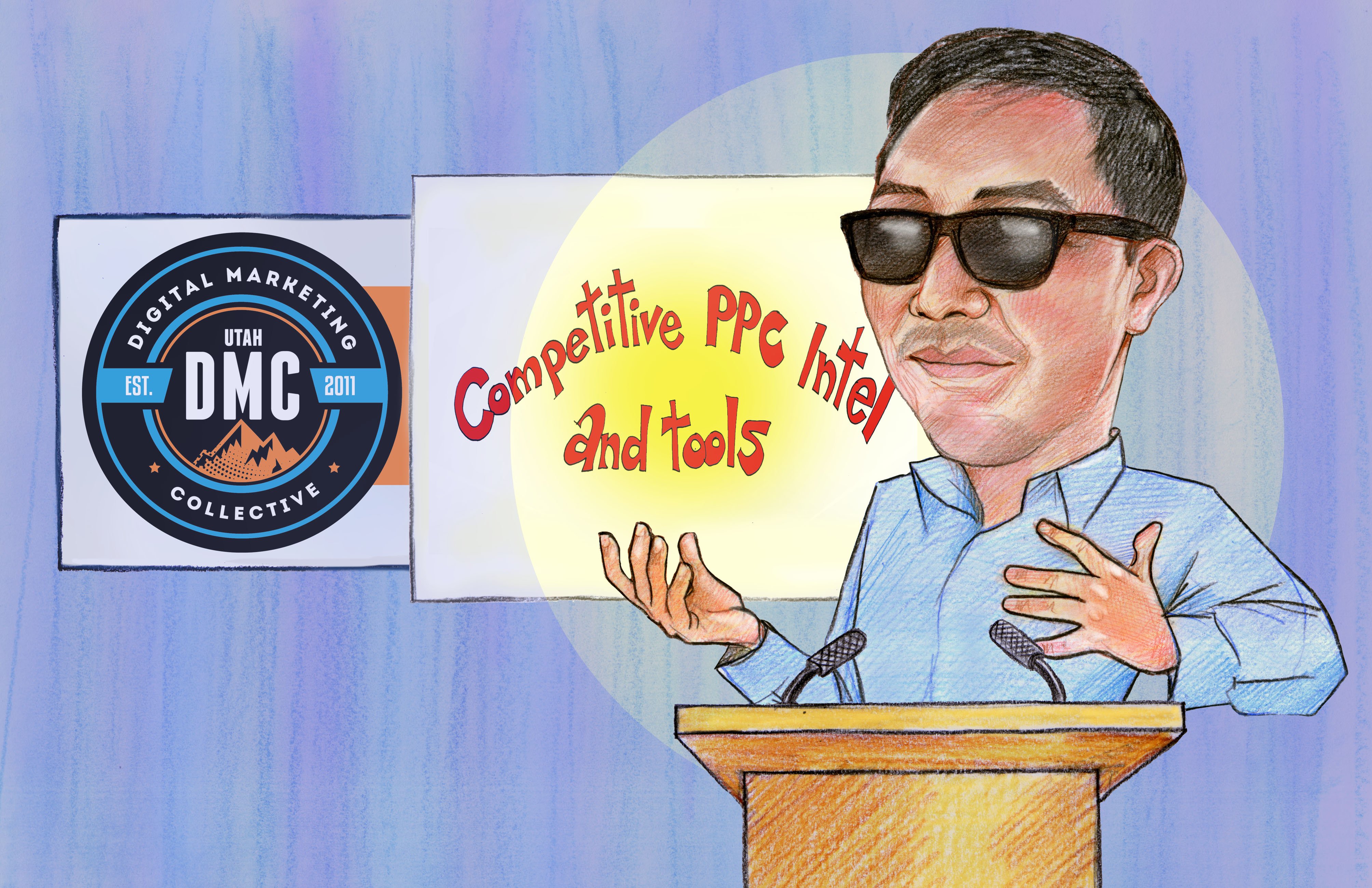 Gil Hong, Director of Paid Media, NextLeft
Competitive PPC Intel. and Tools
Next, we were able to hear from Gil Hong, who visited us from San Diego, California. Gil is the Director Paid Media at NextLeft. Gil is a very experienced marketer, who has helped countless businesses, including Fortune 15 companies, get the best out of their digital marketing. Mark also shares his knowledge through speaking to other professionals at marketing conferences and helping on #PPCchat.
Gil dove deep for the audience on advanced competitor research and auction insights. He started with a few baselines for understanding the auction insights reports:
Auction insights is relative to YOU

Auction insights is susceptible to sampling data

However, auction insights for PLA's is not sampled

You can get more from auction insights by downloading the report, because more segments are available to download that are available in the Google Ads UI, and you can then graph the data

Auction insights only ever shows a few competitors
Gil gave further ideas and tools to use for analyzing the competition's strategy, such as by typing their brand name and seeing what Google Auto-Suggest comes up with. There are other great tools for finding search trends such as answerthepublic.com, and Product Suggestions in the Google Merchant Center for eCommerce businesses.
For tracking landing page changes of your competitors, you can use visualping.io, which will notify you when a page has changed, and what changed. Also, you can learn a lot from a competitor's acquisition funnel by identifying the CTA's they are using on their landing pages.
To learn what kind of email marketing is happening, sign up for the competitor's email lists. If you have gmail, you can use a gmail address modifier to help sort these emails and keep your own inbox clean.
Here is the deck