Utah Digital Marketing Collective (DMC) provides business owners, marketing professionals, entrepreneurs, and marketing enthusiasts education and collaborative resources to interact with others in their surrounding networks of Salt Lake and Utah County. The goal is for us all to achieve better results from our online marketing efforts.
This month, we were delighted to hear from Adam Bridegan and Pierson Krass on eCommerce strategy.
Adam Bridegan is the Chief Marketing Officer of Rhone. He discusses Black Friday 2019, how it will differ from previous years, what to anticipate, and how to play to win.
Pierson Krass is a founding and managing partner for Lunar Solar Group. His presentation focuses on how to grow your eCommerce, along with winning areas to target, and develop, despite the rising costs of digital advertising with Facebook and other paid media.




First Session:

Black Friday 2019: Playing to Win vs. Playing Not to Lose - Adam Bridegan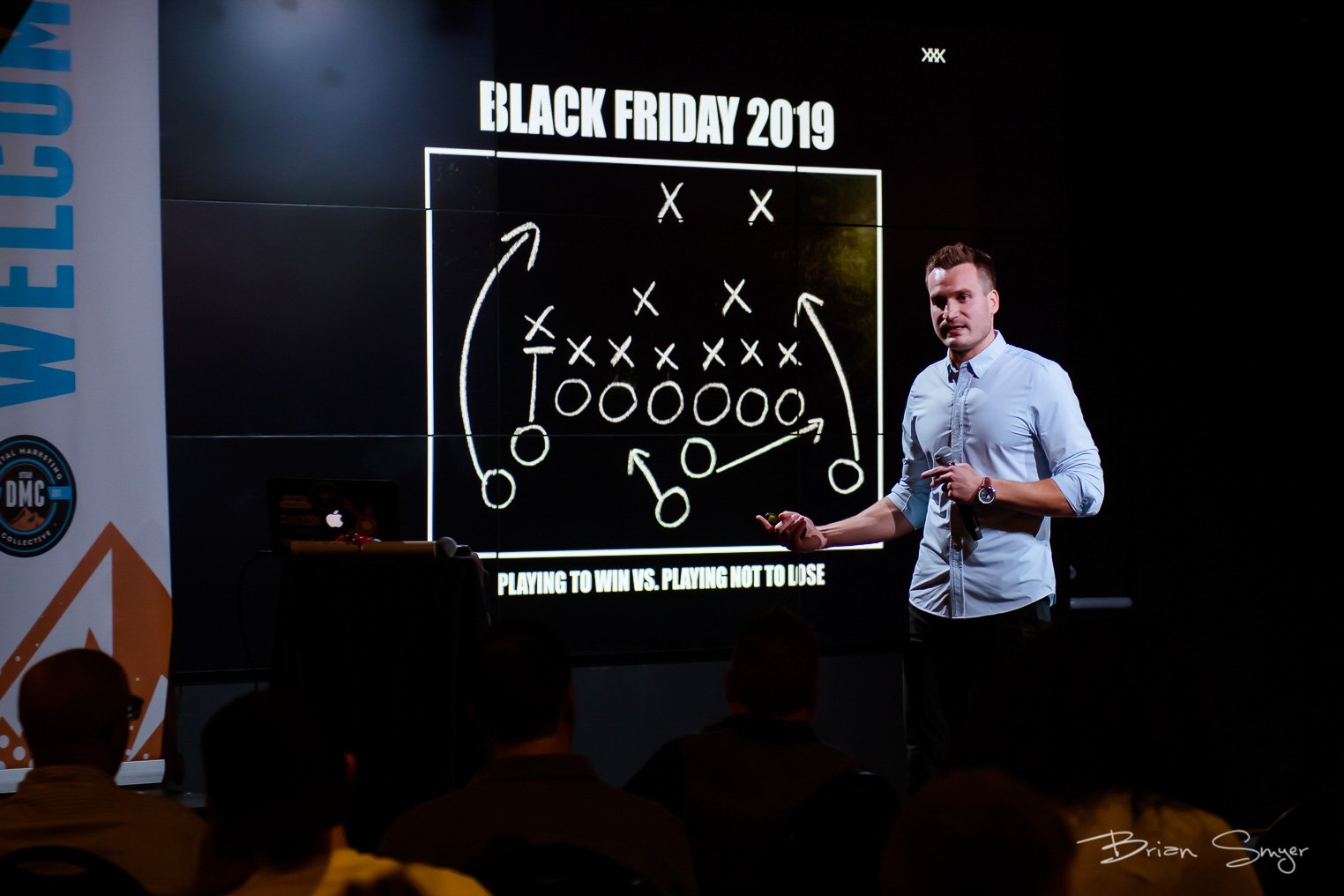 Adam Bridegan is the Chief Marketing Officer for Rhone, athletic clothing company for men. Active wear is a tricky and very competitive space with lots of big players in the game like LuLu Lemon, Nike, Reebok, Adidas, Under Armour, and Fabletics. Adam's presentation focus is about Black Friday 2019, what to anticipate this year, ways to win in eCommerce, and what to plan for in your future marketing efforts in 2019 and 2020.
This Black Friday Could Be One of the Most Unpredictable in History.
Why is 2019 so different?
There are six fewer days between Thanksgiving and Christmas than in 2018. Meaning less time to shop and less time to reach your target audience.
Thousands of store closures across the US along with tariffs and uncertainty with China.
Recession anticipation may cause consumers and companies to play it safer this year and spend less with this type of uncertainty in the air.
If Most of Your Website Traffic Is Mobile Based and You Are Not Optimizing Your Mobile Experience You Are Missing Out.
Over 60% of Rhone's website traffic is mobile based. Mobile traffic is consistently greater than desktop traffic for most websites and for several years now Black Friday online shopping has seen much higher mobile traffic and conversions than desktop. Mobile is owning the Black Friday online shopping space. Because of this you need to keep that at the forefront of your mind with your website user experience. Many of us are trading higher desktop conversion rates for lower mobile conversion rates when it should be the opposite. If your focus and optimization is for a desktop user experience, and not for a mobile user experience, you need to adjust this especially for Black Friday this year. Because of this you need to keep that at the forefront of your mind with your website user experience. Many of us are trading higher desktop conversion rates for lower mobile conversion rates when it should be the opposite. If your focus and optimization is for a desktop user experience, and not for a mobile user experience, you need to adjust this especially for Black Friday this year.
So How Do You Go on the Offensive and Play to Win?
Look for Areas of Arbitrage: Arbitrage is the simultaneous buying and selling of securities, currency, or commodities in different markets or in derivative forms in order to take advantage of differing prices for the same asset. If CPCs & CPM are rising on your main revenue platforms, look for new areas of arbitrage.
Have you tried exploring and leveraging these areas?
TikTok
Pinterest
Snapchat
Social Media Brand Influencers
YouTube
Amazon
Radio
Podcasts
LinkedIn
Direct Mail
Retail
Pop-ups
Chatbots
SMS Messaging
Go on the Offensive: Act as if your competition will be irrational this year… because they probably will be. Try to anticipate what they may offer their customers for Black Friday this year and compare to their previous Black Friday offerings. Take this information and develop a winning strategy for your company this year.
Going Beyond the Competition: If you match your competitor, no one will care. If you take a more aggressive approach to surprise and delight your customers by going above and beyond what the competition is offering... you'll beat out your competition. Rhone looked at what their competition was doing for their customers, with customer loyalty in mind. While reviewing some of their competitors' options (like LuLu Lemon) they noticed they did not offer any reward programs to earn gear or obtain early access to new products, so they rolled out a program that would offer this ability to all return customers. They also started including Two-Day Shipping as the standard on all online orders. Something their competition is also not providing.
Do Something New: Try something unique like creating a new holiday. For example: Amazon Prime Day. There was no such holiday as Amazon Prime Day before; Amazon invented it. They knew that if they created this event, and celebration, during a slower sales month (July) that it would build hype and get people excited for something, like shopping, then they would spend money for this invented holiday in July
Rhone took this idea and created Lime Day (a play on words from LuLu Lemon). Rhone offered special discounts and promotions during this day in 2019.
Audit Your Analytics: Pay attention to your page load times to ensure you are ready for Black Friday. A one second delay in load time leads to 11% fewer page views. 16% decrease in customer satisfaction, and 7% loss in conversions. 79% of shoppers who have trouble with website performance say they won't return to the site to purchase again.
Invest in Video by 2020: Online videos make up almost 80% of all internet traffic. If you don't have a video strategy integrated, and working with, your current website content you need to put resources into developing this now.
If You Aren't A/B Testing, You Aren't Progressing.
Run some A/B Tests this Black Friday, collect data from your results, make decisions, implement, adjust, review, develop a new strategy, and repeat. Experiment with A/B Tests from Thanksgiving (Thursday) to Cyber Monday and compare the data with previous years.
Integrate these items into your A/B Testing this year:
Increasing the Number of Visitors to Your Website: Experiment with SEO, social media, email marketing, ads, etc.
Boost Conversion Rate Optimization (CRO): Experiment with ways to maximize your website's conversion rate by adjusting text around CTA's, landing page optimizations, forms, and more.
Accelerate Average Order Value (Average Purchase Price): This is one of the most important metrics to track for any commerce company. Test with free discounted shipping, loyalty programs, upsells, or way to bundle your products.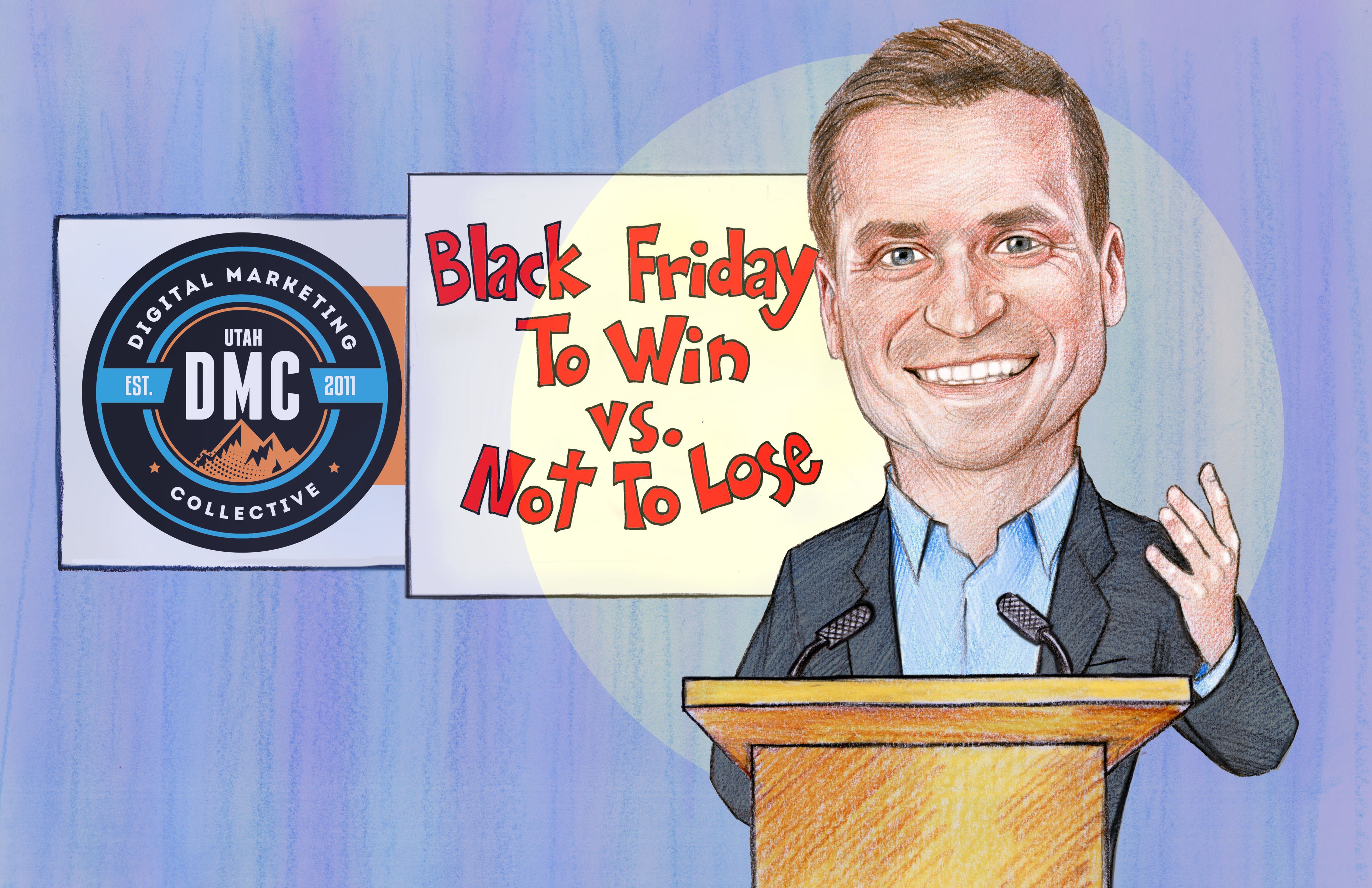 ---
Second Session:

Winning With Paid Social While Costs Continue to Rise - Pierson Krass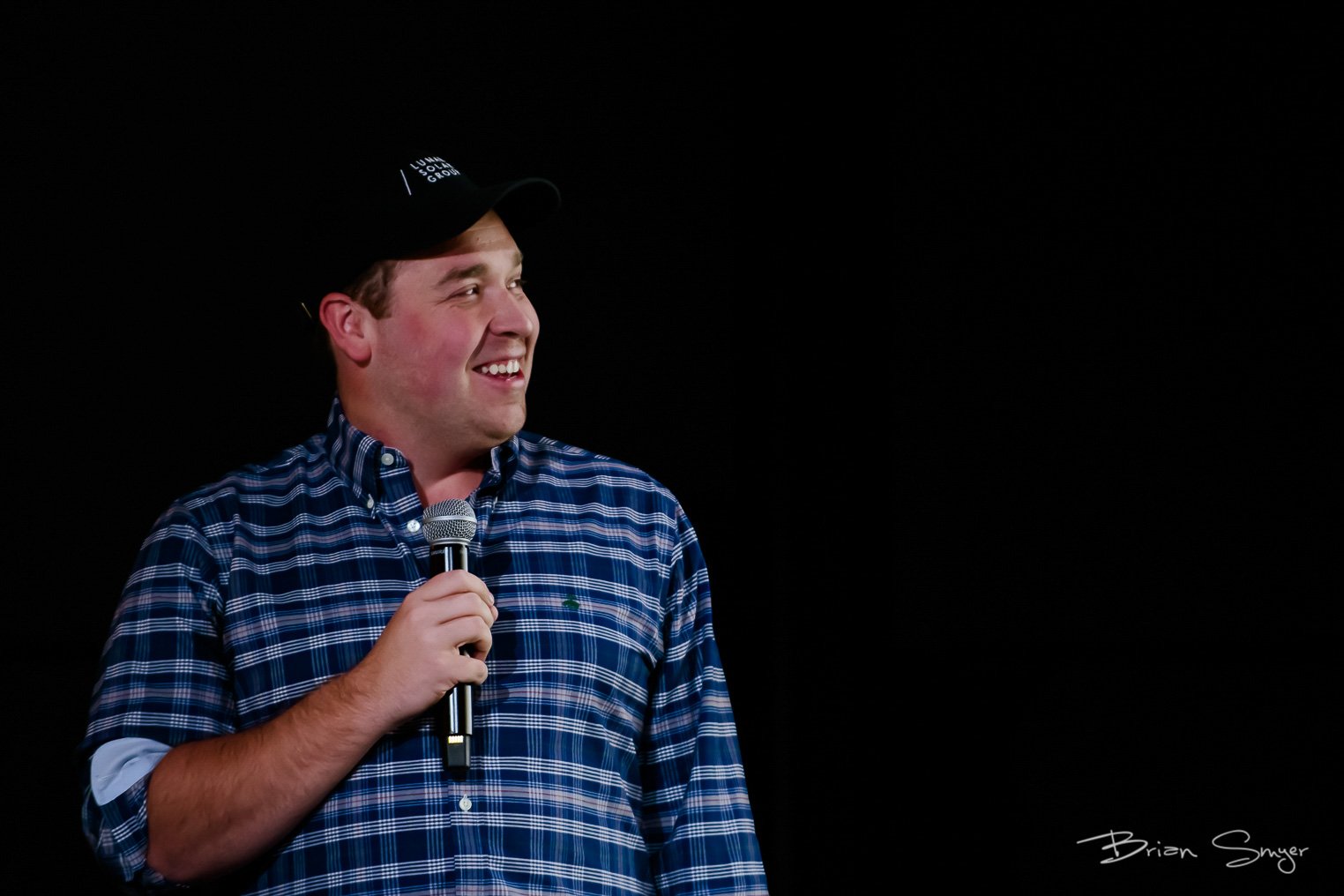 Pierson Krass, a founder and managing partner for Lunar Solar Group, has seen Facebook advertising costs continue to rise making it increasingly challenging for brands to scale their eCommerce reach. Along with rising costs for paid advertising demand has gone up for all paid media. Demand is outpacing the supply and it's getting more and will continue to get more expensive. While there's not much that can be done about the rising cost there are ways to win in paid advertising with continual testing and optimizing your strategy. Pierson will share what is being discussed in the paid search industry along with wins and strategies that Lunar Solar Group has found to assist in fast growth in eCommerce.
Facebook Ads Are Expensive but They Are Still the Most Scalable and Still the Biggest Ecommerce Driver to Date.
Everyone in the industry seems to be complaining about how costly Facebook advertising has become. The consensus appears to be that they have just become too expensive and that direct response marketing doesn't work anymore. Though the frustration is real and felt by all of us this is not accurate and there is still a lot of opportunity to win with paid social, and with Facebook. Despite all the complaints about the backend platform it's still the most scalable option, to date, and it's still the biggest eCommerce driver. It's what we have for now and it's critical to have a presence in the Facebook game.
Testing Facebook's Levers: It Takes Legitimate Expertise, In-Depth Understanding, and Hands on Management to be Successful.
Facebook is always testing and adjusting their algorithms so you definitely need to keep a close eye on performance, continually monitor and be involved with what's going on in the backend, and where needed, make very prompt and deliberate strategy pivots.
What Adjustments Can Be Made to Ensure That Your Advertising Can Sustainably Fuel Growth?
Continual testing and data driven decision making.
Content velocity and diversity.
Integrated multi-channel strategies.
Important Questions to Ask Yourself Around Testing Your Facebook Ads:
Are we running controlled tests on a weekly basis?
Are we testing all the available "levers" on an on-going basis?
How are we documenting, and using, these tests to inform our decision making?
Are we testing our hypothesis at each step of the funnel?
How Lunar Solar Group Tests Their Ad Content:
Content and promotional mixes are rapidly changing on a client-by-client basis.
Tying into current events, trends, and demographics more now than ever before. Keeping a pulse on what is going on, movement on new trends, campaigns, and keywords.
Testing new copy on a weekly basis in every ad account that is spending more than $10,000 a month.
New content is going into their ad accounts on a weekly basis.
Testing each and every component of an ad. They saw a 30% jump in copy using emojis vs. no emojis.
Content is still being "social stacked" prior to being flipped into prospecting campaigns. Running engagement campaigns then flipping the ad into prospecting.
Using Data to Drive Decision Making:
Setup Live Dashboards for All Stakeholders. Because of the need to pivot quickly with strategy, and testing, you need to have live dashboards for monitoring up to date information, performance metrics, and SEO efforts. Lunar Solar Group offers every client a dashboard that includes this information. This makes it easy to visualize trends and make decisions at a glance. Access is provided to all stakeholders. Currently, they are using Supermetrics to Google Data Studio.


Implement a Project Management System That Allows You to Track All Your Projects and Strategy Adjustments. Having your team use a PMS that is kept up to date with all notes, changes, input, decisions, and strategic movement in one place means that you can quickly determine where tasks are at in the process and what information was used in decision making. Lunar Solar Group uses, and recommends: Wrike, Airtable, and Asana.


Formalize Reporting Procedures to Gather Information, and Data, From 3rd Party Resources. Have procedures within the company to track what's going on outside of your perspective.


Regularly Review KPI's. For higher spending clients these should be reviewed on a daily basis. For other clients this should be reviewed weekly.


Implement a Process for Reviewing Platform Reported KPI's vs. a Multi-Touch Model. A KPI Dashboard brings all your KPI's together in one place to see how you are performing in each metric and measurement. Integrating this into your PMS with notes, and due dates, means that this won't get forgotten, that insights, and details, can be shared across your team.
Content Velocity and Diversity Are Driving Substantial ROAS Gains.
Creating new content prevents ad fatigue. Adjusting your ad content and copy to be changed out and refreshed keeps your target audience engaged. Creating many more personas will assist you in creating so many content alternatives and options to change out with higher frequency. These different personas will also have different funnels to target with ads.
Facebook advertising needs to be part of an overarching strategy. You need to drive a higher Average Order Value (AOV) and Lifetime Value (LTV) to make up for the rising Cost Per Click (CPC). The ideal LTV to Customer Acquisition Cost (CAC) ratio should be 3:1. The value of a customer should be three times more than the cost of acquiring them. If it's closer to 5:1 then you are spending too little and missing out on business. If you are spending more than that you should adjust your strategy and do some more testing.

Lunar Solar Group's Highest Performing Creative:
Informs the customer about the product or service.
Grabs the attention and creates interest.
Articulates the problem solved.
Builds trust with a prospect.
Ultimately drives a click.
It's Not Good Enough to Send All Your Traffic to Your Homepage.
Our top Facebook campaigns are driving to "dark" landing pages. Typically we see 25-100% Return on Advertising Spend (ROAS) lifts from landing page adjustments.
It's critical that you continue the storytelling from the ad to the landing page someone is being sent to.
Business model adjustments are necessary to achieve the necessary AOV and LTV.
Facebook can drive reward programs, campus reputation programs, reviews, content creation, referrals, lead generation, etc.
Important Questions to Ask Yourself and Your Team:
Have we tested our homepage vs. product category vs. product detail?
Are we driving traffic to landing pages?
What other creative ways can we use Facebook ads to drive revenue?
Are we running CRO experiments on our website?
Automation Needs to Support Your Paid Efforts.
Facebook should be viewed as a feeder for the rest of your marketing mix and will work hand in hand with CRM. SMS subscribers are now driving more revenue per subscription than email. Lunar Solar Group's strongest clients are using SMS, email, Facebook Messenger, and Desktop Push Notifications together for best results. Shifting someone into an automation is much cheaper than retargeting via paid media efforts.
The Biggest Mistakes Brands are Making Right Now:
Reliant on one platform or channel for all growth.
Locking into long-term contracts with vendors without understanding the deliverables.
Cutting agency, creative, CRO budgets in favor of ad spend.
No infrastructure to make data-driven decisions or to understand multi-touch attribution.
Not having strong enough management to assess platform performance.
Being too rigid in their promotional tactics (lack of creativity).
Settling with new hires (instead of finding the right person to do the job and the right fit with your company's culture).
Not having dynamic marketing operations / lack of strong project management.
Poor financial controls around marketing expenditures.
Marketing teams, channels, and vendors are siloed.
An incredible night of insights and helpful information to prepare for 2019's Black Friday and upcoming 2020 marketing strategies and planning for the new year. It was truly an evening of learning not to be missed.
If you haven't attended a DMC event yet (or maybe it's been a while and you'd like to learn more about how to improve and streamline your marketing efforts while eating some delicious food and rubbing elbows with some brilliant minds to network with) you should definitely check out our upcoming event list and join us.
Enjoy The Deck!