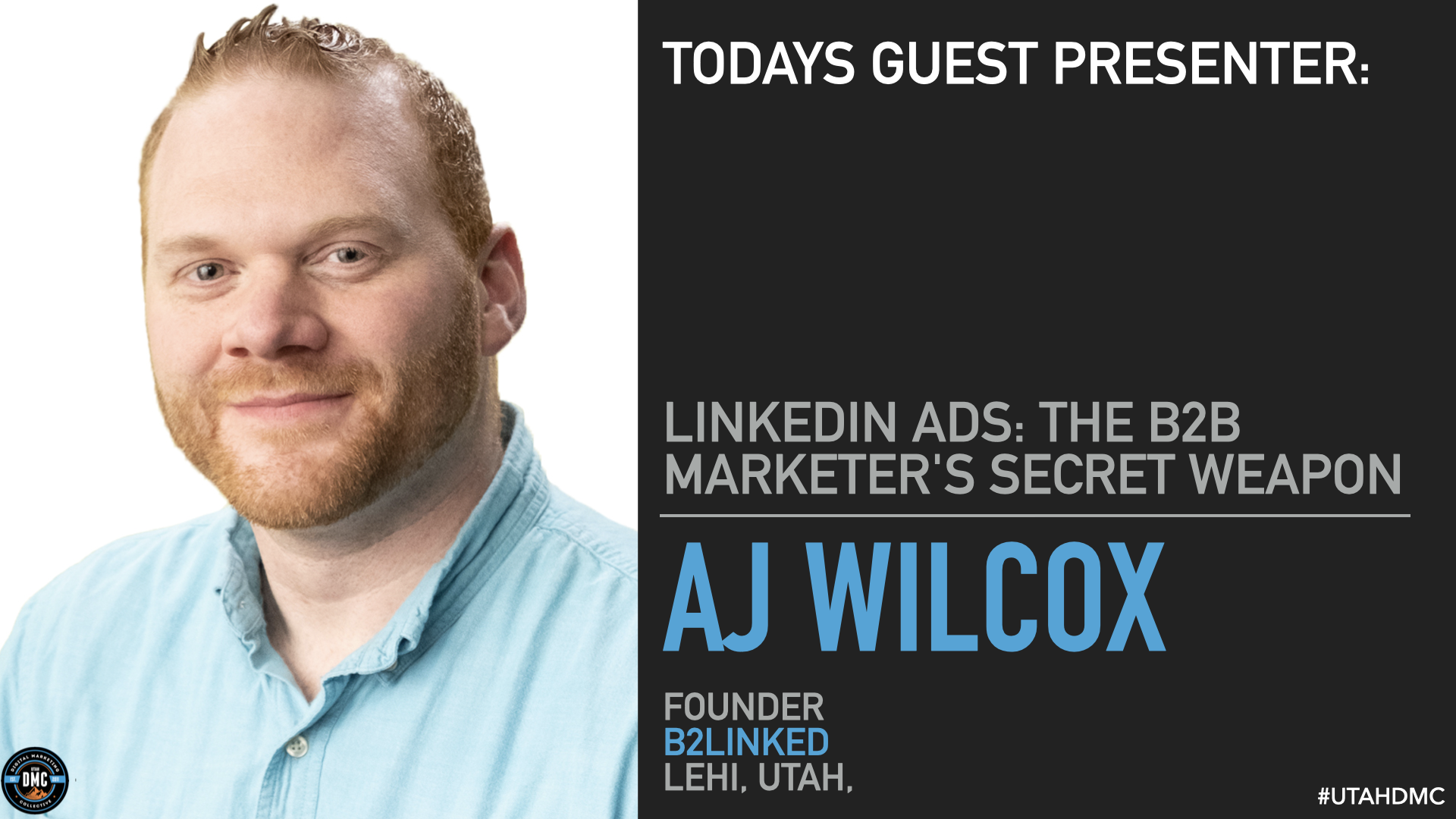 Our Guest Presenter: AJ Wilcox
Our March 9th, 2021 Utah DMC live online event featured AJ Wilcox. AJ is a LinkedIn Ads Fanatic and founder of B2Linked, a LinkedIn Ads Performance Agency, he's also the Host of The LinkedIn Ads Show Podcast, and he lives in Lehi, Utah, with his wife and four kids.

This was AJ's third time taking the DMC stage as a presenter, and we were thrilled to have him back to present: LinkedIn Ads: The B2B Marketer's Secret Weapon

AJ's agency, B2Linked, is THE agency that specializes in account management, training and consulting for LinkedIn Ads. AJ and his team of experts has managed well over 300 LinkedIn Ads accounts, and spent a cumulative $120M+ on LinkedIn Ads, which includes 4 of LinkedIn's top 10 accounts. AJ makes LinkedIn Ads rock and has the results to prove it. You could say, he's the Secret Weapon of the Most Sophisticated B2B Digital Advertisers.
Doc and David had a blast on this live broadcast with AJ, and now we are thrilled to share the opportunity for you to learn from AJ as well in this recap and event replay. (Note: This post is a high-level recap. At the end of this post you can watch the entire replay of the event with audience Q&A, as well as download his full presentation deck from the BrightTalk interface.)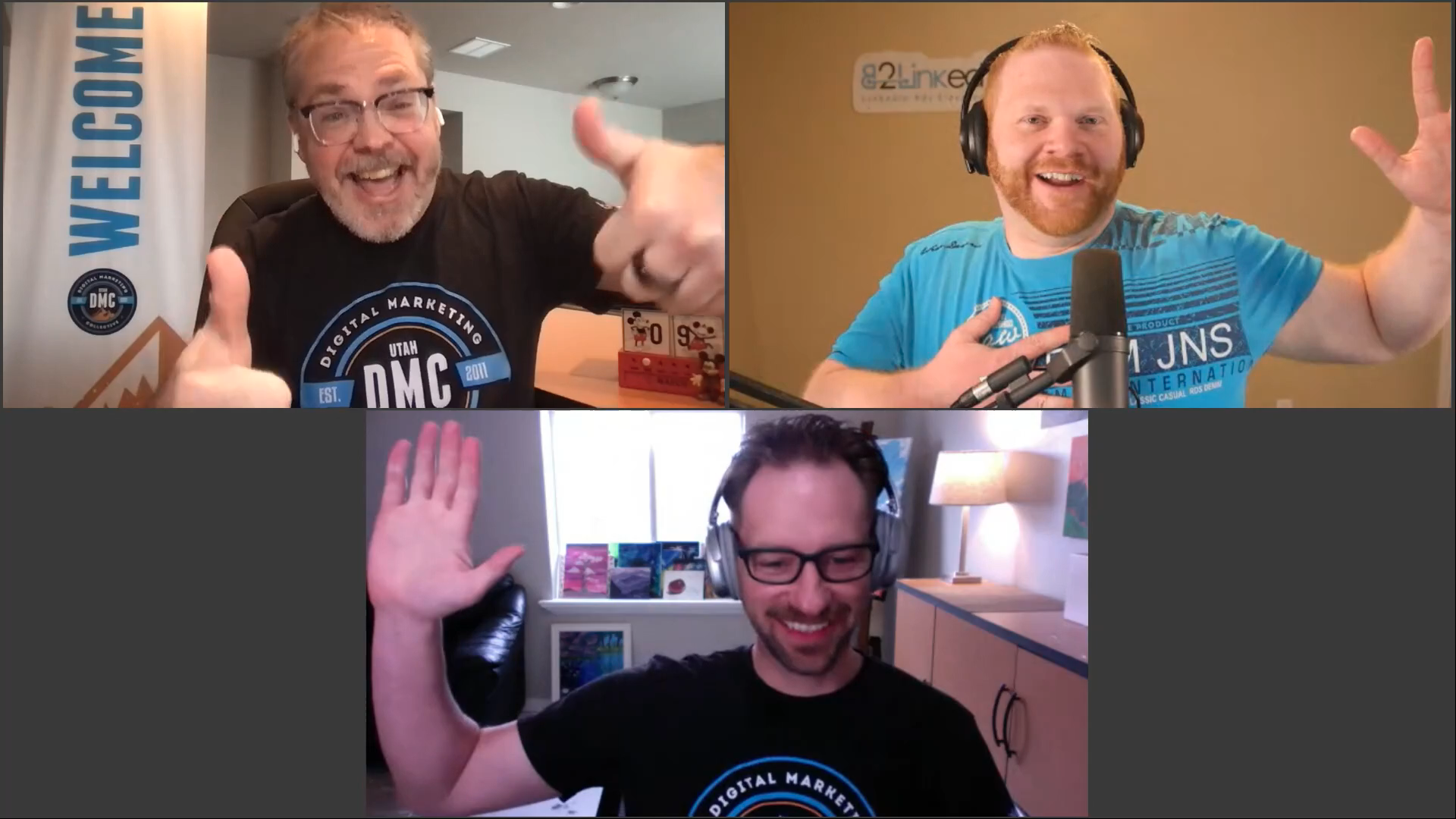 LinkedIn ads can go above and beyond other ad platforms.
AJ shared with us that he feels LinkedIn ads are an under appreciated channel and this has contributed to the fact that they've always been expensive. There wasn't a lot of low hanging fruit or deals to be had because of the high cost.
Starting in 2008, $2/click was the minimum bid for LinkedIn ads, while Facebook and Google were way cheaper in comparison. Now LinkedIn ads are becoming more appreciated and popular.
LinkedIn has some amazing ad features:
Best business targeting of any platform on the planet (it's at near perfect scale)
Up-to-date data: Users keep their data very accurate
Business mentality, thinking in the business mindset (job, career at large) and puts them in a good spot about how you are going to make their job or career better
Larger deal sizes
The median click price for LinkedIn was $15 in 2020 which means it's going to price certain companies out of the market. If you are doing lead generation with a high lifetime value, then LinkedIn ads are a total no brainer. It's great for white-collar recruiting -- you're qualified! Would you like to apply? Getting higher-quality resumes is cheaper than what you can get with a recruiter.

When talking about social advertising, AJ likes to use the term "AMO":
The audience targeting is why advertisers go to LinkedIn, at the end of the day. Then the message which is what the prospect actually sees. The most important factor is your offer, which is what your call to action is.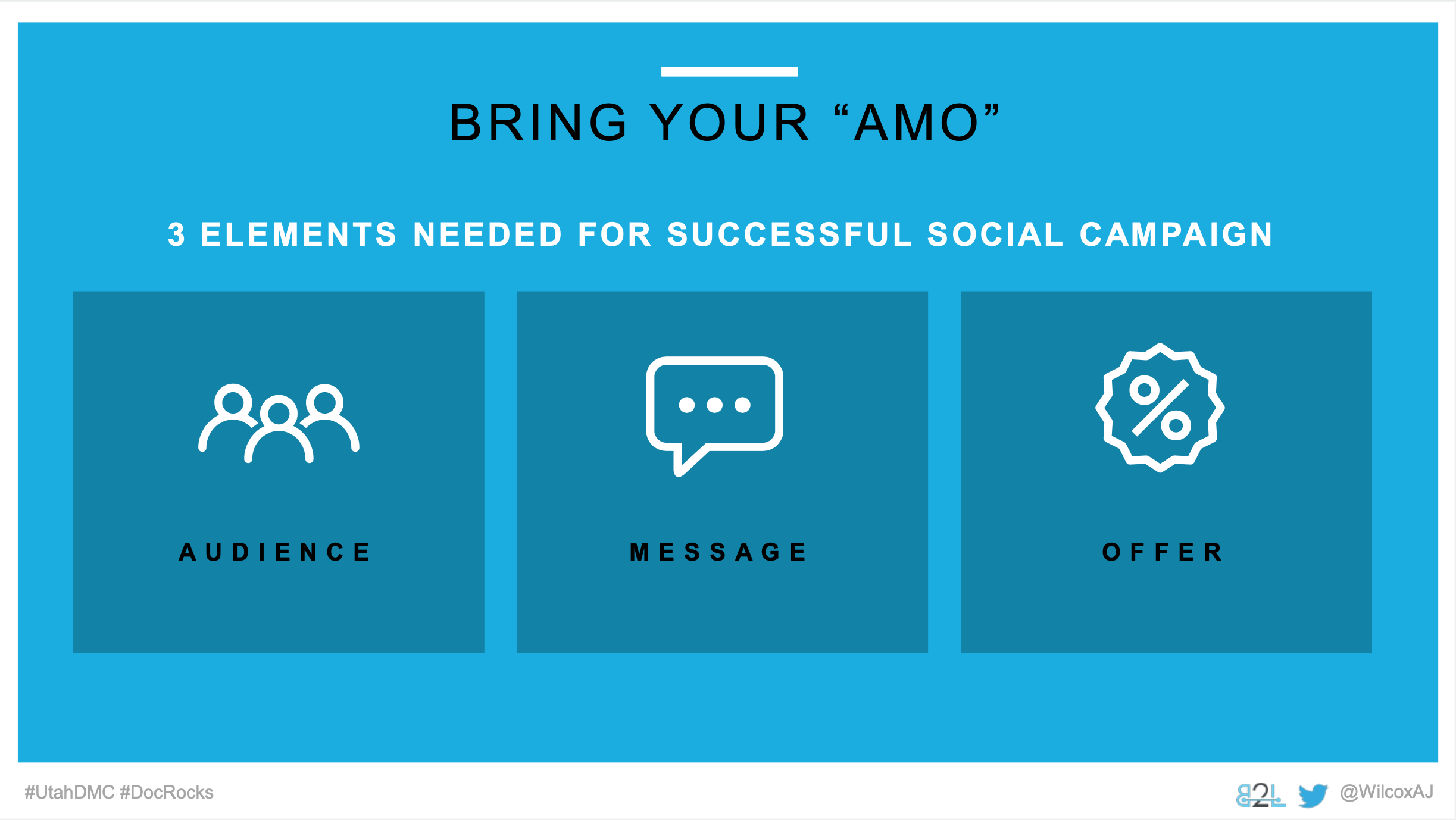 There are various ad units which you can choose from on LinkedIn and AJ shared his favorites with us.
Ad Units: Sponsored Content
Sponsored Content is where AJ recommends that 95% of advertisers start. It'll show up in the News Feed and garner a lot of attention. Expect about a .4% clickthrough rate.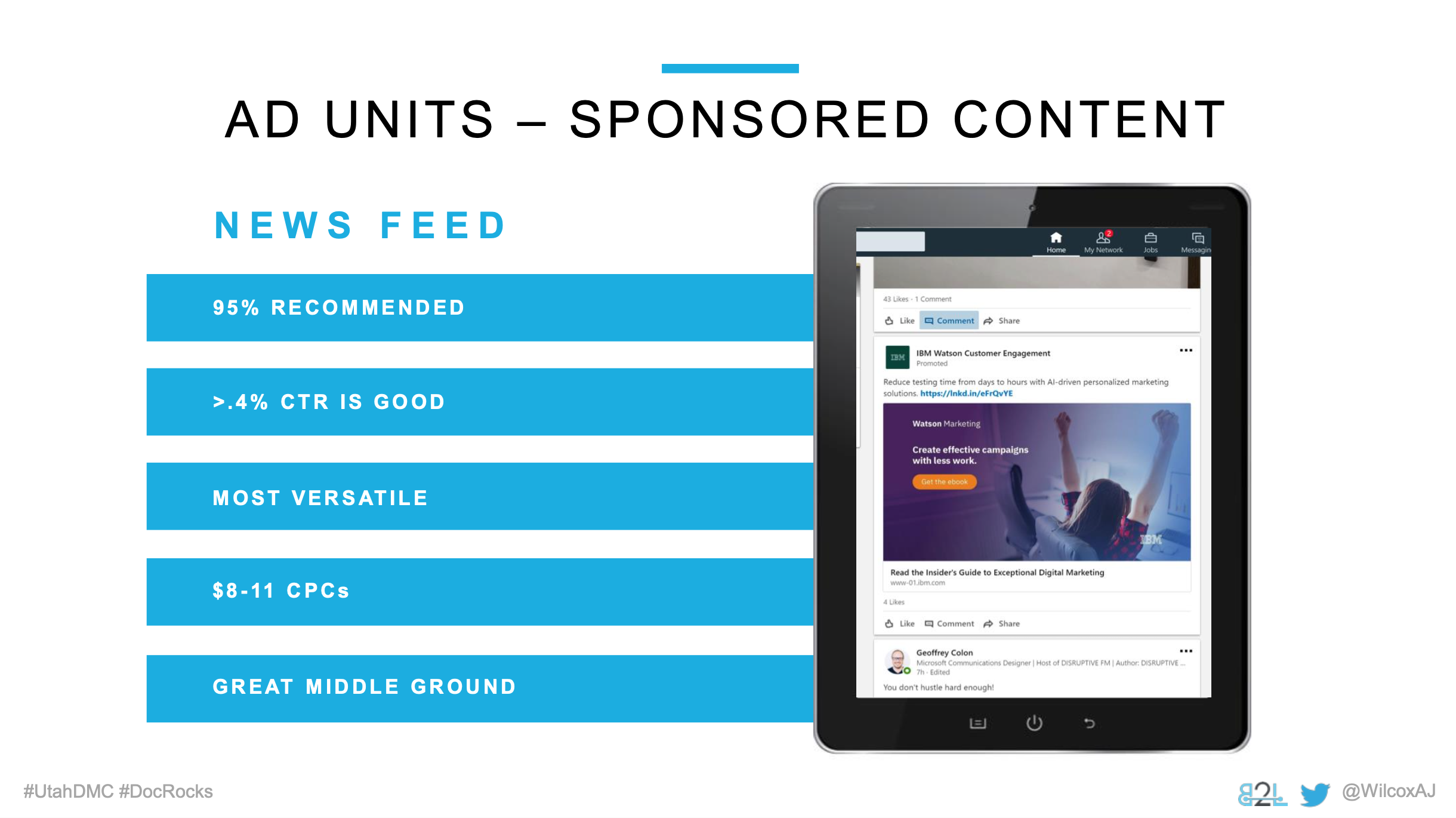 Ad Unit: Text Ads
Then there are Text Ads, which AJ believes are the most under appreciated ads on LinkedIn.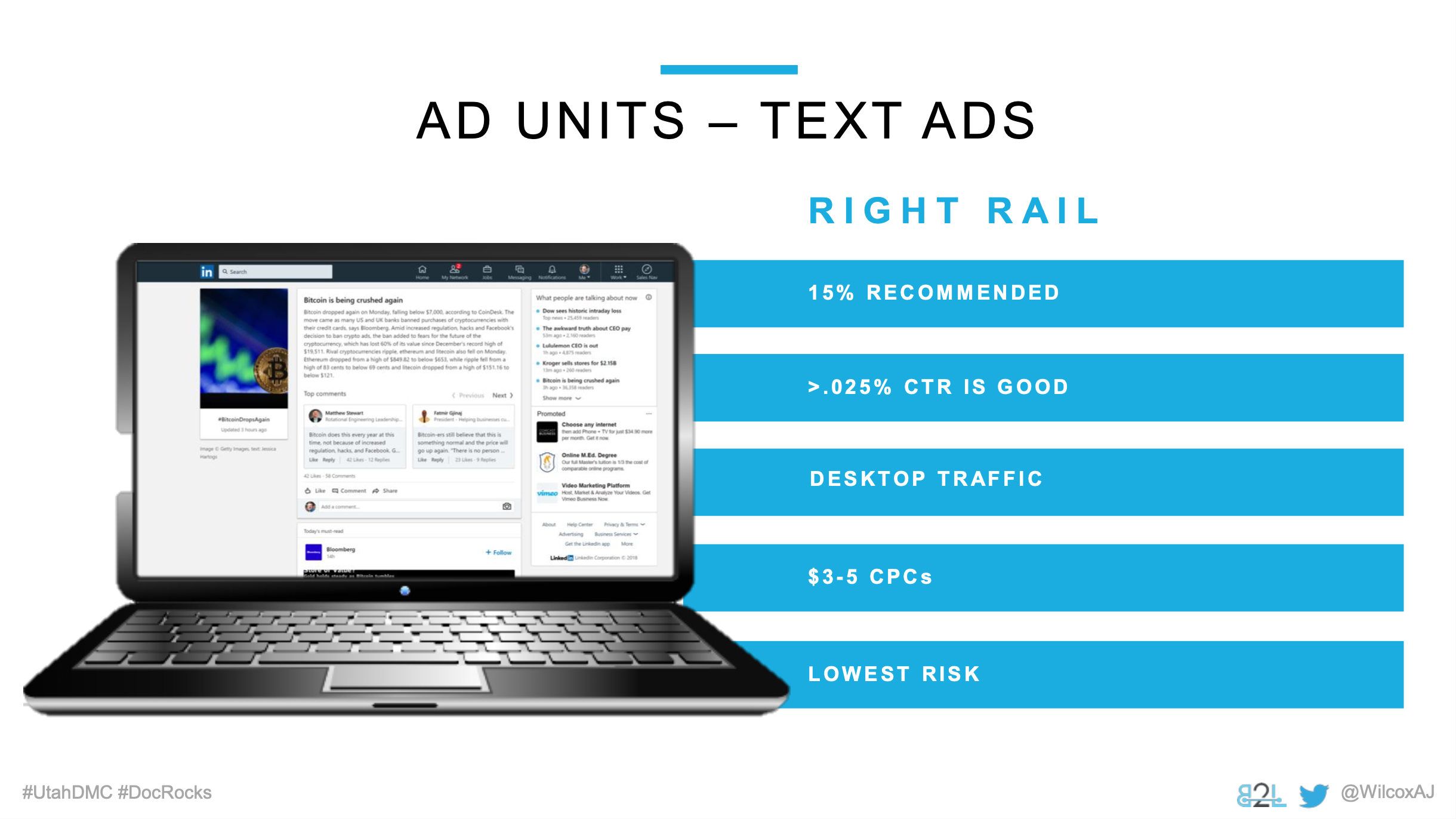 If you have really good ads, you can get the ads down to about $2/click. Anything over a .025% CTR means you are doing great! This is a bunch of free impressions and are really good for branding, which is where AJ likes to hedge his bets.
Ad Unites: Dynamic Ads
Dynamic ads are great because they take the picture of your targeted audience and place it in their ad. Can it be creepy? Yeah, but it's also pretty cool and personalized for the audience.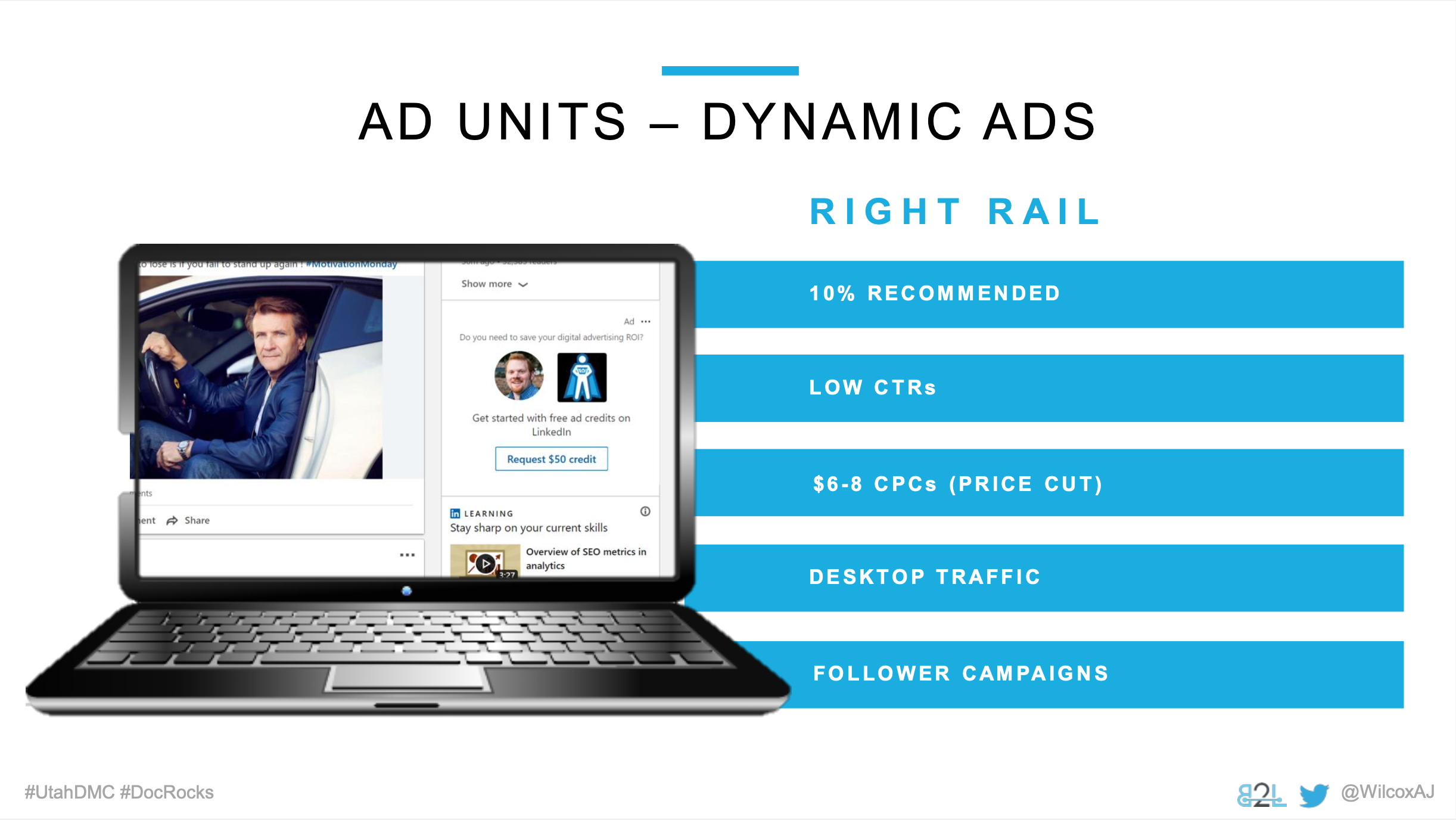 Ad Units: Message Ads
If you only want to pay when someone clicks, then you pay per person that you send it to. There's no guarantee that they will do what you want them to do but there will be a personal invitation that makes your target audience feel like a VIP. This could turn into a $23-$58/click cost but these ads make a user feel special and can be hard-hitting.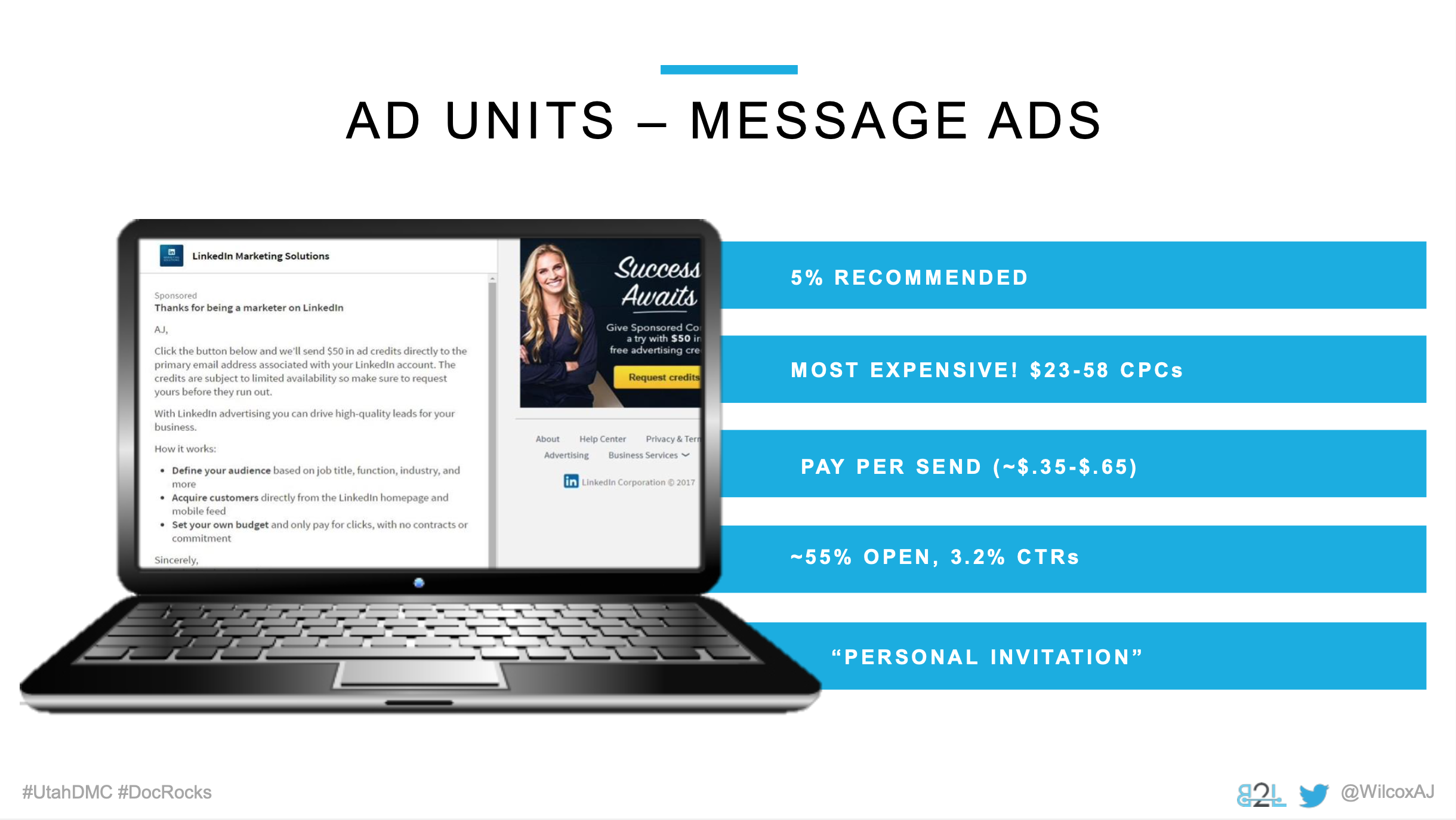 Ad Units: Conversation Ads
Then there are Conversation Ads which are like a chatbot feature.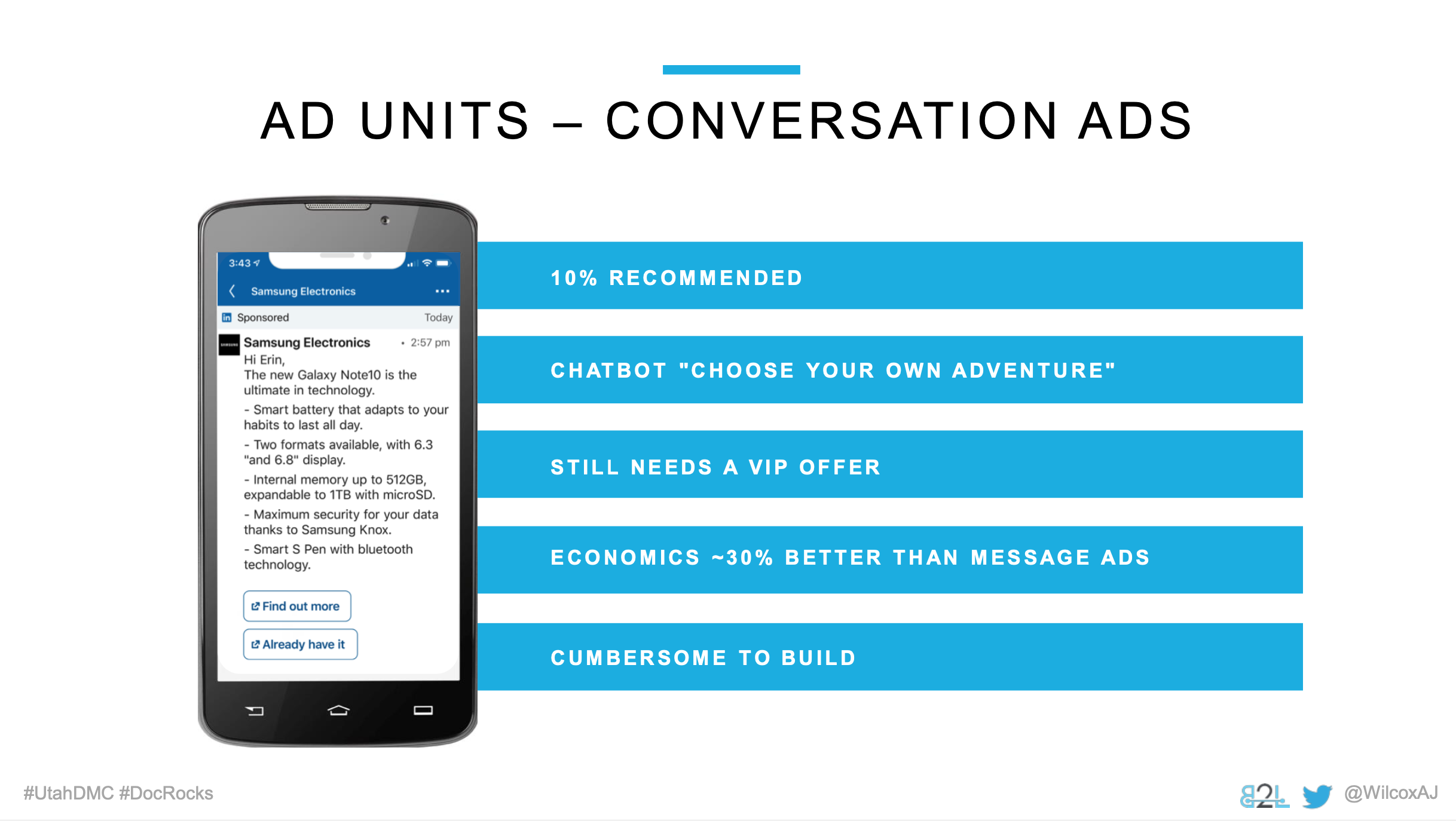 LinkedIn will show you a graph of who chose what. You're giving the prospect more chances to convert. These are about 30% more efficient than the Message Ads.
Video Ads
Then are Video Ads, which can be very pricey. You are paying about 10-25 cents per 2-second view. AJ doesn't recommend starting out with video unless you have some great 'tried and true' video copy ready to go.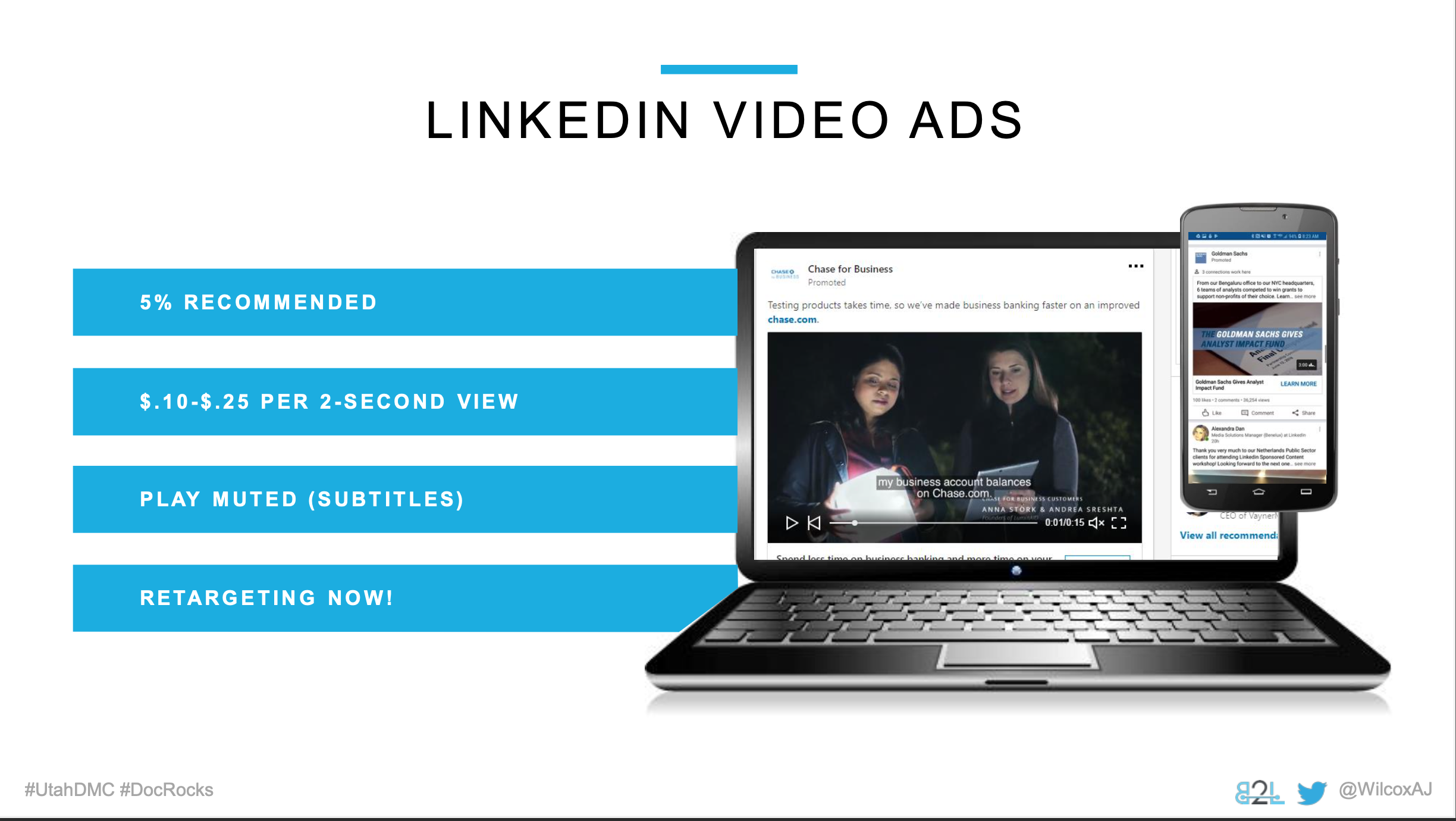 Carousel Ads
Carousel Ads are NOT recommended by AJ at all. These Carousel Ads are like building 4-5 single image ads all in one ad and there's no real performance benefit compared to single image sponsored content. Start with Single Image ads first!
Ad Units: Lead Gen Form Ads
LinkedIn has since come up with Lead Gen Form ads. Instead of sending users to your landing page, there will be a drawer that slides down with a form right within the ad itself. Most of the form will be pre-filled with the user's info so all they need to do is press 'Submit'.
This makes for easier conversion, but you cannot retarget it on other platforms, or get proper tracking if they stay only on LinkedIn, which is a drawback. You have to get your leads out of LinkedIn at some point.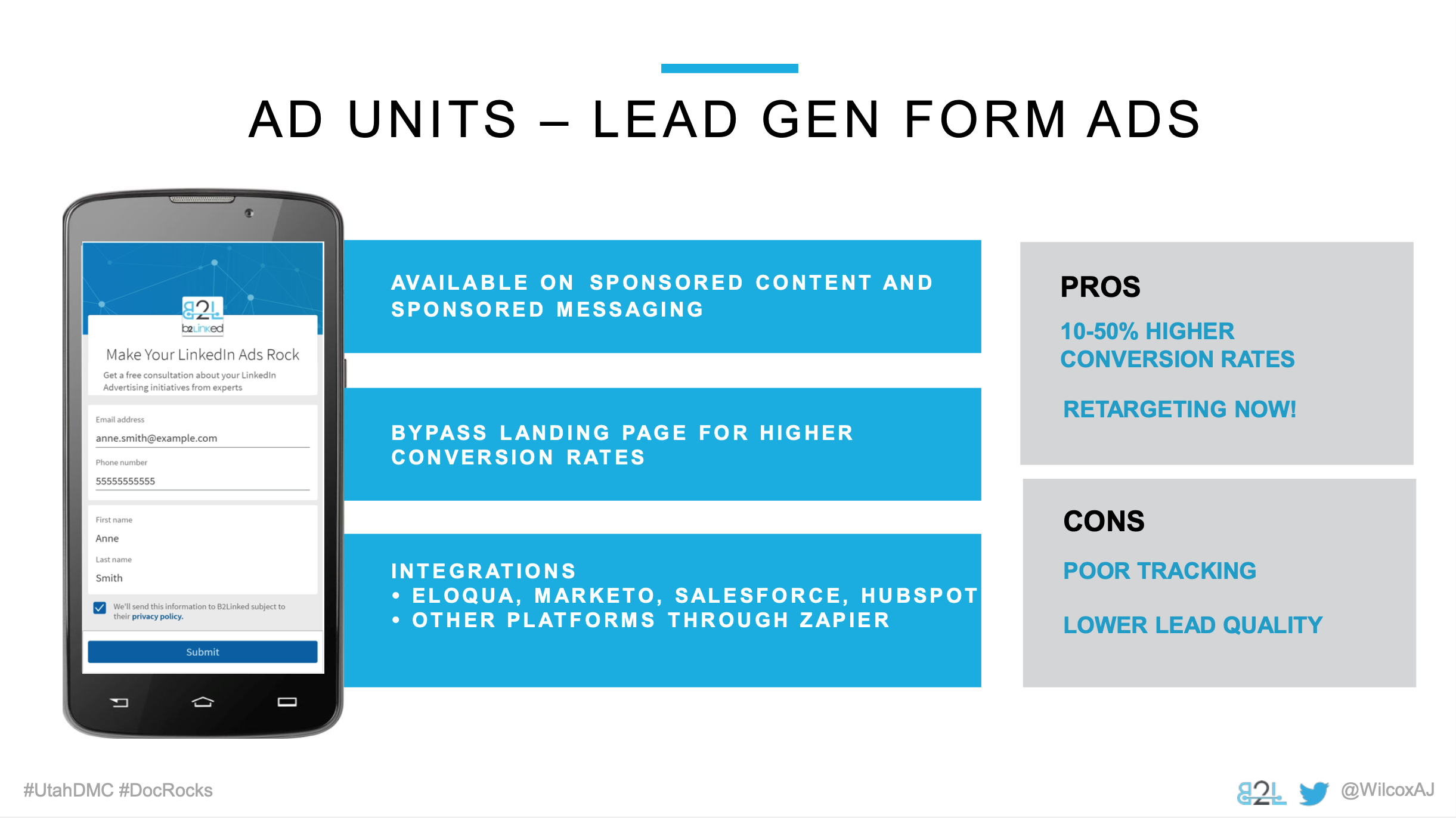 LinkedIn Targeting
LinkedIn targeting is what makes LinkedIn ads so incredibly valuable as you can see in the slide image below.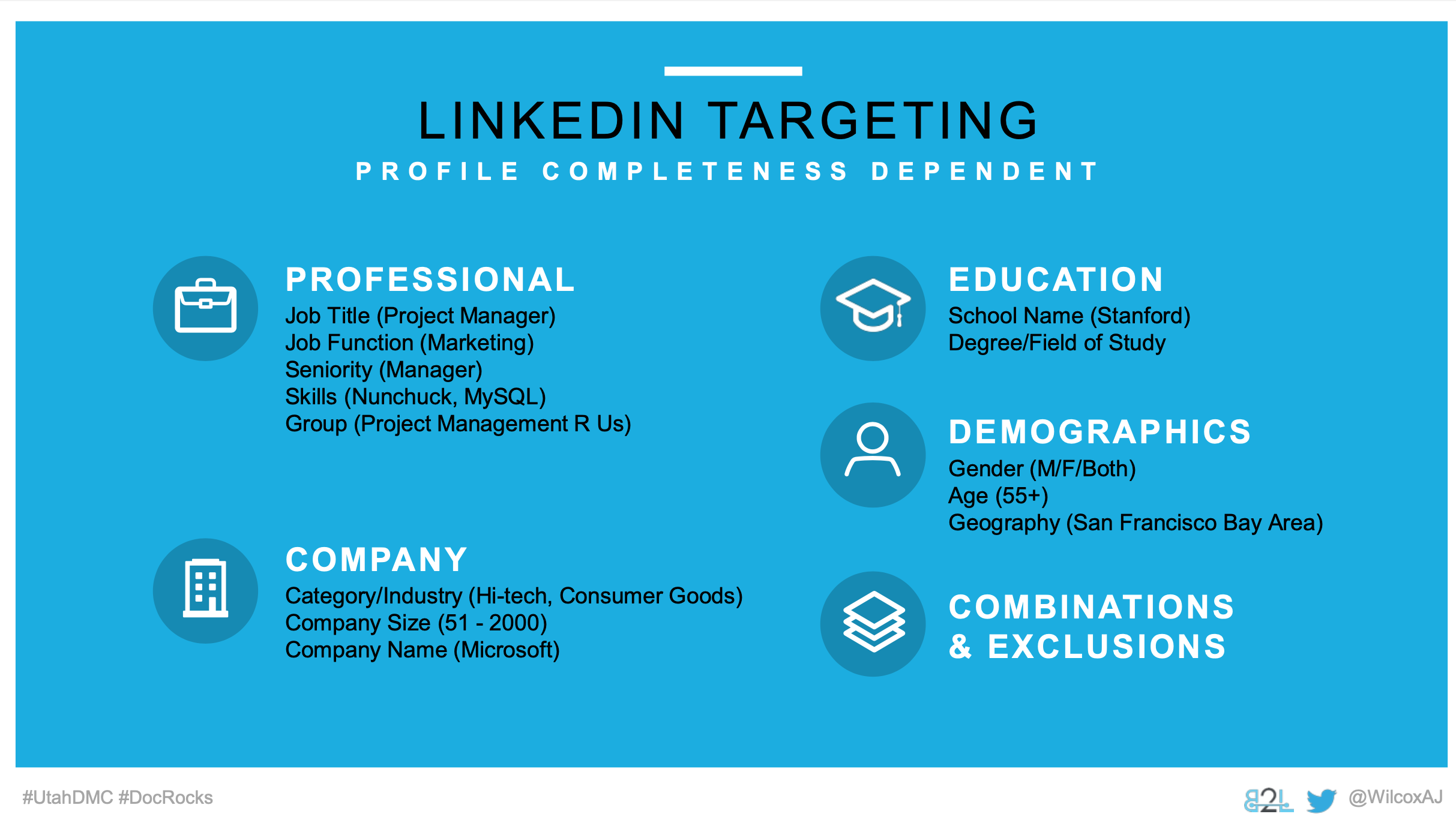 You can target your audience so easily with the type of information that audiences give freely to LinkedIn. In addition, LinkedIn keeps growing it's targeting info that is available, so it just keeps getting better.
Targeting Approach
Since there are so many ways to advertise on LinkedIn, there are different targets that will vary in cost (see slide image below).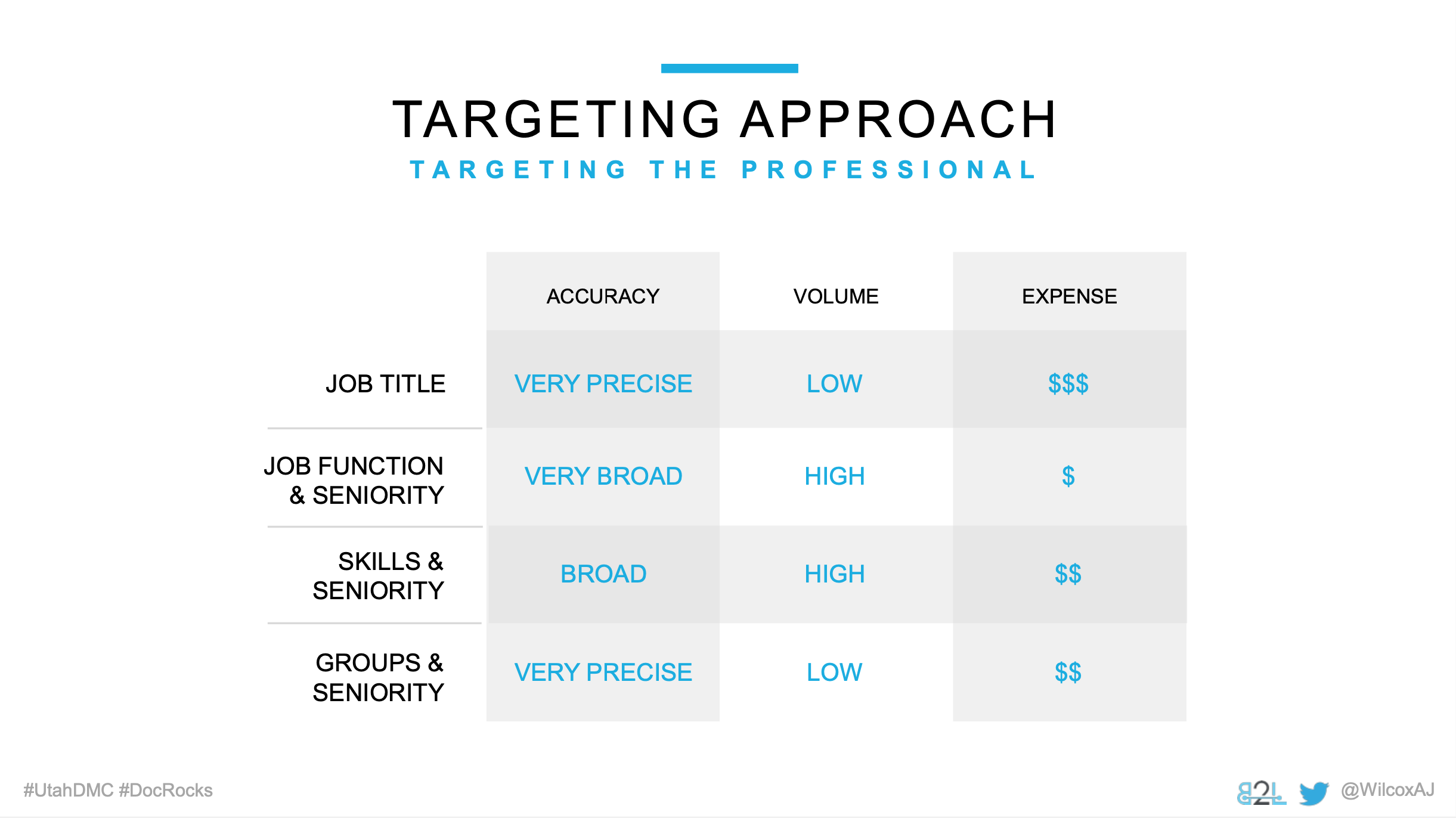 This is a great way to reach a granular group at a cheaper cost. As you're planning out your campaigns, if you have a significant budget, see if you can launch 3-4 ways of targeting the same persona and then see if you can measure them against each other.
Which Offers Perform Best On LinkedIn?
Offers are the most important thing you will find in your campaigns. You want to avoid the extremes (ie: high friction and low friction). You don't want to pay $25 just to get someone to your blog post. The sweet spot is right in the middle. This is where you are providing value to someone and asking them to identify themselves in exchange.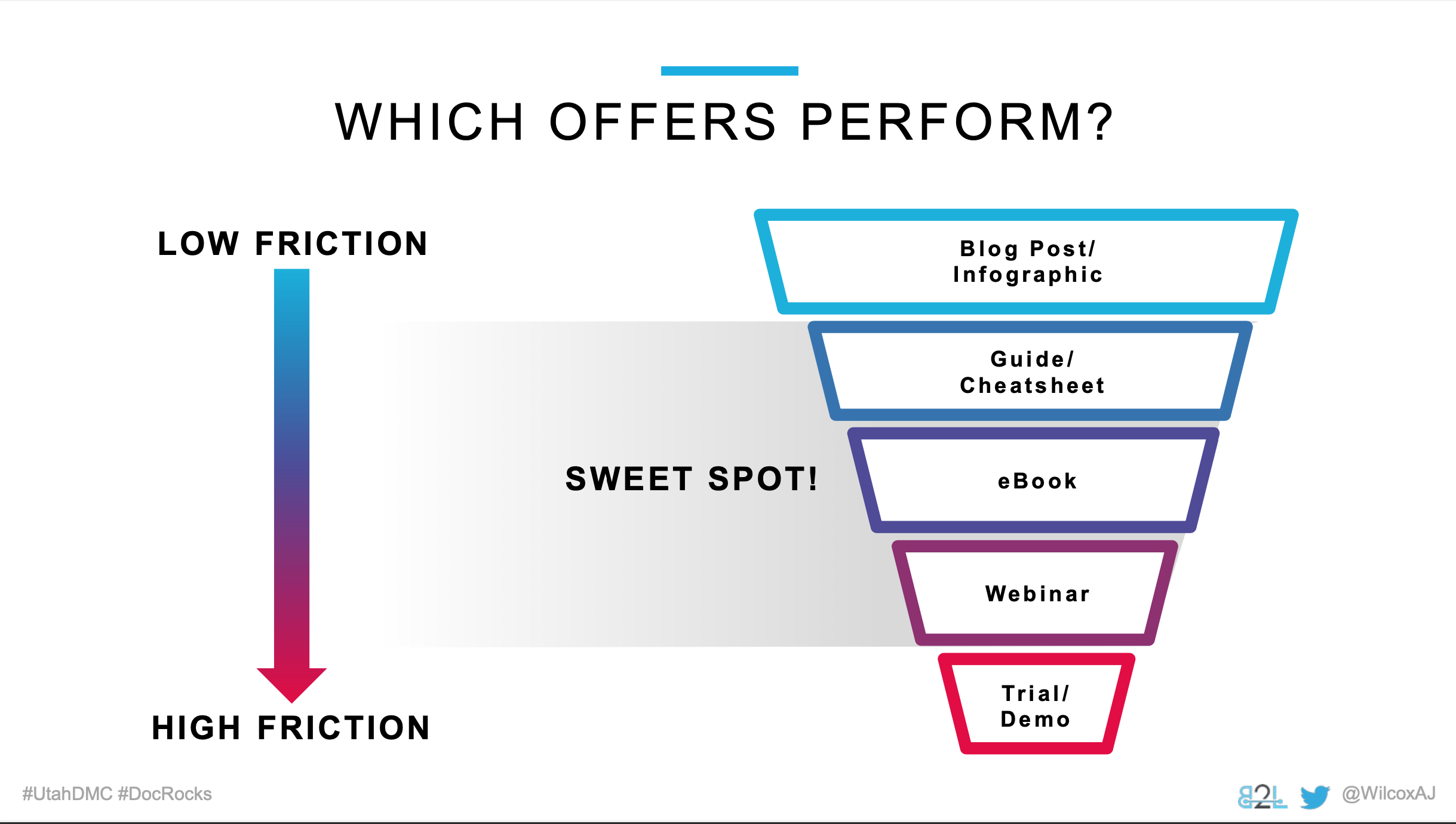 Retargeting Dream Team
It's more valuable to drive traffic to your own website. If users stay on LinkedIn, they won't get a strong impression of your brand. AJ prefers to build his own landing pages, get his own traffic and forego some conversions because LinkedIn makes it so easy. However, it does depend on your goals and resources.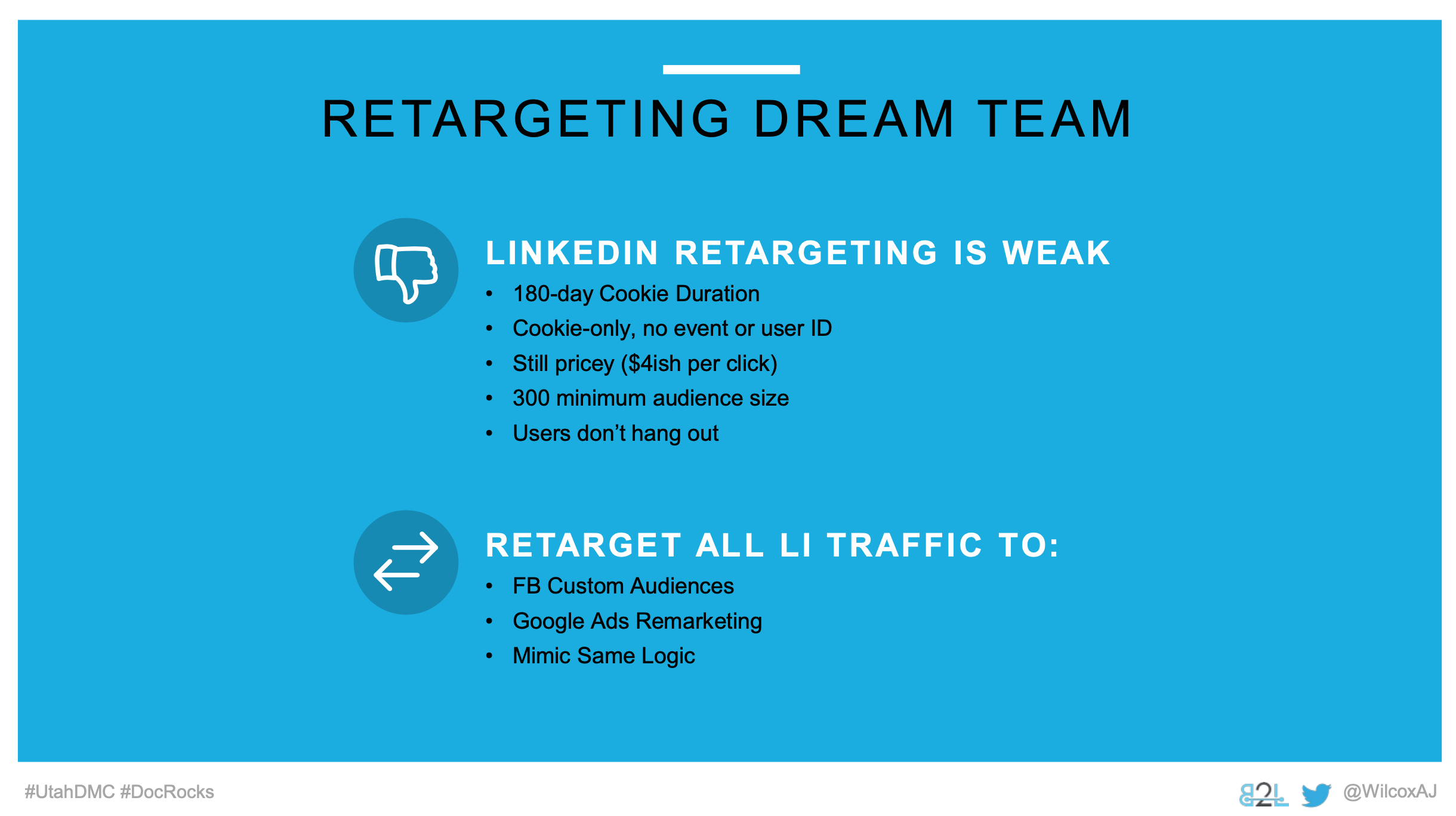 Ad Creation Tips
AJ gave some great Ad Creation tips as well:
Be short and to the point -- WIIFM.

If you can convey what's "in it" for your prospect, your ad will work really well.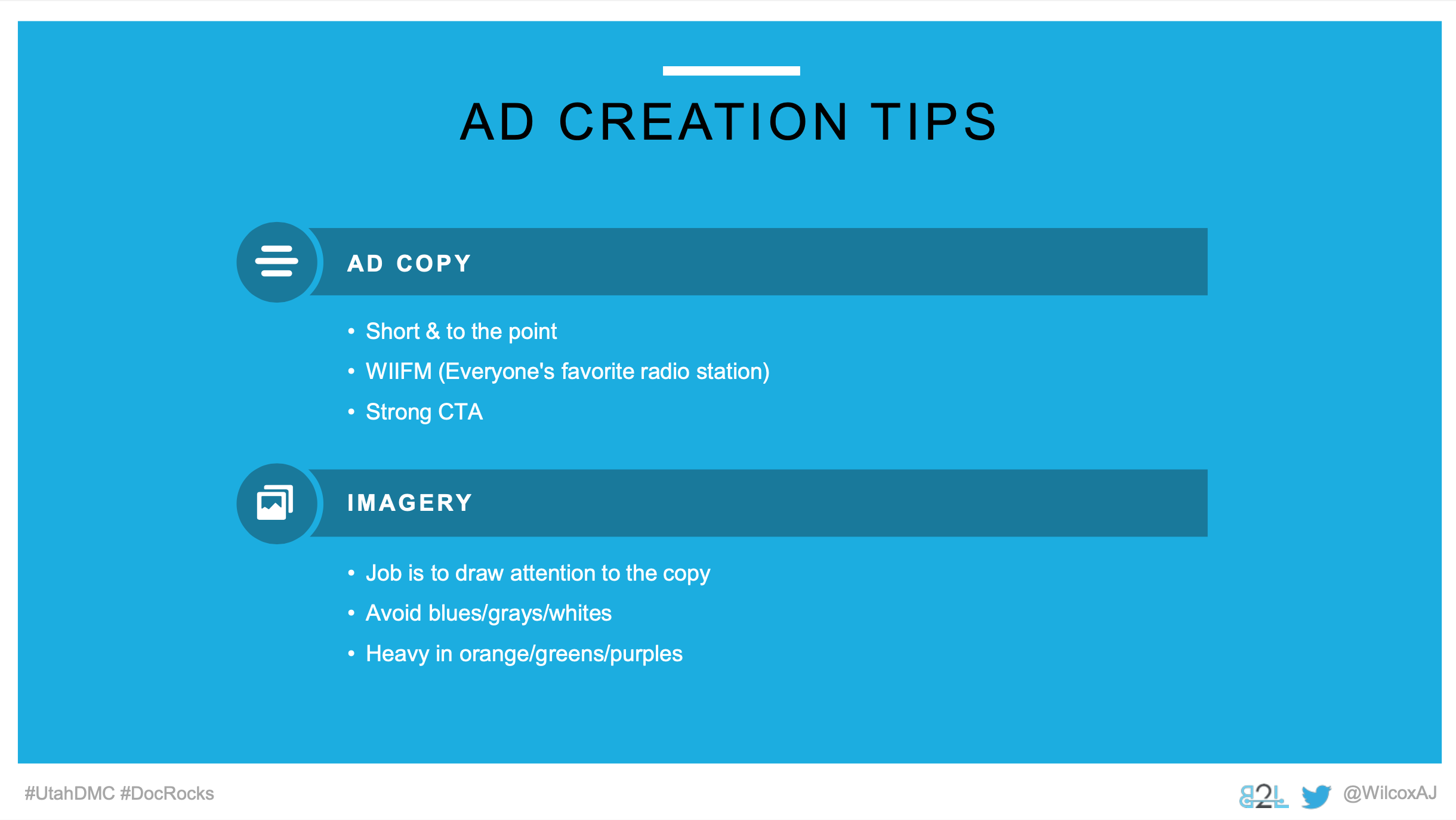 What Makes a High-Performing Ad?
Imagery-wise, LinkedIn images are blues, grays and whites. If you ask a designer what to do to stand out, look at the color wheel and find the opposite of blue...which is orange! If you go heavy on orange, purples and reds, this will help get your ads some attention.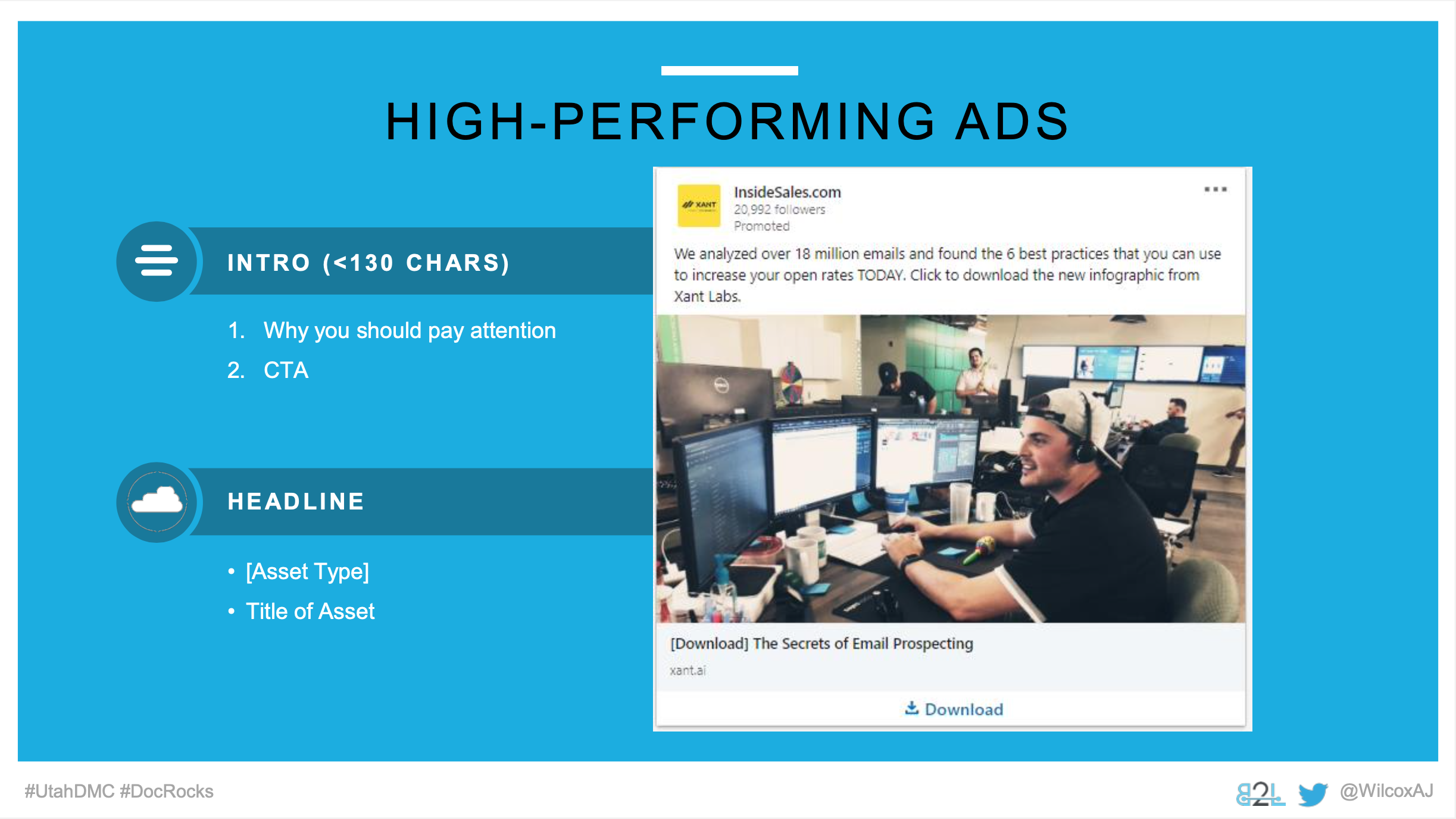 Keep your ad intros short. Tell them 1) why you should pay attention and 2) give them a strong, compelling call-to-action. The headline is the text down below. This is where AJ will put in square brackets the assets that they will be getting. The ad above received a 55% conversion rate!

Additional Resources
If you are looking to get started with LinkedIn Ads, you can download B2Linked's free checklist so you have everything you need to get started.And if you enjoyed this webinar, you can also subscribe to The LinkedIn Ads Show Podcast which goes way more in depth into LinkedIn Ads.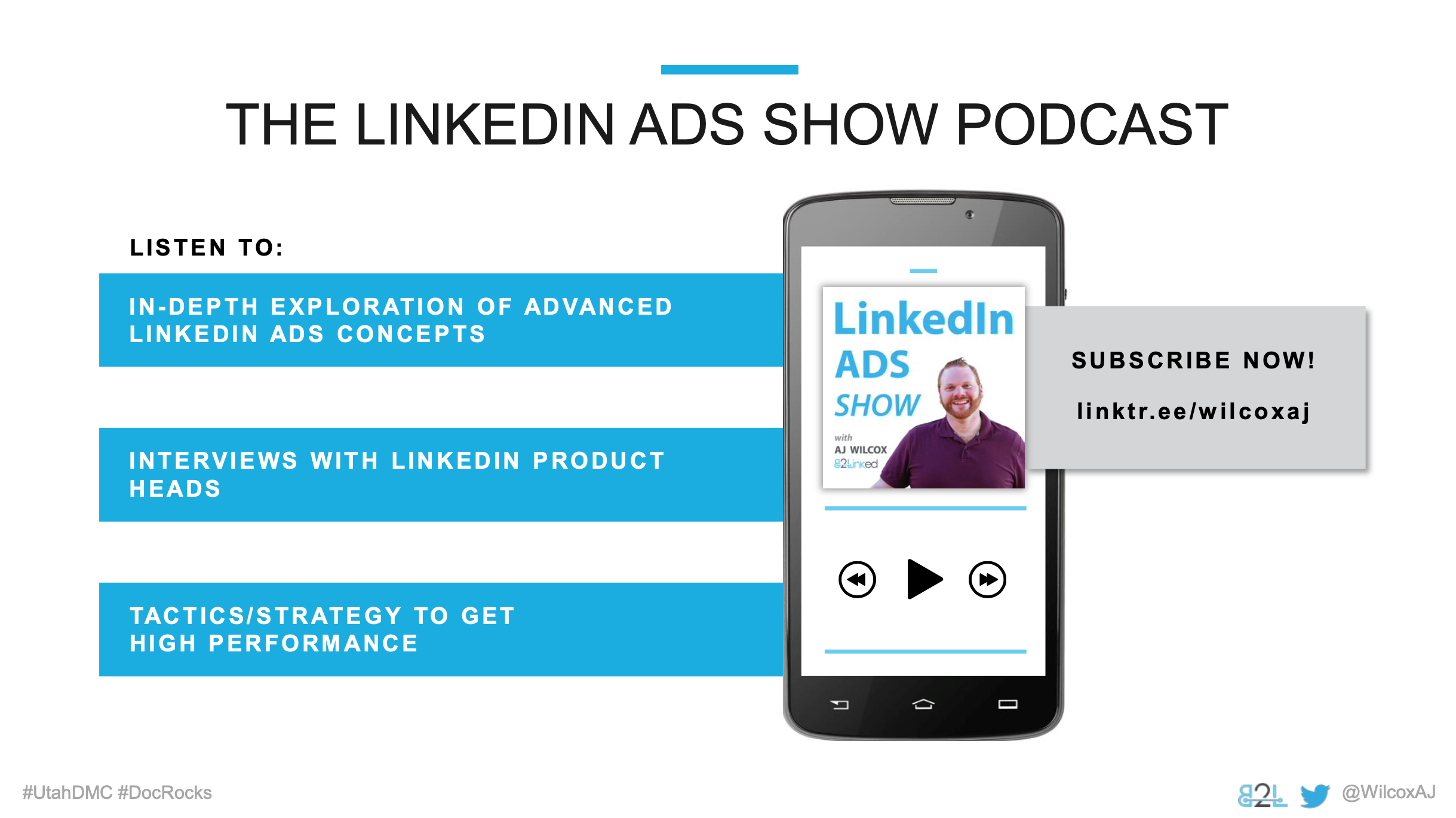 Overall, this event was chock full of actionable takeaways to begin applying to your LinkedIn Ad campaigns right away!
---
If you couldn't make this event live, you can see the replay below. Towards the end of the presentation there was a great Q&A session where AJ answered viewer submitted questions including:
Is there a way to mass update ads or campaigns like google ads editor?
What are your thoughts on Conversion Ads vs. Web Visits?
How do you judge you've reached statistical significance when running an A/B test to draw conclusions?
Do LinkedIn Ads apply well to hiring within your organization?
What would be the lowest daily budget you'd launch a Lead generation campaign with?
Any tips for the best way to approach the LinkedIn audience network?
What KPIs should i track for sponsored content?
Should I include a hashtag in my LinkedIn sponsored content ad? 3
Does LinkedIn target by income level?
Should I include the LinkedIn insights tag on by website for tracking purposes?
Is there a difference between sponsored content and boosted post?
What's your recommended audience size for running InMail campaign?
What's a good CPC for LinkedIn Follower Ads?
Is there a standard minimum number of people we can target for a campaign?
Lastly, be sure to connect with AJ on Twitter, LinkedIn or his website BLinked.com
---
Explore our blog for more event recaps, and be sure to check out our DMC Online Events page to see all of our past and future digital marketing online events.
---
Ready To Watch This Full Event On-Demand?