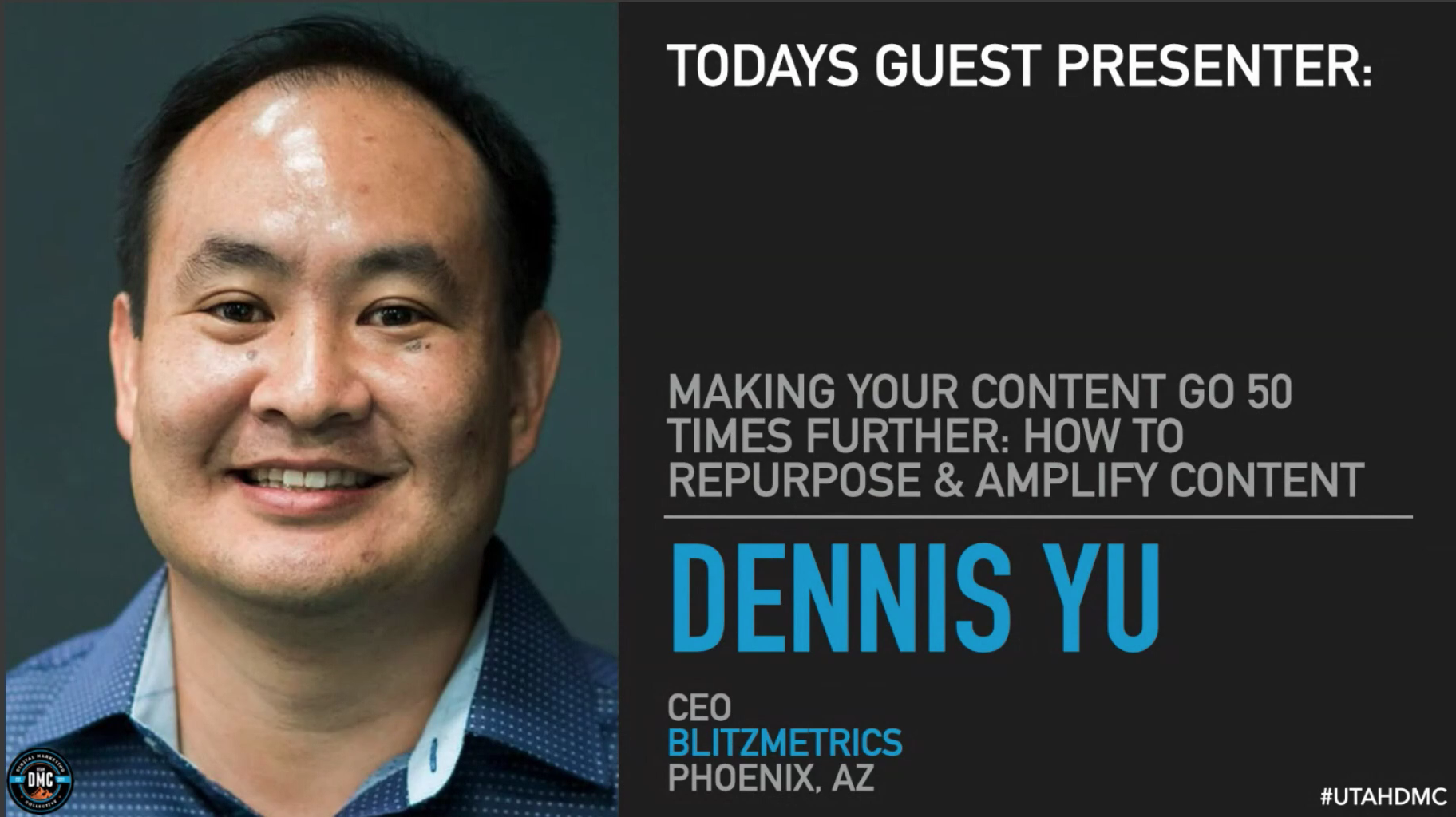 Dennis Yu is becoming a resident voice on the Utah Digital Marketing Collective scene, and as always, we are lucky to have him present to our attendees.
As the CEO of BlitzMetrics, a digital marketing company which partners with schools to train young adults, Dennis focuses a lot of his time on making connections, learning from the best, and finding ways to be relevant and persuasive to the younger audiences that he works with.
In this session, Making Your Content Go 50 Times Further: How To Repurpose & Amplify Content, Dennis brings along a counterpart: Tristan Parmley. The two share common perspectives and solutions in this organic conversation that actually centers around (surprise, surprise) video content. In this webinar, their passion for video and authentic engagement through content comes through so strong, it's palpable.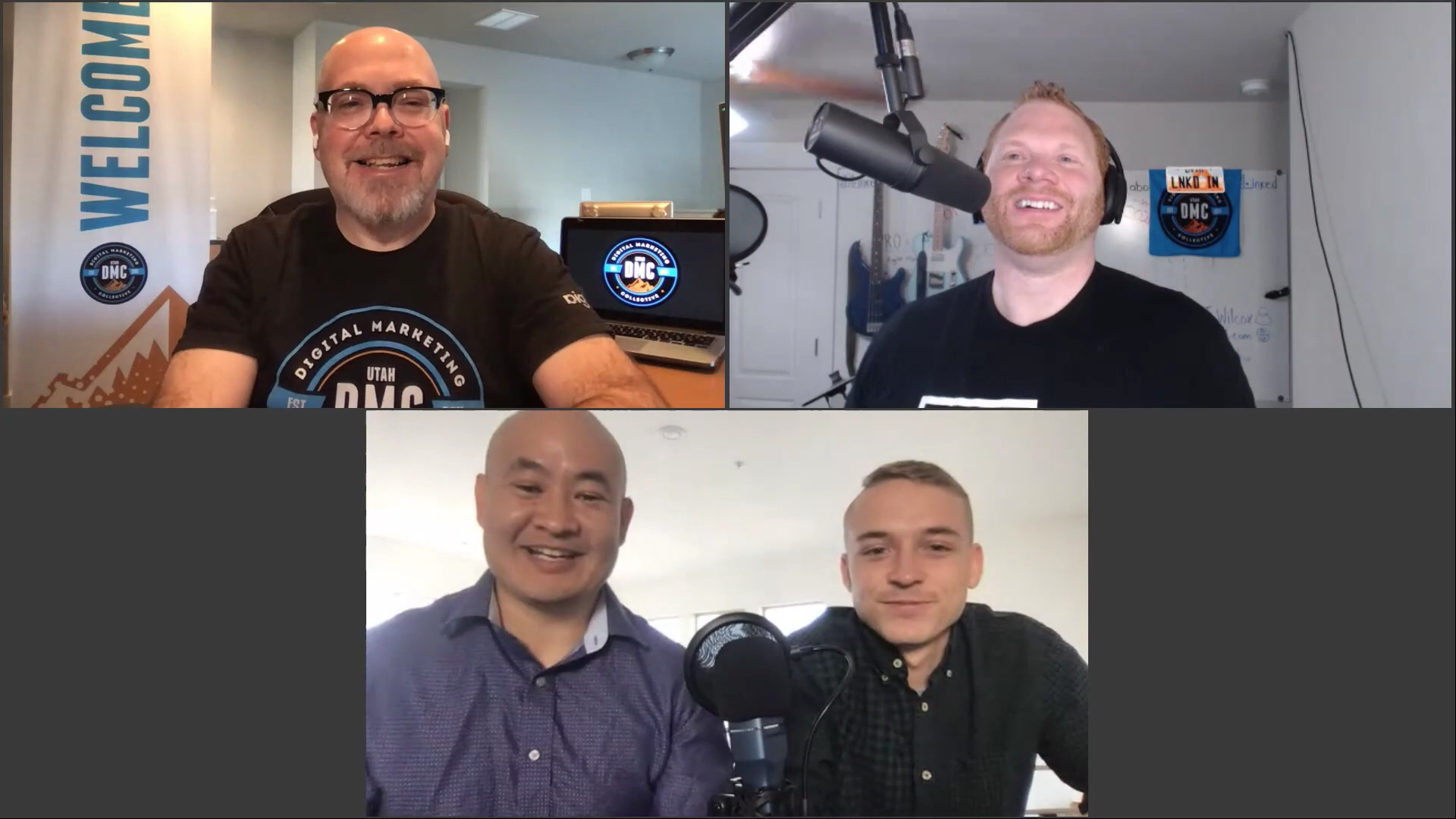 Alright, so it's not our MO to bait & switch on webinars—thus, we have to divulge that you might be surprised at where the conversation goes in this session if you base your expectations on the webinar title. While this episode might dive deep into creating video content, a good bit of foundational advice for stretching your content is still included.
Dennis Yu on Creating Video Content Easily
Now to instill confidence in your ability to collect and create short, simple videos… you should definitely re-watch this webinar at the end of this recap. Dennis and Tristan make video way less daunting and completely sell you on starting today.
Tristan Parmley spoke to the reality of the video content scene. He said,
"One percent of the user base is actually creating the content people want on these platforms."
With this understanding that 99% of people on social platforms are not creating unique video content, his perspective for getting started is simple: don't worry about all the small details—just start. "Because starting is 99% better than everyone else. You're not creating a perfect ad for people to purchase from….you're creating a short conversation, which has to happen before conversion. You're building bridges."
Dennis Yu shows you a snippet of his world by breaking out his iPhone and showing the contents of his photo apps. He actually uses some live examples of conversations happening on his phone, and explains how he gets the video party started. He's definitely a person who shows that actions speak louder than words.
They dive into how the (rumored or fact - TBD) plan for cookies to disappear from websites, and how multi-point attribution is going to be so important to know what traffic is coming from where and how it's performing.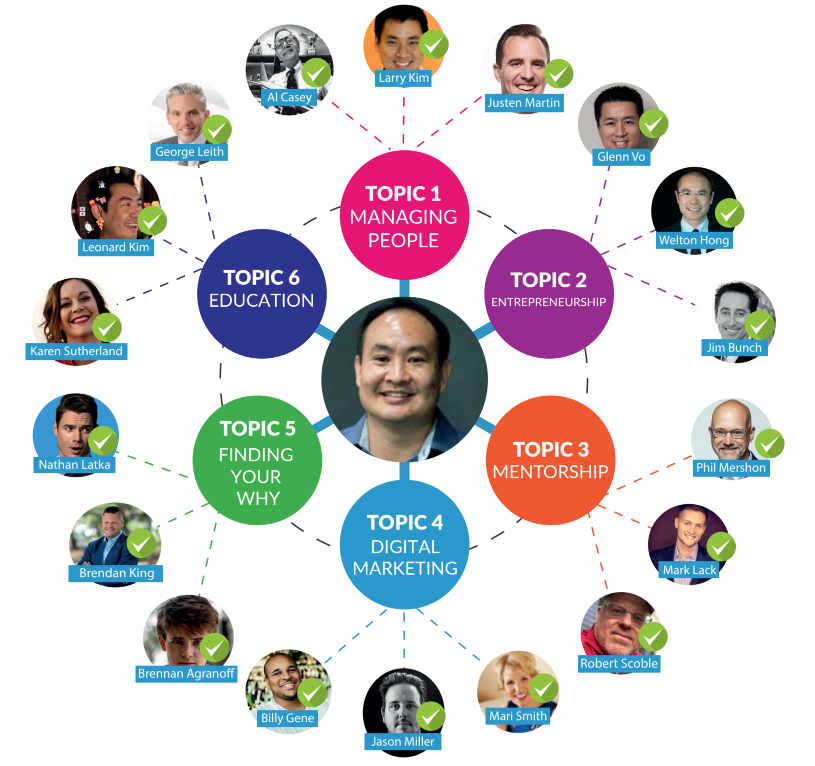 "Take your content, once your plumbing is done, and run it through the topic wheel to start dissecting micro content stories to stretch the power of your main content," says Yu. An opportunity to learn about this 'plumbing' topic (or tracking data across all of your channels) check out BlitzMetrics Academy free multi-part course on the topic of plumbing.
Removing the Barriers to Video
Dennis and Tristan ask the audience: What is your biggest struggle with making video and/or why aren't you doing video yet? As chat participants are chiming in through chat, Dennis and Tristan start rattling off the list of common complaints and pain points...many of us find camaraderie in these:
Don't know what to say
No equipment or tech
Clients think videos have to be professional
Barrier of entry
Customers are a step away
Cost & Time
Production at scale
Limited creative
And then of course COVID is cramping everyone's style...
Dennis is quick to empathize but then shows us exactly why those pain points are really stopping us. Sure, high production video is amazing, but in these limited times and for low-budget needs, there's really nothing standing in your way. Through 'showing not telling' (Dennis' signature style), he offers a handful of usable tips to get moving on creating and curating video content:
If you want to collect videos, you have to start the engine by sending (replying) with video rather than text/chat.
Zoom recorded video works right now. It's everyone's life - so tell those stories how you can.
Executives love free PR and they've always got something they want to talk about.
It's the story, not the sale. Bridge the gap by starting with telling stories.
Let the customers do the work for you. Whenever you can get a customer on video, get it!
Do the exact opposite of an advertisement. Elevate the client/customer, pretend you're a journalist and interview them on things that matter.
Tristan says, "The people who are making the most content [right now] are the most successful. You're getting more to test, and then you capitalize on the golden nuggets." He goes on to explain how successful marketing on social media channels starts with gratitude.
A question to ask yourself: How do you measure and systematize the passion to work for your sales? Framed another way—In what ways are you taking the passion and purpose of your job into your marketing through storytelling? If you're not, get started! Using the example of the SaaS market, Dennis talks about the proverbial Kool-Aid and asks the audience, "Who's brewing your Kool-Aid?" He addresses this because it connects to the storytelling of the passionate customers who are enamored with how you care for your customers.
Creative ways to create great video content
To wrap up, we've listed three other solid recommendations that Dennis and Tristan provide as video recommendations. Listen to the webinar for the full story, but snap up these quick tips for safe-keeping:
How to get great video from clients across the country:
Create a guide, script, and an example. Share that with everyone you want to send video.
Systemize the collection and direction of the content. Create a structure that brings in the variety and volume you need.
When filming remotely (Zoom, or other chat platforms), film once without stopping to correct anything. Assess on the fly what the best soundbites are. Praise the great stuff, and give a little direction for improving the next takes. Film the same content again and you're sure to get more power in the statements, giving you a stronger video in the end.
How to structure your content, no matter the medium or platform:
"It's always the same, no matter what platform you're using. You need stories of what [your product or service] does that sells it," says Tristan. A few different ways of saying the same structure are:
Why (Belief) / How (Map) / What (Product)
Story (Connection) / Service (Informative) / Sales (Details)
Awareness / Consideration + Conversation / Conversion
How to take raw video clips and make great video content:
Get set up right with the best photo storage sharing. Amazon has the best photo recognition, helping you with all the sorting. Google and Dropbox also work well. All of these options with big storage cost about $10/month.
Share it out, add comments/direction for editors, etc. Hire editors on Fivr and watch what you can get for a small budget!
If you need to scale this or just outsource all of it, Dennis recommends hiring a Virtual Assistant for about $500/month to manage all of your video production.
Dennis and Tristan shared some great tips on using video, and honestly, this recap just scratches the surface. We highly recommend that you take some time and view the replay below to get even more of the great recommendations they shared during this webinar.
Be sure to connect with Dennis on Twitter, LinkedIn or his company website, Blitzmetrics. and view his previous presentation from our annual conference.
Be sure to also connect with Tristan on LinkedIn.
---
If you couldn't make this event live, you can see the replay below. Towards the end of the video, there was a great Q&A session where Dennis and Tristan answered viewer submitted questions as well.
Be sure to check out and register for all of our upcoming DMC online events (and watch all the past ones too). We have events planned twice a month through the end of 2020. We hope to see you there!
---
Want More Detail? Enjoy The Replay Below!