Presented by Micaela Wright and Ian Shields
It was a wonderful evening to be at the beautiful office of Lucid to learn from our marketing automation gurus, Micaela Wright from Lucid and Ian Shields from Artemis Health.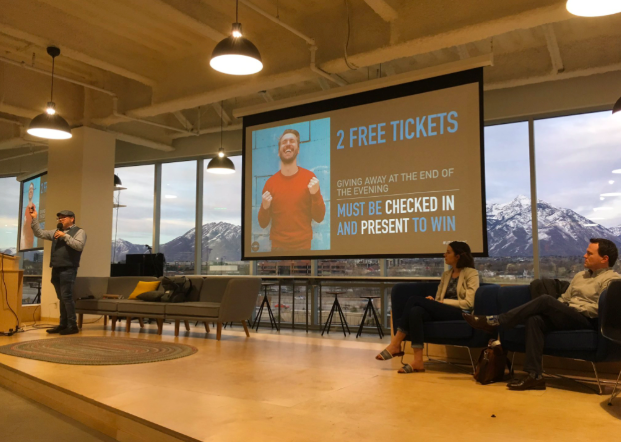 How We Transitioned 12 Million Records to a New ESP in 8 Weeks
Micaela Wright
Micaela Wright, Growth Marketing Manager at Lucid, shared insights into how Lucid transitioned 12 million records to a new ESP in 8 weeks.
She discussed the reasons behind why Lucid decided to switch from Hubspot to Marketo and offered some guidelines on how to go about making such a crucial switch for a company with massive amounts of data. Lucid ultimately decided they needed to make the switch when they were running out of API limit, run limit and system speed was a little less than what was needed for their project.
She offered several steps and insights in her presentation:

Picking a Vendor
Micaela recommended that requesting a demo account is crucial when deciding which software to go with. Using a demo account instead of just closing the sale is important for teams to be able get a feel for what they will be dealing with.
She also recommended talking to customers that are similar in size and business model with your company to find out their likes and dislikes of a potential software.
Tips & Tricks
Some tips and tricks for taking on such a big project requires a few things according to Micaela...
Build in overlap time
Document everything
Develop an organized action plan
Enlist help
With these 4 steps in a transition as large as Lucid's, they were able to pull off a miracle in only 8 weeks.
Test
Once you're working in a sandbox environment, test EVERYTHING. Go through and sign up at every single level of your marketing workflow to ensure that the software is working the way you need it to. She recommended using a service called TempMail to help create junk email accounts to test if something is working.
Odds and Ends
Micaela advised that it's really important to make friends with your IT department in a transition like hers. She also mentioned that it's important to remember to remove old tracking code from your old ESP from your website so it doesn't get bogged down with old irrelevant scripts.
Things WILL Go Wrong
Just like any important project, there is always something that is bound to go wrong -- and that's ok! Micaela mentioned that while the transition wasn't perfect, it was worth it in the end. She also cautioned that while the initial transition might be done, remember that with a project like switching ESPs, nothing is ever done. It will remain a work in progress!
Overall, it was some great insight to learn from a company that's taken some big steps in the marketing automation journey of switching ESPs.
Get More from Your Marketing Automation Platform (Even If You're Not an Ops Pro)
Ian Shields
Ian Shields, Marketing Operations Manager at Artemis Health, gave some wonderful insight into what makes his marketing operations work so well.
The following points are what Ian discussed and shared to help others keep their marketing operations in check.
Clear Organization
Ian discussed that marketing has to go fast and in order to achieve speed, things need to be properly organized. He mentions using standardized naming conventions in your marketing automation software since they are easily searchable. He also mentioned that creation dates are a reliable way to organize since they are easily searchable.
Ian, a fan of Marie Kondo, shared her quote "Clutter is a failure to return things to where they belong."
Templatize Marketing Campaigns
Ian mentioned that building program templates up front is a lot of work but it's worth the investment as it will make things better for the people who will use it. He recommends bottling all your best practices into a template that will continue to be used moving forward in your campaign.
Create a "Before You Send it" Checklist
It's important to make sure you double-triple-quadruple check everything so a mistake doesn't happen like it did to the Utah State Bar. Ian recommended checking how everything will look in every possible ESP and also testing on every device. He recommended creating a written list that everyone on your team can follow so that no important checks go unnoticed!
Personalization
Ian discussed how important segmentation and organization of your audience is. Did you know that the more tailored and relevant to your audience an email is, the more engagement it will get? He emphasized the importance of offering one-click registration for webinars and events as it helps increase sign-ups.
Tech Stack Integration
Ian's last point was on the benefits of tech apps and integrating with your software. He mentioned that 52% of marketers say that integration is still the most challenging barrier to marketing technology success. Just because something "integrates" doesn't necessarily mean it integrates well. Once integrations are overcome, then it opens the door for AI functionality.
In the end, an amazing night of marketing automation insights and some pretty great Q&A at the end as well!
Here is the deck from the event