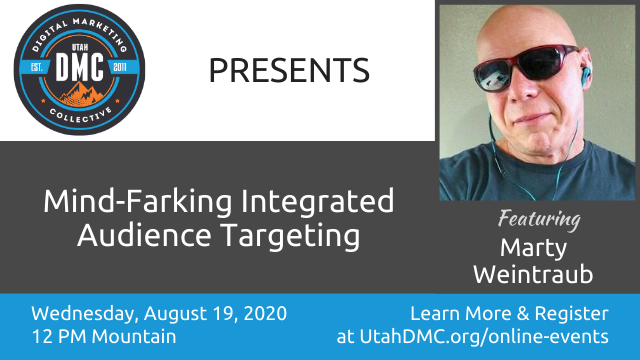 It was a great day to learn from Marty Weintraub, owner of the acclaimed marketing agency Aimclear®. His quick wit and stellar ad-targeting tips were the perfect combinations for an afternoon of learning and laughter.
Joining us from the beautiful Minnesota wilderness, Marty quickly got into some of the most essential ways to find new users by retargeting. How does he do it? Using social media, Marty will find organic source channel data and then pull that into other social channels to target users with paid ads.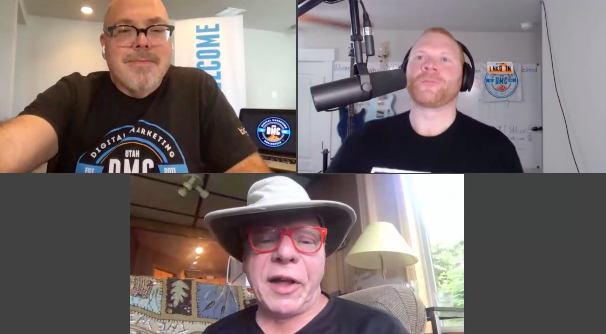 Marty emphasized the importance of creative datasets; be creative when you pull your data and then work with the people that you've got on your list. One great example he mentioned was an ad for Nikon. He took user cross-channel social filters (from Facebook), identified people that love birding, and then ran creative on them to see what he could get. This is highly targeting a very specific audience and using tools that are at your disposal. He called this "integrated audience nurture with cross-channel conversion".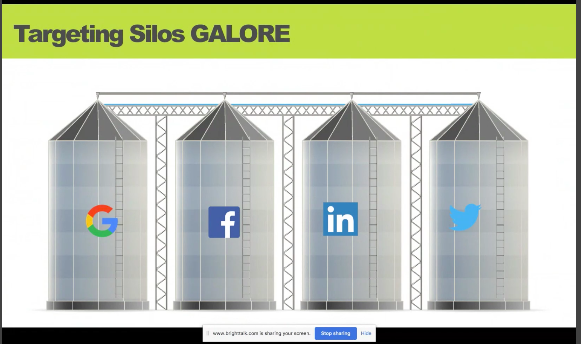 Marty then discussed the importance of different social media platforms. Each has its own significance when it comes to identifying audiences and then targeting them. He emphasized the importance of identifying each platform's strengths and then using it for what it's good for.
For example, Marty shared his insights on the following strengths of each social platform that he uses:
LinkedIn is a treasure trove in a vacuum. The business data is wonderful but you have to pay their pay-per-click requirements, send a landing page, and build retargeting and remarketing lists.
Facebook is a powerful data clearinghouse. Give me 40k of these people and I'll give you a million that smell the same. Add additional filtering and you've got a place where you can target lists you have by email address. There's still some B2B targeting if you know what to do.
Google is intense for intent psychographics. Identify users aspirations and attitudes to market towards them.
Twitter offers non-targetable engagement and other lists. You can target lookalikes of who follows a Twitter profile but you can't target all the people a profile follows. There's a lot of overlapping when targeting influencers. Use Twitter custom audiences.
Marty also shared a few tools that he uses to identify these brilliant ways of targeting. DropContact is a tool that's not only affordable but also 100% GDPR compliant. His tip is to put in someone's Name and their Company and you'll get their Business Email. BOOM!
Marty also loves the paid LinkedIn tool, Sales Navigator. Sales Navigator allows you to leverage professional profiles to increase your sales opportunities. You can literally find anyone with a certain company in their profile.
Another tip that Marty warned is gray-hat but very useful is PhantomBuster. They are similar to IFTT in that there are code-free automation and data extractions that your team can benefit from.
* Pro Tip: If you want to be private, don't share your personal email on LinkedIn or it can easily be mined by tools like this.
Savvy advertisers can mine this information and then target lookalike audiences in Facebook, LinkedIn, Google, and Twitter.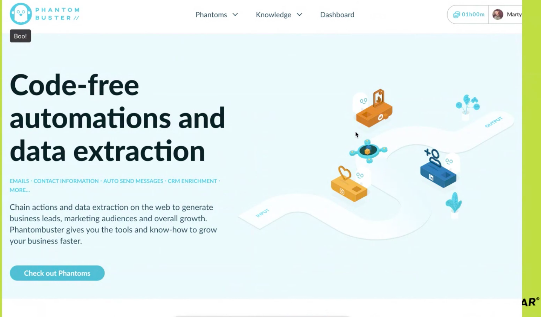 Phantom Buster also offers an option to look into LinkedIn's organic SERPs. It's not as powerful as Sales Navigator but it is highly effective for B2B and B2B2C. You can even target people that commented on a certain post and then target them with paid ads.
Phantom Buster has a ton of extractor options which you can find if you visit their website. Marty has found many of these very useful in making creative audience lists.
To use these aforementioned tools and still be GDPR and CCA compliant, you have to make sure that you don't store any data. Search the internet for real-time associations and retain NOTHING. Marty advises to never send a list to anyone and NEVER sell the data. To be 100% compliant, don't keep the list locally. Grab it, use it, and then destroy it.
Marty reminded us that the USA is an OPT-OUT place while Europe is an OPT-IN place. Some people would argue that it's not ok to use data using the previously mentioned tips although Marty doesn't recommend one way or the other. He leaves that up to you as the marketer to decide what you feel comfortable with.
At the end of his awesome presentation, Marty reminded us of a few things:
Get first-party data always
Use the channels you've got for what they are good for
Any source of data you can get, be sure you explorer the legality and ethics of it
By the end of the webinar, we were thoroughly impressed with Marty's tips and suggestions regarding Integrated Audience Targeting. What was the biggest takeaway you had from his presentation?
---
If you couldn't make this event live, you can see the replay below. Towards the end of the video, there was a great Q&A session where Marty answered viewer submitted questions as well.
Be sure to check out and register for all of our upcoming DMC online events (and watch all the past ones too). We have events planned twice a month through the end of 2020. We hope to see you there!
---
Want More Detail? Enjoy The Replay Below!
---
About Marty Weintraub
Marty is an entrepreneur, marketer, photographer, speaker, and BWCA wilderness guide. He founded Aimclear®, a driven, integrated marketing agency dominant in customer acquisition, winner of 12 US Search Awards including 4X most recent Best Integrated Agency. Aimclear's differentiator is the balance of holistic brand creative-builds, PR, and integrated performance marketing.
Credits include Uber, eBay, Airbnb, PayPal, Dell, LinkedIn, Etsy, Gumtree, Eurail, Firestone, INC Magazine, Amazon, Famous Dave's, Martha Stewart Omni, Intel, Travelocity, Macy's, GoDaddy, 3M, Siemens, Land's End, and many more. A fixture on the international conference circuit, Marty has appeared in front of hundreds of international search & social marketing conference audiences, from Jerusalem to Sydney.
Entrepreneur Magazine wrote the reason for Marty's success is a "Unique persona that is instantly recognizable." He has been described as "not your typical agency type," a "social media maverick," "Foodie-review addict" and "more innovator than follower."​