Our first speaker was Michael Salamon.
He covered trail assessments and condition surveys or TRACS. Most of his experience is in UX/UI and he partners with wearelousy.com. He came up with his three-step training because he keeps running into the same problem. No one has a post-purchase plan in their customer journey.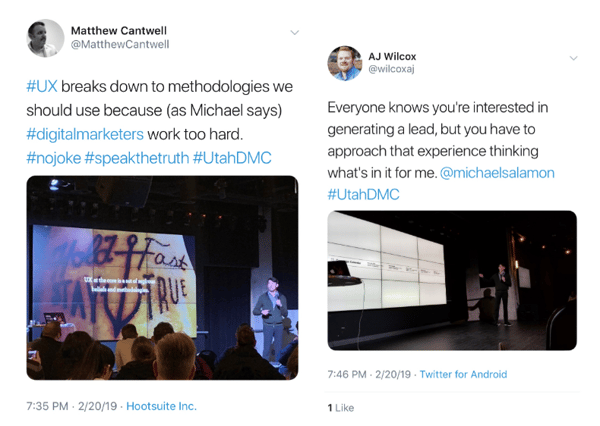 Step one is to identify personas. "Personas consolidate archetypical descriptions of user patterns into representation profiles, to humanize design focus, test scenarios, and aid design communication" - Alan Cooper.

Step two document user journey. This is a diagram that illustrates the steps that customers go through when engaging with a company. Once documented this step isn't completed we need to continue to discuss and workshop the journey.

What comes next then?

Step three TRACS (trail assessments and condition surveys). Potential buyers are usually 70 to 90% of their way through the sales process when they finally connect to a salesperson. We should look at how many gates there are for users to get the information they are looking for.

The journey that Michael mapped out had many phases. Phases 1 to 4 were labeled discover, when a potential customer has come across your product and looking for more information. Phase 5 to 8 were labeled explore, when the customer is learning more about other products or your company and also looking to reviews. Phase 9 to 10 were labeled evaluate, when a customer is considering very seriously their purchase. Phase 11 was labeled purchase, when the customer actually makes the purchase of the product. Phase 12 is labeled post-purchase, when you should be following up and have a plan in place to bring those customers back for other purchases. Some may use a customer journey funnel.

Having a post-purchase plan is really important to the success of a business. When coming up with goals or touch points for the post-purchase plan ask the following: Why are we even doing this? How's that supposed to work? How does it help the customer? You should be able to test the plan that is created. You need to have valid data points to test. Having a good hypothesis is key.

A scenario Michael laid out was that you send emails to potential customers and some of them actually click through it. They then land on the website to check out the product, they read the reviews, and they define what they want. Then they want to demo it or try the product out for themselves. After all of this comes the purchase. In most cases this where the planning ends. It is important to implement a post-purchase plan for that customer and all customers.
The New Rules of Marketing for Gen Z by Sarah Weise
Our second speaker was Sarah Weise who spoke about the new rules of marketing for Gen Z. Her research on this generation is specified to be anyone from age 13 to 25. She looked at how they used their phone and make buying decisions based on that data.

Gen Z is not concerned with Hollywood celebrities, they are more concerned with building their own personal brand. Currently, 51% of the world's population is under the age of 25, 98% of teens own a smartphone, and 85% of them find new products via social media.

Past research no longer applies to the new generation. Gen Z is on track to become the largest generation by 2020. They currently have $143 billion buying power, imagine what this will be once they have jobs?

Today 93% of parents say their teens influence their spending. We now have a shift in parenting with more independent teens. One thing is clear Gen Z and millennials do not consume the same content.

Sarah points out that there are eight key trends that matter for Gen Z. Those trends are as follows:
Specific and discerning content curators.
Snap judgment then deep dive.
Inspiration comes in personalized feeds.
Craving authenticity – the real-life story.
Natural aggregators of information.
Obsessed with time, schedules, and time management.
Money mindset it just happens.
How your future consumer makes a purchase decision.
Using these key trends you can start to come up with your marketing strategies. It is important to make sure you get your infomation out there in eight seconds or less to catch their attention. Be real and raw on social media. Facebook is for parents, the younger generation is now using snap chat and Instagram. They also want the exact cost, they will do exhaustive research, and they think post-purchase sharing is bragging. It is better to encourage sharing before the purchase is made. Lastly, add some friction to the buying process. They don't trust spending money on something if it is too easy.
Here is the deck from the event