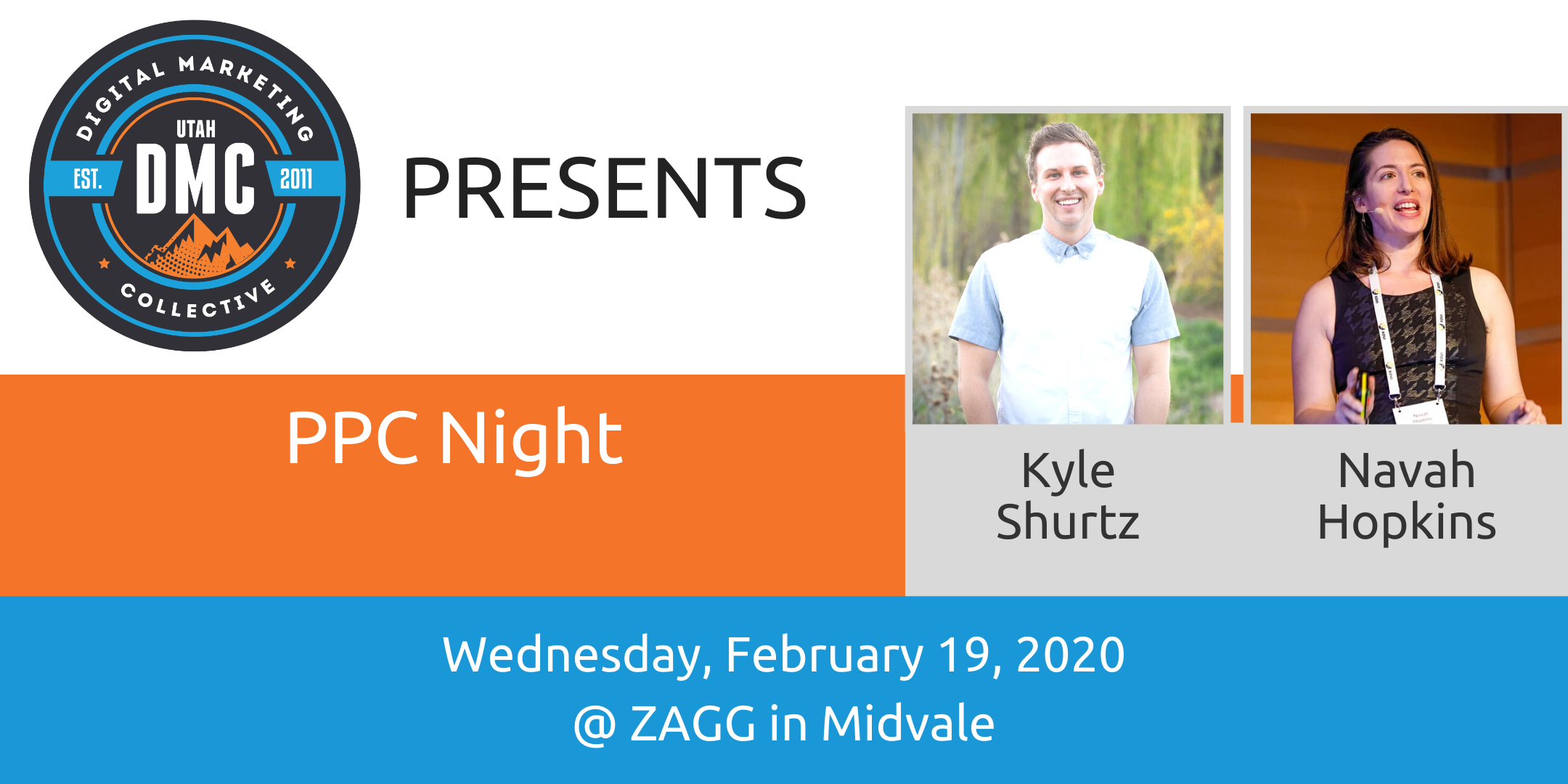 It was a lovely evening at the ZAGG building in Midvale and the room was full of energetic digital marketers ready to expand their knowledge in regards to PPC. The Utah DMC brought in local talent, Kyle Shurtz from Avalaunch Media, and Navah Hopkins, the Director of Paid Media at Hennessey Digital in Boston, MA.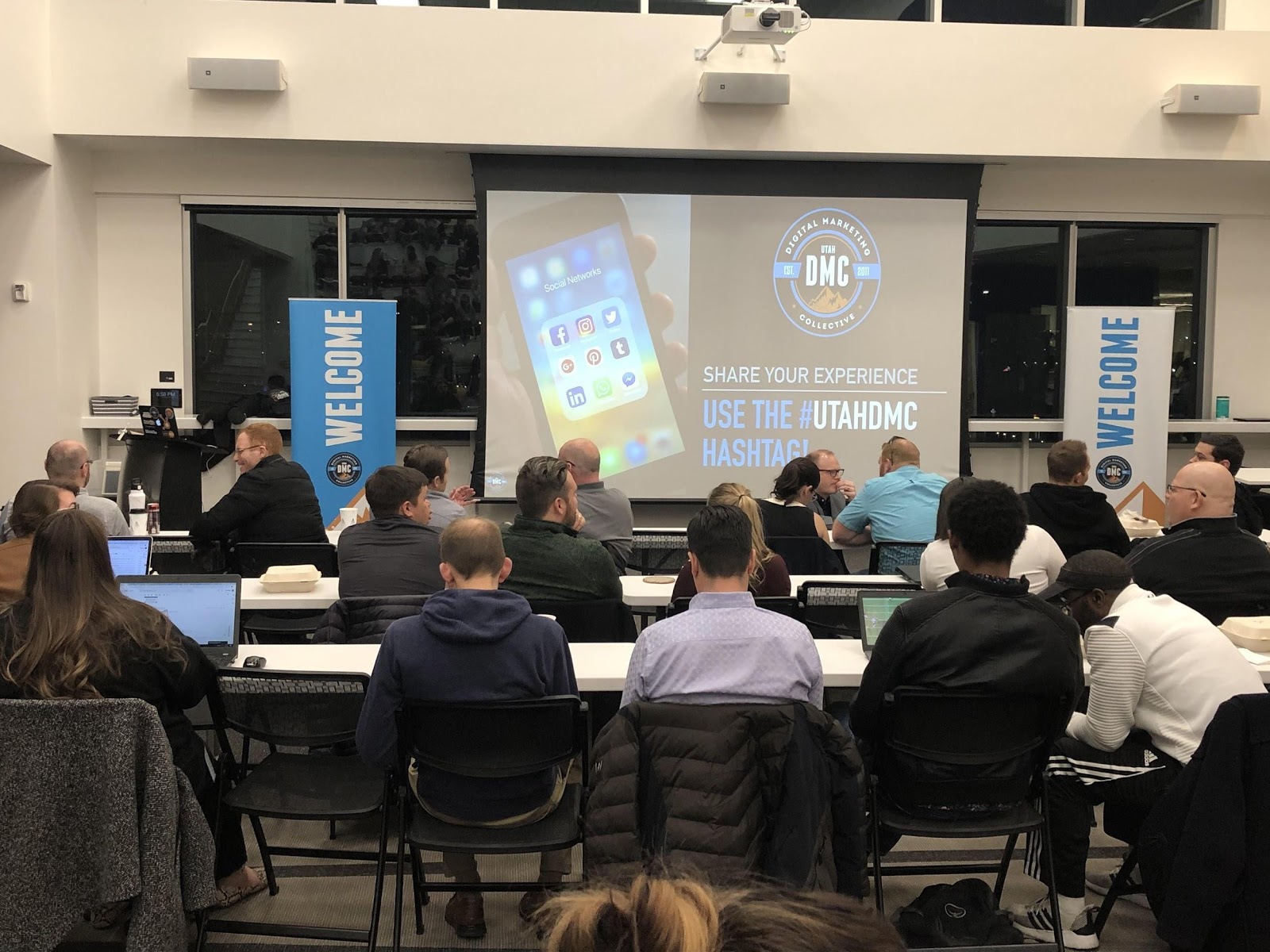 First Session: Doubling Down on PPC: How To Inform Your Other Marketing Channels With PPC Data - Kyle Shurtz
Kyle Shurtz, VP of Performance Marketing at Avalaunch Media, shared fun insights into how Avalaunch Media leverages the data that they get from PPC to influence and boost all of their other marketing channels like SEO.
Kyle, who is an avid gambler and blackjack player, explained how when he first began gambling, he thought he was playing against just the dealer. What he realized as time went on is that gambling is more of a team game. Fellow gamblers will give tips and insights on what the book tells you to do. Everyone is trying to win together. Kyle explained that we should look at our marketing channels in this way; we need to all help each other to succeed and beat the house, who in our case is Google.
In marketing, to get substantial movement, SEO, PPC, and CRO all need to work collaboratively together instead of working as separate individual silos.
Make Your Content Count
On average, we see an estimated 4,000 ads per day and humans only have, on average, an 8 second attention span. This means we need to make the content we put in front of users be impactful.
Kyle taught us that so many companies are focused on selling demos and getting credit card information that they aren't looking at the full marketing experience picture.
As marketers, we shouldn't be just trying to acquire leads, but also be conscious of the journey that many users are on and in the beginning lead them to gated content (videos, white papers, PDF downloads, blog posts, etc.) that will help acquire emails to market to later.

Case Study #1
In an age where clients are mainly concerned with keeping their CPL low, Kyle presented a great study where a new client, who was only focused on leads, allowed Avalaunch to work their PPC magic.
With an initial CPL of $1,367, this client was in desperate need of help. To improve this situation, Kyle started by driving their ad traffic to a White Paper that Avalaunch created to help acquire emails for better leads. The leads for these white paper downloads only cost $15.
This tactic ended up driving down the cost per diem to only $100! All they simply had to do was change the message from "Request a Demo" to, "Hey! Download this free helpful white paper instead!"
Content Conquesting
To help with better placement for your ads, Kyle shared many of his ideas and methods to define where your ads should be placed.
When looking for where to target your ads, keep in mind the following:
Target channels:


Videos, Apps, Websites, Youtube, etc.


Blog Ideas:


Research the top blogs in your space. If eligible on GDN, add it to the hitlist.


Search the top "how to" keywords and create custom intent audiences around them.

Search your top keywords and add the top 5 blogs that rank as a custom affinity audience.


Video Ideas:


Know who influences your potential customers.


Use your ads on videos of influencers
.
The main takeaway from Kyle is that he wants us to remember that it's not SEO vs. PPC, it's a marketing team and it's a marketing experience.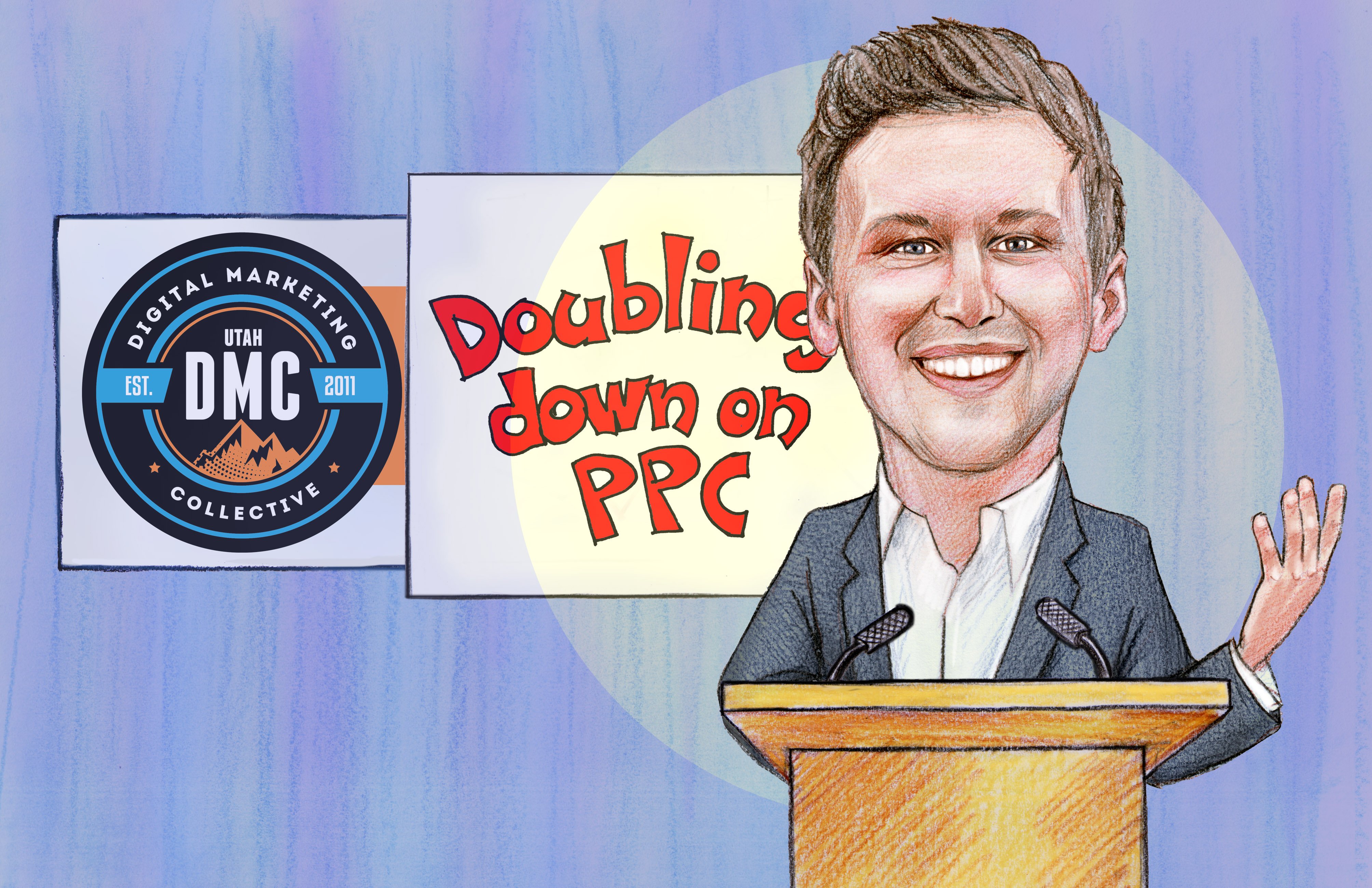 ---
Second Session: Unlocking ROI Out Of Any Budget - Navah Hopkins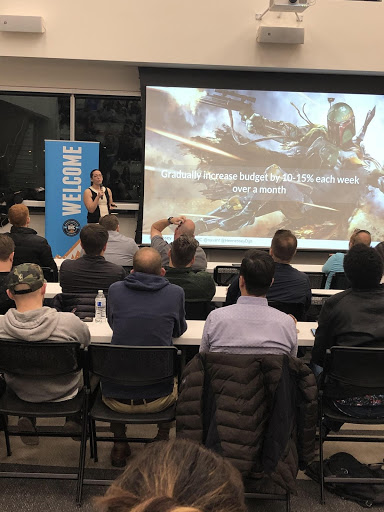 Navah Hopkins, the Director of Paid Media for Hennessy Digital in Boston came into the room with a lot of fire and energy Star Wars references, which was well received by this Star Wars loving nerd.
Navah prepared her presentation with one goal in mind, and that goal was to help all the marketers in the room to learn how to improve when talking about money and budgets with clients isn't so hard and to teach us how to become bounty hunters of profit and happiness.
Questions to Ask When Starting Before Increasing Budget
Navah explained that before we can dive in and begin bounty hunting (increasing budgets for clients) we need to do a bit of reconnaissance work. She provided a list of questions that we need to ask to help assess the situation:
Are all parts of the business equal or are some worth more?


What makes the most sense for the budget and are we using the right channels?


Are you clients all focused in one area or are they national?

Are phone leads or website leads more valuable to the client? How are deals closed?


Does a user need to talk to a sales rep to close or is it just an online sign up?

Once we have assessed the situation we need to follow the right trails:
Impression share

Auction price

Conversion rate/value

Is it reasonable to go after a lead when looking at the cost?

Advertisers generally struggle to achieve 50% impression share

Most lose impression share due to rank

When determining how to best use the current budget you have, don't bring a blaster to a lightsaber fight. For example, if you feel you'll have an easier time winning on mobile vs. desktop, don't be afraid to focus your budget there. To truly convince your clients that a budget increase will benefit them, we need to provide the best results and maximize the current budget.
A huge point that Navah made that needs to be stated is that "Raising the budget should be a last resort". To gain trust with clients, we should be seeking how to maximize their return with what we have to work with. We should first look at the following:
Look at location targets (are we using these properly?)

Duplicate keywords (are we wasting money with duplicate ads?)

Structure of the campaign

Match type of keywords

Bidding strategies

Wasted spend can be hard to fight and it's harder to get a client to increase their budget if what you're currently doing isn't delivering results.
Navah suggested that we use impression share to build budget increase proposals for clients because if impression share is being lost to budget, you can never win!
Bing Ads
One out-of-the-box idea that Navah presented was to consider using Bing ads to get wins for your client.
Many clients will disregard Bing, but the data shows us that Bing actually has really good conversion rates and 40% market share of ad usage! Also, Bing is very easy to set up.
What if I Can't Spend the Current Budget?
If you're not able to spend the current budget fully, you most likely have a campaign structure issue and you're losing impression share due to rank.
Some issues that may be causing this that you should look at are:
Too many targets. 


If you don't tell Google or Bing where to put your budget, they will put your budget in areas that have a higher population concentration.

Target Locations
Now, there's only so much that a budget can handle. Targeting 5+ locations without bid adjustments can hurt you in the long run. We need to be mindful of the locations that are being targeted for our ads and we need to know how much those CPC's cost. For example, is your ability to scale in Latin America is better than in the United Kingdom.
Ad Groups
Navah had the entire audience raise their hands if they use more than 5-7 ad groups in their campaigns. About half the audience slowly raised their hands as if they were worried that they were going to get scolded for doing so.
Navah explained that too many ad groups can choke your budget and that 5-7 is the "golden ratio". The reason is because if you have too many, Google isn't going to know (or care) which ad groups are most important to you. It will see the highest CTR's and drive the budget towards that, which will starve some parts of your campaign.
Conclusion
After assessing the situation, we are prepared with our data to begin considering having a conversation with our clients about budget increase. The main takeaways that Navah wants us to have to be confident going into these conversations is as follows:
What do the clients care about and what would make them want to raise their budget?

If you want to raise their budget, you need to speak their language.

Never go after things that you can't reasonably attain. Invest when it makes sense.

Build trust through transparency about budget and timelines.

Now remember, having budget conversations shouldn't be a bad thing! If we show the value, it's an investment for profit!

Navah promised the audience that if you want to increase budgets with clients, "This is the way".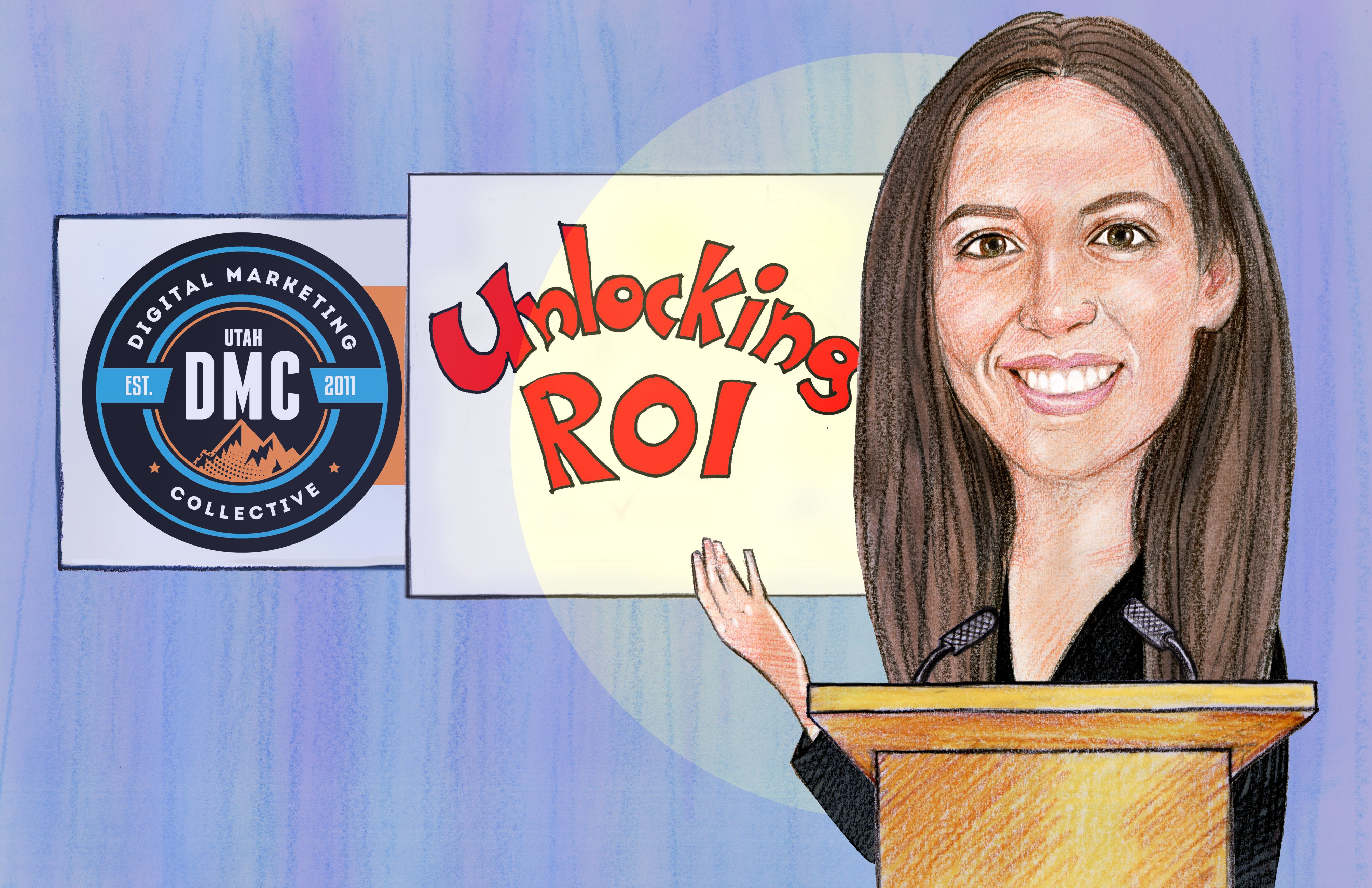 In conclusion, it was a great night learning from Kyle and Navah all about PPC. Every third Wednesday is an event, so be sure to check out our Events page to see what's next!
Enjoy the Deck!