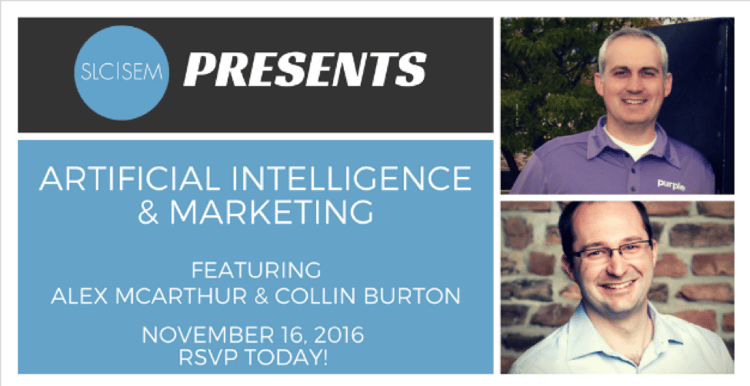 Our most recent SLCSEM event was held at the Salt Mine in Sandy, Utah. A collaborative working space for small and big teams alike, it served the perfect setting for the speakers we had in store that evening.
Alex McArthur: What Makes Purple Work
First to take the mic was Alex McArthur, the Chief Marketing Officer of the viral mattress company Purple, introduced all of us to the official Story of Purple. Beginning with the founders in 1989, Tony and Terry Pearce who decided to start a company like no other before them. Starting with the Purple mattress, a space-age design made out of hyper-elastic polymer, the brand boasts that an egg can't even break when cushioned on top of a Purple mattress. Their YouTube videos have received millions of views in what seems almost overnight and Mr. McArthur went on to describe just how they've achieved what they've done.
Purple's Secret Sauce
Alex described it as Purple's "Secret Sauce" - the stuff that makes them more viral than any other mattress or pillow company out there. So what exactly is it? He said typically marketing works well when you have a combination of emotion + information. The difference with Purple is that their combination is humor + education. Alex also said that people remember stories 22 times more than facts which is huge when you think of marketing strategy and how to do it right.
Test, Test, Test
Mr. McArthur then discussed how they capture the awareness and grow their market audience. Using multiple tests, marketers at Purple have been testing different openings, endings and storylines for their videos (along with imaging for ads) to find out what audiences really want to see. They will test about ten different videos before finally deciding which one resonates with their audience the best. Once they figure out which one is the magic bullet, they buckle down and promote it with ads and promotions on social media.
The Takeaway
Purple's main video featuring Goldilocks has received over 200-million views since January 2016 which means they are doing something seriously right. We all learned a lot from Purple and how they go about marketing. Here are some of Alex's video pointers:
Prepare to go viral
Who cares if it happens
MAKE it happen (by way of ads and promotion)
And ultimately, a little humor + education goes a long way in the art of storytelling in marketing.
Collin Burton - Artificial Intelligence in E-Commerce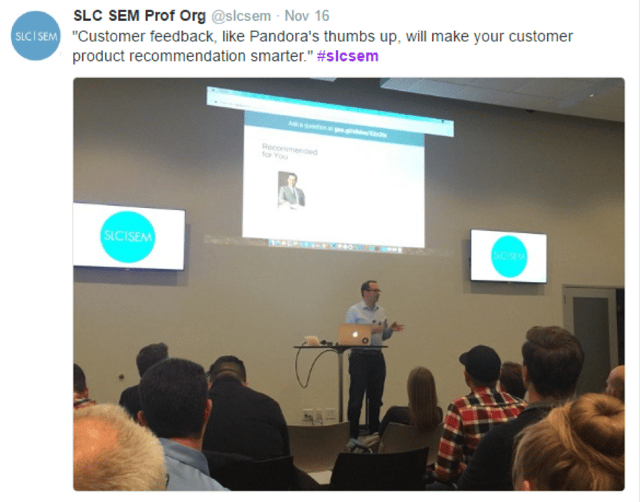 Collin Burton, a data scientist, took the floor to give insight to the wonderful world of algorithm recommendations in e-commerce. Using Amazon as an example, he detailed how much of an impact using recommended items during a user experience in e-commerce can have on sales.
He gave us a list of advantages that "Also Bought" algorithms bring to the table for an e-commerce site:
Easy to make updates
Easy to put in a webpage
Can also do clicks and views
Creation
Creating an algorithm can get a little tricky according to Collin. It's not something that can just be done in Excel but rather in a coding program called "R".
Measurement
The next step to making sure that you're algorithm is working is to measure and see how the results are. If product recommendations are bad or not relevant, you'll be hurting yourself more than helping.
Sell It
His last step was the one that piqued all of the marketers ears in the room. In order to take on a project such as this, it's important to be able to "sell it" to the people that would be giving the green light. He then gave these awesome facts that helped us see that recommendation algorithms are not only worth the time but also very much worth the expense!
Random items get a 5% hit rate
Popular items get a 10% hit rate
Custom items get a 20% hit rate
With a custom recommendations algorithm for e-commerce, this means that you'll potentially have 2 new sales per order which could help you achieve a $6-million dollar margin per year.
The Takeaway
Artificial intelligence is big for Amazon and Netflix and Collin predicts that they are only going to become more common. With ⅓ of Amazon's revenue coming from recommended products, Amazon knows that they've hit a pipeline of sales and will only continue to make their algorithms even better.
For e-commerce, if you don't have a recommendation algorithm in place, you'll definitely want to get going on one right away. You've got untapped dollars laying on the table!