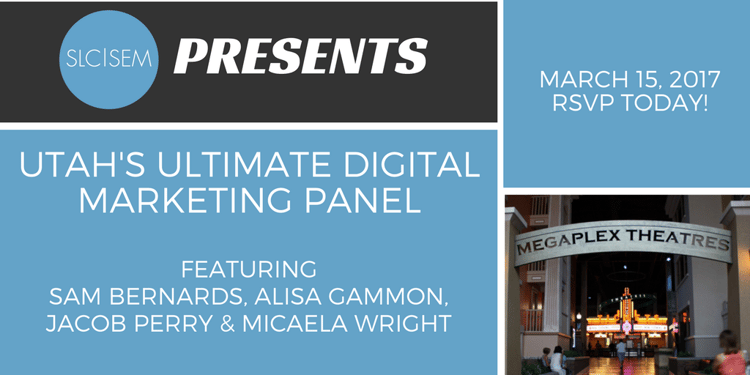 For this month's event, we went back to the scene of the crime (SLCDMC 2016) and back the trusty format of a panel event. We're sure glad we did.
The panel was made up of the following all-stars:
Sam Bernards, CEO of Purple
Alisa Gammon, Facebook Advertising Aficionado at Purple
Jacob Parry, Digital Marketing Manager at Vivint Smart Home
Micaela Wright, Marketing Automation Specialist at LucidChart
Cameron Lantz, Director of Research at Emperitas
To allow the panel to be well prepared for their questions, we took much of the questions from members of the SLC|SEM community via the SLC|SEM Slack channel (if you're not on there, you should be)! This allowed our panelists to cite data and call upon their various marketing experience to answer questions. What a treat!
Here are a few highlights from the evening!
Q: How do you measure the success of a marketing team?
A: By constructing KPIs based on your company's objectives. Purple also uses a Marketing Efficiency Ratio (MER for short; hit up Bryant Garvin for more info) and NPS. - Sam Bernards
Q: What are good tools for data visualization:
A: R (a free software program for computing statistics) and Tableau. "Data can be manipulated to tell any story. Raw data is not actionable." - Cameron Lantz
Q: Is negative press good or bad for brand SEO?
A: Any press for is "good" press for SEO. Many brands with negative PR rise in the search results. However, bad press is bad for sales. - Jacob Parry
Q: Best advice for a small ecommerce business looking at marketing automation?
A: Initial configuration is key. Choose your platform based upon database size and cost. Be flexible. - Micaela Wright
Q: What Facebook ad improvements are you excited about?
A: Facebook Atlas which will provide attribution based upon people, not cookies. - Alisa Gammon
Q: What role should a CEO having in marketing?
A: Complete alignment with the business's objectives. The CEO sets the targets and the marketers set the pathway to those targets. - Sam Bernards
We thoroughly enjoyed responses from our panelists and the great questions from our audience. Of note, we particularly enjoyed Cameron's plugs to Sam and the rest of the Purple crew for a free Purple mattress. Special thanks to Ian Shields for his killer live tweeting skills. Give him a follow!