Influencer Marketing: The Ugly Truth [DMC Recap]
Scott Paul (CEO of Wooly) and Colby Bauer (Cofounder of Thread Wallets) presented during Utah's annual Digital Marketing Conference. Attendees from across the U.S. filled the room to learn how influencer marketing has over-promised and under-delivered, and what to do about it.
The Start of Influencer Marketing
Where did influencer marketing go wrong? To answer this question we need to take a look at where it all started. Let's rewind back to 2004 when cell phones were still bulky and MySpace was a thing. Facebook had just launched and quickly began building a user base that would reach 50 million, yes million, active users by 2007.
With so many daily users Facebook decided to allow advertising, which would change the marketing game for good. This new feature helped marketers reach their desired audiences. Everything seemed to be working great with the ability to target a specific group of people and have a strong ad return per dollar.
Fast forward to 2010, the birth of Instagram and Snapchat. Both of these social engagement sites built massive communities with the promise of NEVER running a single ad. It only took two years for Instagram to reach over 300 million active users. Not having the ability to run ads was a huge problem for marketers, so they decided to get a little creative. Marketers reached out to users with massive followings to help promote their products. These users were eventually dubbed as "influencers."
Reach Does Not Equal Influence
Influencers tend to talk a big game but at the end of the day talk is just talk. Biggest and loudest is not the same as influence. In fact, these influencers are more similar to media channels like a radio station, TV network, or news station. Each of these different channels has the ability to increase brand awareness, social engagement, and product sales.
The ugly truth is that companies expect influencers to step beyond this reality. They overpay their influencers and too many times influencers underdeliver, creating a very unnatural relationship between a company's product and their users.
A great example of this happened back in 2017 when Markelle Fultz became the number one pick in the NBA draft. He literally copied and pasted a template message onto his instagram feed letting all of his loyal followers know he was being backed by Tissot. This created more of a disconnect between fans and product. Many were quick to notice the copied and pasted message and called it out immediately.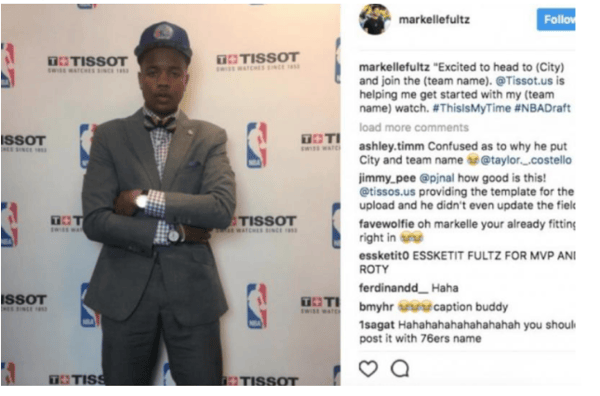 Another instance happened when an influencer who had over 2 million followers couldn't sell 36 shirts on her website.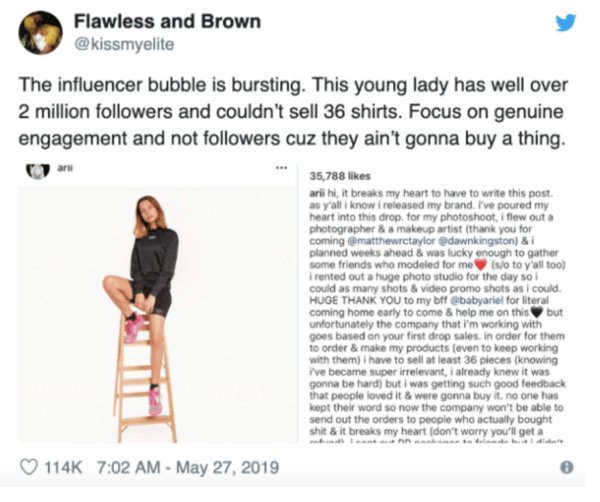 Just because someone has followers doesn't mean that will convert over to sales and that's the business we're in as marketers, trying to find different methods to promote and sell products while maintaining healthy customer engagement. So, how do you work with an influencer and create a meaningful experience not only for them but for your customer?
How to Drive Sales
The golden question, how do you actually drive sales? Focus on building real relationships with your passionate fanbase. Over the years consumers have become more wary of product or service advertising. Every media channel out there, influencers included, is fighting for consumers' attention. So, naturally ads have become very redundant and consumers are starting to feel more and more disconnected from brands. For marketers, it comes down to these 3 key points when trying to break the norm:
Building Personal Relationships
Just ask lululemon about this one. They have recognized more than 1,000 local athletes, business owners, and fitness enthusiasts. What's not to love about that? Walk into any one of their stores and up on the walls they feature their local brand ambassadors. This one example shows that real relationships don't need to be transactional. Daniel Cook, a local ambassador, said, "Lululemon doesn't pay me to be an ambassador, it's not a financial relationship, it's much more than that."
Empower Customers to Promote Your Brand
As much as Elon Musk brags about his cars, he also brags about the people who buy his cars. He has empowered his customers by adding a referral program that allows them to share their own experiences with others. The Tesla app has a feature where drivers are able to refer friends and family who want to buy a Tesla. Drivers are rewarded with a loot box and personal outreach from Tesla. Empowering customers isn't a transactional thing, it's enabling them to go out there and talk about the product.
Taking it Offline
Thread Wallets Co-Owner Cobly Bauer shared a story of a skater who embodies their brand. They recently took this skater on a trip and they all were able to connect even more from doing this. The greatest relationships that are created are the ones formed offline. Influencers aren't entirely at fault for this transactional mindset. Some companies focus too much on the numbers and not enough on the influencer. Remember these people should embody everything about your brand. Take the time to get to know them by taking it offline.
Palms Up Approach
Influencer marketing can be a great tool when approached in the right way. Another point Colby hit on was using the "palms up approach" or looking to give. Whether you're working with your customers or influencers, look to give. Focus on building personal relationships with your customers, empowering them to promote your brand. Remember to take it offline with the influencers you do work with and enable them to go out there and be a true representative of your brand.