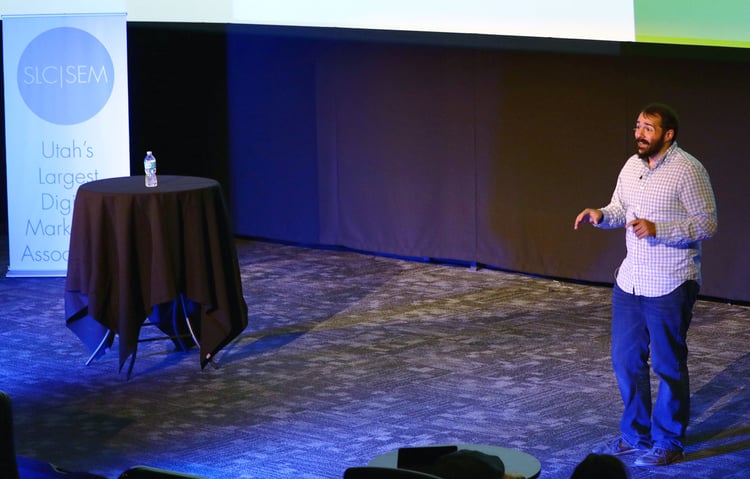 Creating a split test program is an important part to any successful digital marketing campaign. If you're not testing, you're failing. Below are some helpful tips & tricks Justin shared with us at his DMC presentation you can use to create your first split test program.
1.Focus on Process First, not "Hacks"
Analyzing data you should know who your customer is. What traits they have. You should know that they don't mind filling out a longer or shorter form. Long forms don't always mean it will decrease conversions, because a long form can increase lead quality. It's all about making the form have relevant items in that form. Here is a winning process:
ID Goals

Gather Data

Analyze Data

Create Hypothesis

Design Variants

Implement Test

Test

Analyze Results

Repeat
2. Measure What You're Doing
Look at what you're doing when it comes to your sales funnel. Syphoning through the data will help you recognize pain points for your customers. These are the funnels you should focus on:
Top Funnel

Engagement

Clicks

Bounce Rate

Exit Rate

Time on Site

Attribution

On Site Search

Mid Funnel

Lead Generation

Webinar Sign Up

Form Submission

Low Funnel

Direct KPI Impact

Direct Sale

Revenue Per Visitor

Average Order Value

Conversion Rate

Revenue Per Visit

Earning Per Click

Cart Abandonment Rate
There are huge benefits of testing multiple metrics:
Get the full story: More useful metrics means you get more insights

Get insights on low samples: If there is consistency between pages/metrics you might be able to call a test earlier.

Better iterations: Testing is an iterative process, the more data you have the more you can improve.
3. Use Analytics To Identify Hunches
Using a funnel analysis is your tests backbone. Pick pages that matter to evaluate your funnel:
High value pages with a high bounce rate

Deep funnel pages that people have jumped through hoops, bring them home and sooner to the funnel

Funnel valleys that you can check the previous page to find out why no one is moving down the funnel
4. Fix What's Broken
By finding where users are spending the most time on page, it's worth looking at to see why users are spending so much time there. Are there any shortcuts you can offer on those pages to help speed the conversion process up? Are they spending too much time on a mobile device? Would it help to add a different keyboard to the mobile process? Find what's broken and fix it.
5. Finite Stop Time
There should always be a stop time on your tests. Whether it's an amount of sessions, a time a limit (2 weeks), or statistical significance has been reached. Make sure there is always a stop time.
Work backwards when testing:
Pick a time period for your test (1-6 weeks)

Record unique traffic and find what the traffic is for the time period

Number of variants being tested and divide the traffic by the variants you're testing

Implement a desired confidence number (95%)

Calculate your lift percentage. Did you get "x" to lift? If yes, implement that live on your site
6. Focus on The User
"Conversion rate optimization isn't about increasing conversions, it's about creating an experience that is intuitive to your user." Using detailed user research will help improve your testing program: heatmaps, user surveys, session recordings, usability tests, will allow your users to give feedback for your site.
Do users have a hard time finding price? If so, bring it to the top fold and make sure it's noticeable. For surveys as a single questions, leave the question open ended (you'll get less responses, but better data). Below are some example survey questions to ask:
Was it easy to find what you were looking for?

Were the words/vocab used to define categories/sub-categories clear to you?

Do you have any suggestions to improve our website navigation?

Does our website look credible to you?

Is our pricing clear?

Is there anything else you'd like to know before signing up with us?

Will you shop with us again? Why/why not?

Do you think the form has any confusing/unnecessary input fields?
7. Tread Lightly with Case Studies
Make sure to always contextualize the case study and identify the industry. You don't want to run the same tests for a SaaS company as you would for an eCommerce company. After you identified the tested segments, is it the entire market or just part of it? Always be skeptical of lift percent. If you don't see raw data, be suspect. It's easy to manipulate data.
8. Segmentation is Very Powerful
Over segmentation isn't scalable and works for one but not the other. Be more granular in your segments. The more granular you get the smaller the sample size, which means the better the data.
9. Be Time Conscious
Make sure you're accounting for the time & day of the week. Some days on average will have more views than others and can alter the data. A good time frame is usually 14-21 days to run a test. Never exceed 42 days for a test. The only reason to go that long for a test is if you have 5+ variants for a test.
When it comes to testing, create a winning campaign/program by following the helpful tips & tricks above. If you're not testing, you're failing. To make the most of Justin's presentation, view or download his slides at the SLC | SEM SlideShare account