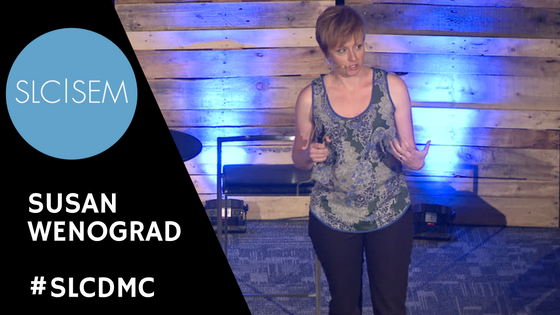 Susan Wenograd – Mastering the Tools and Tactics of Google Display
As the third speaker of the day, Susan Wenograd, Partner in Search Engine Marketing at Five Mill, Inc., spoke about how to master the tools and tactics of Google's Display Network. "Display advertising works," Wenograd began. "We're not spending money to just spend money. It works, if it's done right." Wenograd continued that the best way to take advantage of display advertising was to use two different types of ad targeting: by site and by people.
Site Focus
When display ads use a site focus, Wenograd gave 4 targeting areas that audiences can be reached through: topical, keyword, placement, and advertising.
Topical meant having ads on websites with relevant topics.
Keyword was targeting around 5 keywords to advertise.
Placement was finding a specific site to advertise on, but to be aware that you can't choose where you advertise on certain site.
Audience targeting uses defined audiences to market to.
People Focus
Focusing on people means to create an audience based on consumer behavior and knowing your audience. You don't want the same people seeing the same display ads over and over again. Depending on where the customer was in the process of the purchase would help you choose how to display advertising to get them to convert. One example Wenograd used was with E-commerce sites. Since they have customers with a more predictable behavior, she recommended using dynamic remarketing to maintain interest.
Getting Display Ads to Work
One constant thought Wenograd had throughout her session was that people always tell her that display advertising doesn't work. She touched on this area over and over stating that it did work, but not alone. In order to get the biggest benefit out of it, you needed to optimize the practice, and test it over and over again.
Lastly, Wenograd touched on using gmail ads as part of the people focus display marketing. Some of the tips she gave when using this technique was to:
Consider using coupon codes for cross device attribution.
Optimize to a cost per gmail click to website at first. Turn on conversion optimizer when you can.
Be prepared to periodically "rest" your audiences.
Have granular ad groups and utilize those layering options.
In order to make this work, Wenograd suggested that you needed to know WHERE, WHO, and WHAT your audience is and then you are able to "hyper-focus" on the customer's needs.
Watch the full session, below.