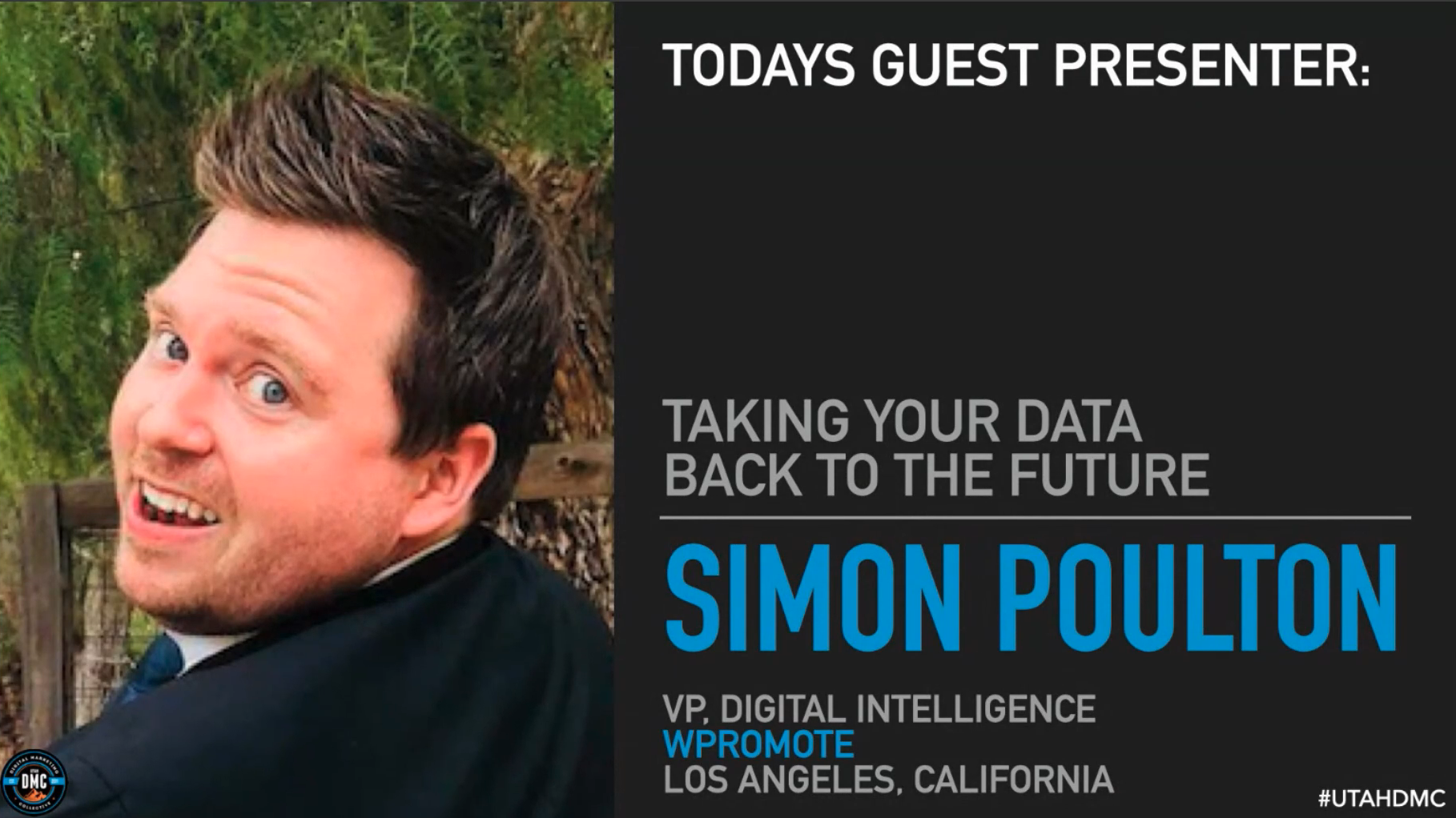 Cookies? Where we're going we won't need cookies!
The nature of data accessibility is changing. While the machine-learning driven algorithms have never been more powerful, we're losing access to the very data these algorithms need to adapt and optimize media performance. With various legislation being passed both globally, and at the state level, as well as the ongoing browser privacy wars, the future of our data has never been more uncertain.
Simon Poulton, VP, Digital Intelligence at Wpromote, joined us live on November 18th, 2020 to walk us through:
Why & how we should embrace a privacy-first future.
How recent changes have impacted attribution & media targeting today.
A vision for the future and understanding where the Browser wars will take us.
In his current role, Simon oversees the Analytics Development, Data Analysis, Data Science & Solution Architecture team. In this role, he sets the vision for the future of digital measurement and actively engages with business leaders to democratize digital marketing analytics allowing organizations to make confident data-backed decisions. He recently led the team focused on measurement for the launch of NBC's new streaming service, Peacock.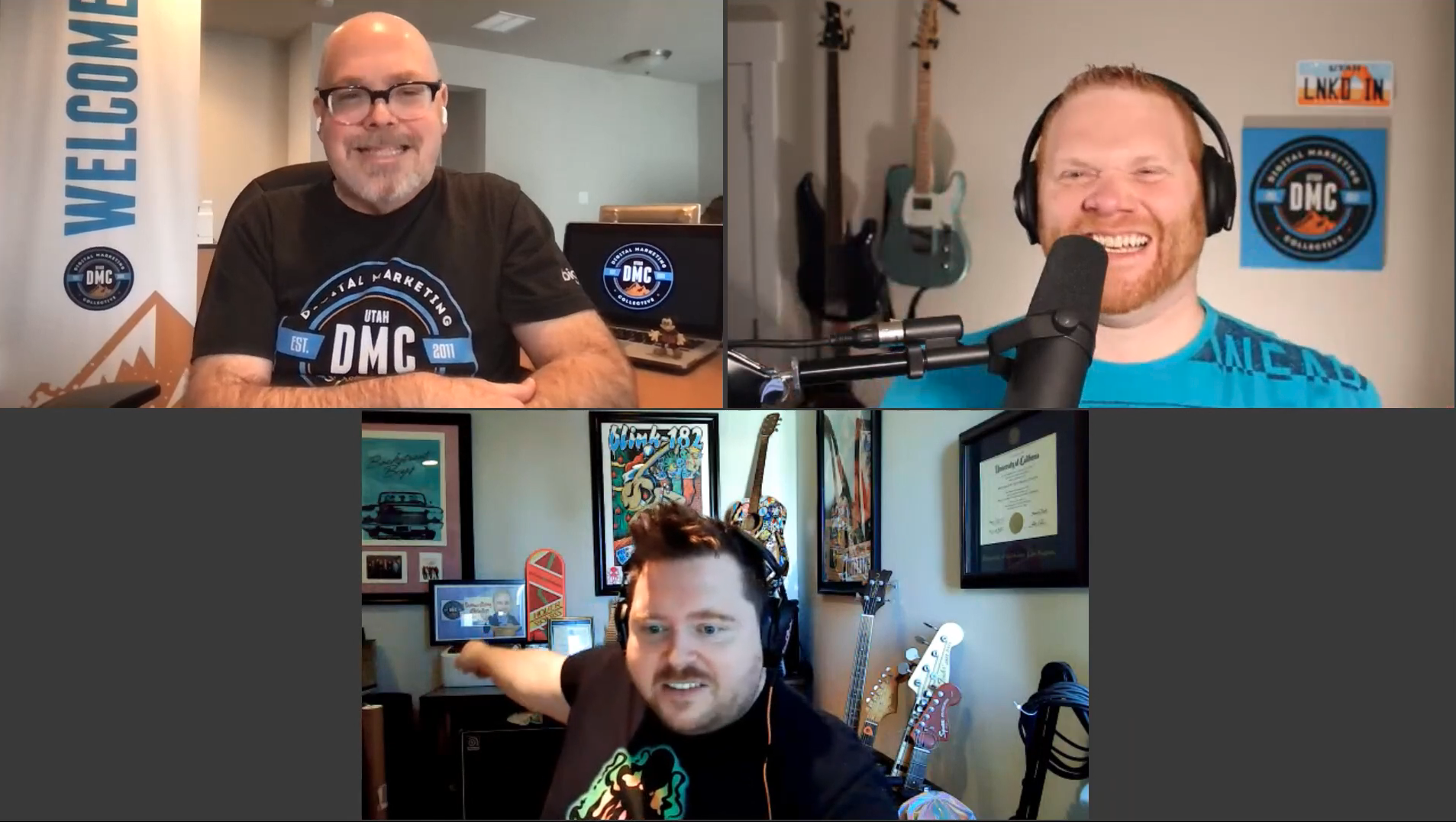 Taking Your Data Back To The Future
Online privacy has been a hot topic for a while now, but we are currently in the middle of a "privacy wave" pushing for less invasive tracking. Marketers have access to complex machine-learning driven algorithms to collect data, but access to that data is quickly going away. With new systems and legislation being implemented to protect individuals' privacy while using the internet, what does this mean for the future of digital marketing?
Safari recently released Intelligent Tracking Protection (ITP) 2.1 which purges most first-party cookies after seven days and blocks all third-party cookies by default. After this release, many marketers found themselves asking, "why is Safari taking away my data? Poulton instead suggested that "we [marketers] are the bad guys." He insisted that we created the privacy situation we are in by too often viewing our users simply as data points and trying to track them any way we can. Instead, we need to ask ourselves as a customer, "Is this what I want?"
The Browser Privacy Landscape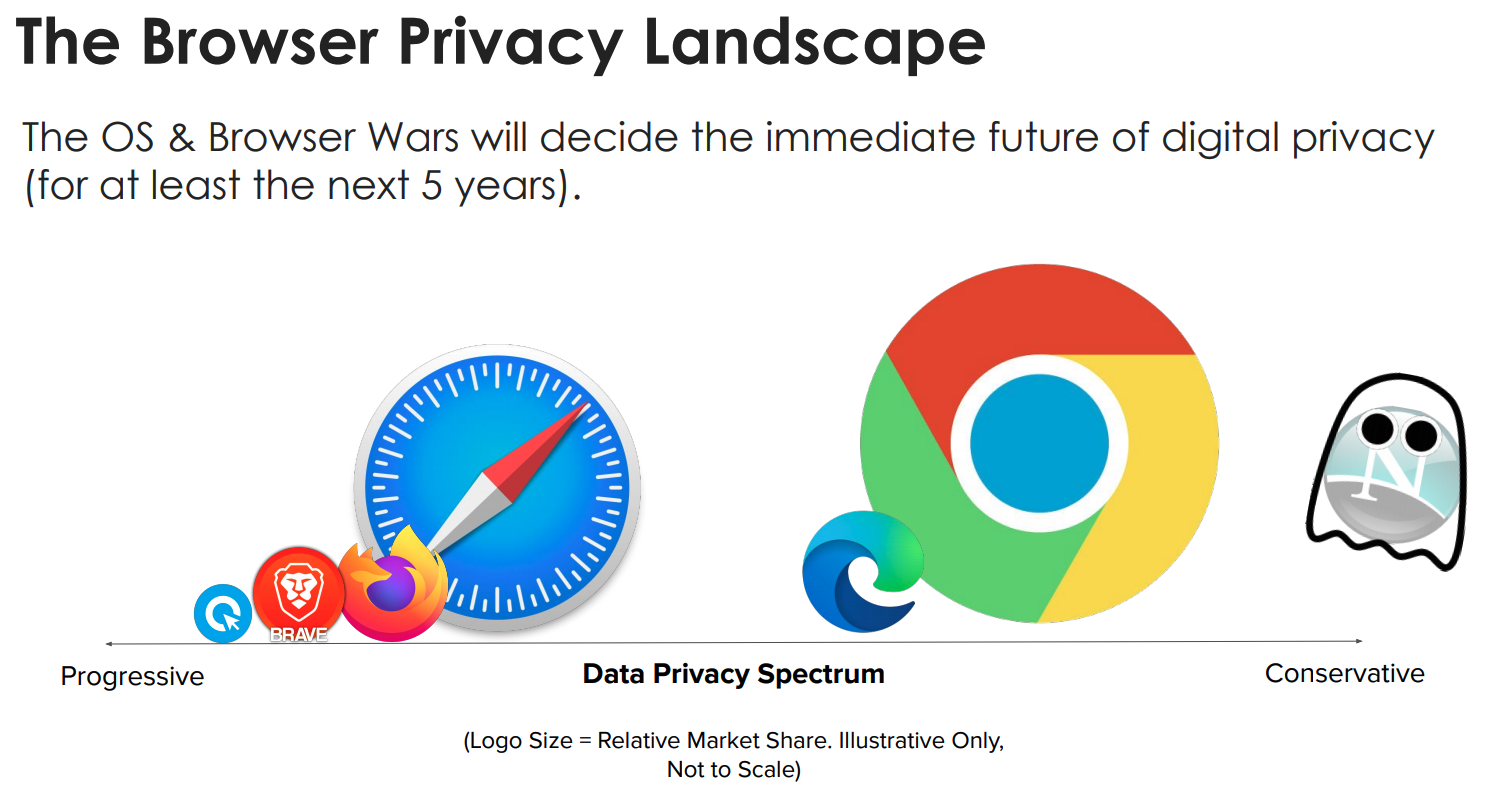 Not all web browsers have the same standards for user privacy. Each web browser falls in a different spot on the spectrum of privacy, ranging from "Progressive" to "Conservative." On the progressive side, there are browsers like Brave. By default, Brave blocks all ads and trackers.
On the other side of the spectrum is what Poulton referred to as "the ghost of Netscape" which was founded in the mid-'90s. Netscape is the company that invented the cookie, however, it was not designed to be used in the manner that it is currently being used with more invasive tracking. The rest of the browsers that we all use every day fall somewhere in-between. Safari and Firefox fall more on the progressive side, with Chrome and Edge more towards "middle-conservative."
Predicting the Future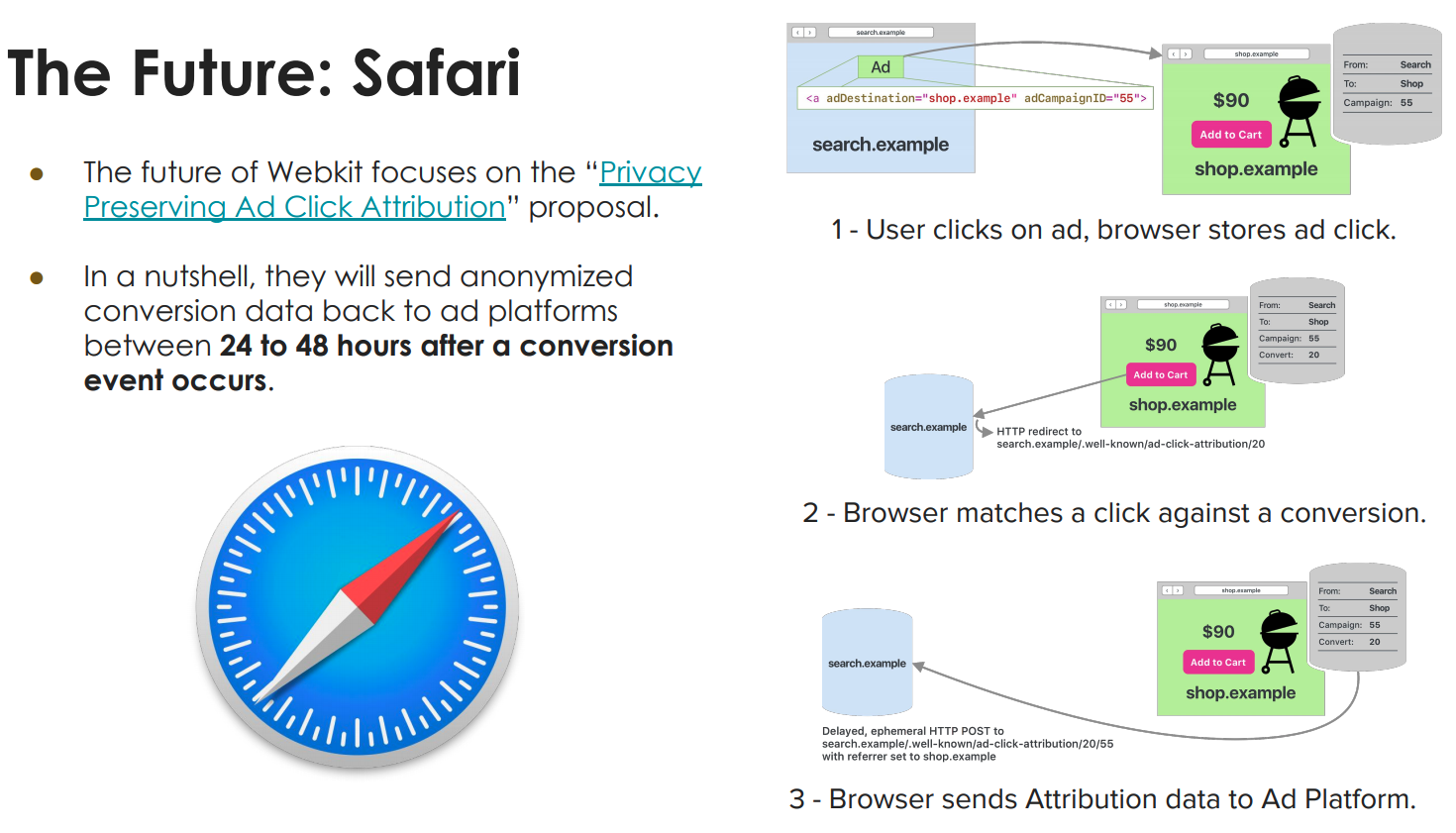 For some time now, Poulton argues, many companies and browsers simply ignored "Do Not Track" so Apple decided to take things into their own hands. They created various cross-domain tracker blocking solutions designed to protect user privacy. As mentioned earlier, this will purge most first-party cookies after 7 days, and block all third-party cookies by default.
Additionally, Poulton predicts that within 12 months, Safari will implement the "Privacy-Preserving Ad Click Attribution Proposal" which will send anonymized conversion data back to ad platforms between 24-48 hours after a conversion event occurs. This would create new challenges for marketers because they will lose time-specific conversion data and they will also lose the ability to "quickly adapt and change marketing campaigns because [they] aren't getting that data as consistently."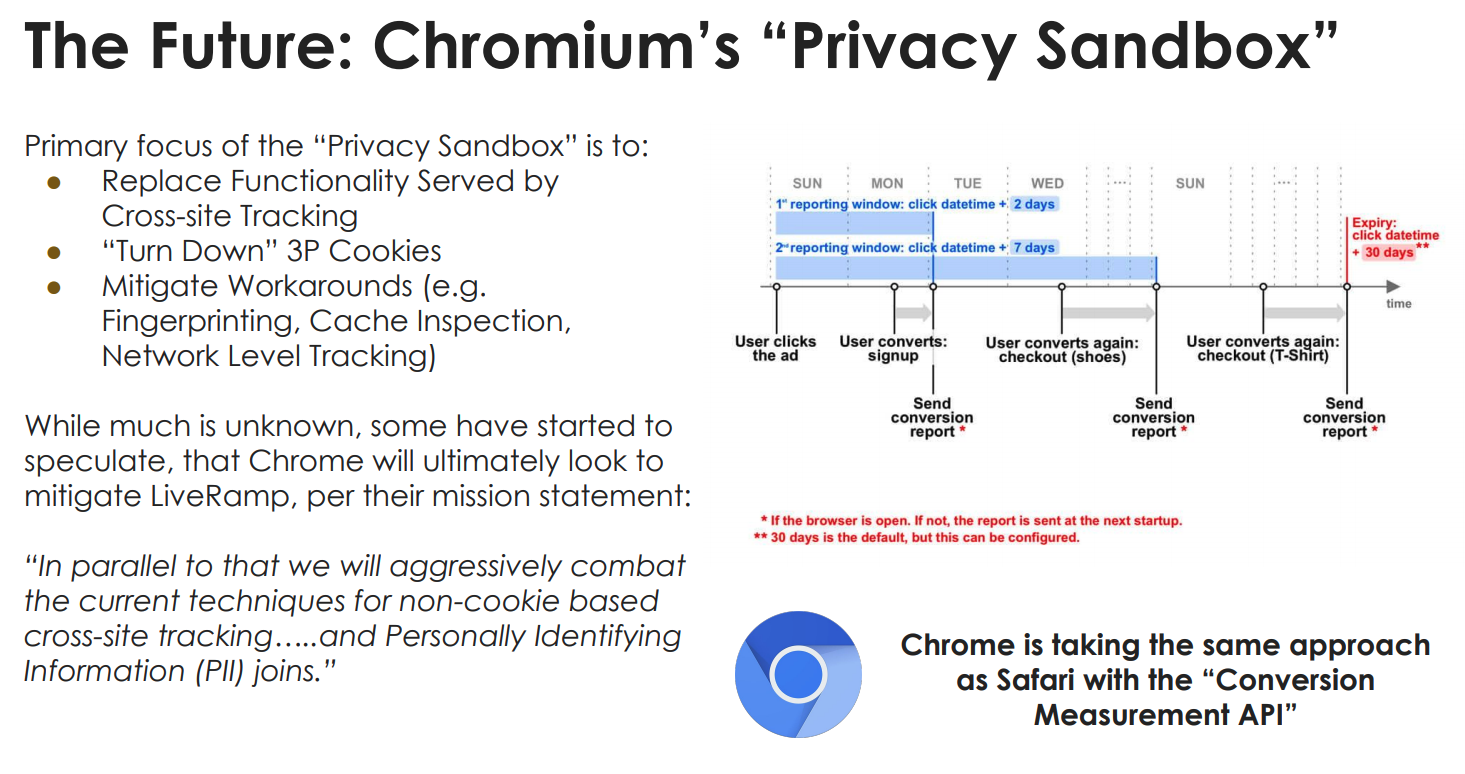 Chrome is now also taking a similar approach to Safari with Conversion Measurement API. The Chrome "Privacy Sandbox" replaces functionality served by cross-site tracking, turns down third party cookies, and mitigates workarounds with things such as fingerprinting, cache inspection, network-level tracking, etc.
What Can Marketers Do?
The ongoing privacy wars and changing landscape will inevitably create problems for marketers. So what can you do to respond and adapt? Here are Simon's key takeaways:
Key Takeaways
Shorter Attribution Look-Back Windows: 7-days for platform attribution is recommended when possible.
Signal Resilience: Server-side tracking will help you maintain signal resilience as more ID persistence solutions are implemented by browsers. (Bonus points for getting users to log-in to create persistent IDs.)
Measurement Narrative: Speak with your stakeholders about what is happening, and avoid extremely granular measurement. It will not be accurate.

Look at your data with a little bit of skepticism.

Embrace Privacy: Stop looking for a bandage, and start putting yourself in your user's shoes. Build trust as part of your brand's DNA.
Poulton argues that brands who embrace and value privacy before they are forced to with new legislation will likely gain more brand trust from their consumers and in turn be more likely to succeed in the future. He urged everyone to embrace new forms of measurement and always be questioning if there is a better way to measure an outcome.
He finished by saying that while it can be scary and different than what we're used to if we do not embrace the future, we will fail. The worst choice is to sit back and do nothing. Instead, marketers should go all-in and embrace the future.
---
Be sure to connect with Simon on Twitter, LinkedIn or his company website, WPromote.
If you couldn't make this event live, you can see the replay below. Towards the end of the video, there was a great Q&A session where Simon answered viewer submitted questions as well. In the attachment section of the replay, you can also access the full deck that Simon used during his presentation.
Be sure to check out and register for all of our upcoming DMC online events (and watch all the past ones too). We have events planned twice a month through the end of 2020. We hope to see you there!
---
---
Want More Detail? Enjoy The Replay Below!