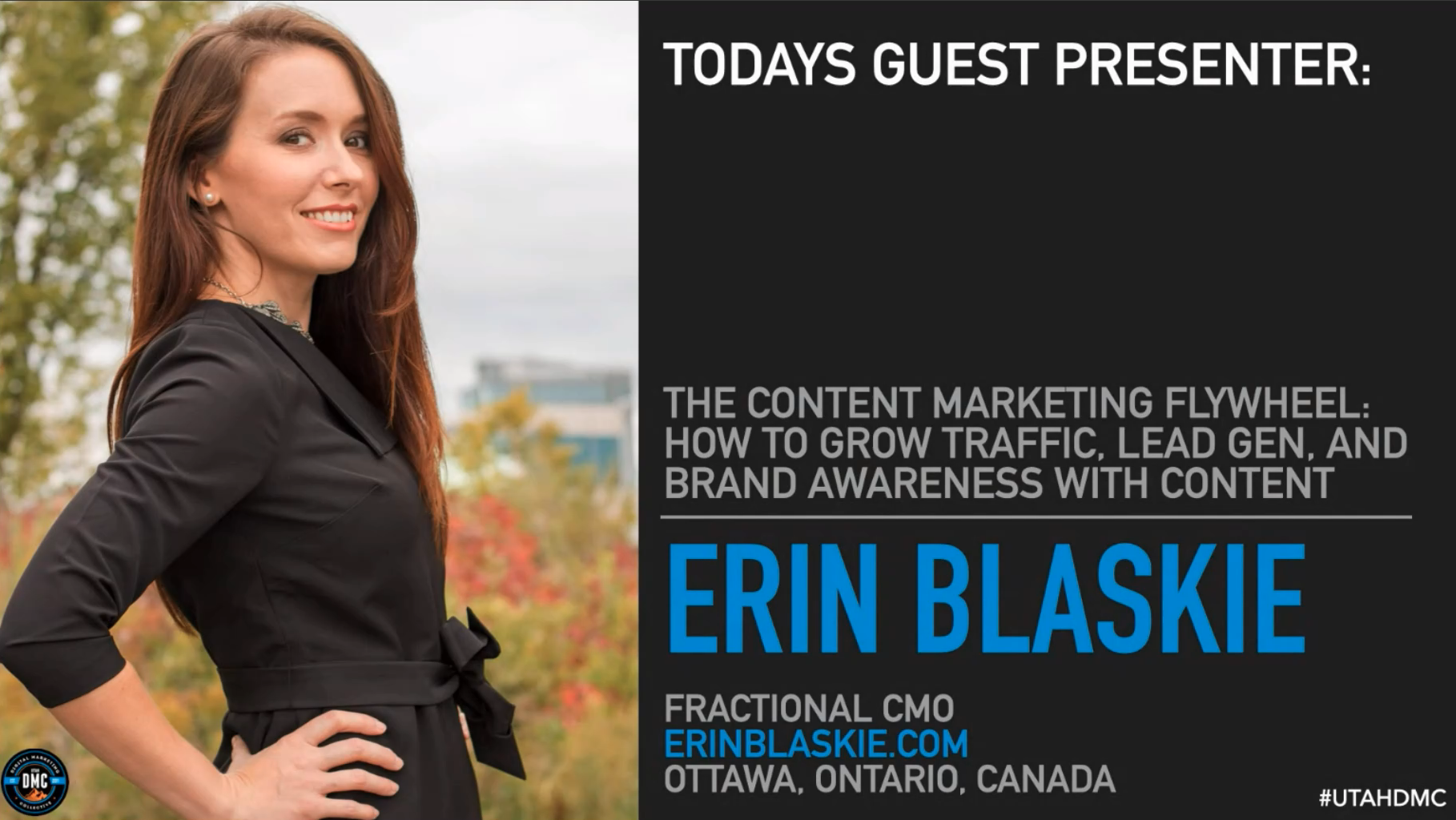 Our Guest Presenter: Erin Blaskie
The February 24th, 2021 Utah DMC live online event featured Erin Blaskie. Erin is a fractional CMO and marketing advisor to startups and scale-ups, with nearly 20 years of experience.

Erin launched her company in 2004 and spent nearly 15 years working with scale-ups in Silicon Valley and growing the personal brands of best-selling authors, speakers, and actors. Erin also spent some time working in a B2B SaaS accelerator before joining the startup Fellow, as their first head of marketing hire.

Today, Erin is back to her fractional CMO roots, working with high-growth companies and teaching the next wave of digital marketing professionals.
Doc and AJ had a blast on this live broadcast with Erin, and now we are thrilled to share the opportunity for you to learn from Erin in this recap and event replay. (Note: This post is a high-level recap. At the end of this post you can watch the entire replay of the event with audience Q&A, as well as download her full presentation deck.)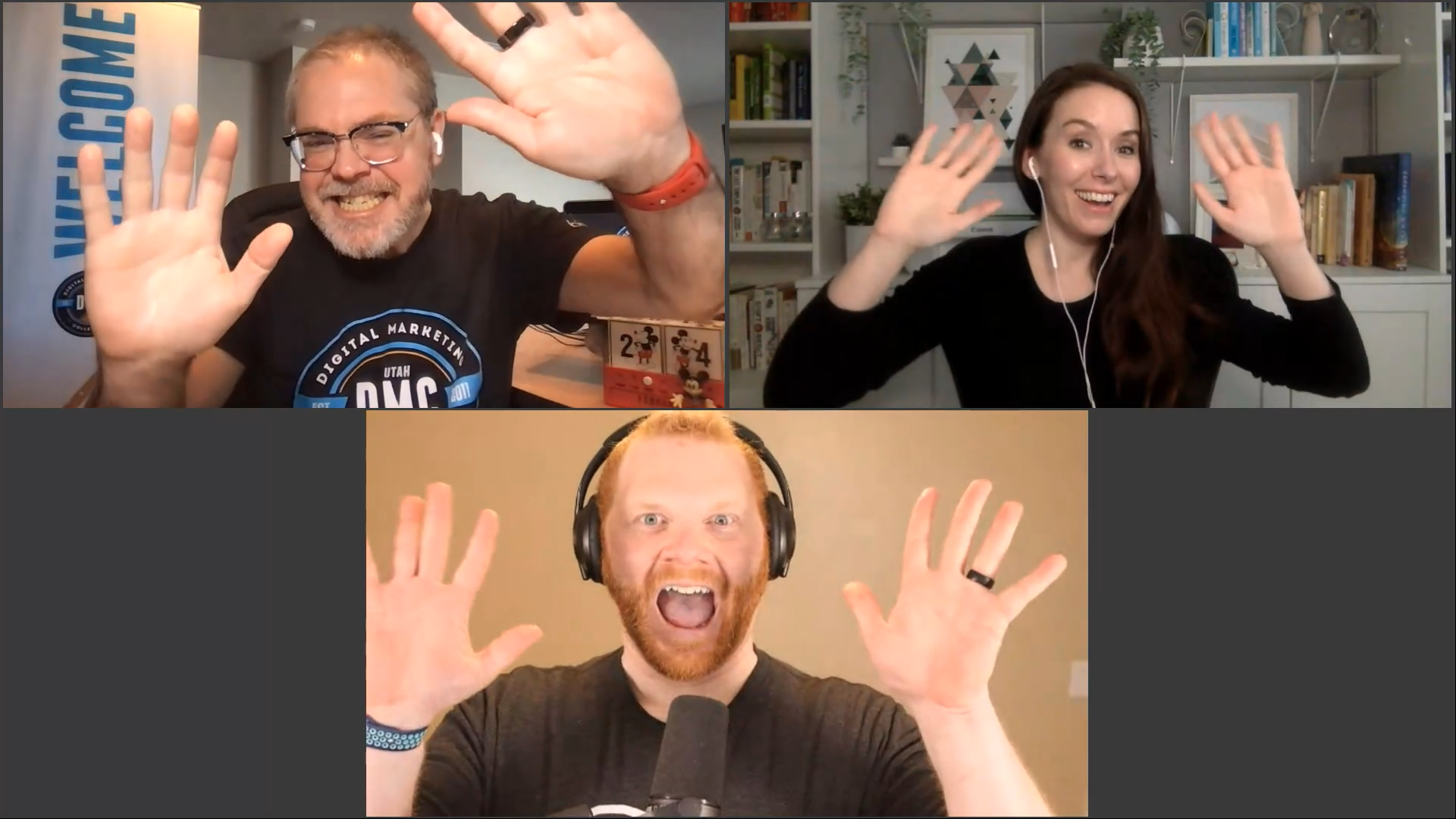 What the content marketing flywheel is and how you can implement it (even with a small team!)
Content marketing is undergoing a revolution. The old method of content marketing was the following:
The "Old" method:
Create content
Publish content
Distribute content
Never look at it or share it again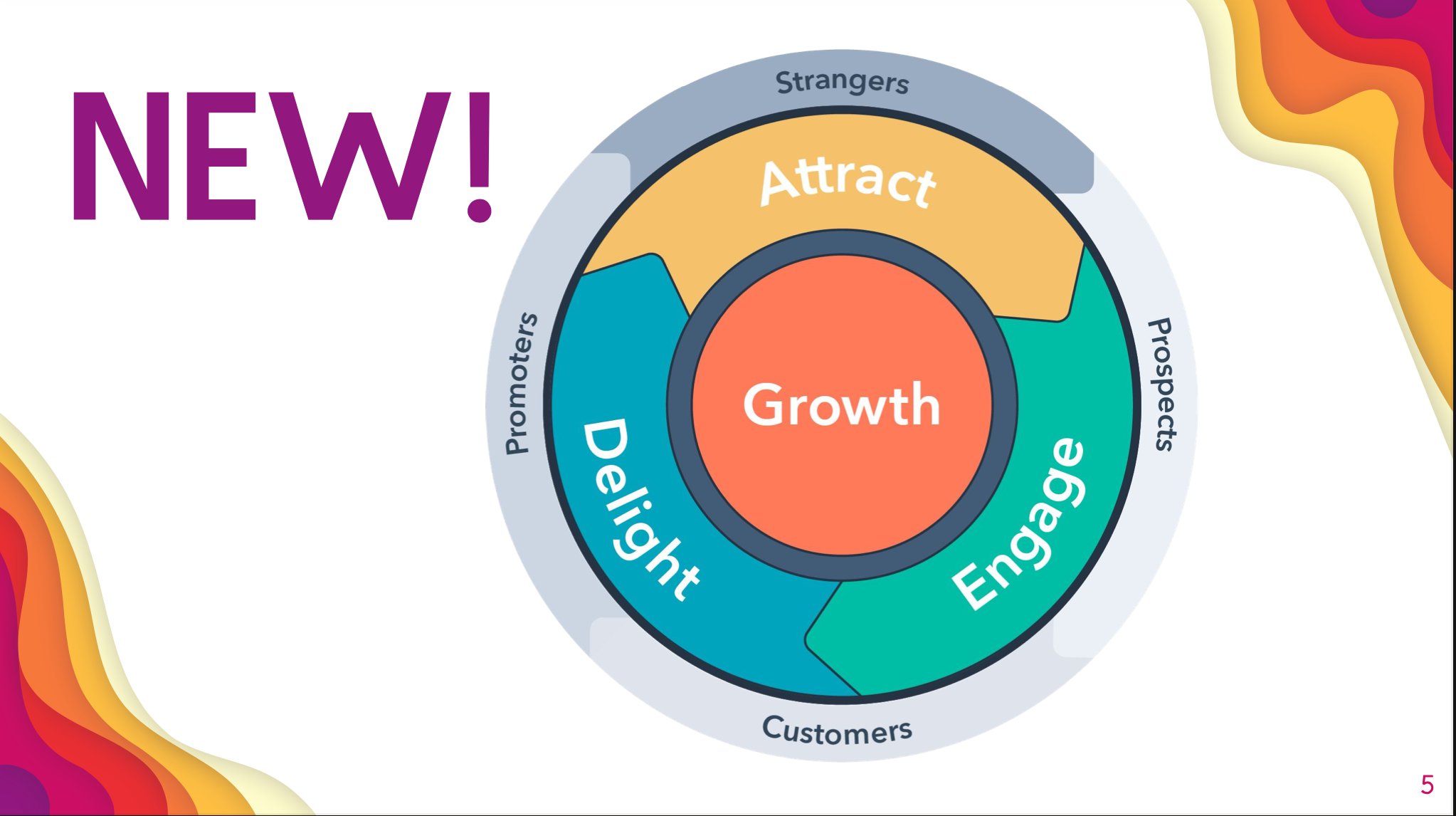 The NEW method of Content Marketing is called the Flywheel (pictured above). The new model's focus is to think about the purpose of your content. We still use the funnel, but Hubspot introduced the flywheel a few years ago, and it's a new and improved version. This method will best be used with Evergreen content that is not attached to date-bound information.
New method:
Optimize content for lead generation
Create smart, "halo effect" content
Publish content on a variety of mediums
Distribute content alongside partners and your internal team
Write/create multiple updates to re-distribute content over and over
Before you begin with the content flywheel, you'll want to start with these steps:
Choose your channels wisely (Do you need to be everywhere? Be selective about where you show up)
Think about your content in pillars
Catalog everything you have today
Think about your schedule and availability
Make a list of your dream customers or clients
How to repurpose your content without copying and pasting it all over the Internet
Erin suggests that every piece of content should have an action attached to it. Utilize templates, in-line CTAs, and site CTAs. A few types of sharable content that you should include are infographics, product-related content, and sharing data.
Doodle uses a great strategy called "state of" blog posts. These posts focus on a certain type of industry topic, in this case, meetings. This strategy allows them to keep producing content of a similar topic and keep readers up to date. You can also get quoted in the media, people may use your infographics, and you could get included in other blogs.
When we are using the flywheel, the main purpose is to repurpose content. A few helpful tools that Erin suggests are: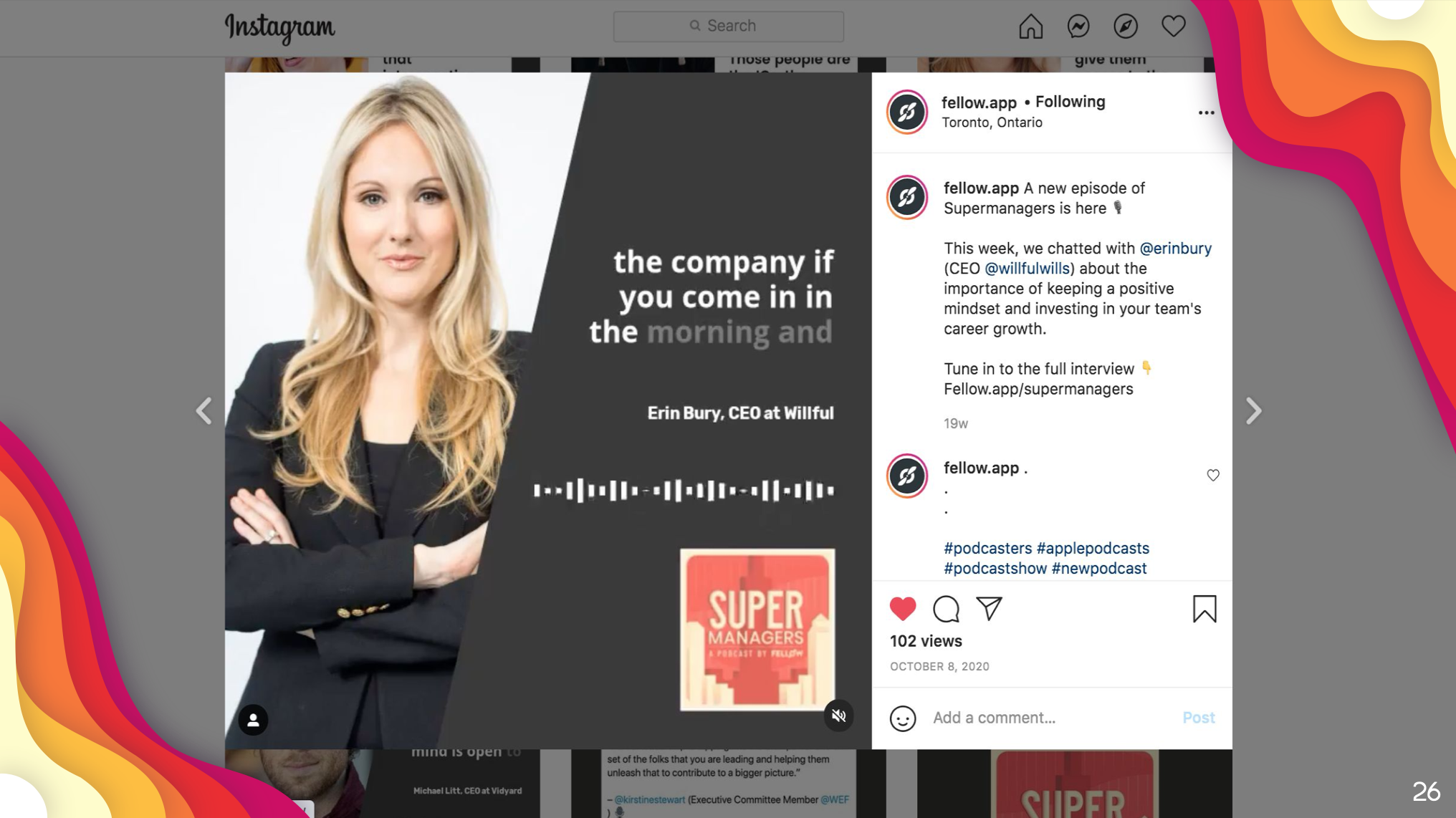 Why you need to think about community-building alongside your content
A strong strategy when it comes to content marketing and the flywheel is the "network effect." Think about types of content for your own space or industry that pulls in a lot of other people in the community within the post. You should simply reach out to individuals and request a quote, then add some of your own content around it. The people who were quoted in this article will then reshare with their networks.
This is a great strategy when you're just starting out and still growing, since you likely won't have a big budget. Gong has a great example of this strategy here.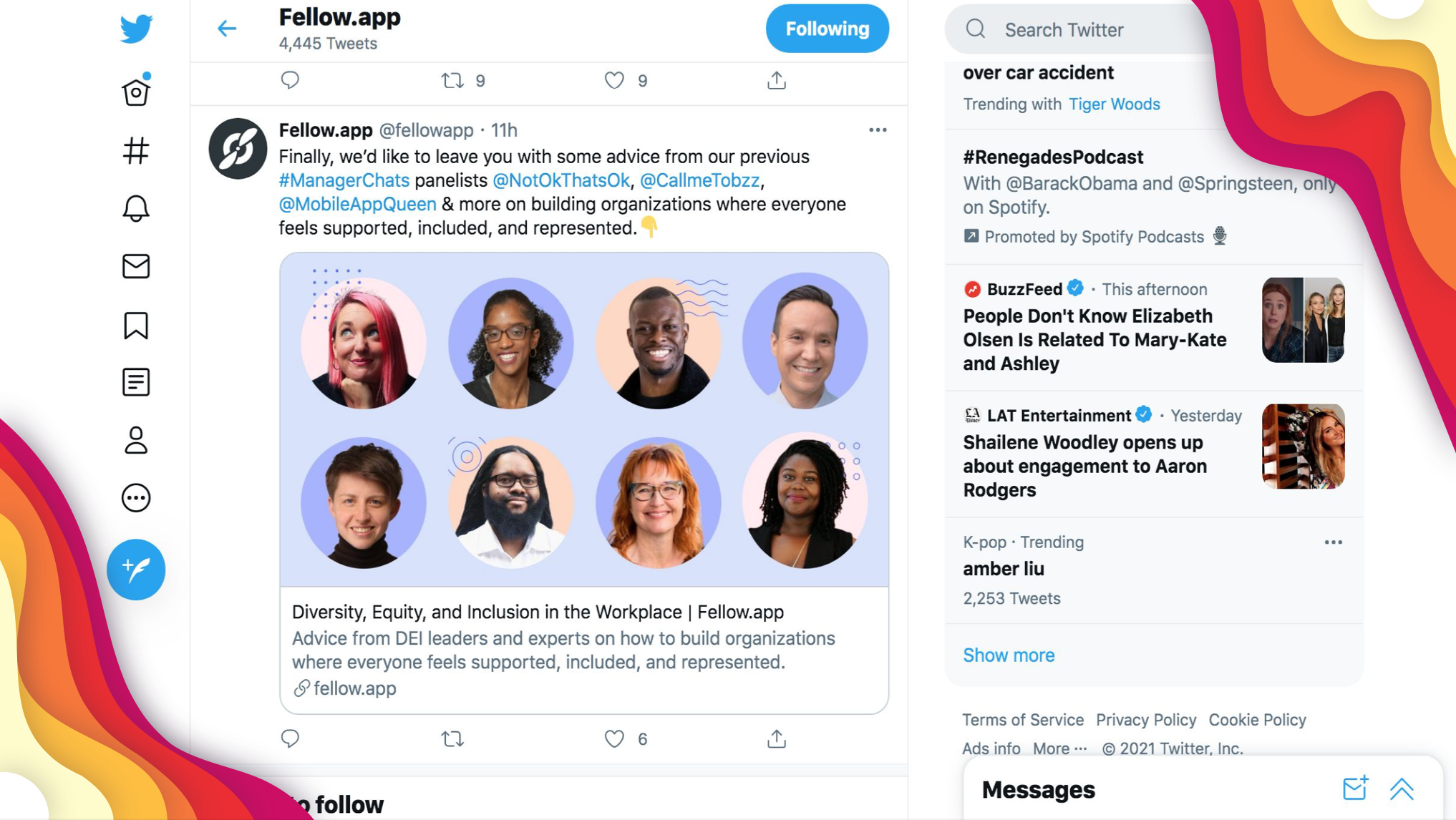 How to use the "halo effect" to elevate your brand
Another strategy we can use with our content marketing flywheel is the "smart" or "halo" effect for visibility. Bring in the network effect to your content by using data-driven content. This type of content is more likely to get picked up by the media, quoted in other blogs, and generate backlinks.
Interviewing the people you want as customers can be a great way to get on their radar and leverage their network when they share the piece. Ask yourself, "Who can help amplify this?" and get them involved in the content.
Erin's method of everything feeding into each other she refers to the "Better System."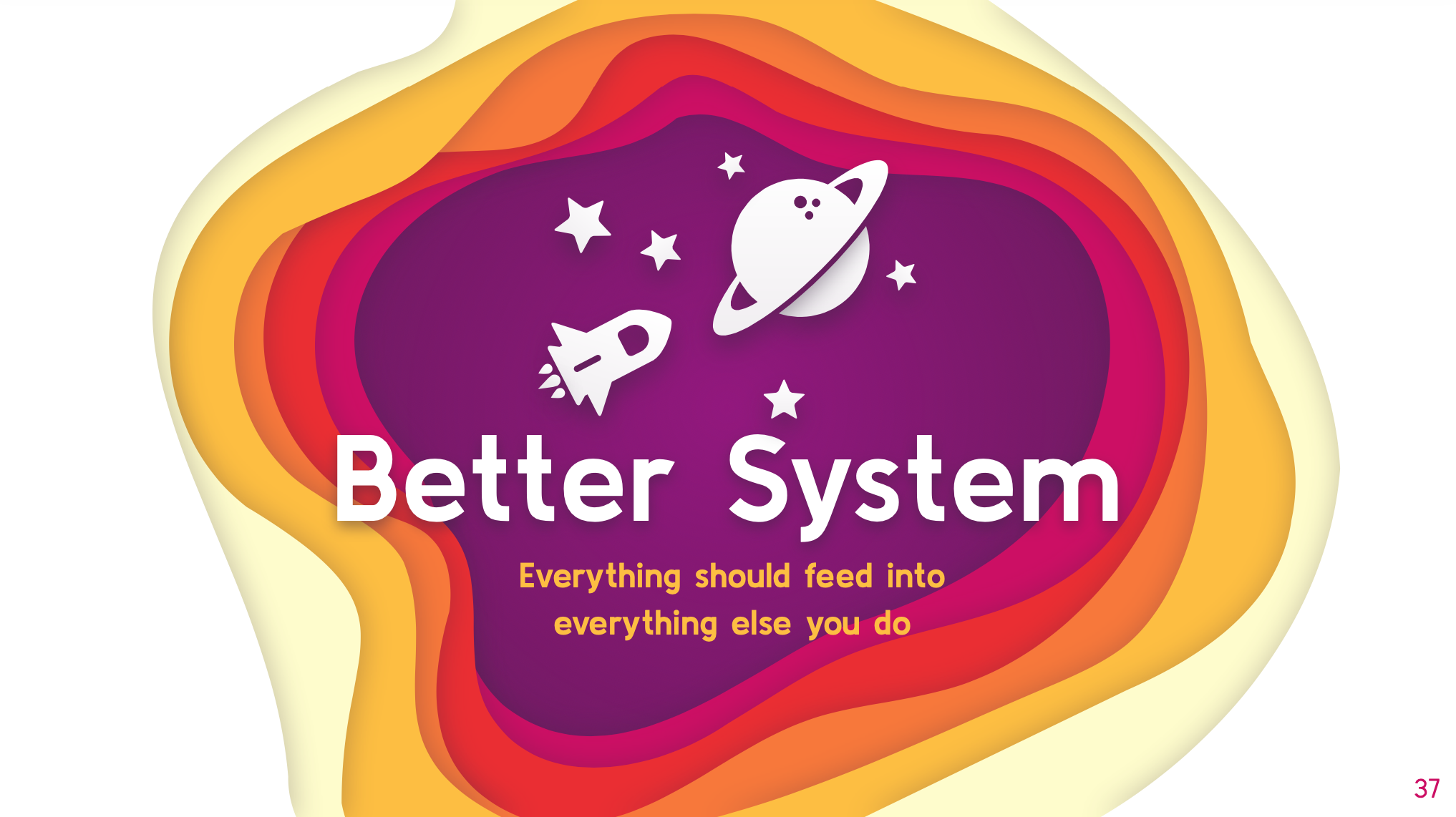 Here are 9 ideas Erin discussed that will help you not only create, but repurpose your content. Everything should feed into everything else you do.
Twitter chats
She held a monthly Twitter chat on a variety of topics with 20-30 SME panelists who had large networks of their own


Podcasts
With top-tier panelists, she'd invite them to be guests on their podcast


Blog Posts
She'd then turn the Twitter chat responses into round-up blogs and share the podcast transcripts on the blog


Social Media
She'd then take the blogs and share them on social with a link, create a Twitter thread, and share podcasts as audio or video snippets


Newsletter
The newsletter would feature a round-up of blog posts and podcasts - some of those were theirs and some others - this improved distribution


Video
She'd then take the blog posts and turn those into scripts for videos for our YouTube channel, the video would get embedded back in the post


Ebook
Blog posts would then be grouped together, edited for flow, and turned into ebooks or whitepapers


Product Hunt
All of our ebooks would then be launched on Product Hunt and we would use the feedback from that launch for social proof (and to drive more leads!)


Email Marketing
After signing up for an ebook, leads would receive an email marketing funnel that was 80% value-based and included links to content: blogs, podcasts, videos, etc.
If you couldn't make this event live, you can see the replay below. Towards the end of the presentation there was a great Q&A session where Erin answered viewer submitted questions as well.
Lastly, be sure to connect with Erin on Twitter, LinkedIn or her website ErinBlaskie.com
---
Explore our blog for more event recaps, and be sure to check out our DMC Online Events page to see all of our past and future digital marketing online events.
---
Ready To Watch This Full Event On-Demand?