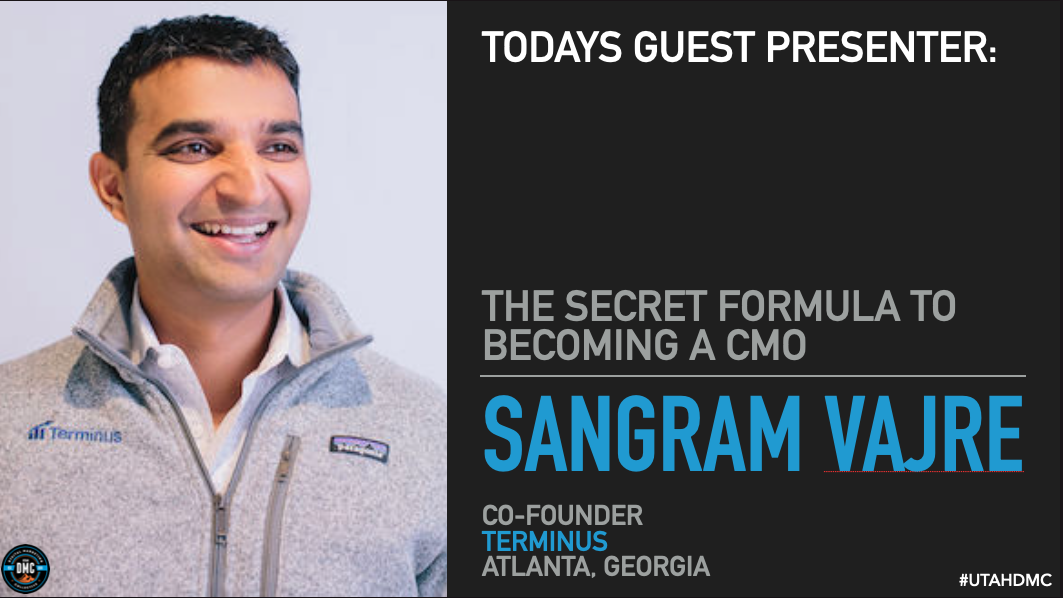 With the ever-changing and developing world of marketing, Sangram Vajre explores what it takes to become a Chief Marketing Officer (CMO). With his developed and comprehensive formula, Vajre provides insight into how marketers can better understand themselves and their path to becoming a CMO.
Sangram Vajre is the co-founder of Terminus and the author of his first book on account-based marketing (ABM), in addition to being the co-author of his most recent book ABM is B2B. Vajre is known for creating more than 100,000 jobs with "ABM" as a skillset, solidifying himself as an "evangelist" and expert on ABM.
In 2014, he founded the FlipMyFunnel Community to foster a place of engagement and learning for B2B marketing and sales innovators to develop and learn from their peers within the community. In addition to his astounding work and expertise, Vajre is also the host of the FlipMyFunnel podcast, with 100,000 subscribers and climbing.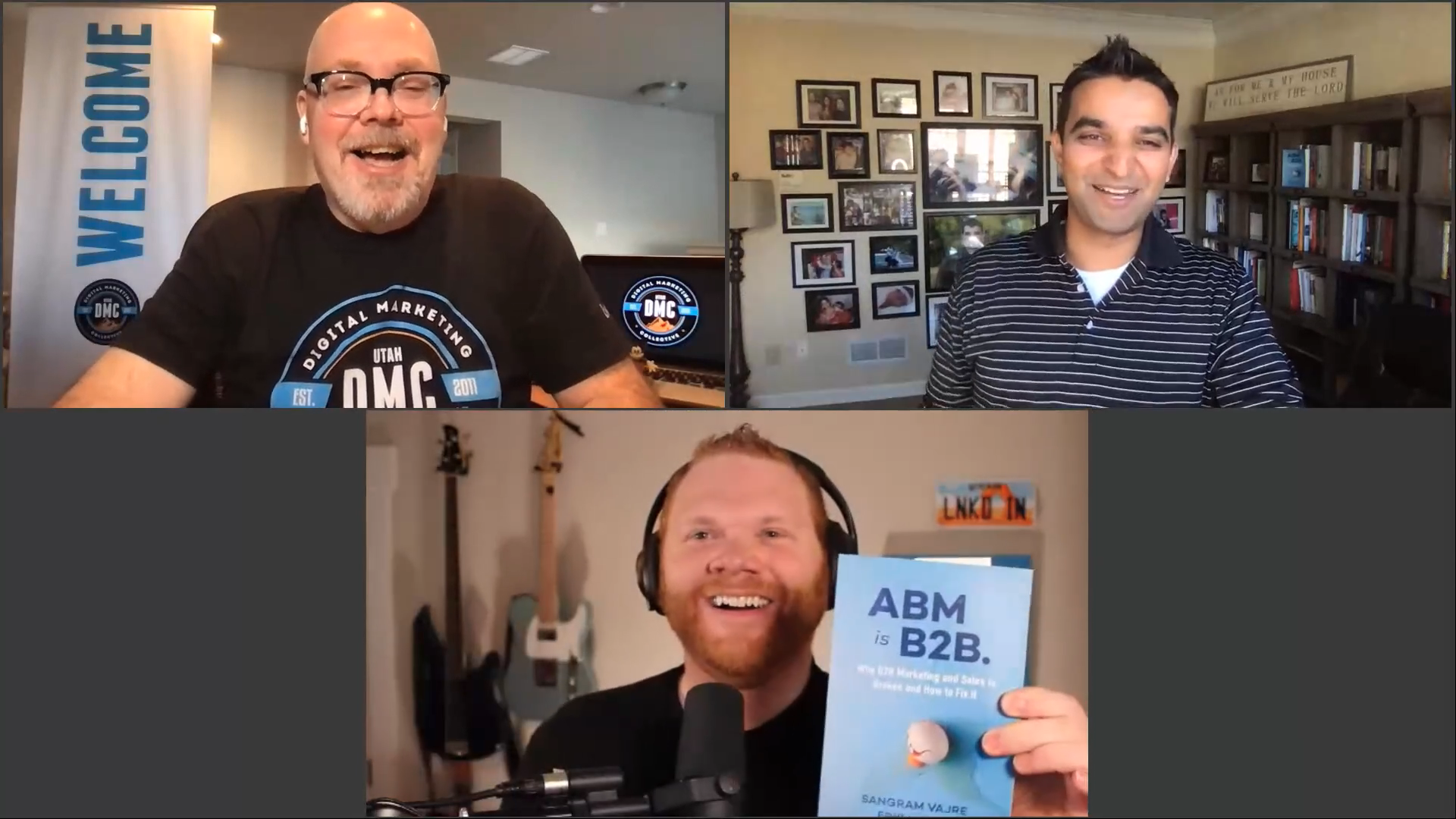 The Secret Formula to Becoming a CMO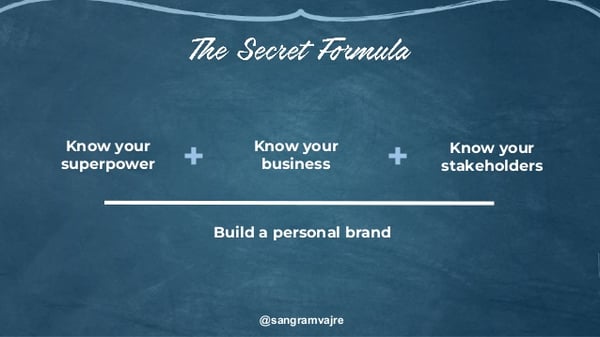 With less than 1% of marketing professionals having a shot at becoming a CMO, it's crucial to understand how individuals can shape their creative edge to get there. The formula for becoming a CMO, as described by Vajre, is to know your superpower, your business, and your stakeholders, utilizing each to build your personal brand.
Know Your Superpower
There are three categories of "superpowers" that can be found within the workplace: dreamer, driver, and doer. Understanding your superpower allows you to be good at something, instead of being average by being good at everything, along with working well in your team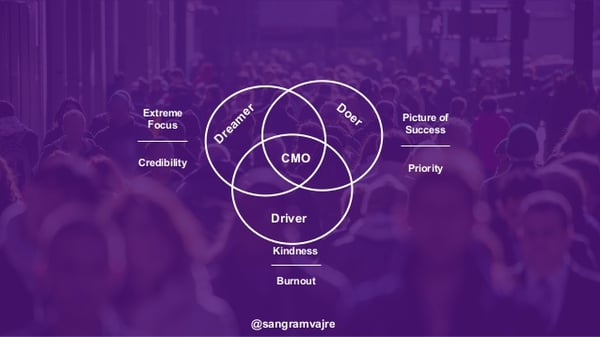 Are You A Dreamer?
Individuals with the dreamer superpower have countless ideas/dreams they want to accomplish, often thinking of more ideas throughout the day. The challenge for a dreamer is losing focus and credibility by having too many ideas and areas they want to pursue. To overcome this challenge, dreamers must pick one idea to focus on and execute.
Are You A Doer?
The doer superpower regards getting things done. People who are doers are highly trusted, work hard, focus, and ensure tasks and projects are completed. The challenge for a doer is the lack of prioritization with the inability to say no. In overcoming this challenge, doers must understand the "why" behind the tasks and projects they are completing. This provides greater insight into the effectiveness of their work and the benefit they are providing.
Are You A Driver?
People who move things forward, faster are known as drivers. Drivers often emphasize efficiency and work to ensure things are developing and tasks are where they should be. This creates the challenge of burnout and lack of kindness for oneself. Drivers must take a step back for self-evaluation, providing credit where necessary, and learn how to avoid overworking.
These three superpowers play a crucial role in understanding who you are as a leader and a team player. This also creates the foundation for understanding your team and how you can effectively work together.
Know Your Business
There are three components that make up knowing your business: storytelling, metrics, and team. When these three are combined, you can have a greater understanding of your business and the role you play in helping your business be successful.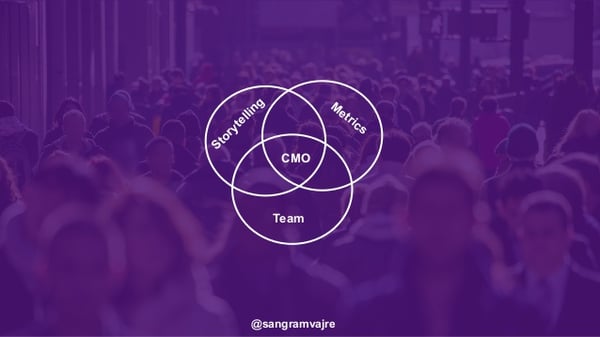 With storytelling, you must be able to effectively tell the story of your company, having increased insight into your company and its success.
The next component is metrics, and understanding your company's metrics, specifically how they are calculated and what they are informing on, allows you to understand how you can efficiently help in a CMO role.
The last dimension is the team. Knowing your place within your team and how you work together sets the foundation for future success in becoming and succeeding as a CMO.
It is important to recognize your strengths and weaknesses within these areas and find ways you can improve to advance to where you want to be.
Know Your Stakeholders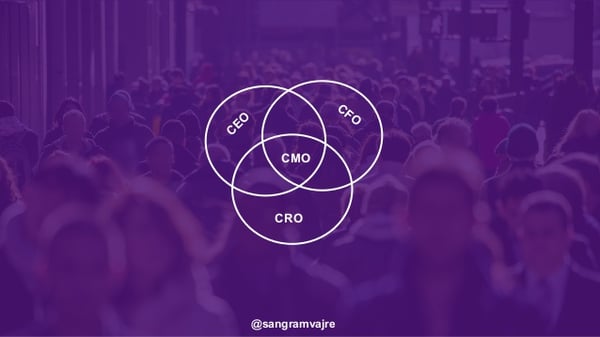 While stakeholders is a broad subject, Vajre highlights three specific stakeholders that have an impact on your chances of becoming a CMO. Your CEO, CFO, and CRO play a crucial role in helping guide you through your position and growth as a CMO and can heavily influence your success.
While each stakeholder is responsible for different aspects of the company, it is important to leverage relationships with each to ensure you are not cutting yourself short. Making sure you are clear and understood by these three will allow for greater trust and success within your role. If you are lacking trust and/or a solid relationship with any of these individuals, take the time to build a plan to change what you feel is necessary.
Building relationships outside of your team and department also creates greater trust for yourself within the company and can prove beneficial if/when you need something.
Build Your Personal Brand
Building your personal brand is the summation of the previous three points within the CMO formula. You cannot allow yourself to become complacent and overlook each aspect of the formula, settling for something less that might cost you in the long run.
You become invisible to people if you are unaware of what you stand for and what you are good at; you must recognize where your weak points are and utilize your team and resources to overcome your challenges to avoid being invisible. You must establish what you are good at and known for, working to highlight these areas to make yourself stand out.
To become a CMO, and get to any place you want to be in your career, you must have initiative and drive. You have to be willing to work for it, being honest with yourself and those around you. The formula is in place to help guide you, being a tool for insight and self-reflection, generating thought-provoking ideas about yourself and your company.
Watch The Replay + Get The Deck from Sangram
Note: This event was more of a discussion than a traditional presentation with slides. This recap does cover many points of the talk, but we highly suggest that you watch the full replay at the bottom of this post to get all of the nuggets that Sangram shared, as well as all of the great questions that were answered during the Q&A session towards the end.
Also, during the presentation, we shared a text code that you can use to get access to a deck based on this presentation. If you would like to get access to this deck, and learn more about his CMO group, you can Text CMO to 33777 and Sangram will send you these slides and worksheets. Find a community to become 1% better each week.. Alternatively, if you would lust like quick access to the deck, you can click here.
---
Be sure to connect with Sangram on Twitter, LinkedIn or his personal website.
If you couldn't make this event live, you can see the replay below. Towards the end of the video, there was a great Q&A session where Sangram answered viewer submitted questions as well.
To read more of our recaps and professional insight, explore our blog, and be sure to check out our DMC Online Events page to see future and past webinars from our amazing community.
---
---
Want More Detail? Enjoy The Replay Below!