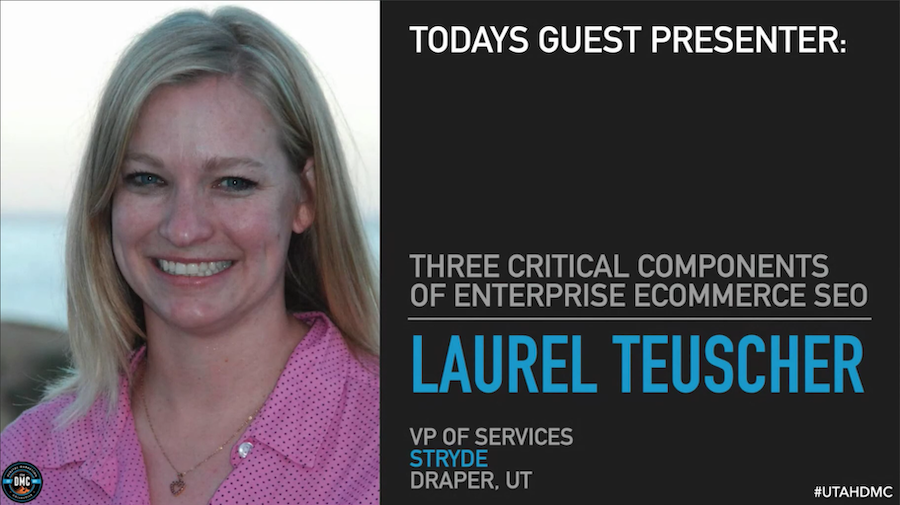 An Enterprise eCommerce website is an online store that sells products. The company that runs the website is often a bigger brand name with major brand loyalty, like Nike or Coca-Cola.
Some people think a large number of webpages, usually a thousand or more, means an eCommerce website is at an Enterprise level. However, this form of classification negates the brand recognition and authority that Enterprise websites usually have.
So what's the best way to tackle these kinds of optimization efforts? Through small, incremental changes. Laurel Teuscher from Stryde, shared three steps to do this.

Component #1 - Basic SEO Tasks
Since you can't make those big changes right away, start with the basics. These basic SEO practices are things like:
Title Tags
Meta Descriptions
Heading Tags
These SEO efforts are often seen as the long-game; you'll see the fruits of your effort after about 3 or four months. However, with Enterprise websites, their brand authority means a newly optimized page will rank in a matter of weeks.
Starting with the basics, however, can be tedious. So, Teuscher suggests scaling your content needs by following these four steps:
Four Steps of Scaling
Identify categories and products for each season of the year. Work 3-4 months ahead of the season.
Review keywords and look for what they ranked for in the past and whether or not the searcher intent has changed.
Check the SERP to review competitors and their new tactics and new types of content being created.
Optimize. This is where it can get tedious. Teuscher recommends using a template so your SEO specialists know what information they need to include.
Component #2 - Content
Most Enterprise stores have a blog that's full of a huge number of high-ranking, quality content. But while these blogs may have a lot of high-ranking content, only a few actually get any organic traffic.
Combine existing articles to make longer, more robust content. Build out more authoritative articles that give the reader more information about a topic or product than they could ever ask for.
You should also include anchor text or CTA buttons in your articles to help consumers travel down the sales funnel. The next step of the customer journey should be blatantly obvious.
Component #3 - Technical SEO
Technical SEO can be challenging because of the amount of knowledge and analytics you need to complete, but it's crucial to bring your SEO game to a competitive level.
Technical SEO comes down to two important metrics:
Crawlability: Can search engines crawl your website?
Indexability: Can search engines index your pages?
Search engines only have a certain amount of pages they can crawl and index in a given amount of time. You can help search engines find your important pages by reducing duplicate pages, and checking for broken links.
Teuscher labels these technical optimization techniques as "getting consistent." This is a checklist of how to do that:
Robots.txt File: This is super helpful for robust websites that need more web crawlers coming their way. However, one wrong line of code can make crawlers unable to read anything on it.
Sitemap: This is a list of pages on your website. You want your most important pages (category pages and product descriptions) on your site map, no duplicate pages or canonicals.
Main Navigation: Check that your main navigation links don't bring people to pages that have no index.
Metadirectives: These inform crawlers how to crawl and index your webpage. Don't try to play around with these very much if you don't have a lot of experience.
Involving Stakeholders
When working on an Enterprise website, you have to appease stakeholders. They often won't see a need to make these optimization changes until there is a serious need for it. So, you need to be able to frame SEO issues towards a measurement they're focusing on. For example, if they care about user experience, you can show how SEO is meant to help their customers.
Overall, Laurel Teuscher gave incredibly valuable insights on how to better manage Enterprise websites. With these tips, your major clients will see the slow, steady, and impressive growth that comes from incremental SEO improvements.
Be sure to connect with Laurel on Twitter, LinkedIn or her company website, Stryde.
---
If you couldn't make this event live, you can see the replay below. Towards the end of the video, there was a great Q&A session where Laurel answered viewer submitted questions as well.
Be sure to check out and register for all of our upcoming DMC online events (and watch all the past ones too). We have events planned twice a month through the end of 2020. We hope to see you there!
---
Want More Detail? Enjoy The Replay Below!