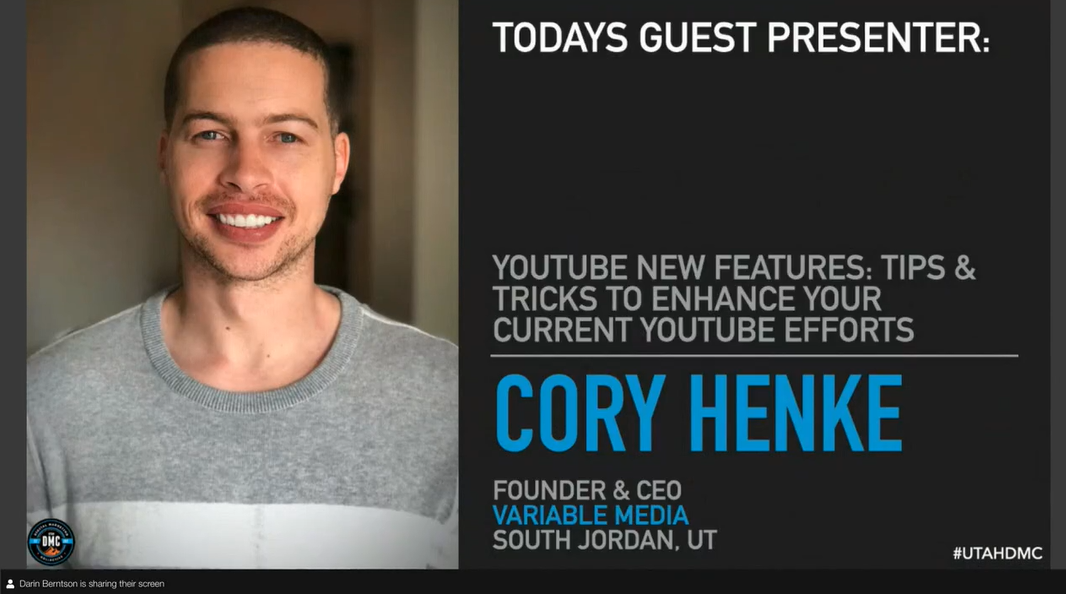 Cory Henke, from Variable Media, joined us on July 15th, 2020 for an Utah DMC online event entitled, YouTube New Features: Tips & Tricks to Enhance Your Current Efforts.
YouTube has some awesome new tools to help you boost your video ad efforts. Cory based his presentation on the following three features: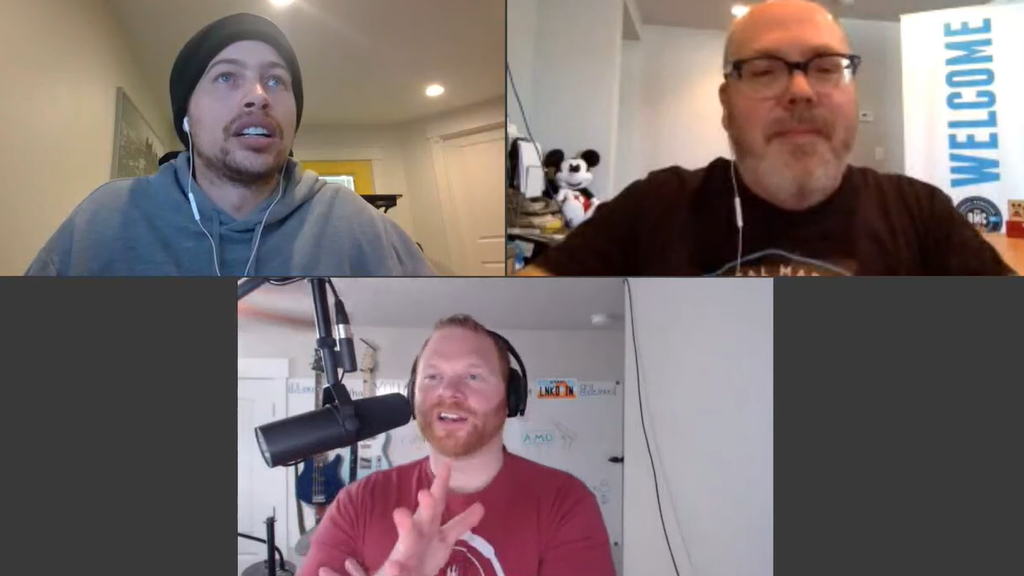 Lead Form Ad Advantages
The lead form is a great way to entice viewers to provide their information as they watch and engage with your ads on YouTube. The biggest advantages of the lead forms are ease of use for the user, ability to capture multiple fields, custom calls to action and even audience targeting! It helps you, as an advertiser, leverage all of the Google platforms.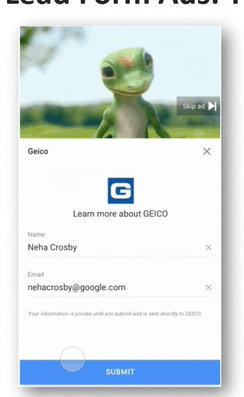 Currently these lead forms are only for conversion campaigns that allow you to choose between Target CPA or Max Conversion. Once you've got these leads, they are all downloadable making it easier for you to dissect the information.
Cory broke down the four main areas of a lead form:
Intro
Main form
Post submit
Form preferences
In addition to category questions, you have the ability to choose between multiple choice and short answer questions -- all benefits of a lead form that is very easy to manipulate. Cory mentioned that he gets a lot of questions when determining whether to choose a 'Higher Intent' or 'More Volume' lead form. He says that if you choose 'More Volume', the form has less steps to fill out. If you choose 'Higher Intent', there will be more steps for the consumer to fill out but the intent will be higher. It all depends on what you're trying to achieve with your ad campaign.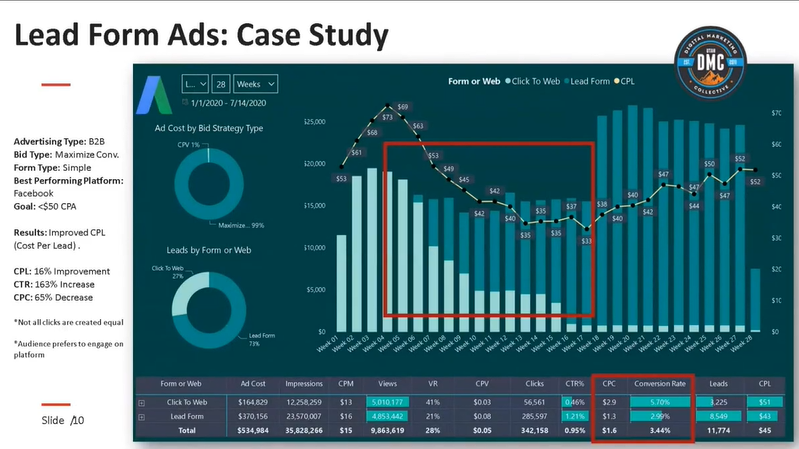 Cory felt that one of the best benefits of lead form ads is that they reduce user friction. Sending a user to your website is sending them to an unknown environment whereas staying on YouTube is a huge benefit and can help increase conversions. Giving people the choice to stay on YouTube or head to your website is always a good option.
YouTube (Google Ads) Creative Analysis
A great way to determine how your ads are performing is to really dive deep into creative analysis.
Reviewing audience retention and then taking a look at age segmentation across a retention curve helps you develop better creatives for your audience. By looking into this data and then sharing with your creative team, you can really harness the power to create for those who want to see what you have to share.
YouTube now offers the option to only run your advertisement on TV screens in the home if you choose. Not only is it hard to click through that ad but it's also a great way to get on the biggest screen in a home. Another super cool feature is 'Mark Moments'. This data will allow you to drill down to certain moments in a video and then see when user drop off happens. For example, if you're losing an audience at the punchline, you may want to rethink it and test again.
Cory Henke's #1 Rule of creative analysis: building multiple versions of an ad gives you the most insight and you have to test to figure out what works best. Consumer research and testing is always super helpful for successful ad campaigns.
YouTube Performance Analysis
Cory suggests starting off with one bid type and then introducing a new bid type that will improve your target CPA over time. Test your bid types, don't just stick with one, and test both bid types at the same time.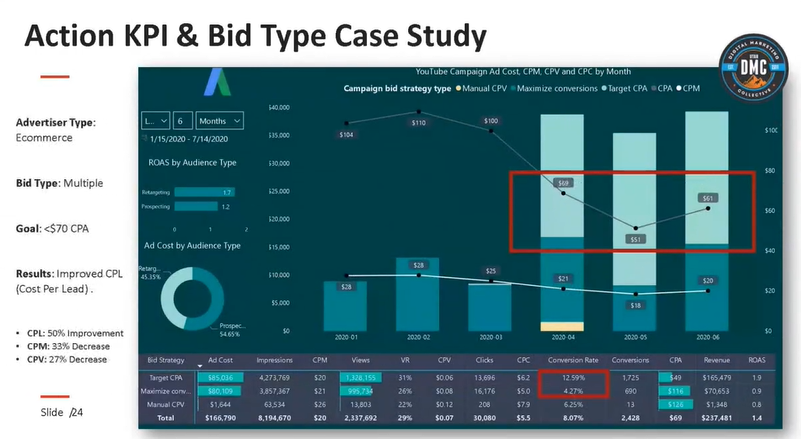 YouTube's Combination report is fairly new in the last two years. Google has been able to add in the demographic layers together and allows you to have a greater understanding of your audience.
For example, a few of the demographics you can view are gender, parental status, age and household income. One of the things you can toggle is 'parents' vs 'non-parents'. When Cory dug into his campaign, he was able to find that 'non-parents' retained longer than 'parents' for a certain ad type. With this information, he was able to really silo in on his demographic and then tweak what he needed to.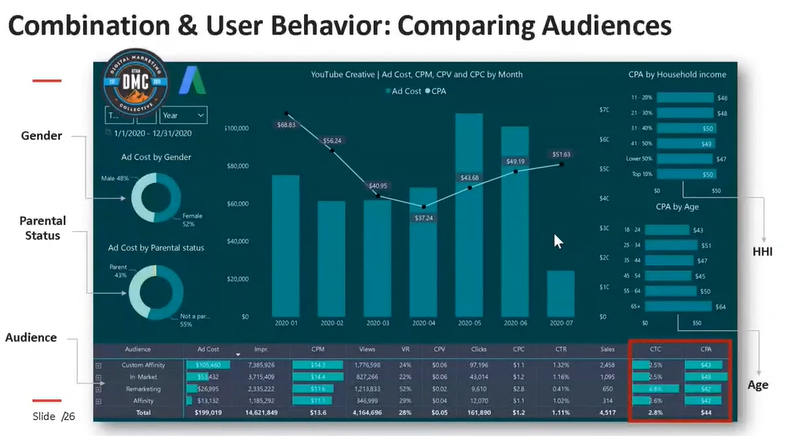 Key Takeaways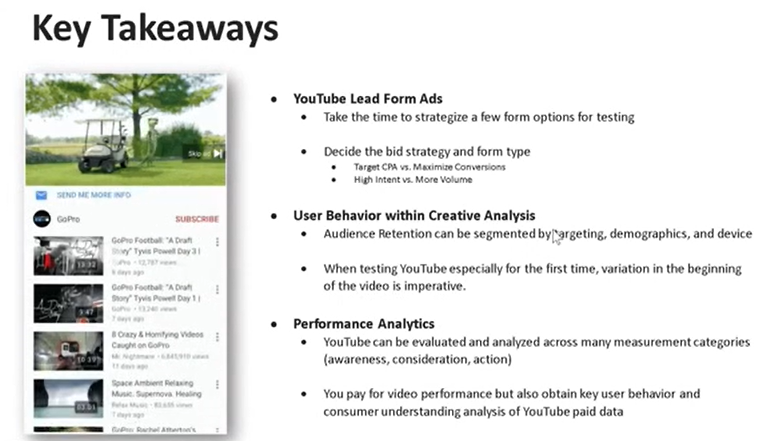 YouTube Lead Form Ads
Take the time to strategize a few form options
Decide the bid strategy and form type
User Behavior with Retention Analysis
Segment by targeting demographics, device
When testing video for the first time, variation in the beginning of the video is very important
Performance Analytics
YouTube can be analyzed and evaluated across many management categories
You pay for video performance but also retain key user behavior and consumer understanding
By the end of the webinar, we were thoroughly impressed with Cory's data skills and video ad targeting know-how. By harnessing these tools offered by YouTube, your ad campaigns can achieve even greater things than before. It's all in understanding your audience and testing as much as you can.
If you couldn't make this event live, you can see the replay below. Towards the end of the video, there was a great Q&A session where Cory answered viewer submitted questions as well.
Be sure to check out and register for all of our upcoming DMC online events (and watch all the past ones too). We have events planned twice a month through the end of 2020. We hope to see you there!
Want More Detail? Enjoy The Replay Below!