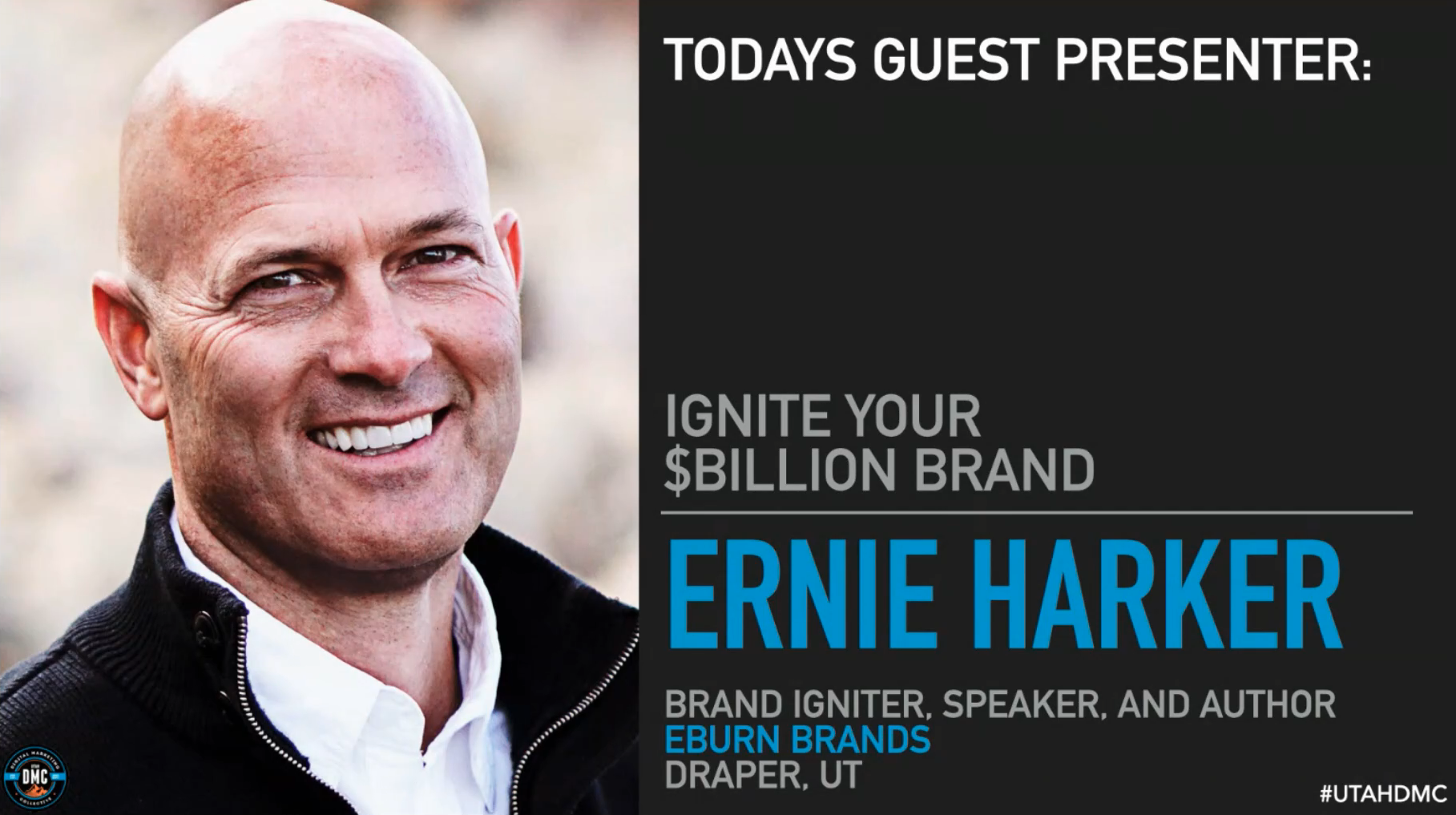 Our Guest Presenter: Ernie Harker
Our June 23, 2021, Utah DMC's live online event featured Ernie Harker, brand igniter, speaker, and author. He began his career as a digital artist, founded a creative production studio called 8fish, and has had much success in brand development for a variety of clients. One of his most recognizable successes was leading the rebranding of Maverik Country Store into a $3 billion adventure brand.
This was Ernie's first time presenting for the Utah Digital Marketing Collective, and we were thrilled to have him here to present: Ignite Your $Billion Brand!
Doc had the opportunity to go live on this broadcast with Ernie as he shared his extensive branding knowledge with our audience. He discussed brands he's worked with, as well as the techniques he's found that work when it comes to building your brand.
Keep reading to catch a recap of the event below. (Note: This post is a high-level recap. At the end of this post, you can watch the entire replay of the event with audience Q&A, as well as download his full presentation deck and Brand Development Workbook from the BrightTalk interface.)
Let's Get Started...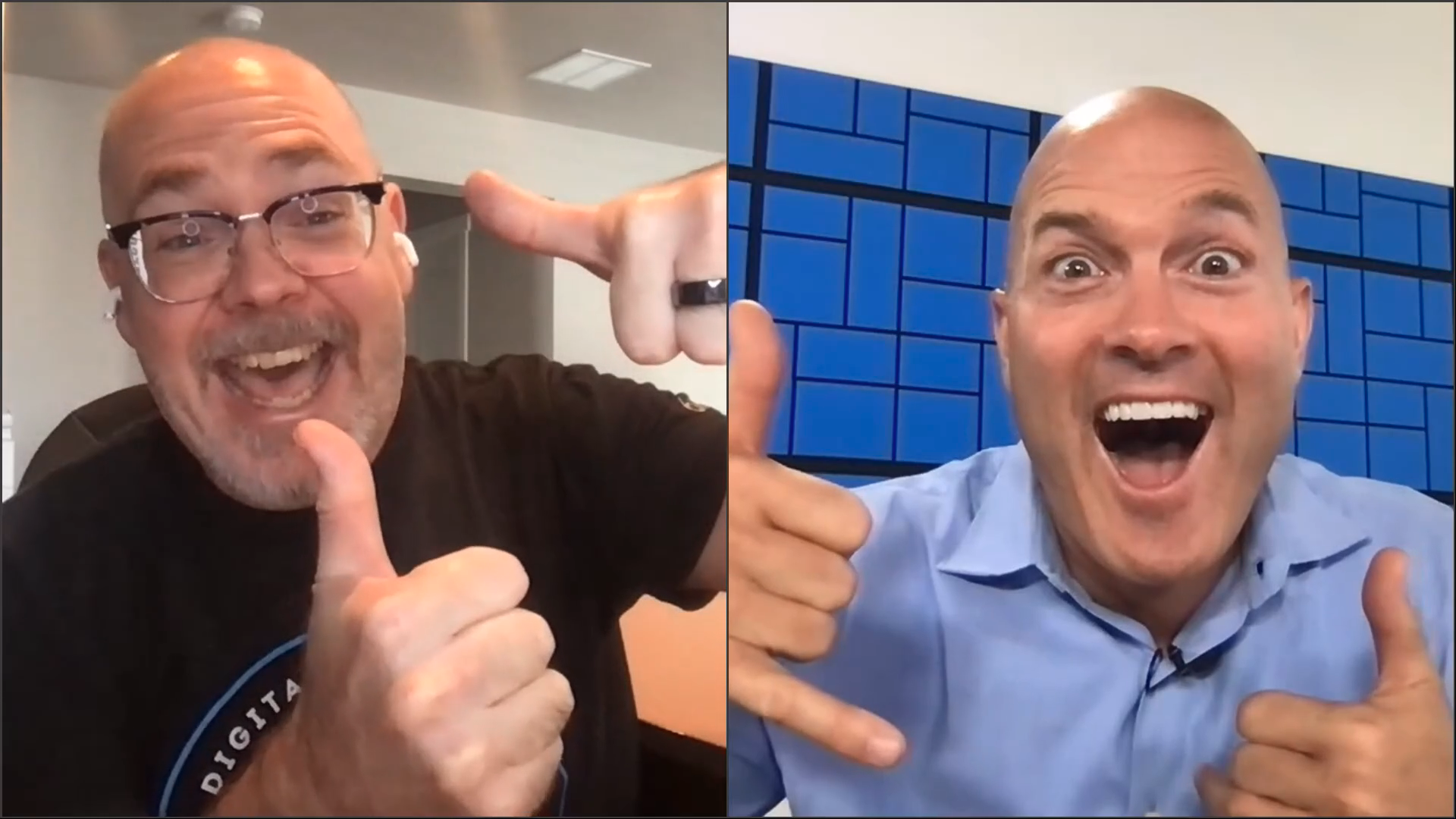 About Ernie Harker
Ernie starts his presentation off by explaining a bit about his background. At age 12, his mom got rid of their TV, which provided him with time to invest in one of his hobbies: drawing. Over several years he was able to develop his talent. His passion grew until he achieved one of his goals by becoming a professional illustrator.
He studied at Utah State University and the University of Utah, then in 1995 started 8fish, where he:
Created storyboards
Became a comp artist, where he would provide quick illustrations of what a concept would look like prior to becoming an ad
Fostered successful brand development for many clients
Adventure's First Stop
In 2001, Ernie was introduced to Maverik Country Store, which at the time was cowboy-themed, and felt as though that brand had run its course and needed some revamping. After completing research, they found that people hated going to convenience stores in general. There was one exception to this—if they were headed out on an adventure to go camping, snowboarding, etc. This led to rebranding the store with the slogan (and theme) of "Adventure's first stop."
From that point on, everything in the stores has been based around adventure. If you look at any Maverik today, it looks like a lodge from somewhere like Park City. They opened up the layout of the store, so everything looks adventurous and outdoorsy on the inside, too.
Here's a visual matrix that Ernie uses to identify whether something fits into Maverik's brand or not. He shows us how to apply this to selecting sponsorships and how crucial it is for your brand to align with theirs.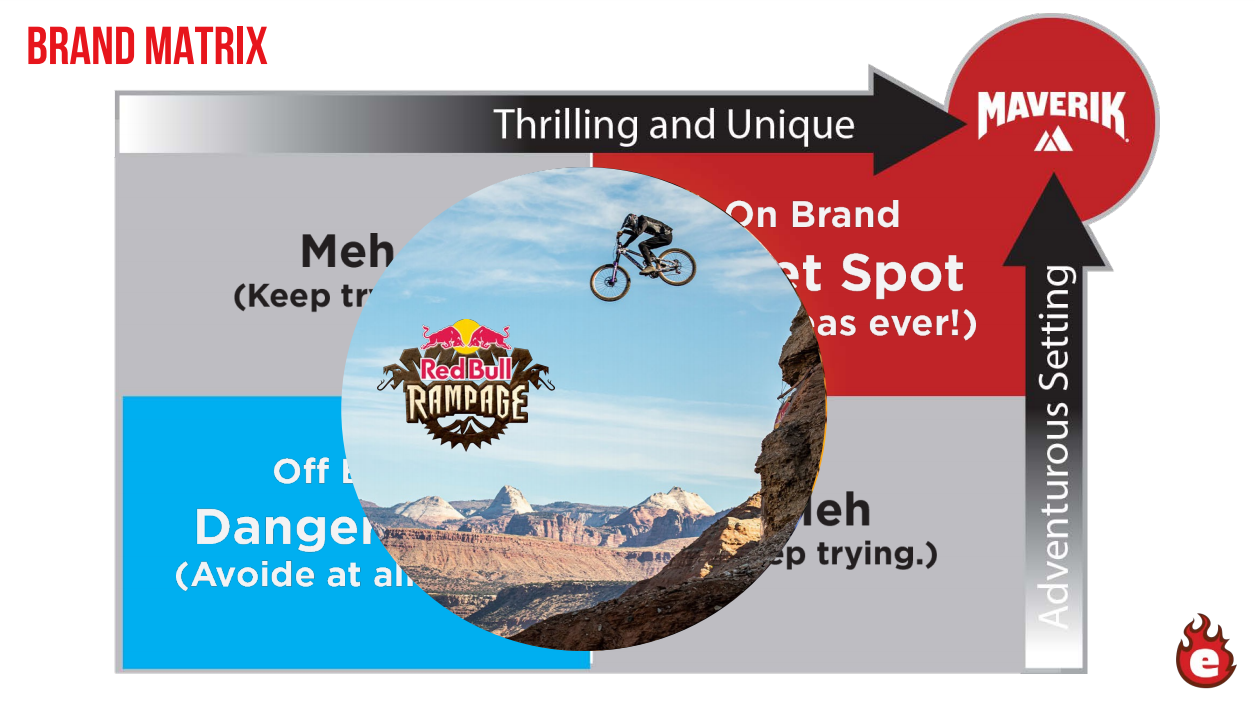 Survey Time
During the live presentation, Ernie launched a poll and asked the audience: "How confident are you in our current brand?"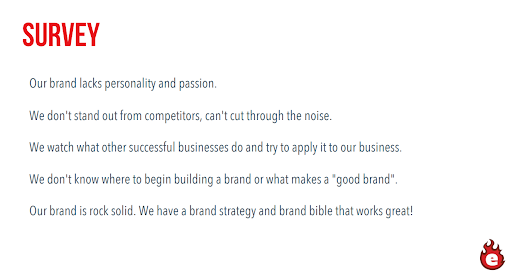 Survey Results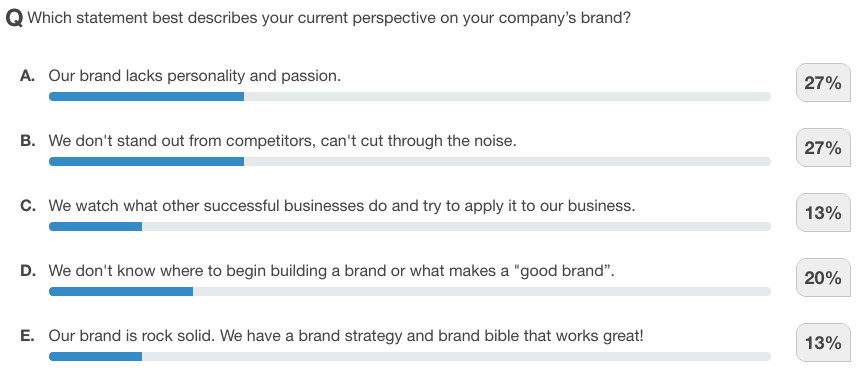 As you can see above, the answers were varied. But, it was 27% tie between
Our brand lacks personality and passion. and
We don't stand out from competitors, can't cut through the noise.
During the presentation, Ernie discusses more in-depth how and why brands should take the time and energy to FIRE UP their brand! So, be sure to watch the full replay below.
This led us to...
How Do We FIRE Up Our Brand?
Using F.I.R.E. as an acronym, Ernie guides us through four steps to take our brands to the next level.
F - Find Your Brand Spark: In order to find your brand spark, you need to first identify what's different and unique about your brand. Not just the people, but what specifically makes your brand special?


I - Identify Your Target Customer: The next step is to find out who your target customer is. This is important because, for example, messaging directed at a 14-year-old boy is different from branding for his mom. Once you identify who you are branding for, it helps guide the process.


R - Realize Your Core Belief: Ernie explains that a brand's core belief comes when asking, "Why do we need this product?" This helps to identify what kinds of messaging will be shared on social media, the vocabulary used, and the things that will and won't be done. Your core belief is something your brand truly cares about.


E - Establish Your Brand Adjectives:

Lastly, choose your adjectives. He suggests we select 5-6 words to describe our brand accurately. He suggests selecting two of those which don't align with your competitors' brands to keep yours unique.
Develop a Brand Strategy
One key way we can develop great brands is by building out a brand strategy. A brand strategy is like setting up the edges of the target. Instead of making brand decisions based on what people on your team may like or prefer, the emphasis can be shaped solely around what goes along with the brand strategy.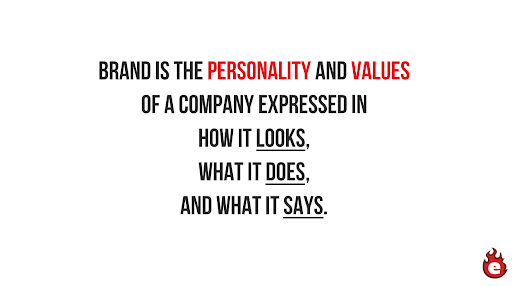 Branding is emotional, and great brands are consistent. Ernie mentions how colors have emotions already, with meaning associated with them. He shows several examples of fonts, shapes, and textures to emphasize that the look and feel of your brand need to align with what your brain writes, produces, and ultimately conveys.
Conclusion & Replay
This was a fantastic event! Ernie shared valuable insights about branding and how important it is to be passionate about your brand. He emphasized asking questions like:
What makes my company unique?

What adjectives will we use to describe our brand?
Who is my audience?
The Utah Digital Marketing Collective is thrilled to share this recap from Ernie Harker's presentation, and we are happy we were able to introduce him to our audience. To understand the full context of this recap post, be sure to watch the entire replay below, which goes into much more detail than this recap post provides.
If you couldn't make this event live, you can see the replay below. Toward the end of the presentation, there was a great Q&A session where Ernie answered viewer-submitted questions including:
At what point do you decide to rebrand?

Should you do it in stages or all at once?

How do you do so without confusing your customers?

Once we come up with these emotions, adjectives and descriptive words/sentences, how do go about associating those with colors, fonts, shapes, etc?

Is there a guide to help with these associations? Or should we always hire a designer to do that for us?
Lastly, be sure to connect with Ernie via LinkedIn or through his website - and be sure to pick up a copy of his book Your Brand Sucks.
What Attendees Had To Say
⭐ ⭐ ⭐ ⭐ ⭐
Love all the information presented here! Thanks for sharing your branding enthusiasm, Ernie
⭐ ⭐ ⭐ ⭐ ⭐
Loved the content in this one. Very relevant and palpable. Lot's of great takeaways to approach and succeed at the re-brand I am working on currently. Ernie was a fantastic guest.
---
Explore our blog for more event recaps, and be sure to check out our DMC Online Events page to see all of our past and future digital marketing online events.
Do you have something you'd like to present to the ever-growing DMC community? If so, we'd love to speak with you. Head on over to this page, and tell us more about you and your expertise.
---
Ready To Watch This Full Event On-Demand?