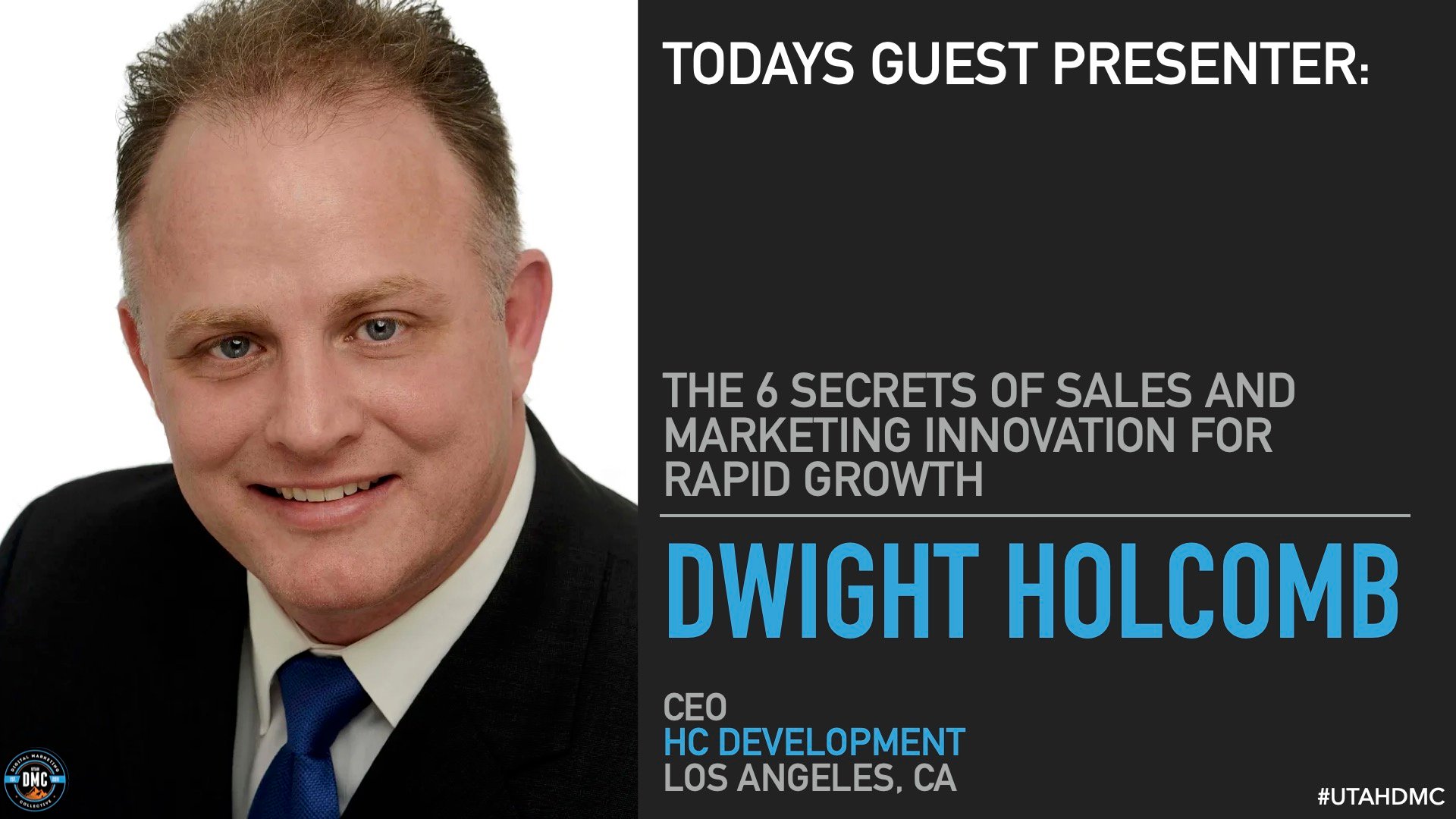 Our Guest Presenter:
Dwight W. Holcomb
Here at the Utah Digital Marketing Collective, we strive to educate, engage, and elevate digital marketers wherever they may be located. We have online presentations twice a month to do just that. On August 18, 2021, we had the privilege of learning from Dwight W. Holcomb, the CEO of HC Development.
Dwight is the author of the #1 bestseller The Lean CMO. He's a member of the Forbes Business Council and the host of the C-Suite Network show SaaS CEO Success TV.
This was Dwight's first time presenting for the Utah Digital Marketing Collective, and we were thrilled to have him here to present: The 6 Secrets of Sales and Marketing Innovation for Rapid Growth. Luckily for us, he ended up sharing a lot more than just six secrets.
Doc and AJ had a blast hosting Dwight on the show. Keep reading for our recap of the event—but be aware that Dwight offered a lot of great content that you can only access by watching the full replay. (Note: This post is a high-level recap. At the end of this post, you can watch the entire replay of the event with audience Q&A, as well as download his full presentation deck from the BrightTalk interface.)
Let's Get Started...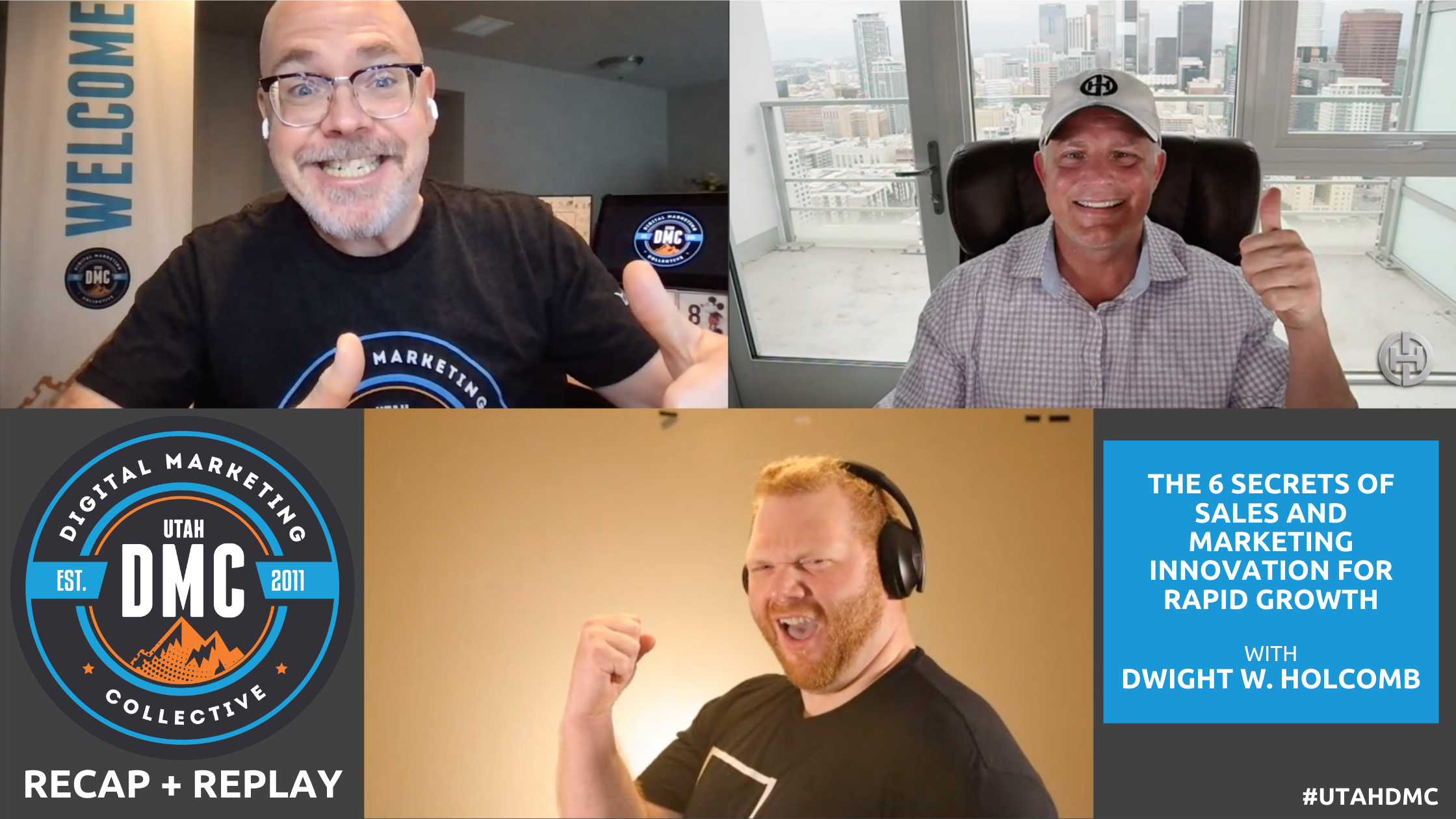 At the beginning of the event, Dwight encouraged everyone to take action on what they were about to learn. He said, "I want everybody to commit. Raise your right hand virtually, and tell me you're going to do this. Because, otherwise...what's the point of being here if you're not going to take action?"
On behalf of Dwight, we also encourage you to take action on what you learn today and find a way to apply it to your work.
3 Main Issues Companies Have
Dwight's first three secrets focused on problems that businesses may not even realize they have.
1. Married to Legacy Systems
Companies are often married to legacy systems, using the same systems and software they've used for years. Dwight used Webex and Zoom as an example. He explained that companies that started with Webex often struggled to make a change and update to Zoom, despite the latter being more current.
2. Marketing and Sales Are Too Siloed
Of course, sales and marketing are regulated into separate departments, but often businesses go to lengths to keep them siloed. They keep the team members apart and don't allow them to communicate with each other, or at least they aren't usually encouraged to work together.
3. Ignorant to the Gig Economy
Companies are often ignorant of the gig economy, meaning they aren't utilizing freelancers and gig workers or don't know how to use them. The gig economy includes sites like Fiverr and Upwork, along with any other freelancer or gig hiring site.
The Lean CMO Trifecta
In Dwight's book, The Lean CMO, he talks about three principles that solve the main issues discussed above.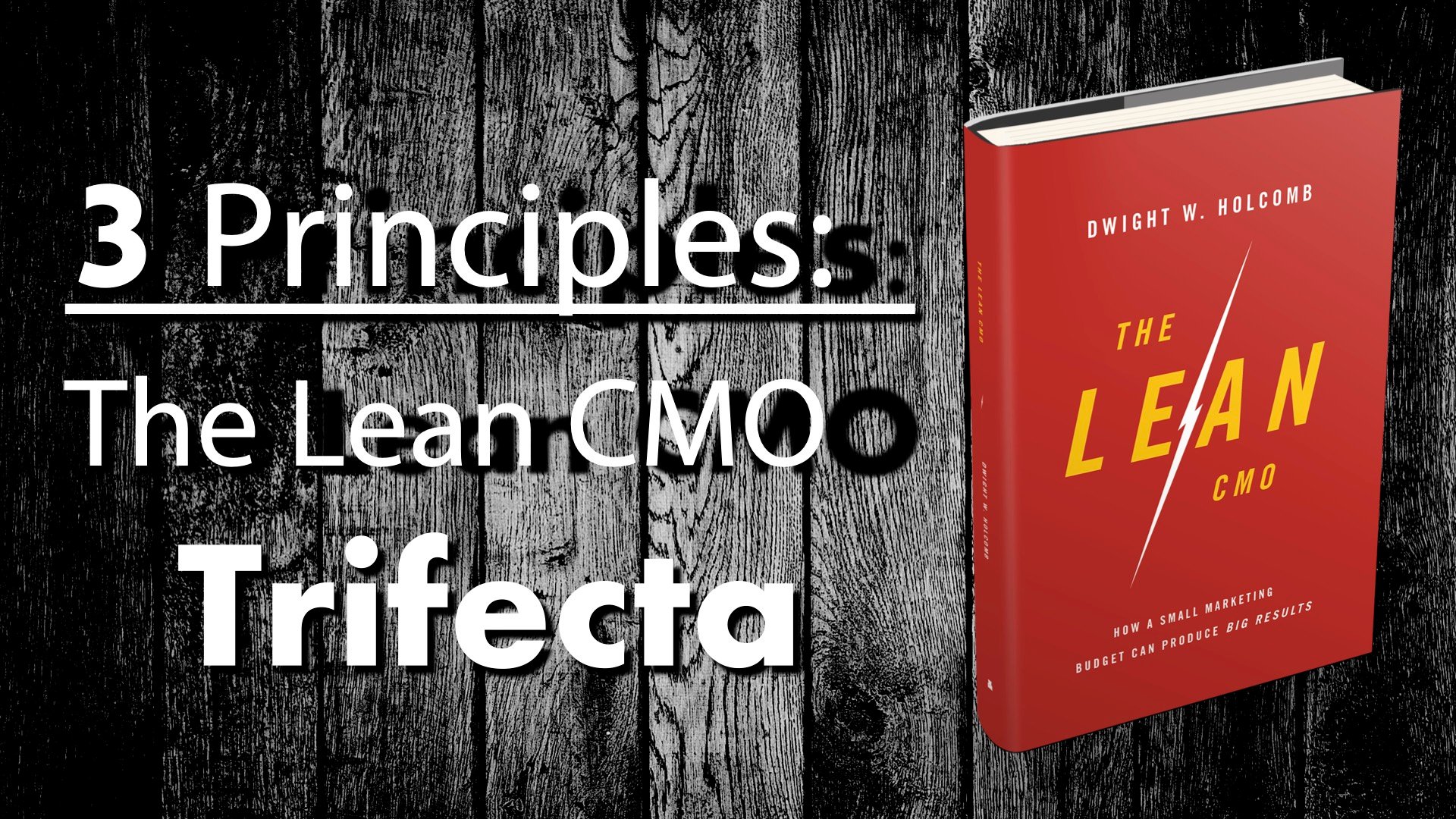 1. Initiate
The solution to being married to legacy systems? Don't be afraid to change. Dwight said, "Whatever you're working on today can be done better." There are technological advances and updates all the time. We can only benefit from them if we're willing to change and adapt. Take a chance on new technology and new ways of doing things.
2. Integrate
If sales and marketing are too siloed, there's an easy fix: Collaborate and communicate. Dwight explains that sales and marketing need to communicate with each other on a regular basis. They need to be in unison to be successful. When they work together, they will have better leads and be able to close sales better.
3. Innovate
If you aren't sure whether your organization can make use of the gig economy, there's only one way to find out! Dwight talks about the benefits of using these freelancer and gig sites, especially for startups. They could save time and money by hiring a professional to do something quickly rather than spending time to do it themselves— often at a lower quality.
For example, you can hire someone from Fiverr to make a logo for your company so you can spend more time meeting with clients and getting your business up and running. In addition to the gig economy, you can innovate by using video and incorporating AI as part of your company's tools.
Lean Marketing Strategy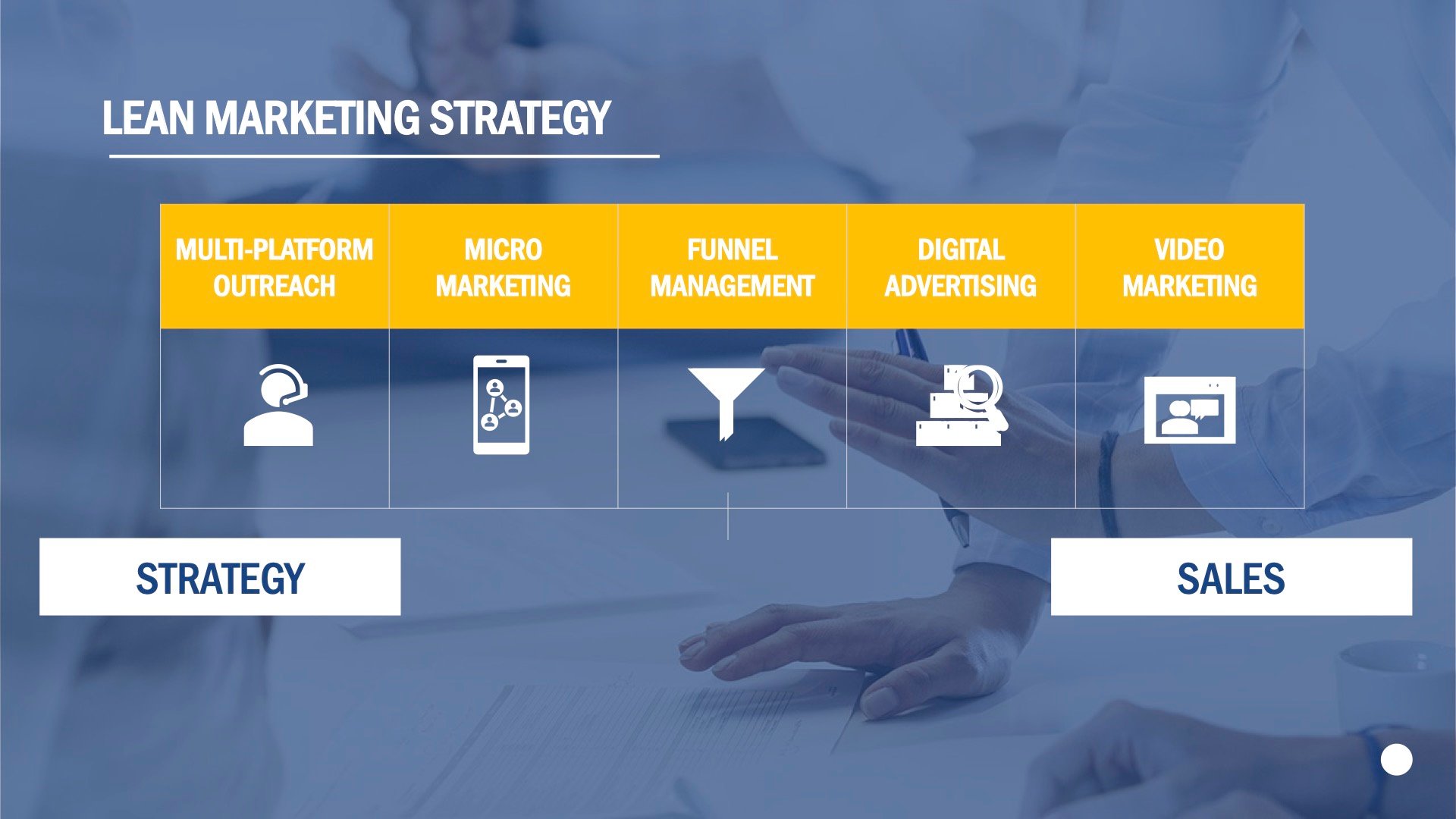 Dwight's lean marketing strategy consists of many components, including:
Multi-platform outreach
Micro marketing
Funnel management
Digital advertising
Video marketing
These components are built on a foundation of strategy and sales, as you can see in the graphic above.
Dwight's philosophy for this strategy is clear: "Fail fast, fail forward, quickly." He talked about the importance of not being too proud to admit that you made a mistake and turn around. The sooner we can acknowledge our mistake or our failure, the sooner we can figuratively flip the car around and try a new approach.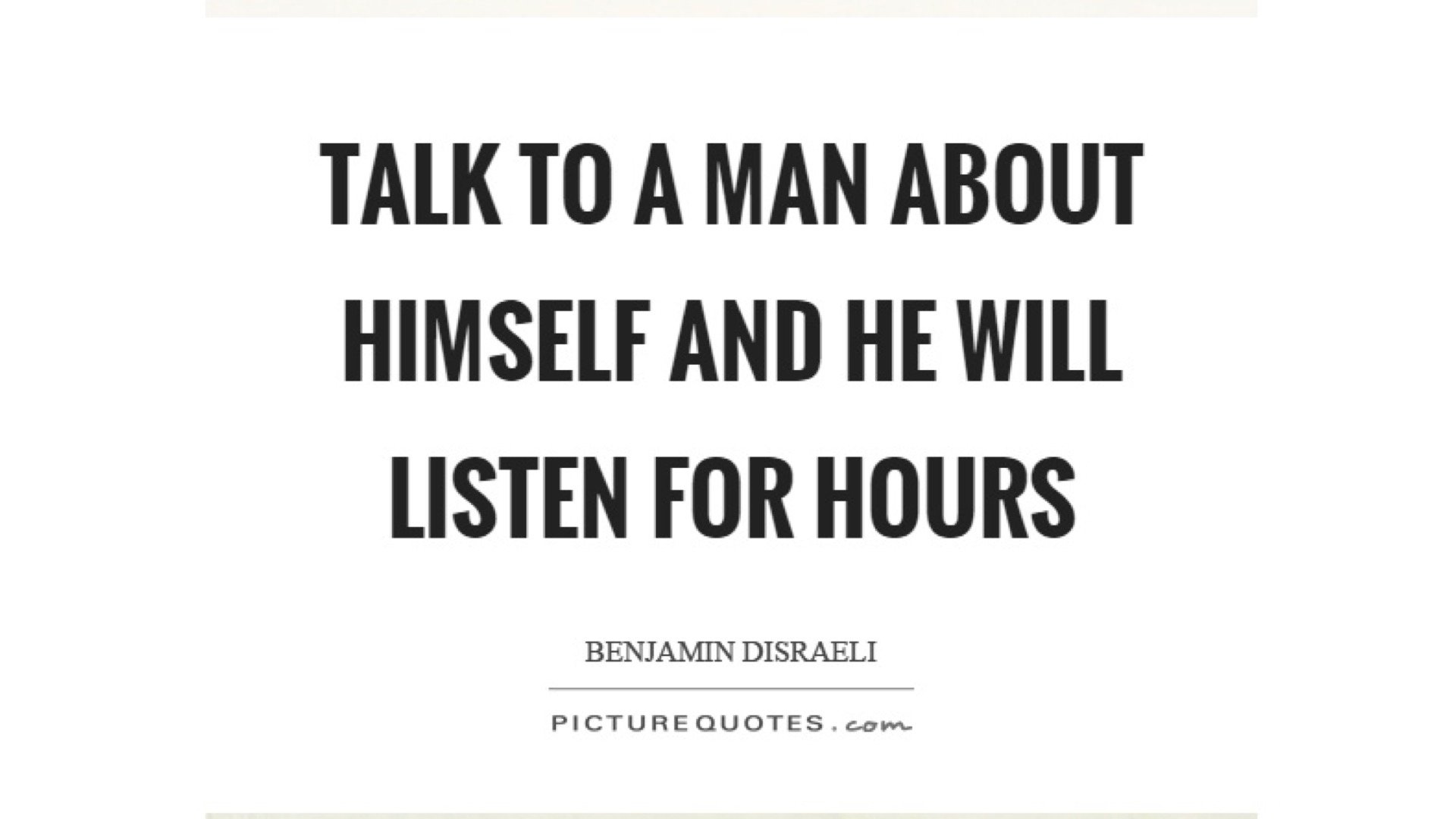 Dwight also talked about asking questions. He recommended a book called SPIN Selling by Neil Rackham. It's about asking consultative questions, which help you better understand the buyer, customer, or client before attempting to sell something to them. The better you understand and the more questions you ask, the more likely you are to be able to sell to them.
Brand Strategy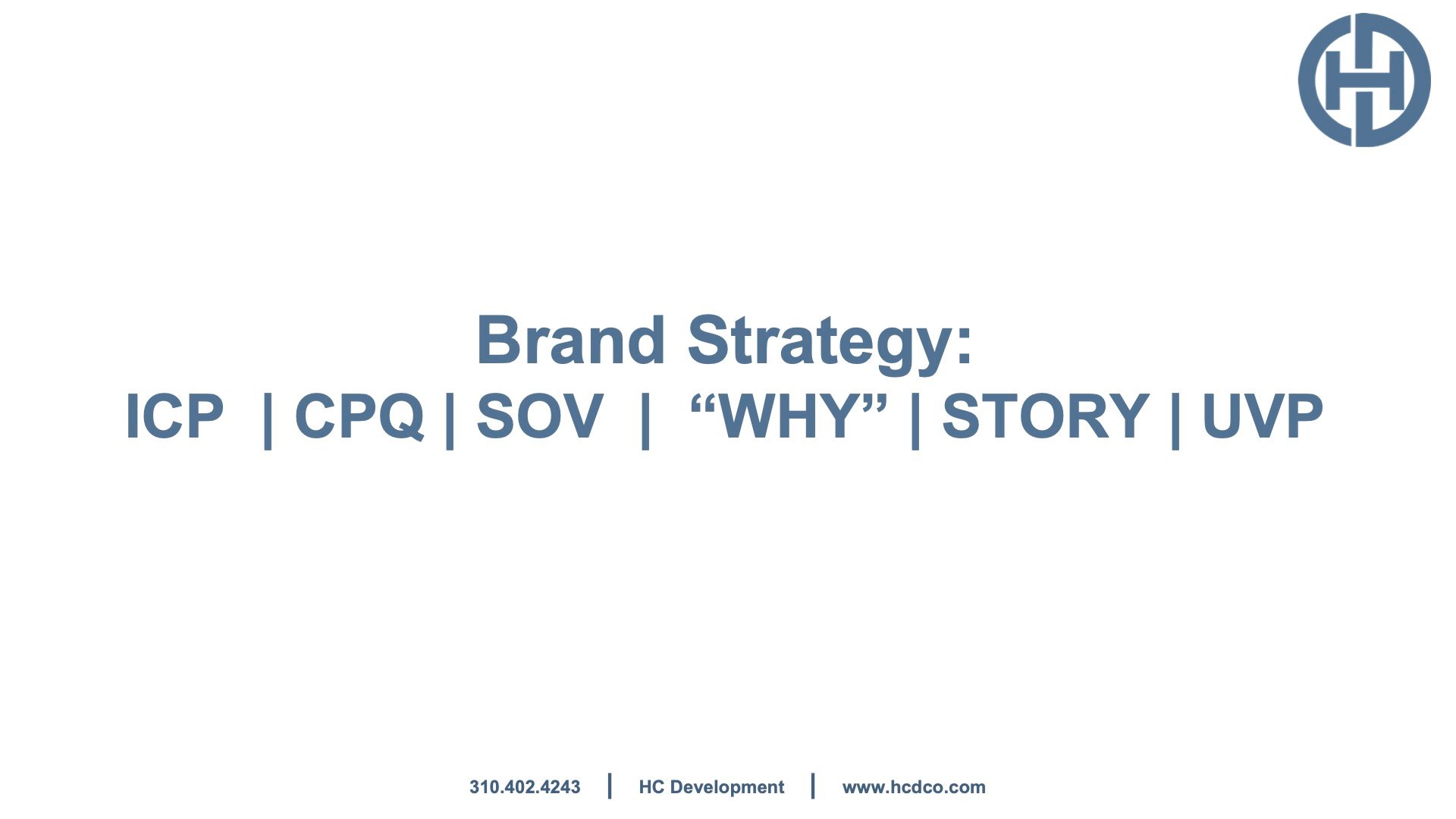 When meeting with a client, this is Dwight's brand strategy.
ICP: Ideal Customer Profile
You have to know exactly who your target is. Be very clear about who you're going after. Then you can find where they hang out online—and where to target them.
CPQ: Customer Pain Questions
Ask customers questions about what they're struggling with and what problems they are having. This will help you offer solutions that speak to their pain points.
SOV: Statement of Value
The SOV communicates the emotional state that somebody has before your solution is in place, compared with after.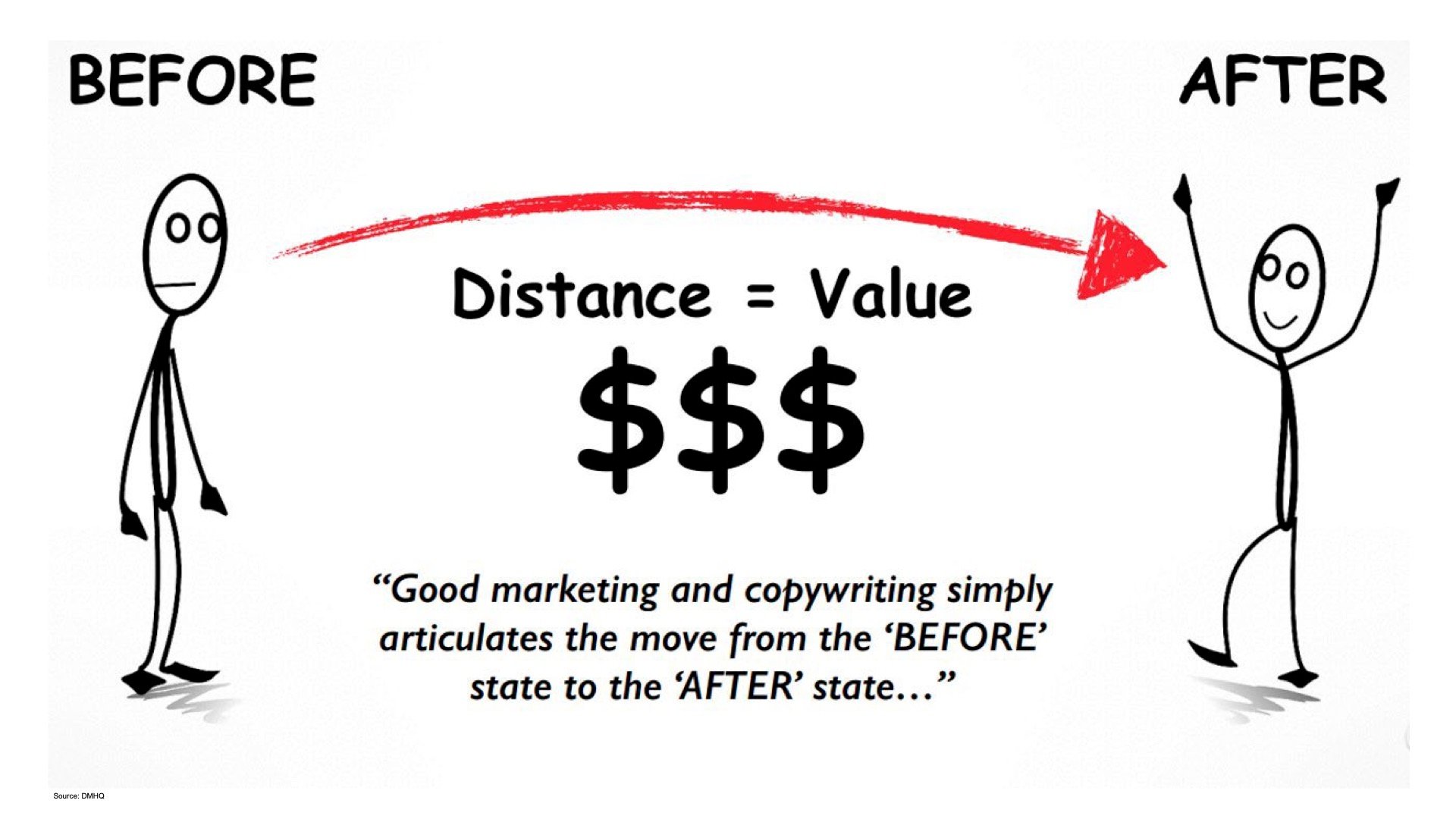 "WHY": Finding the Why Exercise
Simon Sinek says, "People don't buy what you do, they buy why you do it." You need to know your why in order to succeed and make people care about your business.
STORY: Story Branding
Use the one-liner approach explained both to tell a story to your customer and help create a story brand for them.
Competitive Analysis
You need to know who your competitors are. You can't truly be competitive if you don't know what they do well (and poorly).
UVP: Unique Value Proposition
Once you know what matters to your client, as well as your competitors' strengths and weaknesses, you can craft your UVP—which explores the unique benefits that you offer that meet your prospect's needs in a way other companies can't.
Video: The Greatest ROI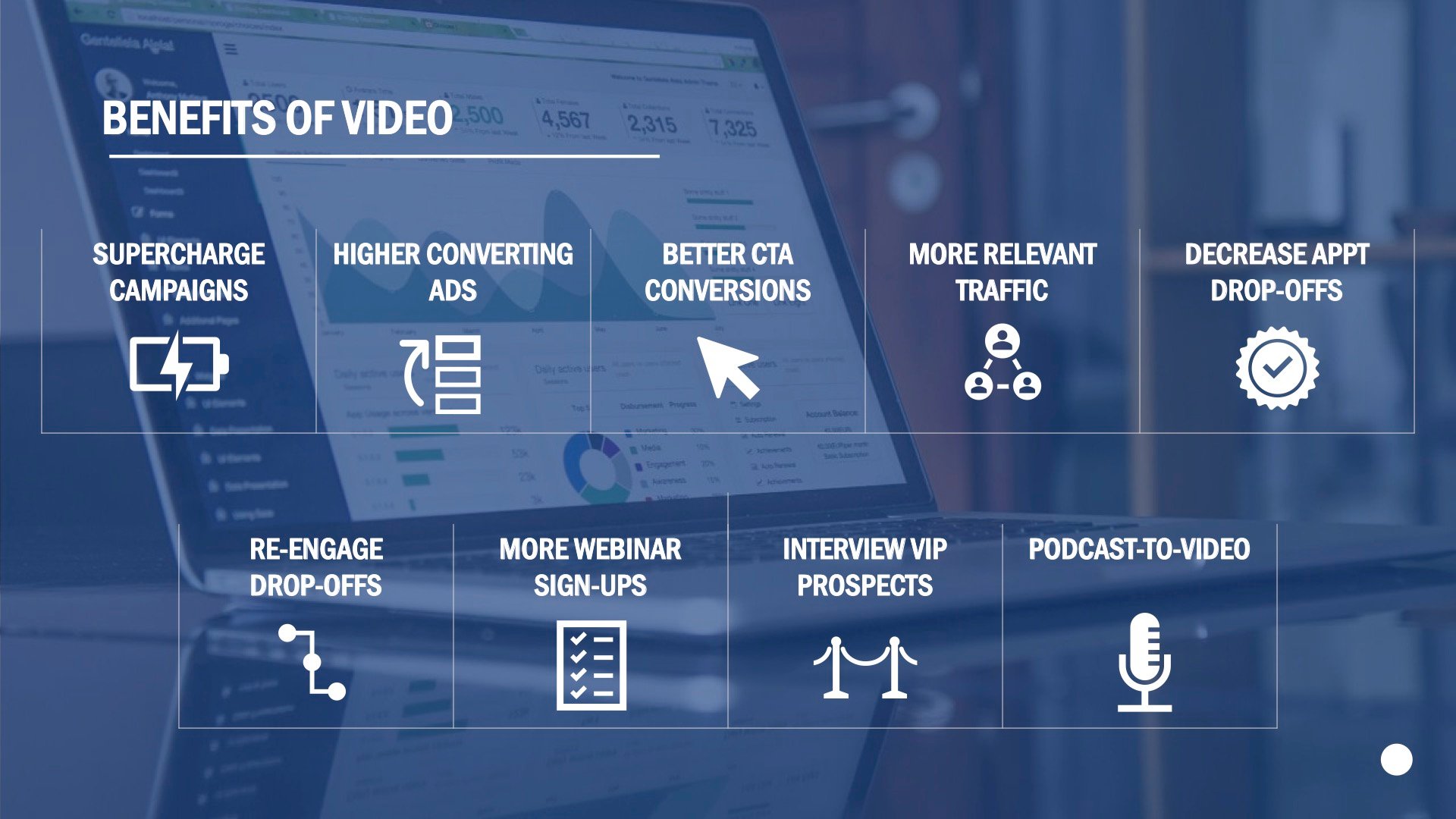 There are many benefits to using video in your digital marketing strategy. According to Dwight, video provides the greatest ROI for his business and for many other businesses as well. Here are a few reasons why video is so great.
Video Helps You Tell a Story
The above graphic demonstrates an example of the story brand process from the book Building a Story Brand by Donald Miller, which Dwight highly recommends. It walks you through the process from start to finish. Storytellers call this template "the hero's journey," and you can see it in everything from Star Wars to Harry Potter. This basic story works because it's effective at hooking an audience, so think of utilizing this to tell a brand's story with a call to action at the end.
Better CTA Conversion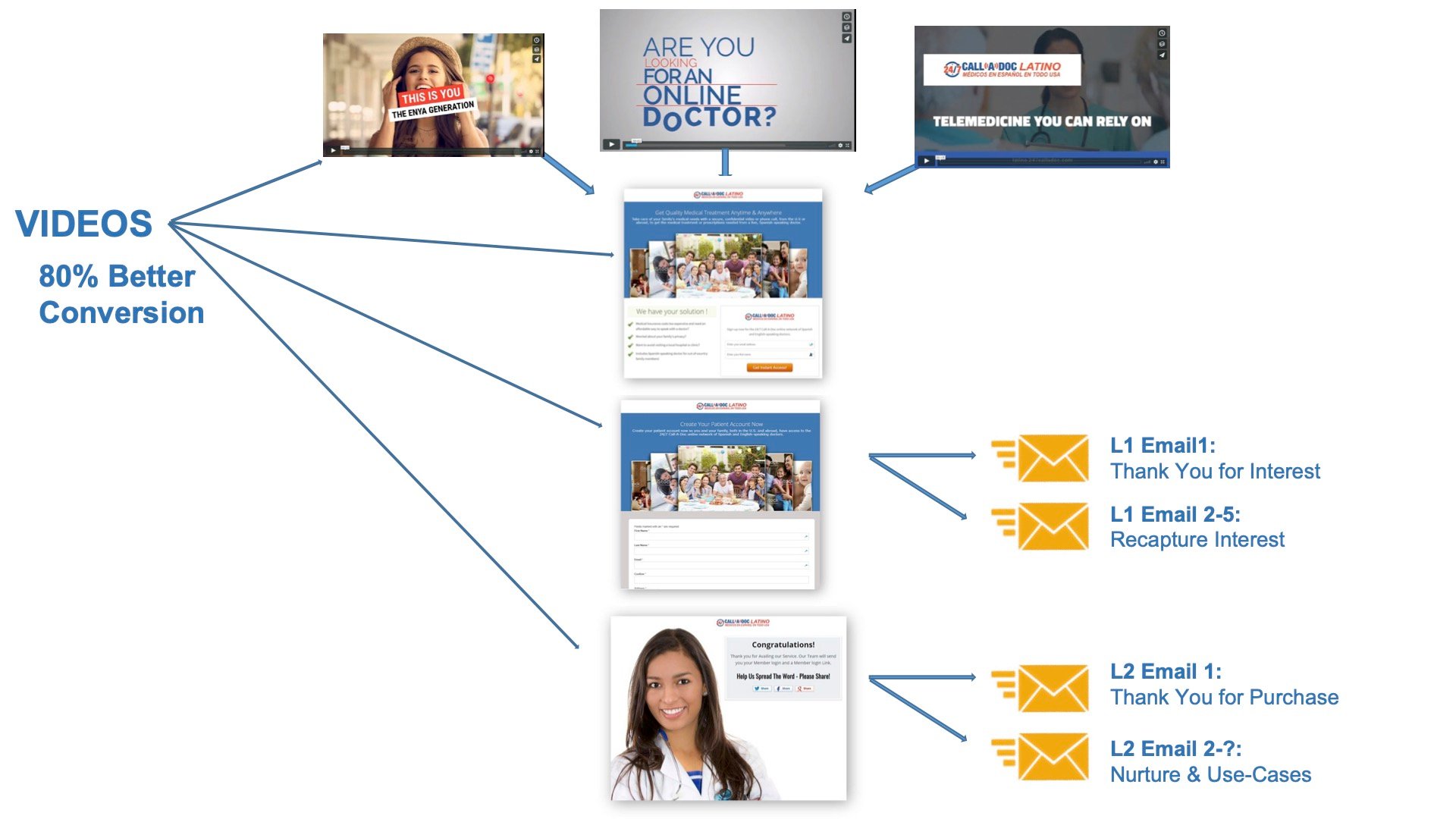 The graphic above represents two different campaigns, one which was flat and the other which used video throughout. The video-enhanced campaign showed 78% better conversion rates than the flat campaign. Dwight's point is clear: Video just works.
More Benefits of Using Video
Dwight went through these benefits as well. We encourage you to watch the recap video to get the full experience and learn more about these advantages.
Decrease appointment drop-offs
Increase email engagement and response
Re-engage drop-offs
Convert webinar sign-ups at a higher rate
Interview VIP prospects


Advanced Video Hacks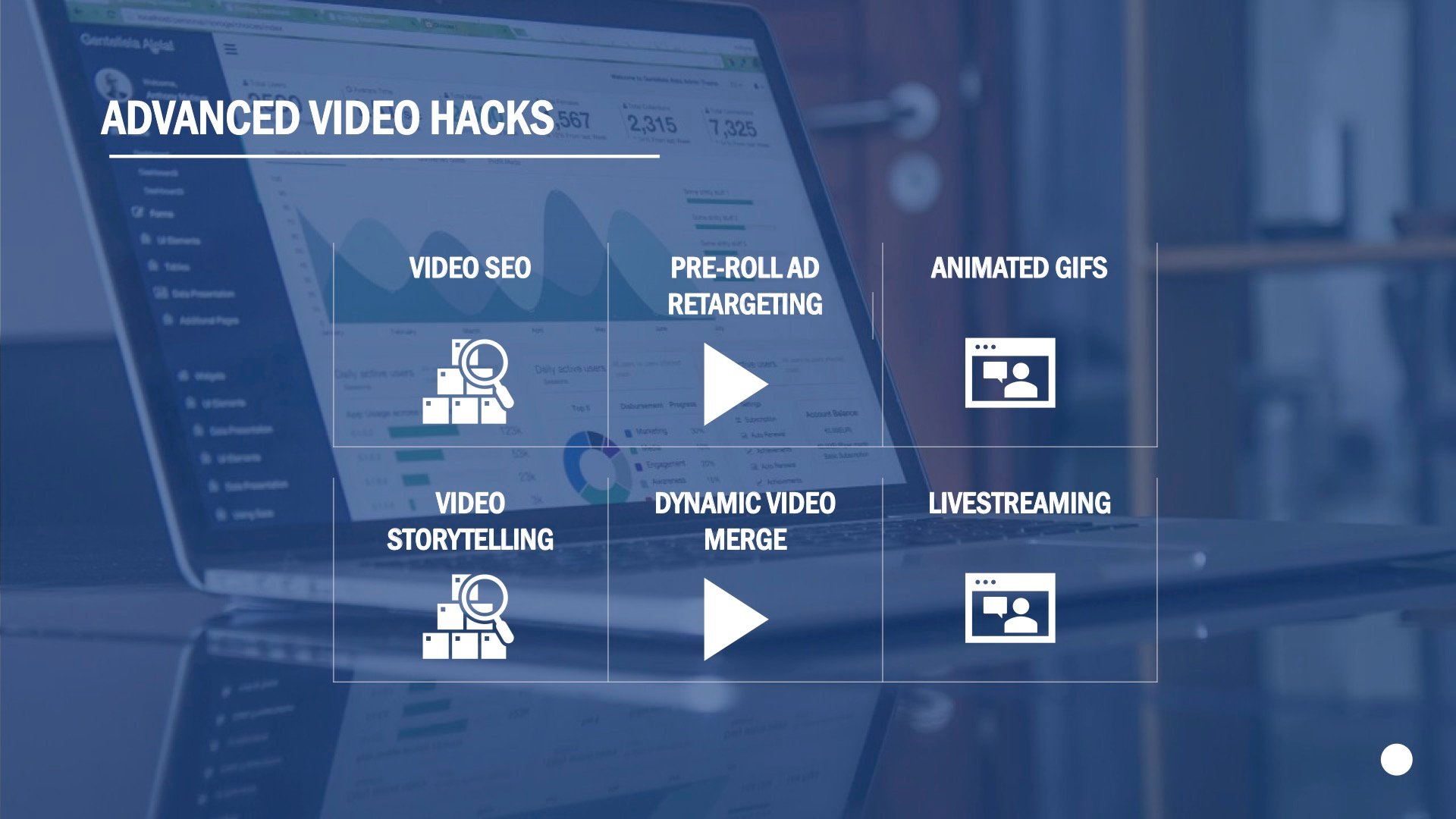 Dwight went through several advanced video hacks in his full presentation. We won't run through them all in detail, but the takeaway here is that using video in these formats will help you and your business be successful.
Video SEO
Pre-roll and retargeting
Animated GIFs
Video storytelling
Dynamic video merge
Live streaming
Sessions with Dwight


Dwight was kind enough to offer his services to anyone who wanted to do a workshop with him or have a session with him to talk about what problems they're facing in their business and what solutions Dwight can help them find. See his contact info in the screenshot above—we highly recommend you reach out to him if you have any questions or problems you want help with.
Conclusion
Dwight shared a ton of helpful tips and information with us, and we only captured a fraction of it all in this recap. To summarize, here are the main takeaways from this presentation:
Don't be afraid to change and try something new like video, AI, or using the gig economy.
Have sales and marketing collaborate for better success in both departments.
Video helps you tell a story and can be used in many different ways besides just advertising.
Utilize it wherever you can and don't be afraid to experiment.
Utah DMC is thrilled to share this recap from Dwight's event, and we are happy we were able to introduce him to our audience. To understand the full context of this recap post, be sure to watch the entire replay below, which goes into much more detail than this recap post provides.
---
Q&A + Replay
If you couldn't make this event live, you can see the replay below.
Toward the end of the presentation, there was a great Q&A session in which Dwight answered viewer-submitted questions, including:
Is there a tool we can use to make videos that is cost-effective or free?
You mentioned Promo.com. Have you ever used Ripl in a similar way?
What mic and camera are you using?
Can video help with SEO?
How would you encourage using video to a marketing agency that is not currently using it?
What are the biggest hurdles to video? Why are people not doing it?
What are the most cost-effective or entry-level intent data sources?
What about a tool for individual intent data?
What are the best places to use video to get the best bang for your buck?
---
If you thought Dwight's presentation was valuable (and it was!), there's more where that came from. You can check out all our event recaps and replays through the Utah DMC blog. Want to be part of the action next time? We offer live events twice a month, and we'd love to have you join us!
Utah DMC is always looking for new presenters with something valuable to share with our DMC community. Connect with us to share what you have to offer. Who knows? Maybe we'll be recapping your video before long!
---
Ready To Watch This Full Event On-Demand?