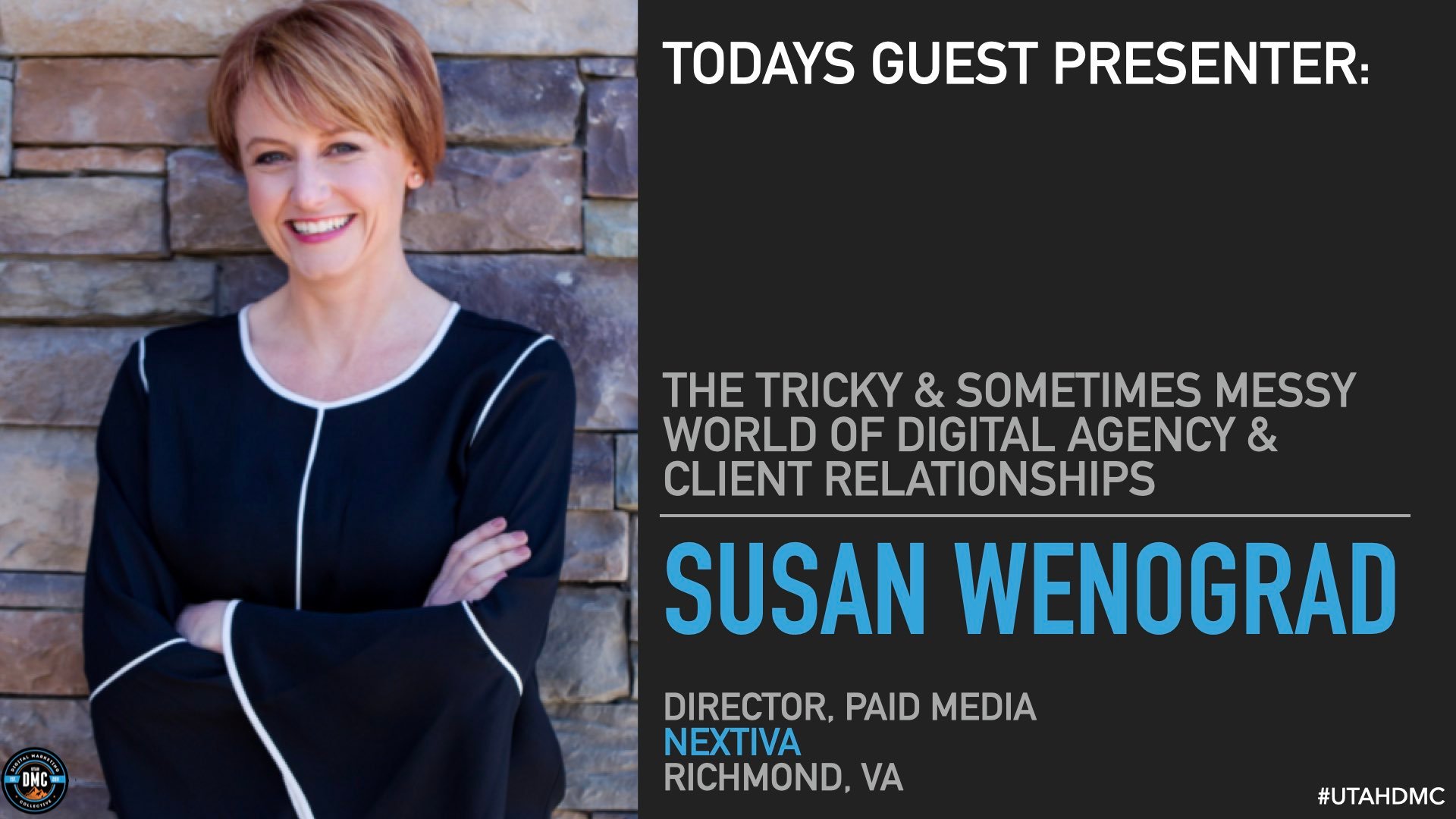 Our Guest Presenter: Susan Wenograd
Our May 12th, 2021, Utah DMC live online event featured Susan Wenograd, Director of Paid Media/Acquisition at Nextiva in Richmond, Virginia. Susan has almost 20 years of experience in marketing in-house and with agencies. She is recognized as a leading authority on digital marketing. Her specializations include paid search, paid social, lead generation, and e-commerce.

This is her fifth time presenting for Utah DMC, and we were thrilled to have her back to present: The Tricky & Sometimes Messy World of Digital Agency & Client Relationships.

Susan has hired, managed, and grown teams, and over the years she has seen common patterns emerge between clients and agencies. During this presentation, she explains that these patterns occur repeatedly, and they often come down to basic elements that go back to the beginning of the agency/client relationship.
Doc and AJ had a blast on this live broadcast with Susan, and now we are thrilled to share the opportunity for you to learn from Susan as well in this recap and event replay. (Note: This post is a high-level recap. At the end of this post you can watch the entire replay of the event with audience Q&A, as well as download her full presentation deck from the BrightTalk interface.)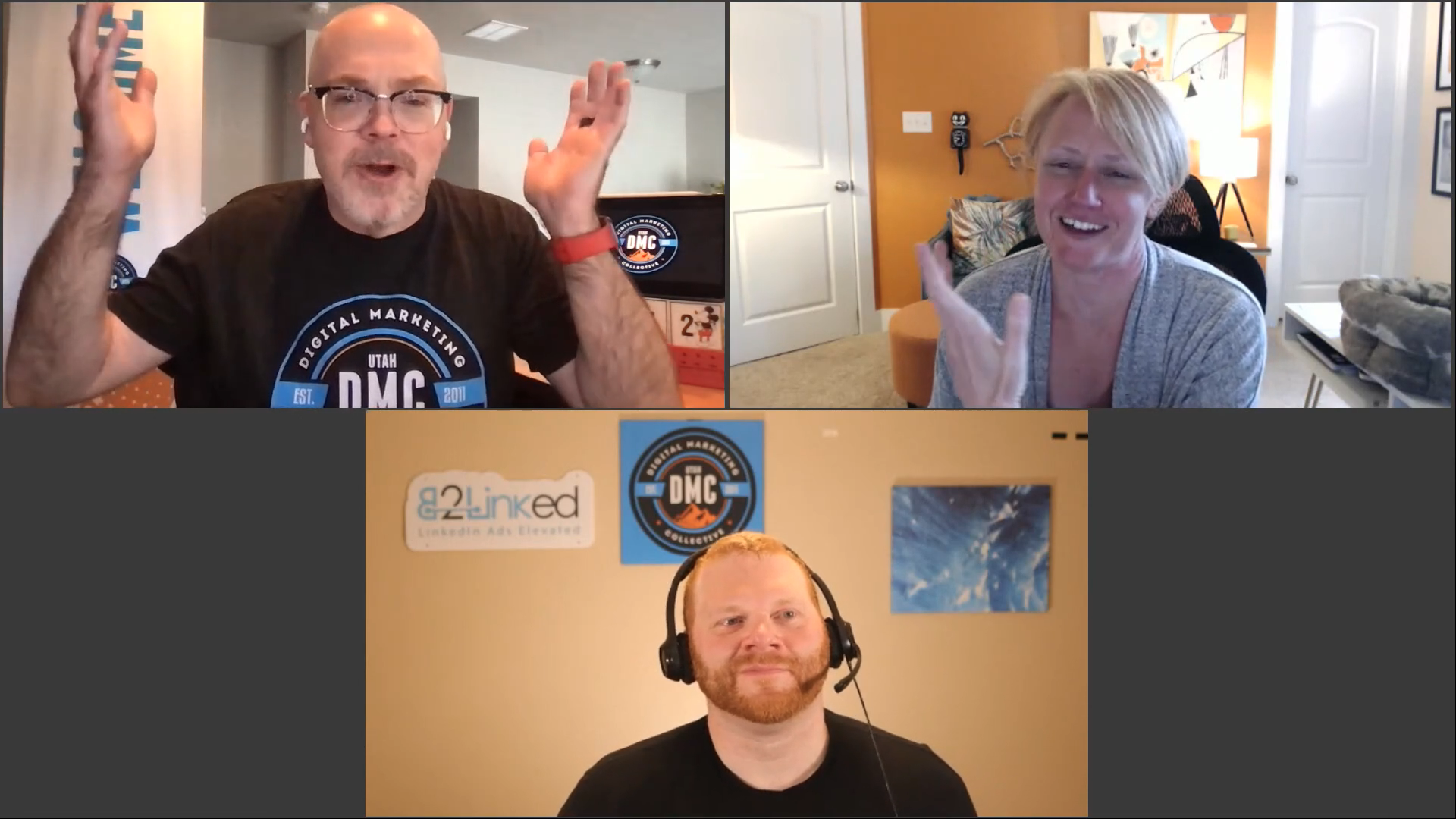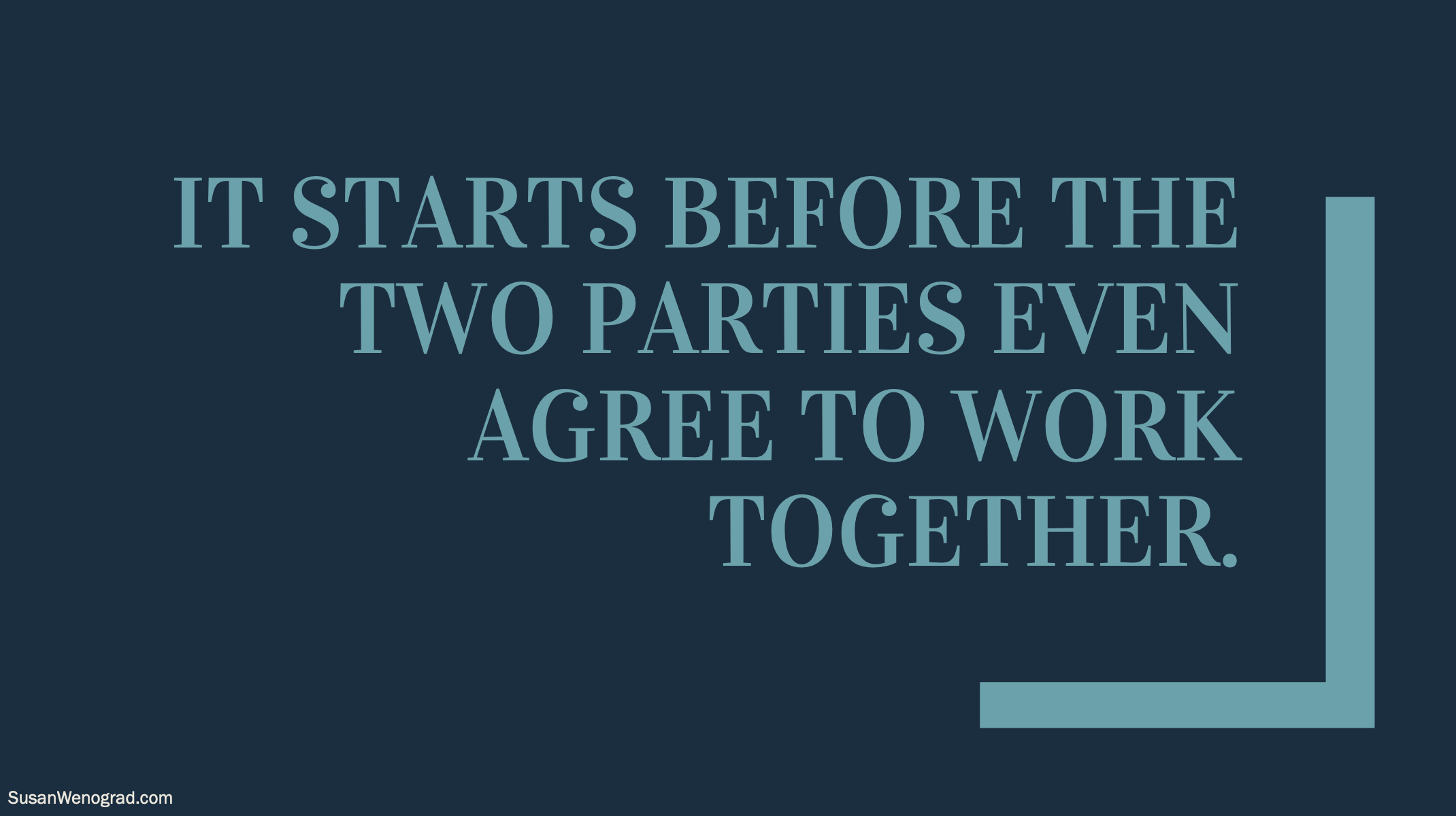 Being in an agency and working in-house can be very different, so once you establish this relationship, it's important to understand each other and encourage open communication. Since it can be difficult to know whether any given team will be a good fit, it's wise to be cautious of these common pitfalls.
How an Agency Should Listen to What a Brand Needs Versus What They Want
An agency's financial success is focused on the margin—time is money to them. Since they are being hired by a client, they need to be focused on how they use their time. It's important for them to prioritize what is most important to their client and how they can achieve those goals.
On the agency side, you might hear these common issues being voiced about their clients:
"They aren't paying enough for this work."
"Their creative sucks. I can't get the media to work."
"They're micromanaging us."
"They aren't realistic."
"Our point of contact is a jerk to us."
"Their site won't convert/they aren't doing email right/they won't invest in [a,b,c]."
Susan goes into detail about how agencies usually try and fix these issues. She explains that when you don't think the client is paying enough for your work, it generally stems from either under-scoping the project or being unclear with the client at the beginning. You might have even inadvertently trained your client to expect this by providing past results through overworking.
She explains that if you find their creative isn't good, you should ask yourself whether they hid that from you in the beginning. Or if you feel they are micromanaging you, did you talk to them about expectations and what success looks like to them? You can save a lot of grief by identifying these issues from the beginning of your business relationship.
With all of these concerns, the biggest problem with agencies is their over-eagerness to land business and not listen to what the client's needs are. Don't get stuck in the yes sir/ma'am syndrome—you need to learn to read between the lines.
How Clients Can Get More from Their Agency Partnerships
The client's financial success comes from results—they want to see that their goal is reached and that they get what they originally paid for. Susan explains you might also find these complaints that clients make about agencies:
"They sold me on expertise, but I'm dealing with someone very junior."
"I can't justify what I'm paying them for the results I'm getting."
"They don't get the brand/their creative sucks."
"The results aren't great, but they don't have a plan to improve."
"They're always blaming other factors for why their stuff isn't working."
Again, these issues can generally be traced back to the expectations set at the beginning of the relationship. For example, the client will only be surprised to find themselves working with a "junior" if they assumed that their contact would be the more experienced member from the discovery call.
At the very beginning of the business relationship, it's crucial for:
The client to understand how their needs will impact the agency's margin
The agency to have a strong grasp of the results that the client expects to see
When these issues arise, they can come from overestimating needs or underestimating needs. Unfortunately, this happens, and it can be frustrating for both sides. It can even start to feel like the agency is lost and doesn't have a plan.
It is important to have everybody's needs explained during the discovery call—and put into writing—so that you can use that information as a foundation and know exactly what everyone expects.
The Questions Both Sides Should Ask Before They Even Start Working Together
Here are some questions you should ask during the discovery call.
Agencies
It's helpful to go into calls assuming your job is to figure out why the brand/client might not be a good fit.
What do they value when it comes to:

Details
Communication
Results

What does success look like, in terms of results?
If those results aren't happening, what makes it still feel like a relationship is successful? (Understand that there may be no great answer here—everything may come down to results. It's best to know that up-front.)
What does their current landscape look like? Why are they looking to make changes?
What are their internal politics like? Who is the decision-maker and point of contact?
Clients
When going into this meeting, ask yourself why you are talking to this agency. What do you hope to get out of this relationship? Make that clear throughout the meeting.
What problems do you need them to solve? Be specific.
What does success mean when it comes to both results and your relationship with a vendor?
Put these in order of importance:


Details
Results
Communication

What is your brand less successful at doing?
What are external forces the agency should know?
What's their average client tenure?
What Agencies Can Do if Things Go Off-Track
Susan explains that it's so easy for the client and agency to get trapped in a cycle, but the problems can be traced back to the beginning. It starts even before the two parties agree to work together.
Both sides need to take responsibility to:
Start off on the right foot.
Genuinely understand each other.
Work together until they are both clear about expectations.
Communication and expectation management are absolutely crucial. While this may sound simplistic, working on this from the beginning will reap great rewards.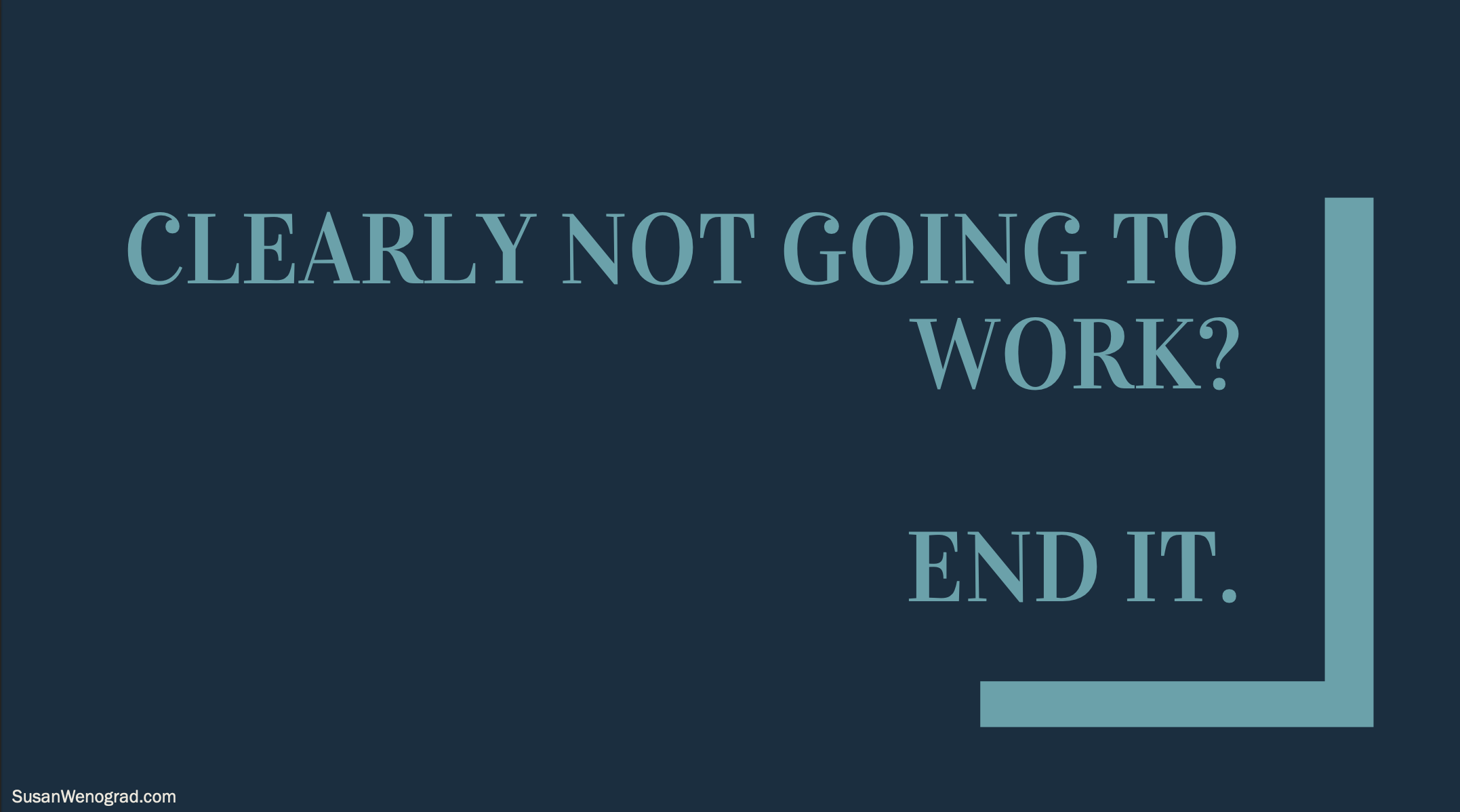 Conclusion
In the end, make sure to over-communicate before anything is signed. Restate everything and make sure all heads are nodding in agreement to avoid problems later on.
Ask the hard questions now to avoid hard conversations later. Then, have the hard conversations if they are needed. Those conversations won't get easier, so have them sooner.
Course correct as quickly as you can identify a problem, and you will run into fewer issues and improve your relationship.
This was a fantastic event! Susan did a great job explaining how agencies and clients can work together better and boiled it down into some great actionable advice that you can start implementing today to get better results and maintain great relationships between agencies and clients.
Speaking of great and actionable advice, do you have something you'd like to present to the ever-growing DMC community? If so, we'd love to speak with you. Head on over to this page, and tell us more about you and your expertise.
---
If you couldn't make this event live, you can see the replay below. Towards the end of the presentation, we had time for a short Q&A session where Susan answered viewer-submitted questions.
Here is what a couple of attendees had to say about this event!
Thanks, this was awesome! I echo ALL of these sentiments and pieces of advice.
Susan you're a genius! Great presentation!
Lastly, be sure to connect with Susan on Twitter, LinkedIn, or her website SusanWenograd.com
---
Explore our blog for more event recaps, and be sure to check out our DMC Online Events page to see all of our past and future digital marketing online events.
---
Ready To Watch This Full Event On-Demand?